Bosch is a recognized and respected name in the fields of technology and engineering with a wide range of household appliances. The company has set a stellar reputation for producing state-of-the-art household appliances and advanced industrial technology, catering to both industrial and consumer needs. Bosch's commitment to excellence and innovation is evident in their productions. The company's dedication to customer satisfaction and performance has made reliability and quality synonymous with it. Bosch's customer care team is inclusive of the Bosch customer care number, email, chat, letter, and self-help resources.
Bosch Customer Care Number, Email & Address
Bosch is dedicated to providing a smooth customer experience, and part of that commitment includes ensuring that customers have easy access to its support services. It has multiple avenues for customers to reach out through. You can reach out to Bosch dishwasher customer care or Bosch washing machine customer care for specific concerns. This multi-faceted approach to customer service ensures that they are able to choose the most convenient method for reaching out to Bosch.
Bosch Customer Care Numbers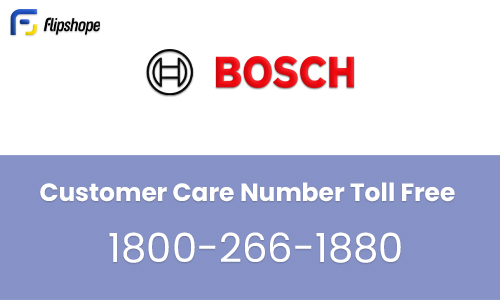 The company understands the importance of quick and efficient customer service. To facilitate this, it offers a toll-free Bosch customer care number. This enables the customers to connect with its support team. To address any queries or concerns you might have, it has established a dedicated customer care helpline.
| | |
| --- | --- |
| Bosch Washing Machine Customer Care Number | 1800-266-1880 |
| Bosch Customer Care Number on WhatsApp | +91-8451000555 |
| Toll-Free Bosch Customer Care | 1800-266-1880 (Monday to Saturday – 8 am to 8 pm) |
| Bosch Customer Care Number India | 1800-266-1880 |
| Bosch Customer Care Number | +91 806 752 1111 (9 AM (IST) – 5 PM (IST) on Weekdays) |
Bosch Customer Care Email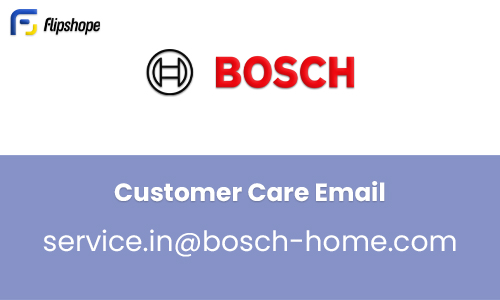 For the people who like to communicate through written means, Bosch offers an email support service. You can attach photos or documents regarding your concerns as well as keep the emails as a reference. You can also use these emails to get assistance with technical issues with their product.
Bosch customer care email: service.in@bosch-home.com
Bosch Customer Care Address
Customers might need help with elevating their queries if they haven't been resolved. To make this easier, you can send documents, or if you prefer in-person contact, you can visit the Bosch headquarters. The address mentioned below is the go-to location for mailing documents or seeking assistance through mail.
Bosch Head Office:
Bosch Limited
Post Box No. 3000, Hosur Road, Adugodi, Bengaluru – 560 030, India
Bosch Social Media Accounts Support
Many customers turn to social media platforms in order to get in touch with companies. Bosch aims to provide the same customer support through these platforms to ensure customer satisfaction. Engaging with Bosch's social media channels can be a quick way to get through to them. The company posts announcements, new releases, offers and deals actively on their platforms. Customers can stay updated on the latest products, get their questions answered, or share feedback.
Follow Bosch on these platforms:
Conclusion
Bosch is not only a household name for quality appliances but also a symbol of exemplary customer care. With dedicated helplines for the Bosch washing machine customer care and Bosch dishwasher customer care, a strong social media presence, email support, and a physical address, it ensures that customers receive the assistance they need whenever and wherever. The company's customer care team is well-equipped to address any and every concern of yours. Whether you are looking for the Bosch customer care number India, need assistance with a mal-functionality in appliances, or simply want to inquire about its product, Bosch is ready to provide you with the support you need.
FAQs
Q1. How do I contact Bosch India?
Ans. There are multiple ways to contact Bosch in India. Mentioned below are the methods you can use:
Call the toll-free Bosch customer care number at 1800-266-1880
Text Bosch on WhatsApp at +91-8451000555
Write to Bosch customer care at service.in@bosch-home.com
Reach out through Facebook, YouTube, Twitter, LinkedIn, and Instagram
Bosch also has a contact form on their website, which you can use to write to them.
1. Open the Bosch website.
2. Click on 'Contact Us'
3. Fill out the form and explain the issue at hand in detail.
4. Now click on 'Submit.'
Q2. How do I raise a complaint on my Bosch washing machine?
Ans. To raise a complaint about the Bosch washing machine, follow the steps given below:
Call the Bosch washing machine customer care number at +91 806 752 1111.
Follow the instructions on the IVR.
Alternatively, you can write to Bosch using their customer care email at service.in@bosch-home.com.
Q3. What does it mean when I see E24 on my Bosch dishwasher?
Ans. E24 is an error code, which could mean a number of things. You should consider reaching out to Bosch dishwasher customer care by calling 1800-266-1880, use the self-help resources on the company website, or email the company at service.in@bosch-home.com.
Related Articles:
Swiggy Customer Care Number
Zomato Customer Care Number
Paytm Customer Care Number
Thomson Customer Care Number
Boat Customer Care Number
Jio Customer Care Number
Samsung Customer Care Number
Lg Customer Care Number
Acer Customer Care Number
In the comments section, give your feedback about this article (Bosch Customer Care Number, Email Id's & Support!).
Connect with us on Facebook and Twitter or join our Telegram Channel. Download the Flipshope extension (smart shopping assistant) to save you money and time. For any queries, please WhatsApp us at 9999488008.