Thomson, a renowned brand in India, is a leading provider of electronics and home appliances. With a rich legacy, Thomson India has consistently delivered innovative and high-quality products since its inception in 2018. Known for its commitment to technology and customer satisfaction, Thomson offers a diverse range of products, including smart televisions, audio systems, washing machines, and more. Thomson makes sure to provide products with great durability and quality so that customer can buy all their desired electronic products without any hassle. The best thing about Thomson is that it has powerful customer care support to assist customers with their issues. In the following article, you will find some useful information regarding Thomson TV customer care & thomson customer care number details.
Thomson Customer Care Number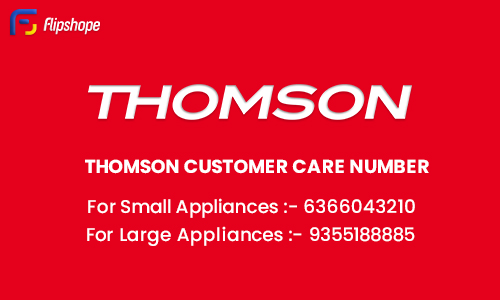 If you're facing technical issues with your Thomson electronics or appliances, the customer care team can provide expert guidance for troubleshooting and resolving problems. Additionally, if you're thinking of getting information about product features, warranties, or software updates, its representatives can provide accurate details. Now solve all your queries in one go only with Thomson TV customer care number support. Here are its official contact details.
For Large Appliances: 9355188885 (timings: all days, 9:30 AM to 7 PM)
For Small Appliances: 6366043210 (timings: all days, 9 AM to 9 PM)
Thomson Customer Care Email:
For Large Appliances: consumercare@thomsontv.in
For Small Appliances: support.thomson@flipkart.com
Thomson Warranty Information:
Understanding the warranty duration provides clarity on the timeframe during which Thomson will cover repairs, replacements, or other necessary interventions due to potential defects or malfunctions.
This part not only safeguards your money but also ensures that you can make the most of the product's performance and functionality without incurring unexpected costs. By knowing the warranty period, you can address any issues that may arise within the covered timeframe to ensure a smooth buying process. Here are some of the product and their warranty period information that will help you out.
1. Thomson LED TV
For a period of 12 months following the date of purchase, LED TV sets are assured against any defect resulting from faulty or defective material or workmanship. Only the original TV buyer will be covered by the warranty. Accidental damages or damage from any natural disaster, such as floods, thunder, or high voltage surges from the main cable connection wire, are not covered by the guarantee.
Any elements of the TV set that have been misused, installed improperly, accidentally damaged, or negligently handled are not covered under warranty. Additionally, any TV set that may have been tampered with, altered, or serviced by unapproved entities is not covered. The original serial number of the TV must remain intact for the warranty to be valid. For more details, you can call the Thomson customer care phone number mentioned above.
Note: There will be a fixed charge applicable from the 2nd visit onwards by the Thomson service team.
Types of Thomson TV
LED TV
Smart TV
Android TV
4K TV
QLED TV
2. Thomson Washing Machines
2 Years Comprehensive Warranty and 4 Years Warranty on Motor from Thomson for Semi-Automatic
2 Years Comprehensive Warranty and 5 Years Warranty on Motor from Thomson for Fully Automatic
Thomson offers a 1-year comprehensive warranty on washers and a 5-year warranty on motors.
Types Of Washing Machines
Semi-automatic
Fully automatic
Washers
3. Thomson Coolers
The warranty period for all electrical products and manufacturing flaws is one year. Plastic parts, damage from improper handling or storage, running an appliance with faulty electricity, chipping, peeling, or dents are not covered by the warranty.
Types Of Coolers
4. Thomson AC
10 years on the compressor and a year on the product. All parts, except the air filter, the front grill, and plastic parts (after installation), are covered by the warranty. Defective materials and workmanship from the date of purchase are covered by the warranty. Only the compressor repair (excluding gas filled inside the compressor) will be provided free of charge for 10 years from the date of purchase after the first year of the warranty period. There is only a one-year warranty on refrigerant gas.
Types of AC
Windows
Fixed speed
Inverter
Thomson Head Office Number And Address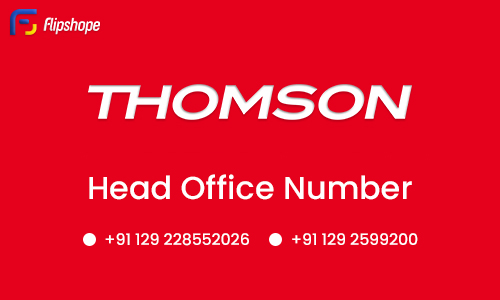 By having access to the head office contact details, individuals can efficiently communicate their inquiries, concerns, feedback, or complaints to the Thomson company. Moreover, in situations where basic customer service channels may prove insufficient, reaching out to the head office becomes a major point for seeking specialized assistance or solutions. Here is the complete information regarding Thomson's head office number and address:
Thomson Head Office Address :- 18.35, Delhi-Mathura Road, Faridabad – 121007
Haryana Board Numbers:- +91 129 2285520-26, +91 129 2599200
Thomson Social Media Account And Support
Thomson's presence on social media platforms provides a direct line of communication, enabling real-time conversations and swift responses. By following Thomson's social media accounts, customers gain access to updates, promotions, and product launches, ensuring they stay informed about the latest offerings. Check out the list of Thomson's social media handles.
Twitter: https://twitter.com/ThomsonTvIndia
Instagram: https://www.instagram.com/thomsonindiaofficial/?hl=en
Facebook: https://www.facebook.com/ThomsonIndiaOfficial/
If you have previously shopped something from Thomson company and are finding it difficult to raise an issue related to it, then you don't have to worry anymore. The Thomson customer care details mentioned in the article above will help you out. Whether you have concerns about the warranty period of your desired products and want to know the Thomson head office details, this article has it all. So don't hold yourself back and enjoy your stress-free shopping from Thomson now.
Other Related Articles:
Swiggy Customer Care Number
Zomato Customer Care Number
Paytm Customer Care Number
Boat Customer Care Number
FAQs
Q1. How do I complain to Thomson TV?
Ans. You can complain to Thomson TV in the following ways:
Contact Customer Support: Check the user manual, packaging, or Thomson's official website for the customer support contact details. This might include a customer care phone number, email address, or online chat option. The contact number of Thomson TV is:
For Large Appliances: 9355188885
For Small Appliances: 6366043210
Email:
For Large Appliances: consumercare@thomsontv.in
For Small Appliances: support.thomson@flipkart.com
Q2. What are Thomson TV customer care operating hours?
Ans. For large appliances, you can contact Thomson TV's customer care number throughout the week between 9:30 AM to 7 PM.
Q3. Is there a warranty for Thomson products?
Ans. Yes, Thomson products have a warranty for all the products, be it Television, AC, cooler, etc. You can check out Thomson's official website for more information.
Hope you find the article (Thomson Customer Care Number) helpful. If you have any suggestions, please write to us in the comment section below.
Connect with us on Facebook and Twitter or join our Telegram Channel. Download the Flipshope extension for the latest tricks and offers. For any queries, please Whatsapp us on 9999488008.