Acer is a global leader in computer hardware and electronics that has earned a reputation for producing reliable laptops, desktops, monitors, and other devices. Acer has established a very strong presence worldwide, providing quality products and services to all its customers. In the pursuit of excellence and customer satisfaction, the Acer customer service team provides its customers with exceptional support and dependable products. With an exceptional focus on customer satisfaction and progressive technology, it has become a preferred choice of users everywhere. The most direct way to contact Acer is by using the Acer customer care number. Other than the Acer laptop customer care number, highlighted here are all the other ways through which Acer ensures some of the best options for customer support.
Acer Customer Care Number and Emails
The Acer customer support team is dedicated to ensuring that their customers receive the assistance they need to keep their devices running smoothly. Regardless of whether you prefer phone support, chat support, or social media interactions, Acer laptop customer care offers a diverse range of ways to connect with their support professionals. The Acer customer care numbers mentioned will help you keep your devices healthy and in good condition.
Voice Call Support (Timings: Monday – Sunday, 9:00 a.m. – 10:00 p.m.)

Customers who need immediate assistance or prefer direct communication can contact Acer's Voice call support. These numbers will connect you directly to Acer's professionals, who can guide you through troubleshooting or help you arrange a service request for your device.
Acer laptop customer care number : 1-800-11-6677
Acer customer care number for Desktop, Monitor, Server, and peripherals: 1-800-11-4100
Acer customer care number for Acer Pure & Ozone Sanitizer: 1860-120-2021
Acer customer care number for TV support: +91 76696 10805
Acer Customer Care Number & Chat Support (Timings: Monday – Sunday 9:00 a.m. – 4:00 a.m.
Customers who prefer real-time online assistance or want to attach images with their requests have the option of connecting with a support agent through text chat. Acer customer care provides a convenient way to describe your issue and receive step-by-step guidance.
The Acer customer care number for chat support is available over WhatsApp at +91 6366800400
Acer Customer Care Email IDs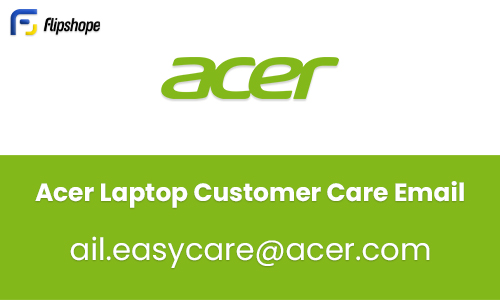 For those who prefer written communication that can be referenced later, Acer customer care has furnished several email IDs for addressing any unresolved service-related issues or seeking grievance redressal. You can maintain the condition of your devices by using these emails. You can send your queries for the category-specific concerns to the respective emails mentioned below:
Laptop, Projector & Tablet: ail.easycare@acer.com
Desktop, Monitor, Server & Peripherals: ail.easycare@acer.com
Acer Pure & Ozone Sanitizer: ail.easycare@acer.com
Acer TV support: support@acertvindia.com
Acer Social Media Account
We live in the digital age, where brands have expanded their customer support to social media. Acer, being no exception, has built an active online presence on social networks like YouTube, Twitter, Instagram, and Facebook. You can stay updated about the new launches, news, promotions, and other announcements using these networks. In addition to the Acer laptop customer care number and email, users can also reach out to the company about their concerns by directly messaging or commenting on Acer's posts.
How to contact Acer Customer Care
Reaching out to Acer is a fairly straightforward process that provides users with assistance for their concerns. Acer connects with customers using multiple avenues, including phone support, chat support, email, and social media platforms. Users can utilize these portals to resolve all their concerns. Customers who have minor concerns and wish to resolve them without contacting Acer Customer Care can use the self-help resources made available on the website. Mentioned below are the various ways you can get help regarding your devices :
Support through the website:
Visit the Acer website.
Click on 'Contact Support' under 'Section' at the bottom of the page.
You will be able to see different headings. Click on a heading according to your concerns.
If, however, your issue remains unresolved through any of the options mentioned on the website, you can opt to call the Acer customer care number or email to obtain direct support for your concerns.
Self-Help Resources:
Acer customer service is aware that customers might encounter common issues that can be resolved without the need for direct customer support. To facilitate self-assistance and empower its customers, Acer offers self-help resources on its website.
Acer Answers: This is a repository full of the most frequently asked questions about Acer's products.
Acer Community: It is a community of Acer users where everyone can get involved in product forums, general discussions, or even access the forum archives. Users can even get help from the online community about any minor issues with their devices by just posting their concerns on the discussion board.
Acer America YouTube Channel: It is an amazing library of useful how-to videos that provide visual answers to frequently asked questions about the most popular Acer products.
Understand Your Warranty
One crucial aspect of obtaining support using the Acer customer care number is having a clear understanding of your warranty. Understanding your warranty helps you determine the duration and facilities covered. You can get more information about your warranty through the 'Contact Support' page on Acer's website. If you wish to contact the Acer customer care number for assistance, it's essential to be aware of your device's Serial Number. The serial number is present on a white sticker on the device.
Acer is a company that deeply cares for its customers and their experiences. Henceforth, Acer has curated multiple channels for users to get assistance. Furthermore, it provides a wide array of Acer customer care numbers, ensuring customers can connect with a professional anywhere, anytime. Whether your preference leans toward voice calls, chat support, engaging on social media platforms, or self-help, Acer has a solution tailored to your needs. With Acer's expertise and commitment to customer satisfaction, you can trust Acer to provide the support you need to have a hassle-free experience with your device.
Related Articles:
Swiggy Customer Care Number
Zomato Customer Care Number
Paytm Customer Care Number
Thomson Customer Care Number
Boat Customer Care Number
Jio Customer Care Number
Samsung Customer Care Number
Lg Customer Care Number
FAQs
Q1. How do I contact Acer customer service?
Ans. You can visit the official Acer website and gain access to multiple self-help resources, call the Acer customer care number, chat with Acer customer support, or email Acer at the respective email address according to your concerns.
Q2. What is the toll-free number for the Acer warranty?
Ans. Toll-free numbers for Acer warranty are:
1-866-695-2237 (Available 24/7 for phone support)
1-877-220-2321 (Available from 5:00 a.m. – 2:00 a.m. CST for SMS support)
Q3. What is the timing of Acer support?
Ans. Timings for Acer support:
Acer customer care number (voice call support): Mon to Sun, 9 am to 10 pm
Acer customer care number (chat support): Mon to Sun, 9 am to

4 am
Q4. How do I get my Acer laptop repaired?
Ans. To get your Acer laptop repaired:
Visit the Acer Customer Self-Service website
Input the product information, customer information, and problem details
Upon completion of the verification process, you will receive a confirmation email
Alternatively, you can call the Acer laptop customer care number at 1-800-11-6677 to get direct support and/or schedule a repair.
Hope you like this article (Acer Customer Care Number). For any suggestions or queries, feel free to mention them in the comment section.
Connect with us on Facebook and Twitter. Join our Telegram Channel. Download the Flipshope extension for the latest tricks and offers. For any queries, please Whatsapp us at 9999488008.