Amazon India is one of the biggest online Marketplaces, and the best thing about Amazon is the sales that Amazon brings for us every month. With Amazon Upcoming Sale 2022 November Dates, you can get tremendous discounts on your desired products. This article will share Upcoming Amazon Sale dates, offers, and some breathtaking deals. So, if you plan to shop online, this article will help you save lots of money. Now let's check everything in detail.
Ongoing and Upcoming Amazon Sale:
Offers
Fab Phones Fest Live Now
Amazon Electronics Store Live Now
Home & Kitchen Store Live Now
Myntra Upcoming Sale | Always get the best deals on Myntra
Explore Amazon Upcoming Sale Dates 2022
| | | |
| --- | --- | --- |
| S.no. | Upcoming Amazon Sale Dates | Amazon Upcoming Sale Dates (Expected) |
| 2. | Amazon New Year Sale | 1st January 2023 |
| 3. | Great Republic Day Sale | 17th to 20th January |
| 4. | Amazon's Mega Grocery Sale | 24th to 26th January |
| 5. | Amazon Grand Gaming Days | 28th to 30th January |
| 6. | Camera Gifting Store | 7th to 14th February |
| 7. | Amazon's The Spring Cafe | 23rd to 28th February |
| 8. | Amazon Saheli Sale | 1st to 8th March |
| 9. | Book Bazaar | 10th to 14th March |
| 10. | Amazon Holi Sale | 17th to 20th March |
| 11. | Amazon's Mega Fashion Weekends | 16th to 17th April |
| 12. | Sports & Outdoor Sale | 28th to 29th April |
| 13. | Amazon Summer Sale | 4th to 8th May |
| 14. | Amazon's Monsoon Carnival | 7th to 12th June |
| 15. | Wardrobe Refresh Sale | 18th to 22nd June |
| 16. | Amazon Fab Phones Fest | 28th to 30th June |
| 17. | Amazon's Super Value Days Sale | 1st to 7th July |
| 18. | Prime Day Sale | 23rd to 24th July |
| 19. | Amazon Mobile Saving Days | 25th to 29th July |
| 20. | Amazon Great Freedom Festival | 6th to 10th August |
| 21. | Home Shopping Spree | 19th to 22nd August |
| 22. | Amazon's Dussehra Sale | 4th to 8th October |
| 23. | Amazon Great Indian Festival | 23rd Sept to 23rd October |
| 24. | Smartphone Upgrade Days | 12th to 16th November |
Ditch price fluctuation!
Get your desired products at the best price; Download Flipshope now!
Ongoing Amazon sale 2022 offers, Deals, and Discounts…
Amazon Fab Phones Fest
India's No. 1 5G Store
Up to 40% Off
10% Instant off on SBI Credit and EMI Transactions
Exciting offers on smartphones
Amazon Mobile Store: Check exciting Mobile offers
Electronics Store on Amazon
Offers on the best laptops
Up to 50% off on laptop accessories
Save up to 70% on Laptop skin, mousepads & more
Amazon Electronics Store: Avail offers on electronics
Home & Kitchen Store Starting 99
Clearance store | Minimum 35% off
Top home categories | Starting ₹99
Mattresses | Up to 60% off
Kitchen & Home Appliances | Starting ₹599
Safety Supplies, Robotic Kits & more | Starting ₹149
Tools & Improvement, Garden & Outdoor | Starting ₹79
Car & Bike Accessories | Starting ₹99
Amazon Home & Kitchen Store: Get the best offers on home and kitchen store
Next Amazon sale offers, Deals, and Discounts…
1. Amazon New Year Sale 2023 (Date: 1st January)

Before the year ends, grab some exciting deals and discounts brought to you by Amazon. You can get up to 80% off on selected items. Missing this sale would not be a good idea. Amazon End of Season sale has everything you want and at prices, you would love. Check it out soon. Below you can check out some exciting offers.
Up to 80% off on Fashion accessories
Deals on Electronics.
Discounts on Footwear.
Amazon Price Drop Alert | Get notified when the price of your desired product drops
2. Amazon Great Republic Day Sale 2023 (Date: 17th January)

The New Year has just started, and the same can happen with your savings. Save up to 80% on the products you need with Amazon. Electronics and TVs can help you save really great in the Amazon Republic Day Sale. Buy them from this Amazon next sale and have a blockbuster Republic day this year.
Up to 70% off on Kitchen and Home products
60% off on electronics.
Get smartphones up to 40% off.
Buy fashion products up to 80% off.
Get up to 50% off on TV and other appliances.
Buy laptops up to 53% off.
Samsung phones are available at up to 27% off.
Headsets from Apple, OnePlus, and others are available at up to 84% off.
Amazon Great Republic Day Sale | Check exciting offers now
3. Amazon Mega Grocery Sale 2023 (Date: 24th January)

This upcoming sale on Amazon is your chance to buy all your groceries at unbelievable discounts. This sale will have deals starting from ₹ 1. From groceries to beauty needs, everything is up for grabs in the Amazon Mega Grocery Sale. Check out the offers in this next Amazon Sale.
Up to 50% off on Beauty & Grooming
Up to 45% off on household needs
Heavy discounts in Big packs.
Farm Fresh fruits & vegetables from ₹ 1
Discounts on Groceries.
Free & Fast delivery on Prime.
4. Amazon Grand Gaming Days 2023 (Date: 28th January)
Now is your chance if you want a gaming accessory and are waiting for a sale to buy it. Amazon is here for your rescue with the Amazon Grand Gaming Days. Get up to 50% off on gaming gadgets during this Amazon sale. Check it out now!
Up to 50% off on Gaming Microphones
Save up to 65% on Lenovo Laptops & Accessories
Best Deals on Gaming Laptops
Offers on Gaming Mouse
Discounts of up to 60% on Antiviruses & more
Offers from Top Brands.
5. Amazon Camera Gifting Store 2023 (Date: 7th February)

Gift your loved ones' cameras and related accessories with this Amazon Sale. You can have unbelievable deals on Instax and DSLR cameras. With up to 50% discounts on various types, you can save tons on the best-selling camera brands. Check out the gift store now!
Save up to 50% on DSLR cameras.
Offers on security cameras.
Discounts on Ring lights and related accessories.
Deals on Special brands
6. Amazon The Spring Cafe 2023 (Date: 23rd February)
To supply you with your favourite beverage, Amazon has The Spring Cafe. Get your desired soft drinks, juices, and other beverages at discounts. Be it tea, coffee, or juices; this Amazon sale has it all. Grab your favourite health drink or juice flavour now!
Offers on Real Juices
Discounts on Coffee and Tea
Save on all beverages
7. Amazon Saheli Sale 2023 (Date: 1st March)

To inspire every woman out there, Amazon has brought a special sale this women's day. This Amazon sale has products for women by women. You can get products in a wide category range that women-led organizations make. Amazon's this way of empowering women will help you save money.
Fashion picks from women-led businesses
Home & Kitchen from women-led businesses
Sustainable picks from women-led businesses
Up to 30% off on Gardening
Offers on beauty and personal hygiene items
8. Amazon Book Bazaar 2023 (Date: 10th March)

This Amazon sale is a paradise for book lovers. With up to 40% off on books, missing out on this would be a regret later. The best part about this sale is that it will be live once every month. Check out the list of Amazon offers below:
A curated list of books for you
Best buys, Maximum savings
Up to 35% off on academic books
Books for every age group
9. Amazon Holi Sale 2023 (Date: 17th March)
With Amazon, celebrate a colorful Holi with many offers and discounts. The five-day sale will give you a lot of time to shop for everything you have always wanted. Get the best available deals. This upcoming sale on Amazon will not disappoint you.
Discounts on sweets and recipe books
Up to 60% off on Fashion categories
Save up to 50% on Electronics
10. Amazon Mega Fashion Weekend 2023 (Date: 16th April)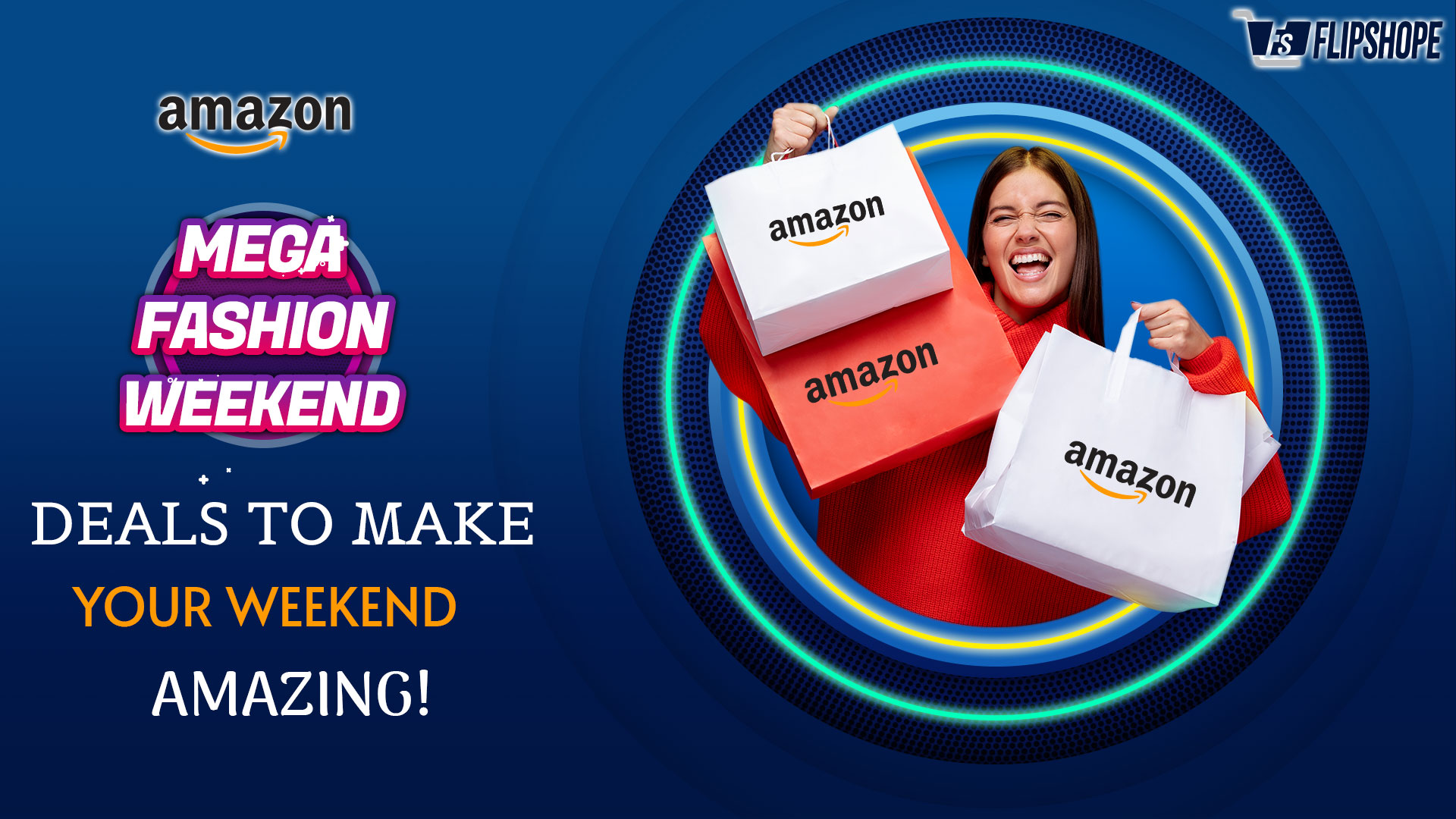 Amazon's first big Fashion sale is already here, so wait no more and get your hands on good deals and offers. In this next Amazon sale, you can avail yourself of exciting discounts on Men, Women's, and kids' fashion and beauty products. Amazon is offering up to 75% off in this sale so that you can buy branded products at low prices. Below we are sharing some exciting Amazon offers that you must check:
Offers on Women's clothing
Handbags, Clutches & more Under ₹ 399
Deals on 35,000+ styles
Buy two or more | Get an extra 30% off
Clearance store | Flat 60% off
Offers on branded products
11. Amazon Sports & Outdoor Sale 2023 (Date: 28th April)
Is the sportsman in you craving new sports accessories? Grab them from Amazon, and you can easily have eye-popping discounts. The sale will cater to all your outdoor needs, from fitness essentials and sports equipment to outdoor furniture and power tools. Check it out now!
Up to 30% off on Helmets
Discounts of up to 60% on exercise and sports goods
Offers on tools and machines.
Special discounts on garden and outdoor Furniture
Up to 70% off on Home Decor
Vehicle accessories are up for grabs.
12. Amazon Summer Sale 2022 (Date: 4th May)
Do not worry about feeling hot this summer. Amazon will not let your summer be a hot one. You can get your desired summer appliance at the best discounts from the Amazon Summer Sale. The sale also has other deals worth a try. Check out the deals and Amazon offers now!
Blockbuster deals
Deals under ₹499
Up to 40% off on Amazon Combos
Save extra on 20lakh+ products
Offers on New Launches
Discounts on Appliances and Electronics
Up to 50% off on ACs and Refrigerators
Extra coupon discount (up to ₹ 3,000*)
Instant 10% discount on the use of certain cards
13. Amazon Monsoon Carnival 2023 (Date: 7th June)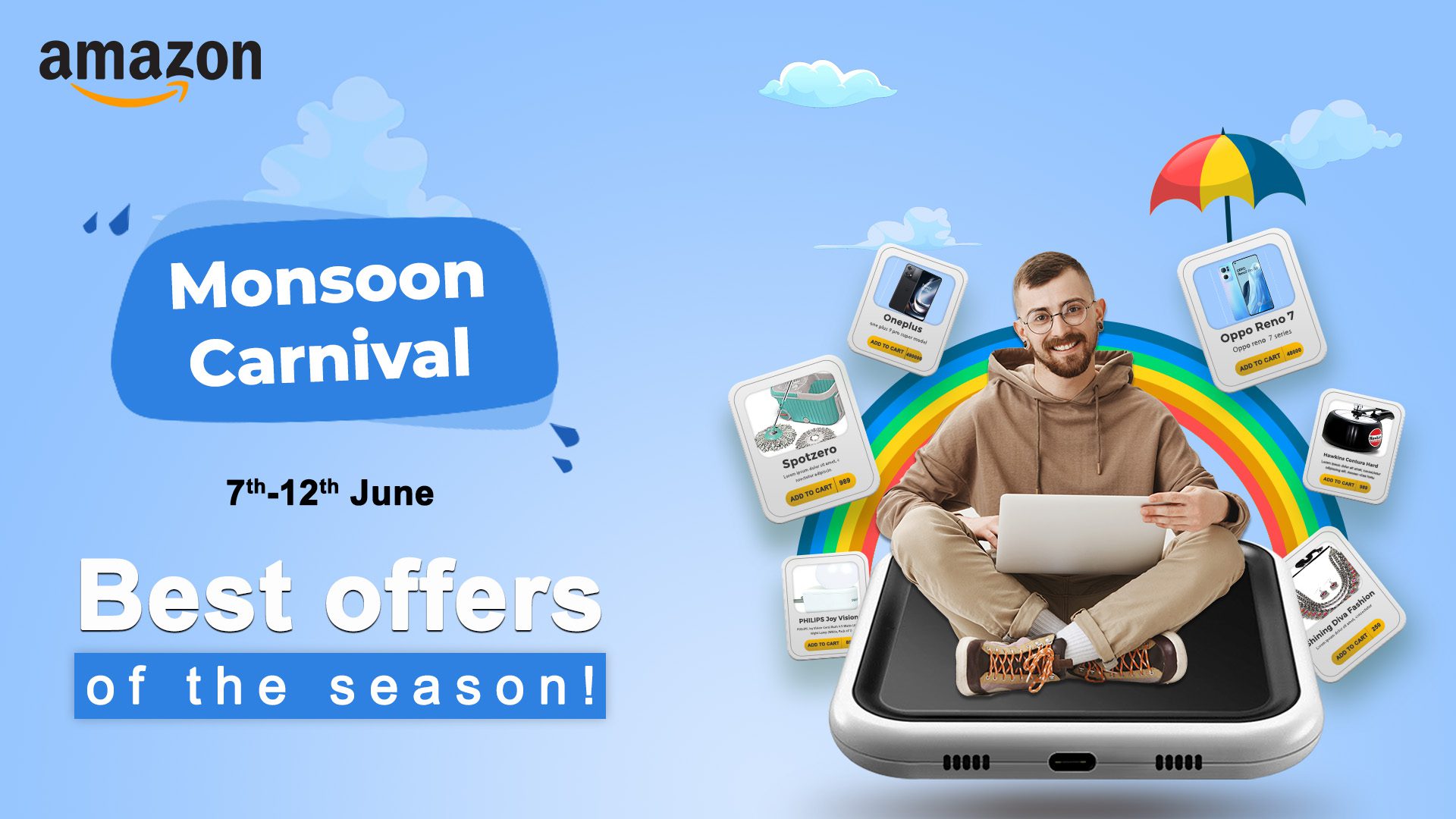 Your chances to save money on your favourite products have increased with the Amazon Monsoon Carnival. During this sale, shopping will be more fun with discounts on almost every category. Check out the sale on time and say a big "yes" to savings.
Up to 60% off on Fans & Coolers
Mobile Accessories starting ₹99
Bestsellers in skincare at discounts
Offers on Home & Kitchen
14. Amazon Wardrobe Refresh Sale 2023 (Date: 18th June)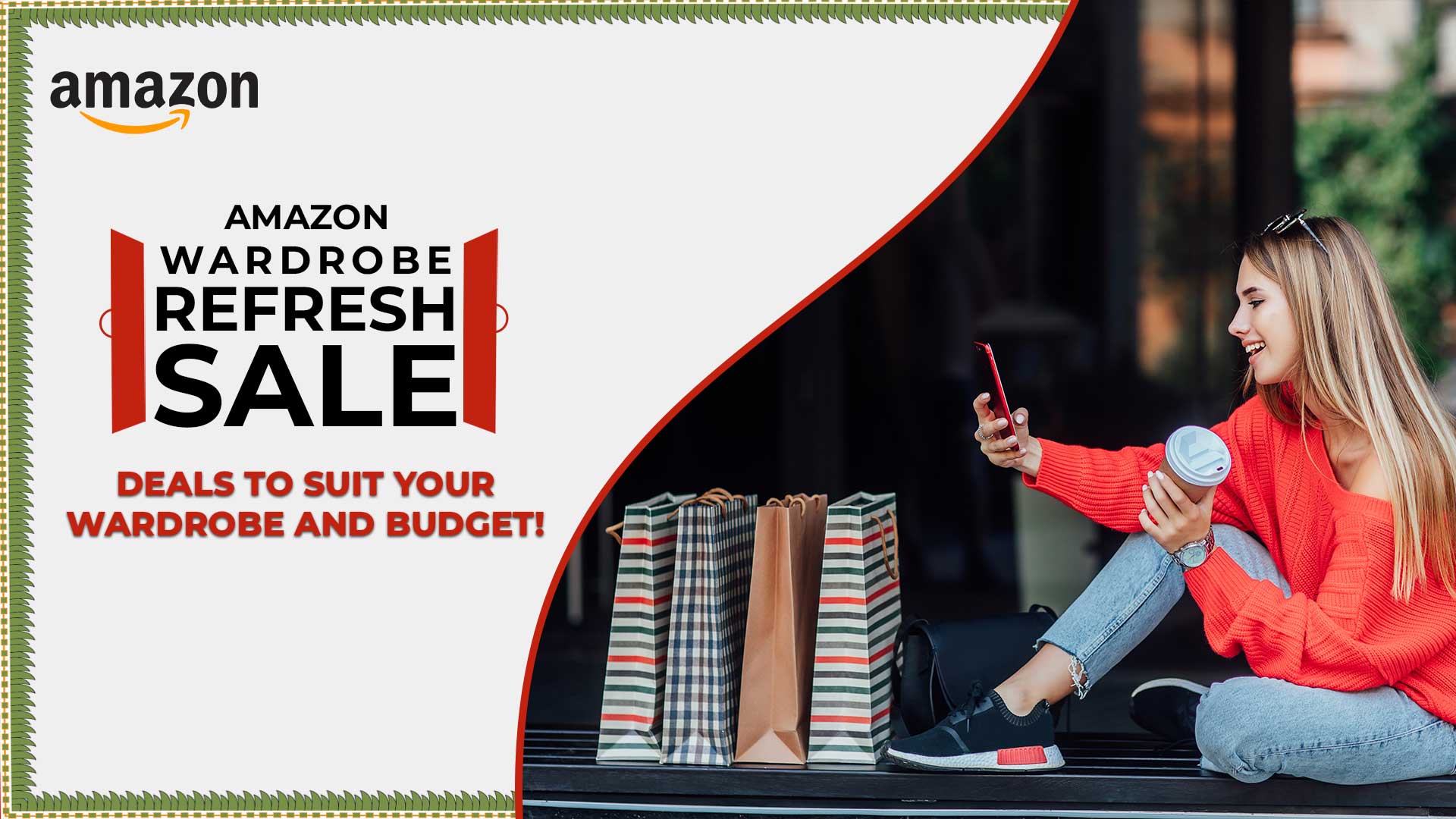 Update your wardrobe and get new styles at a low price in this Amazon Wardrobe Refresh Sale. You can get great discounts and deals on your favorite brands and styles in this upcoming Amazon sale. Amazon will also offer exclusive offers to its users, so be updated and save as much as possible. Below we are sharing highlights of Amazon offers and deals:
| CATEGORY | OFFERS |
| --- | --- |
| Skincare | Starting ₹ 99 |
| Kurtas & Sarees | Min 70% off |
| Clothing & More | Starting ₹ 199 |
| Footwear | Under ₹ 499 |
Top Offers on Beauty & Grooming
Discount of up to 40% on Maybelline and L'oreal.
50-80% off on Travel & Luggage
Amazon Wardrobe refresh sale | Live sale
15. Amazon Fab Phones Fest 2023 (Date: 28th June)
Save tons of money on smartphones and related accessories in this Amazon upcoming sale. Buy the smartphone you want at unbelievable discounts. With Amazon, you don't have to think twice. Instead, grab the phone or the accessories you want and have them delivered to your doorstep.
Discounts on Budget Smartphones

Offers on power banks
Deals on Accessories
10% discount on HDFC Bank cards
16. Amazon Super Value Days Sale 2023 (Date: 1st July)

Amazon Fresh has brought a sale just for your grocery needs. You can tick off all your grocery list items from this sale at the best discounts. Be it eatables or handwashes, this sale has everything at discounts. Check out the deals in this sale now.
Deals starting @ ₹ 1
Discounts of up to 45%
Offers on cleaning supplies.
Instant 10% discount on SBI Bank Card.
Fast Delivery.
17. Amazon Prime Day Sale 2023 (Date: 23rd July)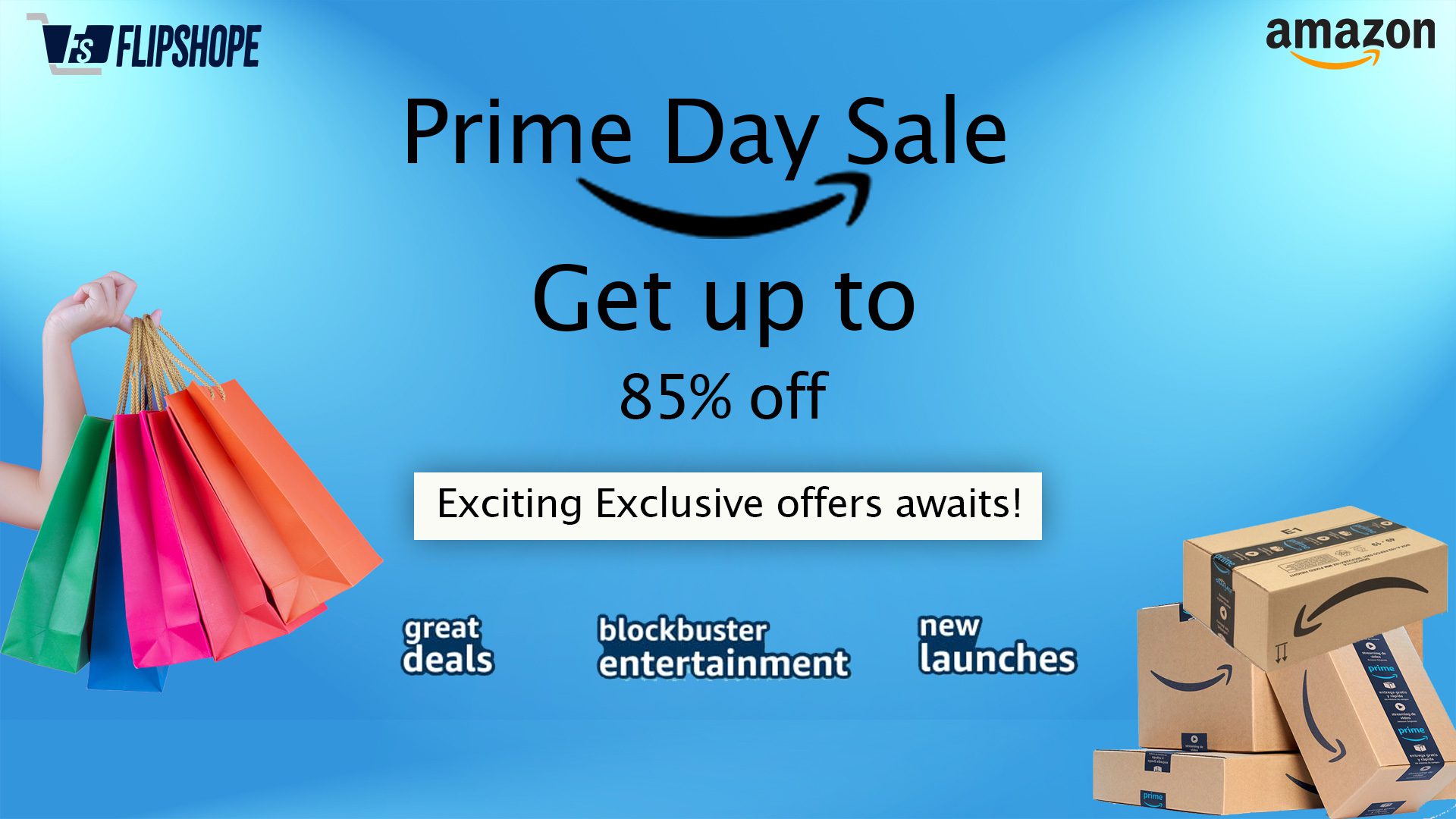 The Amazon Prime Day sale is an exclusive sale for prime members. Users with prime membership get discounts and are also eligible for free delivery. This upcoming sale on Amazon gives you 48 hours of unlimited deals. The Amazon Prime membership also has a long list of entertainment for you. Check out this awesome next Amazon sale offers
Up to 90% discounts on selected products
Fast and free delivery.
Bank offers on selected banks.
Up to 30% off on all products
18. Amazon Mobile Savings Days 2023 (Date: 25th July)

All your mobile-related accessory now has one address, and that's Amazon. Grab your favourite accessory for your smartphone at the best discounts. Check out the Amazon offers and save your money. Get your chargers, headsets, and more from this site.
Up to 40% off on top-selling mobiles and accessories
Offers on Chargers
Up to 60% off on headsets
Discounts on Powerbanks.
Best deals on cases, covers, and screen protectors.
19. Amazon Great Freedom Festival 2023 (Date: 6th August)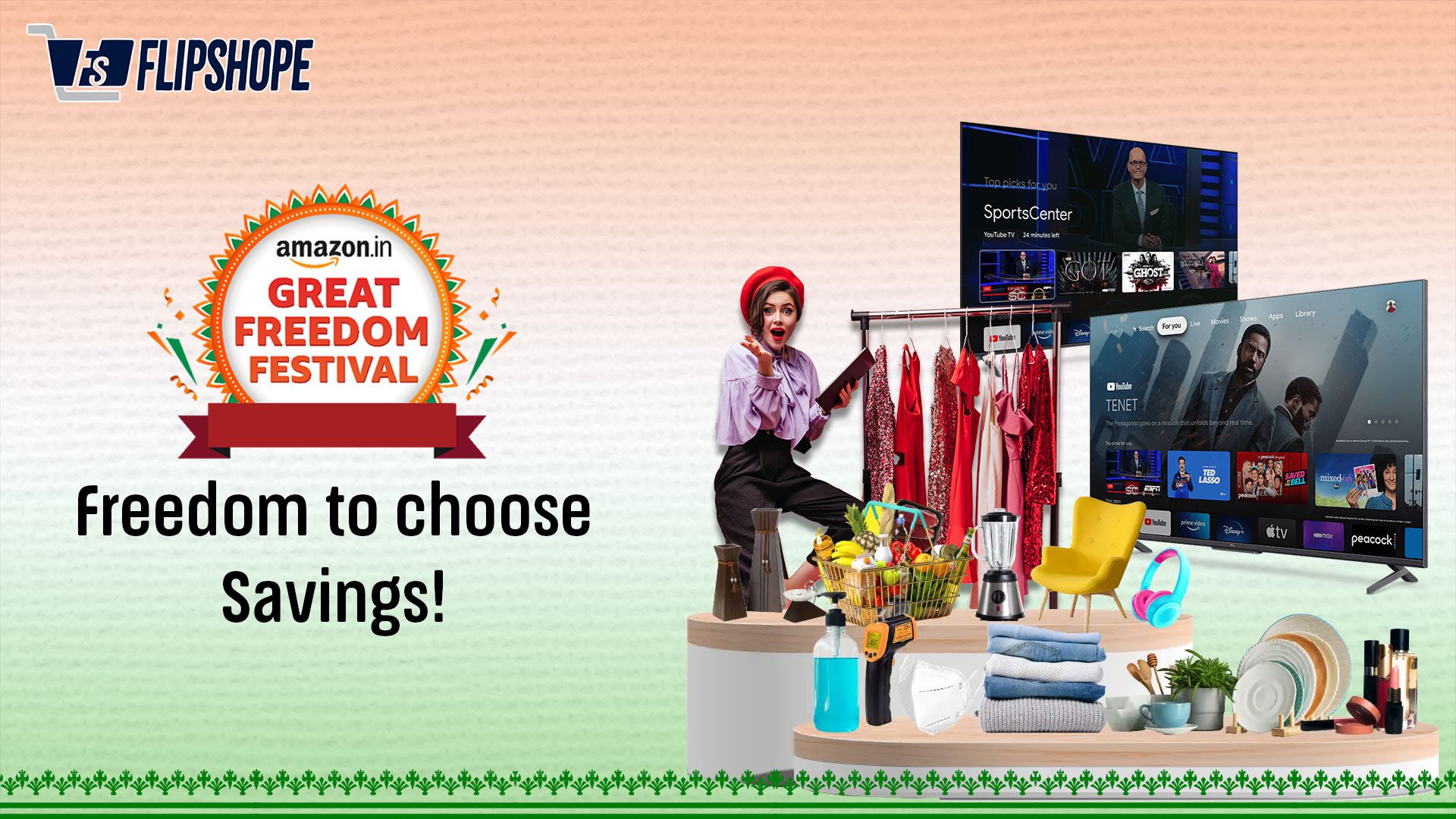 In August, Amazon has the Amazon Freedom Sale. In this sale, you will get deals that will make you want to buy more products. Grab up the deals and discounts on time; otherwise, there is a lot you will miss out on. This five-day Amazon sale will offer hefty discounts on various products.
Blockbuster Deals
8 PM Deals
Bargain Deals under ₹999
Special Brands on Focus
Stores starting from ₹50
Discounts on Fashion.
Offers on Appliances.
Special deals on Furniture.
20. Amazon Home Shopping Spree 2023 (Date: 19th August)

Amazon again came up with an exciting sale on household products, and you got another chance to get your favs at a low price. Check out some exciting offers below and grab the products you want!
Up to 50% off on major brands
Up to 70% off on Home & Kitchen must-haves
Buy more, save more on 1500+ products
Offers on Monsoon essentials
Budget buys
21. Amazon Dussehra Sale 2023 (Date: 4th October)
Amazon has a sale for every occasion. The upcoming sale on Amazon for Dussehra will leave you amazed with its amazing offers. You can get whatever you want during this sale on the site. Amazon is your go-to store for all your needs. Don't forget to check it out.
Offers on Fashion and Accessories
Extra discounts on Traditional Attires.
Deals on electronics
Save up to 70% on Gadgets
22. Amazon Great Indian Festival Sale 2023 (Date: 23rd September)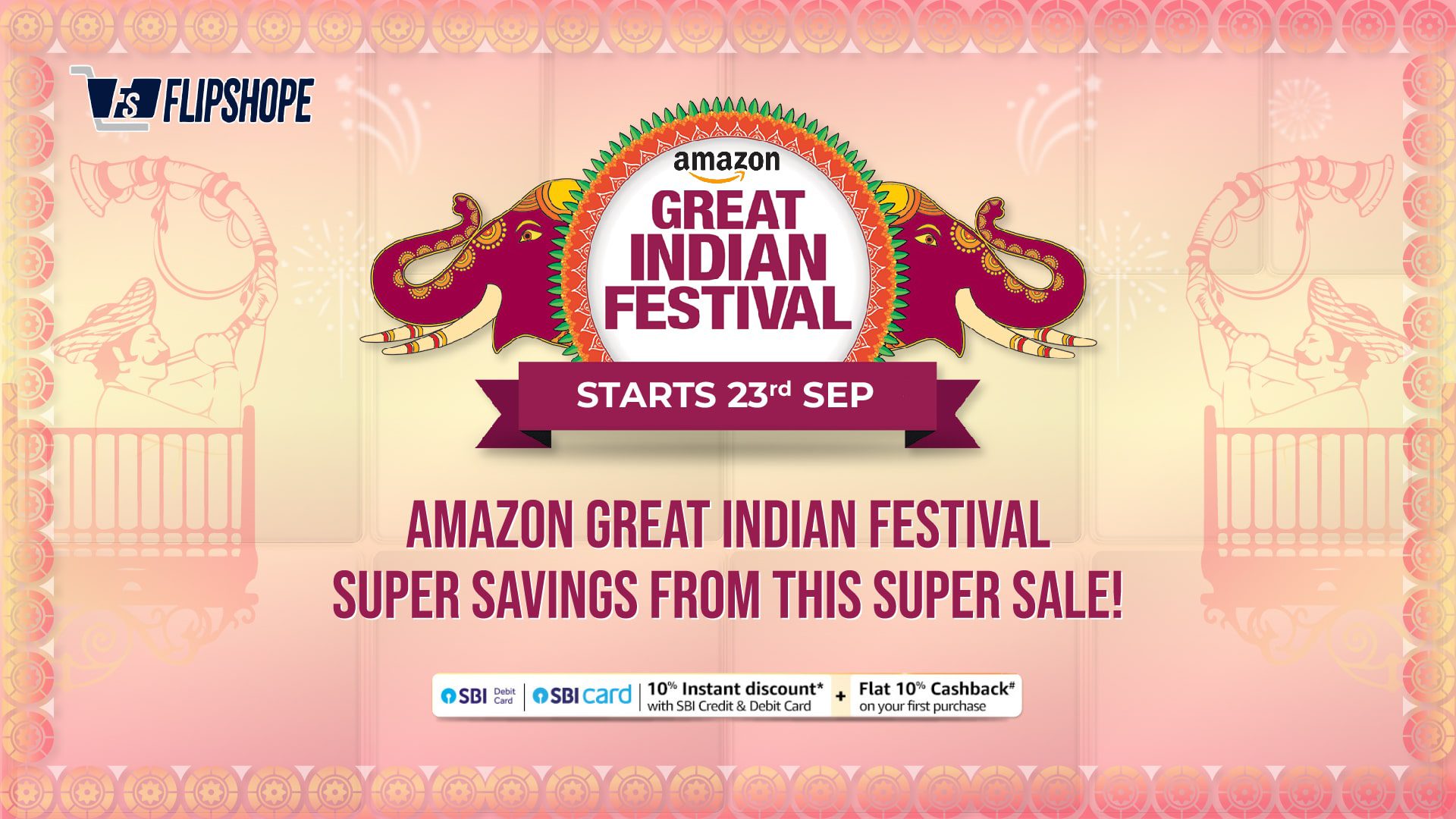 The Amazon Great Indian Festival Sale is the biggest shopping festival of the year. Every item you need can be found during this upcoming sale on Amazon. Missing this would be a loss for sure. And I am sure you are in no mood to suffer losses. Check out this Amazon sale and enjoy the discounts and savings.
Amazon fashion items starting at Rs. 199.
Explore the widest range of deals on home and kitchen products
Amazing offers on mobile and accessories
Get the lowest prices ever on TV and appliances
Try out unique products from Indian small businesses at just Rs. 99
Special offers on the use of Kotak, Citi, ICICI & RuPay Bank Cards
Budget Bazaar and other deals
23. Amazon Smartphone Upgrade Days 2023 (Date: 12th November)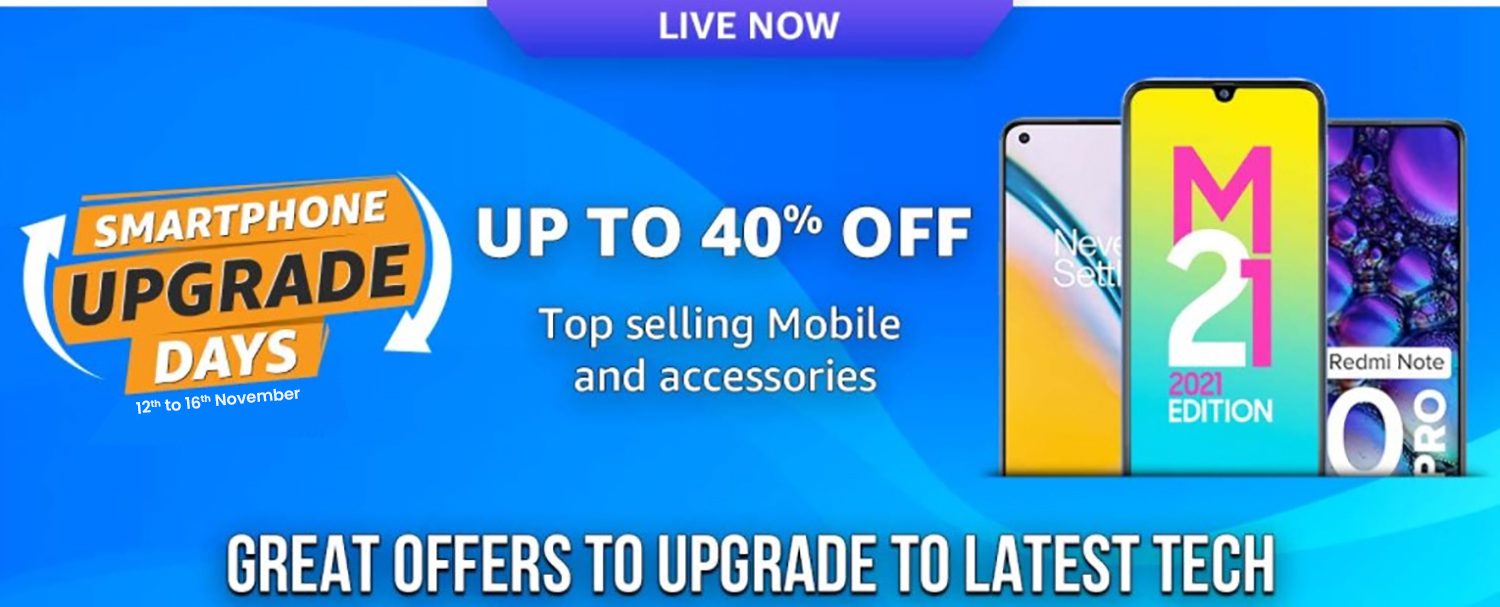 If you want to upgrade to the latest version of your smartphone, Amazon has brought just the right sale. You can have the best smartphones at the lowest price. All you have to do is check out the sale now. With this sale, you can grab the best smartphones. The discounts that Amazon offers in this sale will make you crazy.
Up to ₹ 5000 off on exchange
Best Xiaomi phones at discounts
Extra ₹ 2000 off on prepaid transactions with selected cards
Offers on best processor phones
Hope you find this article (Amazon Upcoming Sale, Offers, Deals 2022 November Dates | Up to 90% Off) helpful. If you have any suggestions, please share them with us in the below comments.
Connect with us on Facebook and Twitter or join our Telegram Channel. Download the Flipshope extension for the latest tricks and offers. For any queries, please WhatsApp us at 9999488008.