Swiggy is a platform for meal delivery, and users can access its offerings via the website, Android and iOS mobile devices. It collaborates with a wide range of eateries and offers simple access to a variety of culinary items from various cuisines. Additionally, it takes reviews and ratings from customers to assist others in making informed restaurant and food selection decisions. Swiggy works day and night to provide food services to its customers with various coupons and offers.
However, if you sometimes face any problem regarding the order or delivery partner, you can call Swiggy Customer Care Number – 806 746 6791. Interestingly, their customer service support team is very polite and always ready to help with the 24×7 Swiggy helpline number. Let's have a look at more details:
Swiggy Customer Care Toll-Free Number
Swiggy's toll-free number and customer care number are the same, and we are providing all the numbers that are meant for delivery support or partner support. In case you are not able to connect with the Swiggy customer care number through a call, then you can also use the chat or e-mail services which are available 24/7. Moreover, the support teams will try their best to solve your problems.
Swiggy Partner Support – 080-4670 6906
Swiggy Customer Care – 806 746 6791
Swiggy Customer Care Number Citywise
Swiggy online food delivery is not only available in metropolitan cities like Bangalore, Hyderabad, Delhi, Pune, Kolkata, and Jaipur. But it is also available in almost India's every small city. Moreover, the customer care number is constant for every city, be it small or metropolitan. With the shared number, you can call the city customer care support directly, and it will save extra effort and time too. So here is a list of city-wise customer support numbers of Swiggy:
Swiggy Customer care number Delhi: 080-6746 6666
Swiggy Customer care number Hyderabad: 806 746 6793
Swiggy Customer care number Jaipur: 080-6746 6666
Swiggy Customer care number Kolkata: 080-6746 6666
Swiggy Customer care number Bangalore: 91 806 000 6600
Swiggy Customer care number Chennai: +91 446 000 6600
Swiggy Customer care number Mumbai: +91 226 000 6600
Swiggy Instamart Customer care number: 080-67466789
Swiggy Customer care number for Pune: 080-67466791
Click Here to get Swiggy Cashback directly on your account!
Swiggy Helpline Number
Whenever you face any problem regarding the Swiggy order or want to raise a concern about the delivery partner, you can connect with the Swiggy helpline number. Also, you can use their email or chat support to register a complaint. Although, if you want to connect through a call with the customer care service, you have to follow a different method. And that's why we are going to show the method of "How to contact Swiggy customer care?". But you can still try the following helpline number of Swiggy:
Swiggy Helpline Number – 080-6746 6666
Address 1 – Bundl Technologies Pvt Ltd, Tower D, 9th Floor, IBC Knowledge Park, Bannerghatta Road, Bangalore – 560029.
Address 2 – Sarjapur Main Road, Jakkasandra, Koramangala 1st Block, Bangalore – 560034, Near Sony World Signal & GKP Optical
Related:
Swiggy Customer Care Complaint Number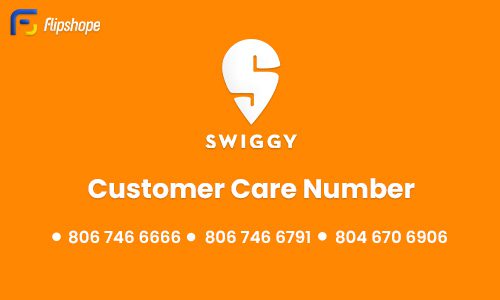 To register a complaint about your order, you can directly chat with the Swiggy chat support using the Swiggy mobile application, or you can also call them. If sometimes you don't get a satisfying answer, you can write an email to get a proper response to your query. So let's take the Swiggy complaint number from here:
Swiggy Number Complaint Number: 080-6746 6666
Swiggy Customer Care Email-Id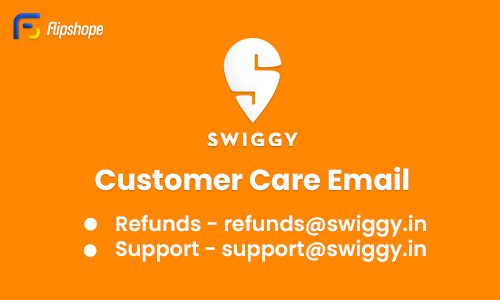 There are multiple email IDs available for Swiggy, and each ID is used for a different purpose. You can write an email for Refunds, Customer Support, Complaint Registration, and even for Careers. But make sure to use the email for the right purpose else you are not going to get a satisfactory response. Let's have a look at the available email-ids of Swiggy:
Swiggy Refunds – refunds@swiggy.in
Swiggy Support – support@swiggy.in
Swiggy Careers – careers@swiggy.in

How to Contact Swiggy Customer Care using the Swiggy App
Open the Swiggy mobile app on your smartphone.

Look for the "Help" or "Support" option located on the right side of the profile section.

Click on it to access the customer support page.

On the customer support page, you will find a list of frequently asked questions (FAQs) and common issues. Browse through them to see if your query is already addressed.

If you cannot find a solution in the FAQs, look for a "Contact Us" button.

Click on it, and you will be provided with different options to get in touch with Swiggy's customer care team.
Swiggy's Additional Loyalty Programme for Customers
It's time for you to unlock some of the best Loyalty programs by Swiggy and get the best benefits with it. Whether you are ordering food for the first time or ordering it for years, these new additional benefits will definitely win your hearts. To know more about them, read out the following points.
1. Swiggy Corporate
In today's hectic corporate world, giving employees access to delicious and convenient meal options is essential to creating a positive office culture. Here comes Swiggy Corporate, unique food delivery in the corporate food management offices. Swiggy Corporate gives businesses the ability to completely transform how they handle food services because of its cutting-edge technology and creative solutions. Have a look at the benefits provided by Swiggy Corporate.
Healthy food options
High discounts and offers
Catering service in office events
2. Swiggy Genie
Swiggy has launched a service called Swiggy Genie that lets you send or receive anything from one place to another in your city, including lunch boxes, laundry, documents, items for repair, shoes, stationery, and other supplies. In order to make your daily trips easier, the organization also allows you to purchase items from paan shops, supermarkets, pharmacies, and stationery stores. You can choose business delivery if you own a business as well. This implies you can use your preferred meal delivery app instead of contacting any other delivery service providers.
Convenient delivery
Send and receive almost everything
Safety and hygiene
Easy payment options
3. Swiggy Instamart
The days of stress-filled grocery shopping and long queues at the store are over. Say hello to Swiggy Instamart, a new solution that will quickly deliver groceries and other daily life essentials to your house. Swiggy Instamart is changing the way you shop for groceries by offering a quick and hassle-free delivery service that eliminates the need for traditional grocery shopping's time, effort, and hassle. It was launched in August 2020, and it's still good to go for the users. Here are some perks of Swiggy Instamart.
Instant delivery
Wide range of grocery and daily essentials
Multiple payment modes
4. Swiggy One Membership
Swiggy, a well-known online food delivery service, offers Swiggy One, a subscription-based service. It offers users a range of advantages and rewards to improve their experience ordering food. Members of Swiggy One get unlimited free deliveries on orders that qualify, allowing them to place orders from their preferred restaurants without having to pay additional delivery fees. For regular customers who purchase food frequently, this is very advantageous. Get Swiggy one membership for free now!
Free delivery
Unlimited discounts and offers
Fastest delivery service
FAQs
Q1. How to call Swiggy customer care?
Ans. You can call on Swiggy's helpline number mentioned above to get in touch with Swiggy customer care.
Q2. Which is better, Swiggy or Zomato?
Ans. It can vary on a person's taste and preferences. It's better you should try both and then decide.
Q3. How to delete a Swiggy account?
Ans. Steps to delete a Swiggy account
Open

Swiggy a

pp

Login to your account

Go to your "

Profile"

Go to

Help

Click on

"FAQs

"

Tap on

"Deactivate My Account

"

Select your "

Reason"
Q4. What is Swiggy Helpline Number?
Ans. Swiggy's helpline number is 080-6817 9777. Use the Swiggy support number to get immediate answers to questions about your order.
Q5. What is Swiggy's Contact Number?
Ans. Swiggy's Contact Number is 806 746 6791, where you can get the answers to all queries regarding your orders.
If you like this article (Swiggy Customer Care Number and Email | 24×7 Toll-Free No.), please share it with your friends. Subscribe to push notifications for more updates regarding Flipkart Big Billion Sale. For any suggestions and queries, feel free to comment.
Connect with us on Facebook and Twitter or join our Telegram Channel. Download the Flipshope extension for the latest tricks and offers. Stay tuned with us for more info.