Myntra is a prominent name in the world of e-commerce. Established in 2007, the platform has evolved into one of the most popular sites for online shopping. It stands out as one of the leading fashion platforms among many others. With its user-friendly interface and quick delivery services, Myntra is slowly climbing to the top in the field. Fashion enthusiasts across India are very fond of the platform, with its wide variety of apparel, footwear, accessories, and more. It has become a go-to online shopping website for the majority of the public in the country. Along with growth, Myntra has grown its customer support services in parallel. Myntra customer care team has been dedicated and efficient in providing its customers with the best customer service possible to ensure a smooth shopping experience. Check out Myntra Upcoming Sale for 2023-2024
Myntra Customer Care Number & Email IDs
The customer care team's first priority is being there for you whenever you may need them, whether it is through phone, email, chat, or even a head office visit. Myntra has made sure to have more than enough support to be able to resolve queries quickly. To achieve this, the Myntra Customer support team has opened up multiple ways for its customers to be able to reach it.
Myntra Customer Care Number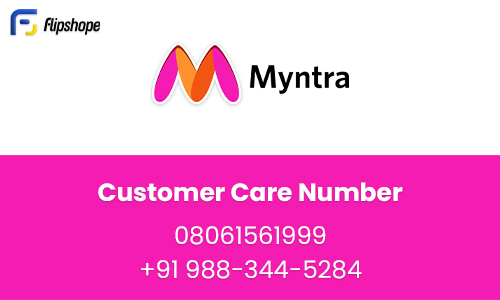 The most popular way to reach Myntra Customer Care is by calling the Myntra Customer Care Number. You can call the customer care team from your landline or mobile. The Myntra customer care toll-free number is a lifeline for shoppers. The toll-free number represents the company's commitment to providing a hassle-free experience for its customers. Contact Myntra by calling these numbers:
Myntra Customer Care Toll-Free number: 08061561999
Myntra Customer Care number: +91 988-344-5284
Refer to this table for more information on the localised Myntra customer care numbers:
| | |
| --- | --- |
| Myntra customer care number Kolkata | +91-80-61561999 |
| Myntra customer care number Delhi | 18004193500 |
| Myntra customer care number Bangalore | +91 988-344-5284 |
| Myntra customer care number Hyderabad | +91 806 156 1999 |
| Myntra customer care number Mumbai | 18004193500 |
Myntra Customer Care Email IDs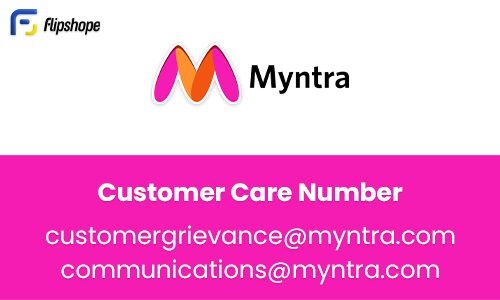 For the people who prefer a more traditional method of communication or wish to have written material with documents attached, which can be referenced later, Myntra Customer Care Email IDs are the way to go. Just write a detailed description of the problem you are facing and include any pictures if needed. You can address it to either one of the emails mentioned below:
customergrievance@myntra.com
communications@Myntra.com
Myntra Social Media Accounts & Support
Other than the traditional communication channels, Myntra is also actively engaging on various media platforms. It uses these avenues for announcements, news, promotions, offers, and much more. Moreover, the Myntra customer care team also interacts with customers on these platforms. You can message them directly, comment on posts, retweet them, or even tag them in your posts, and they will get back to you.
Head Office Address & Number
There may come a time when you need to visit the head office for issues pertaining to your orders that have not been addressed. You can visit the nearest head office in case you have registered a complaint to Myntra Customer Care, which has not been resolved, and you need to take it to higher authorities. Here is a list of the Head Office Addresses and contact numbers to make the process easier for you:
| | | |
| --- | --- | --- |
| Location | Address | Phone number |
| Bengaluru office (Headquarters) | Myntra Designs Pvt. Ltd. Buildings AlyssaBegonia and Clover situated in Embassy Tech Village, Outer Ring Road, Devarabeesanahalli Village, Varthur Hobli, Bengaluru – 560103, India | +918043540100 |
| Gurugram Office | Plot No. 82A, Sector 18, Gurugram, Haryana – 122015 | 06294248409 |
| Mumbai Office | WeWork Spectrum, 307, Chincholi Bunder Road, Malad, Rajan Pada, Mindspace, Malad West, Mumbai, Maharashtra 400064 | 1800123999000 |
How Can I Talk to Myntra Customer Care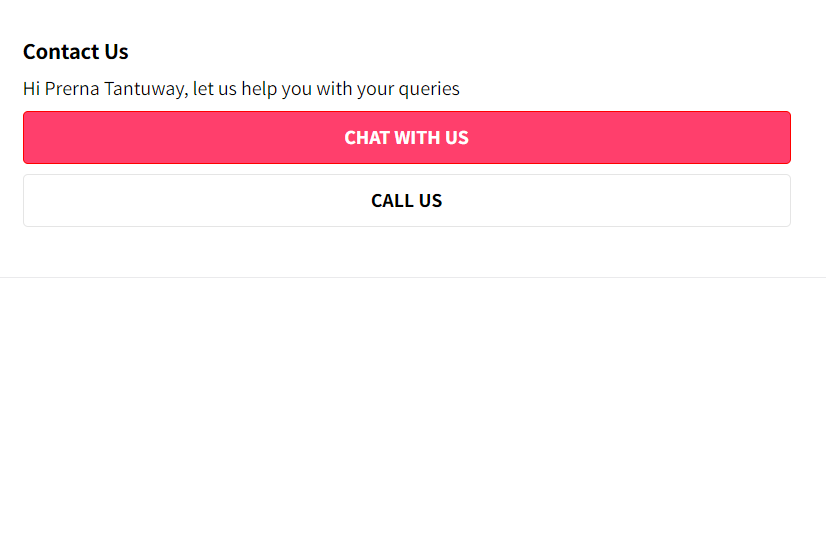 The company has made it very simple for customers to get in touch with Myntra customer support. While the most straightforward method to reach out to Myntra is by placing a phone call on the Myntra customer care number, it's important to note that there are various alternatives available for getting in touch with Myntra. The several options available to you are mentioned below:
1. Through Call Using Myntra Customer Care Number
You can simply call the Myntra customer care no at 080 6156 1999 and speak to them to resolve any issues you have. Steps to call Myntra Customer Care:
Dial 080 6156 1999.
Follow the instructions to get proper assistance.
2. Through Mail Using Myntra Customer Care Email ID
To contact Myntra customer care, you can conveniently send an email to the Myntra customer care email ID. This is especially useful for addressing complaints or more queries, which may also involve the attachment of relevant pictures. Typically, they respond within 24-48 hours. Steps to contact Myntra customer support through email:
Open your email account.
Write a detailed email describing your issue at length, along with the order number and item ID.
Type in the email address: customergrievance@myntra.com
Recheck the details and click 'Send'
3. Through the Myntra Customer Care Chat
The company has provided live chat support available on the website and app for you to be able to clear your doubts while shopping online without any hassle. You can also chat with the Myntra Customer Care team:
Open the Myntra website/app.
Click on your Profile and select 'Contact Us'.
The icon for Myntra chat will appear in the bottom right corner.
Send a message, and you will be assigned a representative for assistance.
How to Return a Product in Myntra
Frequently, while shopping online, you may face problems related to size or materials. However, to address this concern effectively, Myntra offers a very user-friendly return process. Myntra offers returns within a specific period of time, which is mentioned on the product details page for each product. This does not include non-returnable products and high-value products, which can be returned only in a limited amount of time. If you would like to know more about the return window of the product you have, you can contact Myntra customer support. To return a product, check out the following steps:
1. Through the website:
Log into your account on the Myntra website.
Click on your 'Profile', then click on 'Orders'.
Select the 'Return' option that appears for the order you wish to return.
The return ID will be provided at the end of this process.
Follow the instructions that appear on the screen after clicking on 'Return'.
Keep your package ready for collection or send it to Myntra, depending on the return method.
2. Through the Myntra app:
Open the Myntra application.
Click on the profile option from the menu.
Proceed to click on 'Returns' under 'Orders'.
Choose the issue you have with the product under the 'Select Issues' section.
You can also describe the problem in the 'Additional Comments' section.
Click on 'Proceed'.
You can change the address of pick up in this section.
Select the refund mode.
Confirm that the product is intact and unused by ticking the checkbox and clicking on 'Confirm'.
Recheck the details and click on 'Done'.
Myntra offers collection services at selected locations across India. If this option is not available to you, you can ship the product to Myntra yourself.
Conclusion
Myntra Customer Care ensures that its services make your online shopping experience enjoyable and hassle-free. You can reach out to the customer care team whether you have inquiries or concerns, need assistance with returns, or just product information. Myntra customer support is readily available through various channels to resolve your issues. Myntra has also placed offices in the major cities to streamline the basic processes for quicker deliveries and returns. The company's main aim is to provide prompt and personalized support based on your needs. Therefore, do not hesitate to call, message, email, or visit Myntra.
Related Articles:
Swiggy Customer Care Number
Zomato Customer Care Number
Paytm Customer Care Number
Thomson Customer Care Number
Boat Customer Care Number
Jio Customer Care Number
Samsung Customer Care Number
Lg Customer Care Number
Acer Customer Care Number
FAQ's of Myntra
Q1. How can I lodge a complaint in Myntra?
Ans. You can register a complaint by calling the Myntra customer care number at 080 6156 1999. Additionally, if you prefer written communication, you can also write to the Myntra customer care email ID for complaints at customergrievance@myntra.com.
Q2. What are No Questions Asked Returns?
Ans. Myntra ensures an easy and seamless returns experience when you create a No Questions Asked return request. Your refund will be initiated once the return is accepted.
Q3. Why has my return been put on hold despite the No Questions Asked Returns Policy?
Ans. The product's condition is checked at the time of collection, and if the conditions are not up to par, your return might be put on hold.
Q4. What is Instant Refunds?
Ans. Myntra will initiate a refund as soon as the delivery partner picks up your order and conducts a thorough quality check.
Q5. Why have I not received my Refund despite the Instant Refunds policy?
Ans. You will receive an instant refund if you select UPI/Wallet as your source. If you request a refund through your bank, it may take up to 10 business days.
Q6. How long would it take me to receive the refund of the returned product?
Ans. The refund amount reaches the sources at varying timelines, as mentioned below:
NEFT – 1-3 business days
Online refund – 7 to 10 business days
Myntra Credit and PhonePe Wallet – Instant
Q7. How do I return multiple products from a single order?
Ans. Make sure you mention each item's return ID on a sheet and place that sheet in the package with all your items. The return will be initiated based on your preferred method.
Hope you find the article (Myntra Customer Care) helpful. Please write to us in the comments section below if you have any suggestions.
Connect with us on Facebook and Twitter or join our Telegram Channel. Download the Flipshope extension for the latest tricks and offers. For any queries, WhatsApp us at 9999488008.