Jio has provided access to high-speed internet to the vast majority of India and has gained a commendable place in the technology industry. By prioritizing affordability and customer satisfaction, Jio has transformed the way India connects. It has emerged as a game-changer and has expanded rapidly, bridging the digital divide in the country through its commitment to innovation. It was announced on 19th September along with Jio Cloud PC and the inauguration of Jio Airfiber. With its diversity of services, including entertainment and e-commerce, Jio has now come up with the ultimate idea for development. India's largest telecom network has also taken a diverse turn into other technological domains, such as smart home development. The Jio Smart Home App will let customers control every smart device in their home from just one device. Keep reading to learn more about the Jio Smart Home App.
What is the Jio Smart Home App?
"More than 80% of data consumption in India happens indoors, and through our home offerings, we meet our customers where they consume most of their data," Akash Ambani, Chairman, Reliance Jio.
JioHome is the center of Reliance's innovative Jio Smart Home services ecosystem that integrates with Jio AirFiber. It is a control hub with which users can manage and monitor various smart devices inside their homes. Users can set the perfect temperature, adjust lighting, check security cameras, or control the TV with a single device. The app represents a big leap forward in the world of technology and automation, redefining the way you live. To ensure that the smart home solution runs smoothly, integration of several smart devices must be done effectively. The three main components that are needed for this automation are :
Jio Home Router
Jio Set-top Box
JioHome App
Reimagine Digital Experiences with JioHome App
The JioHome App with its innovative features and integration, lets users reimagine digital experiences. It is a gateway to a more connected, smarter, and convenient way of living. Giving users the ability to turn their phones into a Jio Set-top box remote or a gaming controller, access their data remotely, and ensure wider network coverage with the JioHome app, Jio has transformed the daily life of every individual with this app.
A virtual remote control for all the things you do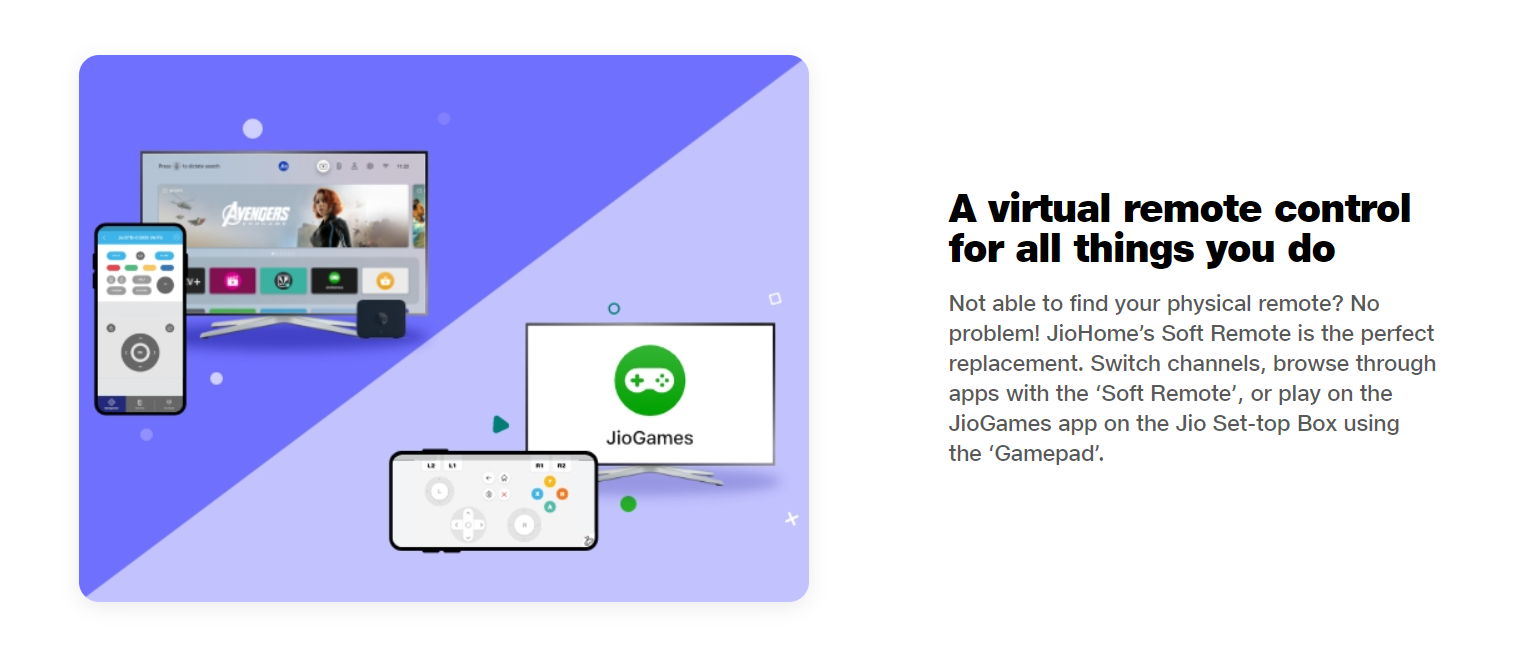 Users only need one device for all their needs, be it switching channels or playing games on JioGames. JioHome lets users turn their smartphone into a soft remote as well as a gamepad for games to be played on the Jio Set-Top box.
Share, view, play – your media, your way!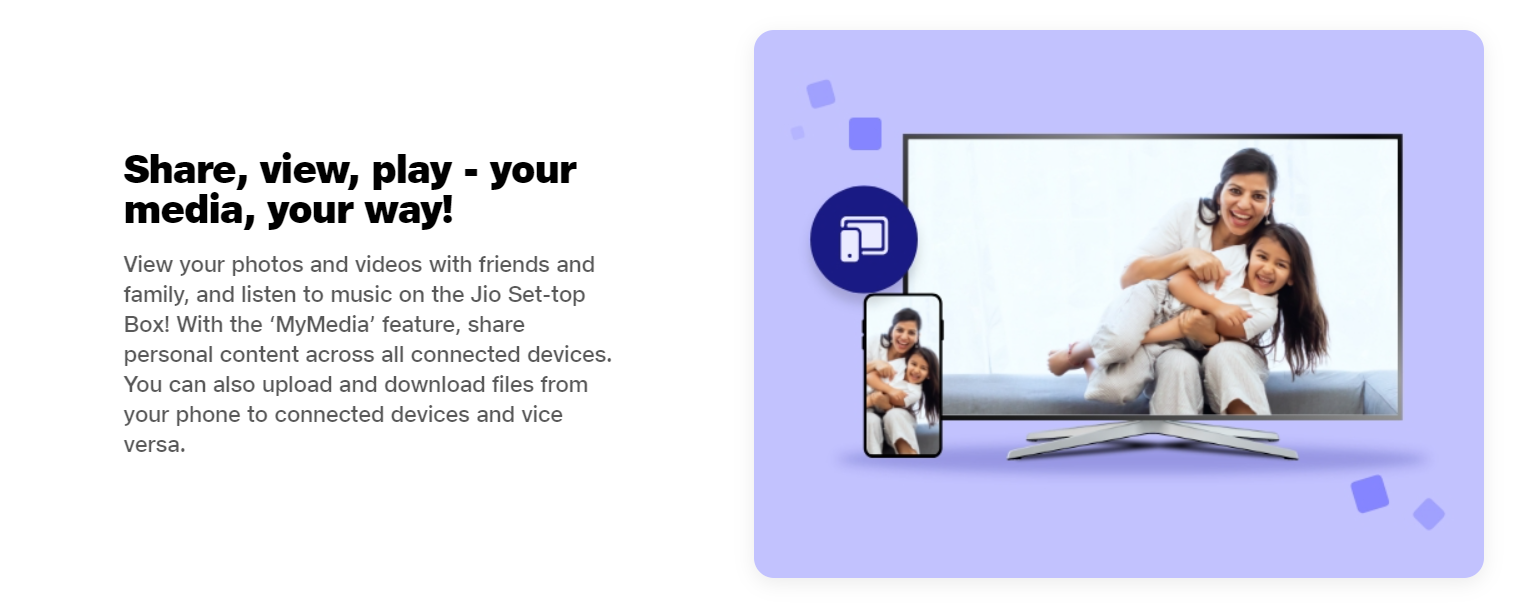 With the Jio Smart Home App, users can share, view, and play any photo or video across all devices connected to the network. Furthermore, uploading and downloading files between devices on the network is made extremely easy. Moreover, users can also enjoy music playing directly on their Jio Set-Top box.
Wherever you go, your files follow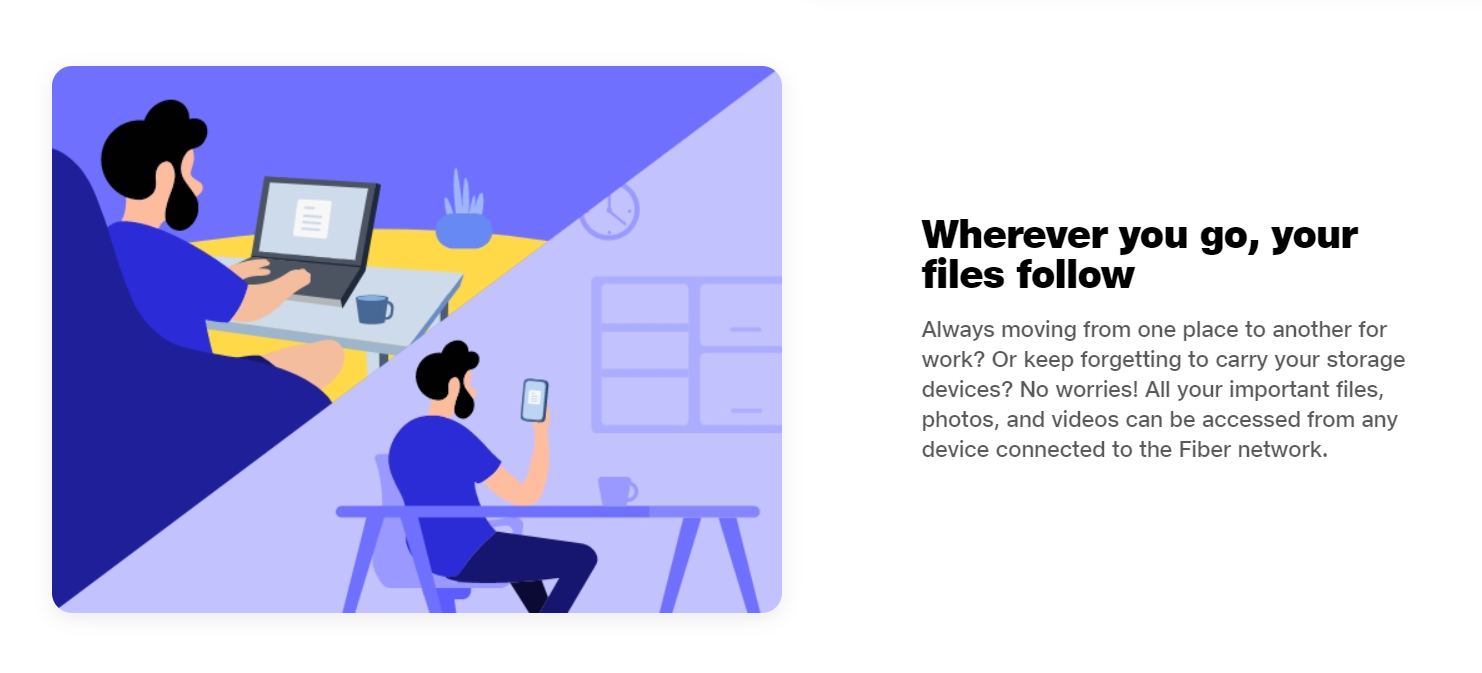 Customers can gain access to all their data from wherever they are as long as they are connected to the Fiber network and eliminate the need for extra storage devices.
Take control of your network and connected devices

To avoid any lag or slow speeds while surfing the internet, users can now utilize the JioHome App along with the Jio WiFi Mesh Extender to ensure the fastest speeds in every corner of your home.
Smart App, Smart Feature
The Jio Smart Home App has an array of intelligent features. The innovative application equips users with the ability to control and monitor various aspects of their homes effortlessly. These features demonstrate how technology can enhance daily life, making homes not just smarter but also more intuitive and responsive.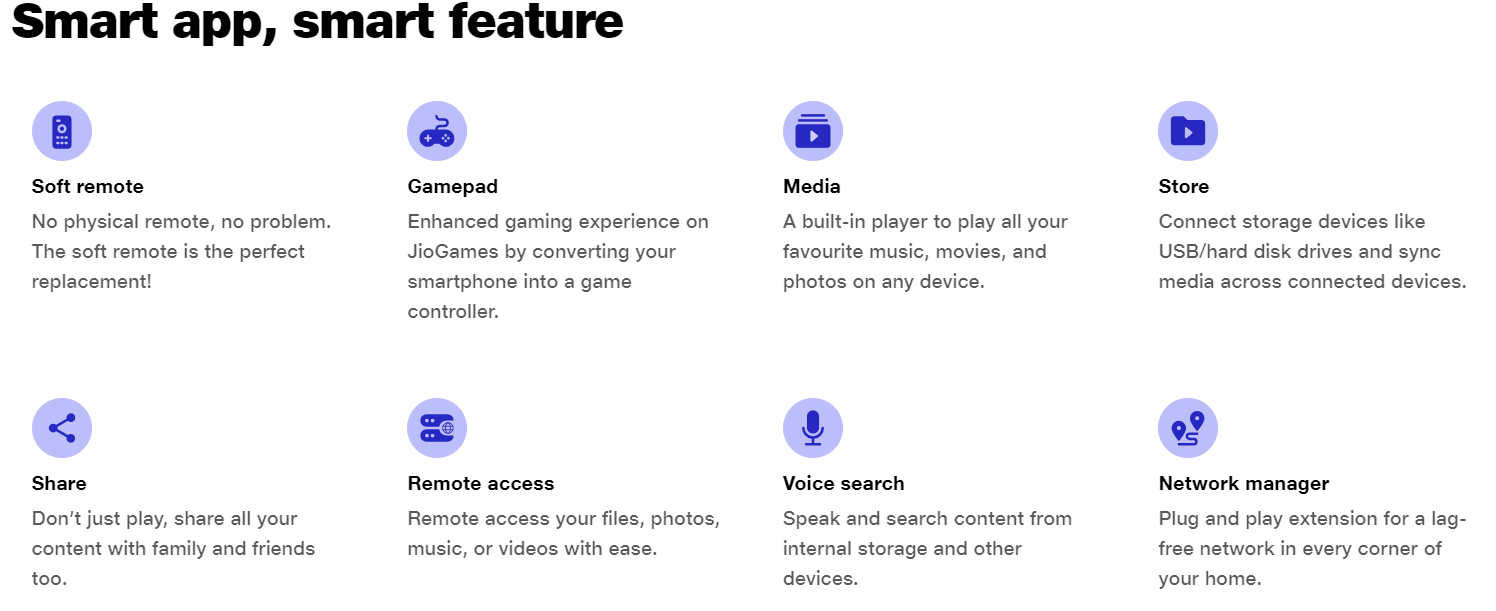 Soft Remote:

Convert your smartphone into a soft remote and eliminate the need for a physical remote.

Gamepad:

Enjoy Jio Games by converting your smartphone into a game controller.

Media:

Play your desired music, movies, and photos on the device you prefer.

Store:

Sync your media across all connected devices through storage devices like USBs.

Share:

You can also share data with everyone connected to the network.

Remote Access:

Access your photos, music, files, or videos from anywhere with no hassle.

Voice Search:

Look for your data in multiple devices or storage using just your voice.

Network Manager: Get high speeds in every corner of your home with the plug-and-play extension.
Jio Smart Home: How it Works and All Details!
To understand the capabilities and significance of the Jio Smart Home App, it is important to understand how it works within the Jio Smart Home ecosystem. The Jio Home router is at the center and connects all the smart devices in your home to the app, letting you control them remotely. The Jio Set-top box lets your television access the popular streaming services, manageable through the app. Jio's Home security cameras can be accessible from anywhere at any time. They are also available on the app, which gives you real-time monitoring and alerts. Together, all these elements work together to bring the Smart Home concept to life and give customers a simplified, enriched, and secure home life.
Jio Home Router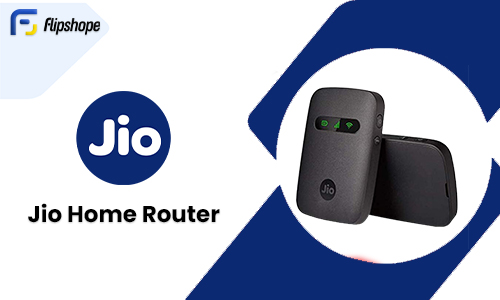 One of the main components of the Smart Home solution is the Jio Home router. It ensures more than just smooth WiFi coverage and stable connection between all Jio Smart Devices. It is at the center, facilitating communication between the app, smart devices, and the home internet. Users will be able to control the devices in their homes even while they are away, promising a more easy-going and hassle-free experience.
Jio Set-Top Box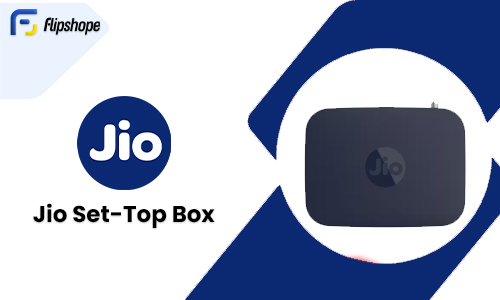 This component offers access to the usual television channels. It also provides a seamless integration with various streaming services like Netflix, Amazon Prime Video, and more. The Jio Set-top box set also includes all the Jio entertainment apps like Jio Cinema and JioTV+. For gamers, with the help of the set-top box, an eRemote feature is introduced that lets users convert their smartphones into gaming controllers on the Jio Smart Home App, JioHome. Customers can also use this remote in place of the physical remote, which is yet another convenient option.
Jio Home App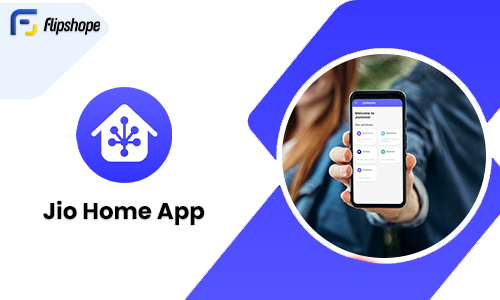 Another half of the main component is the JioHome app itself, designed to provide a user-friendly interface to control all your smart devices. The app provides services that let you adjust the temperature, set mood lighting, check security cameras, and much more. The app is made for tech enthusiasts and amateurs alike. With a wide array of smart features, the app is made widely accessible and easy for everyone to understand. Some key features customers would appreciate:
Set parental controls

Strengthen the security of your network

AI-driven technology to track your usage pattern, optimize your network, and pre-empt major issues.

Suggests WiFi extenders for areas of your home
JioHome also allows you to share, view, and play your media your way across all devices connected to the Jio Smart Home App through the 'MyMedia' feature. Users can play media, listen to music, upload or download files from the connected devices to their phones, and vice versa. Moreover, you can use voice control to manage the content and internal storage on multiple devices.
Other Features in the JioHome App :
MyNetwork
MyGamepad
MyRemote
Jio Home Security Cameras
When it comes to a smart home, one of the most important reasons to have one is security. Jio Smart Home also takes the topic of security as a primary concern, which is the reason for the development of Jio's Home security cameras. They integrate with the Jio Smart Home app with ease and allow users to monitor their homes from afar. With Jio Home Security, users are able to surveil the inside and outside of their homes completely. With a live video feed, the ability to record their feed, and alerting the user in case of any suspicious activity, it ensures the safety of their loved ones.
Jio's commitment to innovation is evident in its dedication to making India smarter. The Jio Smart Home App is set to make far-reaching changes by making modern living a very clear possibility of the future. With its intuitive interface, integration, and focus on security and entertainment, JioHome will make the daily lives of its users much more relaxing, intelligent, and secure. By offering efficient home automation, better security, and endless entertainment options, Jio Smart Home App has transformed the way we live. As we dive deeper into the era driven by smart technology and automation, Jio Home is a statement of the possibilities of the digital age. Features like 'MyMedia', 'MyRemote', 'MyGamepad', and 'MyNetwork' will not only simplify our routines but also result in our homes being an extension of our needs and desires.
FAQs of Jio Smart Home App
Q1. What are 'MyMedia', 'MyRemote', 'MyGamepad', and 'MyNetwork'?
Ans. The Jio Smart Home App comes with a multitude of smart features, some of which are :
MyMedia: It allows users to share photos, videos, music, and files across devices connected to the JioFiber WiFi network. Customers can also mirror their desired content on any other connected device they prefer.
MyRemote: This is a mobile remote for the Jio Set-top box, which lets users control their devices without the need for a physical remote. The mobile app works over Bluetooth or WiFi, depending on the Jio Set-top box.
MyGamepad: JioHome provides a mobile game controller for the games on JioGames. Users must pair the Jio Set-top box to MyRemote using Bluetooth to be able to use this feature.
MyNetwork: Users can view the entire JioFiber network in their home using this feature, including the devices connected.
Q2. What can I use the Jio Smart Home App for?
Ans. Jio Smart Home App can be used to integrate all aspects of the users' home life, such as lighting, temperature, smart devices, network troubleshooting, security, and much more.
Q3. Where can I download JioHome?
Ans. JioHome is available on Google Play or the App Store.
Q4. Do I need the JioFiber network to be able to use the Jio Smart Home App?
Ans. Yes, a JioFiber network is required to be able to use the JioHome App.
Q5. Do I need to be connected to the Internet to view Home Network?
Ans. JioHome – MyNetwork works only when the mobile is connected to a Jio Fiber Router through Jio AirFiber or any other network WiFi. Please note that it will not work on any Mobile Data.
Hope you like this article (Reliance Jio has Launched: Jio Smart Home App!). For any suggestions or queries, feel free to mention them in the comment section.
Connect with us on Facebook and Twitter. Join our Telegram Channel. Download the Flipshope extension for the latest tricks and offers. For any queries, please Whatsapp us at 9999488008.