Gone are the days when you had to think twice before downloading your favourite movies or shows from the internet. Airtel Xstream Fiber is here with its ravishing benefits! You can use Wi-Fi without wondering about speed and connectivity as the Airtel Xstream Fiber has top-class quality and speed. Whether you are experiencing Wi-Fi for the first time or thinking of updating your old one, the Airtel Xstream Fiber router will fit right into your expectations. If you are intrigued to know more about Airtel Xstream Fiber plans, then go through the following information now.
Everything About Airtel Xstream Fiber & Its Plans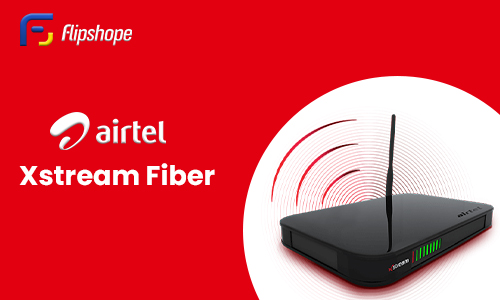 You must have heard that Fiber Internet is better than any other internet service, but do you know the reasons why? What does the Fiber internet even mean? Well, let's unfold the mystery with the greatest Airtel Xstream Fiber. You can use this Fiber internet at your home and business place to get uninterrupted data and connectivity. The irresistible benefits of Airtel Xstream Fiber will complete all your important online tasks in a snap. Let's have a look at the perks of Airtel Xstream Fiber mentioned below.
High speed
Unlimited data plans
24*7 customer support
Smart routers
Access to OTT platforms
Know About Jio AirFiber | India's First Wireless Wifi Connection!
Airtel Xstream Fiber Plans And Wifi Offers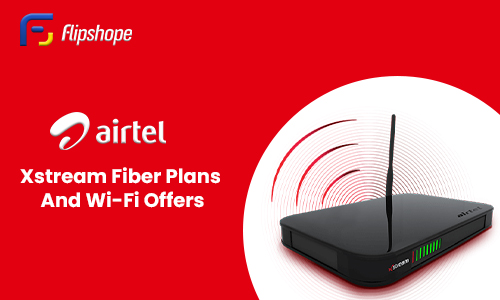 It's time for you to switch to faster and better internet services like Airtel Xstream Fiber and unlock the exciting benefits. The Airtel Xstream involves various plans with different benefits, including access to amazing music apps and popular OTT platforms. Here is the complete list of all the Airtel Xstream Fiber Plans with their price and benefits.
INTERNET PLAN

MONTHLY
PRICES
INTERNET
SPEED
30-DAYS
TRIAL
BENEFITS INCLUDED
IN THE PLAN

WIFI
ROUTER
Basic
499
Up to 40 Mbps
NA
1 Year of Xstream premium, Wynk & much more
FREE
Basic + TV
699
Up to 40 Mbps
YES
1 year of Disney+ Hotstar & 10 more OTT apps 300+ TV channels Extra & much more
FREE
Standard
799
Up to 100 Mbps
NA
1 Year of Xstream premium, Wynk & much more
FREE
Entertainment
999
Up to 200 Mbps
NA
1 year of Amazon Prime, Disney+ Hotstar, 10 more OTT apps & much more
FREE
Entertainment + TV
1099
Up to 200 Mbps
YES
1 year of Amazon Prime, Disney+ Hotstar & 10 more OTT apps 350+ TV channels extra & much more
FREE
Professional
1498
Up to 300 Mbps
NA
1 year of Netflix, Amazon Prime, Disney+ Hotstar, 10 more OTT apps & much more
FREE
Professional + TV
1599
Up to 300 Mbps
YES
1 year of Netflix Unlimited, Amazon Prime, Disney+ Hotstar, 10 more OTT apps, 350+ TV channels extra & much more
FREE
Infinity
3999
Up to 1 Gbps
NA
1 year of Netflix Unlimited, Amazon Prime, Disney+ Hotstar, 10 more OTT apps & much more
FREE
What is Coverage+ in Airtel?
If your house has large rooms, multiple floors, and numerous smart devices, then all you need is 100% Wi-Fi coverage with a consistent, powerful signal. Coverage+ takes care of everything for you and makes sure your home has consistent Wi-Fi. Therefore, you no longer need to leave your ideal spot to work, study, or stream. Connect up to 60+ devices at once, including laptops, smartphones, TVs, game consoles, and more. Access reliable Wi-Fi throughout your entire home on every device.
Users who reside in large bungalows or houses and experience dead zones in their Wi-Fi network may find this to be a useful choice. They can subscribe to Airtel Coverage+ and receive two nodes or mesh routers for Rs 3,999.
Installation Charges
It is one of the best streaming services out there, with a wide range of movies, TV shows, and original content. Now, as far as Airtel Xstream Fiber installation charges are concerned, they may vary depending on where you live and what type of package you are looking to get. But don't worry; it won't cost you much of your savings. In fact, it's quite reasonable, especially when you consider the quality of the service you're getting. So, go ahead, get Airtel Xstream installed and get ready for some serious binge-watching. Just don't forget to stock up on some popcorn and snacks because once you start, you won't be able to stop!
Top 10 Features Of Airtel Xstream Fiber Plans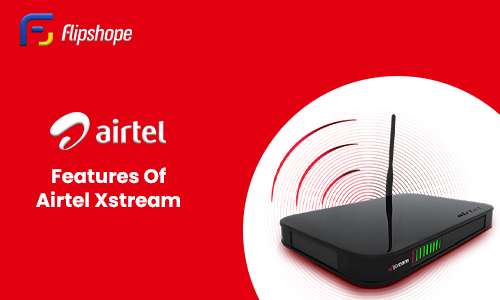 Airtel Xstream is a digital entertainment platform by Airtel, a leading telecommunications provider in India. Flawlessly managing a range of services, Airtel Xstream transforms the way users experience entertainment and connectivity. Apart from connectivity, Airtel Xstream brings together a variety of entertainment sources, including movies, TV shows, music, and more. Let's have a look at the top features of Airtel Xstream.
1. High-speed internet:
Depending on the plan chosen, Airtel Xstream broadband offers consumers high internet speeds ranging from 100Mbps to 1Gbps.
2. Unlimited data:
Some plans include unlimited data, allowing users to browse the internet without being concerned that their data may run out.
3. Streaming box:
Customers of Airtel Xstream Internet have access to a streaming box that gives them access to a variety of entertainment, such as live TV channels, movies, and TV series.
4. OTT subscriptions:
Popular OTT services like ZEE5, Netflix, and Eros Now are all included as free subscriptions with Airtel Xstream broadband.
5. Smart Phone Protection:
Airtel Xstream Fibre also provides complimentary smartphone protection, which includes coverage for theft and unintentional damage.
6. Home network:
Customers of Airtel Xstream broadband can set up a home network to share their internet connection among several devices.
7. Parental restrictions:
Airtel Xstream Internet also provides parental controls, which let parents block access to particular websites and apps and set limits on how much time is spent online.
8. Gaming:
Airtel Xstream Fibre Internet also has bundles for gaming and connections that have low latency.
9. Smart Home: Using the streaming box, Airtel Xstream Fibre subscribers may connect to and manage their smart home equipment.
10. Wi-Fi and Fixed Line Unlimited Calling: Wi-Fi Calling is a feature that allows you to make and receive calls over a Wi-Fi network, even if you have a poor cellular network.
Important Documents Required For A New Wi-Fi Connection?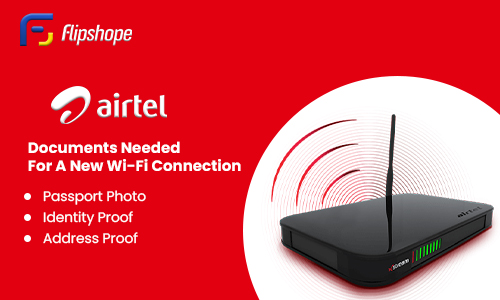 If you are thinking of getting a new Wi-Fi connection, then you will require some important documents so that all the necessary procedures can be done. Have a look at the following details of the documents required to get a new Wi-Fi connection.
Passport size photo (self-attested)
Proof of Identity
Address Proof
You can show any of the following as identity proof:
Voter ID card
Aadhar card
PAN card
Ration card (with photo)
Driving License
Passport
For Address proof, you can submit any one of the following documents:
Latest electricity bill
Latest telephone bill
RC copy of your vehicle
Rental Agreement
Passbook
How To Relocate/Shift your Broadband Connection and its Charge
Here are some of the powerful steps that will let you enjoy your Wi-Fi connection without any problem, no matter where you live. Let's get started!
You must first speak with an Airtel customer service person. As soon as you begin conversing with Airtel customer support, be sure to provide him or her with all the details so they can help you with a better answer.
Make sure to let the agent know about your new location and your current plan of action. Additionally, make sure to express to them your want to upgrade to a better plan.
Next, inquire with the representative about any additional fees associated with Airtel broadband transfer that you might incur.
How To Cancel Airtel Xstream Fiber Request
Want to cancel the Airtel Xstream installation at your place, wondering how? Well, here are some steps that will help you how to cancel connection requests easily. Let's have a look!
Contact Airtel Customer Service: You can call Airtel customer service at 121 or 198 from your Airtel number or +91-11-4444-8080 from any other number. Explain that you want to cancel your Airtel Xstream Fiber installation request, and let them guide you through the cancellation process.
Provide Details: You will need to provide your installation request ID and other relevant details, such as your name, address, and contact information. This information will help the customer service representative locate your request and cancel it.
Confirm Cancellation: Once you provide the details, the customer service representative will confirm that your installation request has been cancelled. They may also ask about the reason for cancellation, but this is optional.
Follow-up: After cancelling your installation request, take a follow-up with Airtel to confirm if your request has been cancelled to ensure that you are not billed for any installation charges.
Related Articles:
Check Out Airtel 5g Plans!
Know How to get free data in Airtel?
Read How to Port from Jio to Airtel & Airtel to Jio! & How to Block Airtel Sim!
Conclusion
Airtel Xstream Fiber is the perfect choice for anyone looking for high-speed internet and unlimited data plans with a wide range of other benefits. Whether you are a student, a business owner, or someone who loves streaming movies and TV shows, Airtel Xstream Fiber has something for everyone. With its smart routers, 24*7 customer support, and access to OTT platforms, Airtel Xstream Fiber is the ultimate choice for your internet needs. So why wait? Choose the Airtel Xstream Fiber plans that suit your needs, and get ready to experience seamless internet connectivity like never before.
FAQs
Q1. What are Airtel Xstream Fiber plans on a monthly basis?
Ans. The range of new Airtel Xstream Fiber plans begins at a monthly cost of Rs. 499 for a speed of 40mbps and extends to Rs. 3,999 for a speed of 1 Gbps.
Q2. How to change the Airtel Xstream Fiber password?
Ans. To change the Airtel Xstream Fiber password, follow the steps mentioned below:
Install the Airtel Thanks app from the Play Store or App Store
Check-in through your registered mobile number connected with your Wi-Fi connection, or you can also start with the Service ID of your Airtel Wi-Fi Connection.
You will receive an OTP on your registered mobile number; after verifying it, you can log in.
Click on the card of the relevant Wi-Fi connection
Click on Manage Services. There will be an option that allows a change of password.
Click on Change Wi-Fi Password
Enter the new password for your network
Submit your request. After the request is submitted, wait for a few minutes before re-connecting all your devices to the Wi-Fi connection with a new password.
Q3. What is the price of a new Airtel Fiber connection?
Ans. The installation charge for the new broadband connection is Rs.1000. Airtel also charges a refundable deposit of Rs. 1500 for the Xstream box. Installation is done free of cost when you choose quarterly, half-yearly and yearly plans.
Q4. Can I shift my broadband to another city?
Ans. Yes, you can shift your broadband to another city.
Q5. How to check my current broadband plan?
Ans. To check your current broadband plan, log in to the Airtel Thanks app with your registered account. In the app, go to settings and then the broadband section. Your current plan will be displayed on the screen.
Q6. What are free OTT subscriptions included in the Airtel Xstream Fiber plans?
Ans. Free OTT subscriptions offered by Airtel Xstream are totally based on the plans you choose. You can have access to a variety of OTT subscriptions like Airtel Xstream, Wynk Music, Shaw Academy, Amazon Prime, Disney+ Hotstar, and Zee5 Premium. Moreover, if you go for Rs. 999, Rs. 1,499, or Rs. 3,999 Airtel Xstream Fiber Recharge Plans, you get a complimentary Airtel Xstream box and access to numerous free movies and OTT subscriptions.
Hope you find this article (Airtel Xstream Fiber Plans, Installation Charges & More!) helpful. If you have any suggestions, please write to us in the comment section below.
Connect with us on Facebook and Twitter or join our Telegram Channel. Download the Flipshope extension for the latest tricks and offers. For any queries, please Whatsapp us on 9999488008.