Have you heard of the well-known brand Lloyd? Of course, this brand is well-known to everyone due to its excellent products and first-rate services. It offers a variety of contemporary air conditioners, refrigerators, LED TVs, dishwashing machines, and washing machines. The best part of purchasing goods from such a well-known business is that you are able to receive the best customer service even after making several purchases over time. The Lloyd customer care number is prompt and effective. You can discover all the information about the Lloyd customer care number and other ways to contact the service providers in this article, whether you need assistance with the televisions or refrigerators you purchased.
Lloyd Customer Care Number, Address & Email IDs
Are you having problems with the electronic devices you recently purchased from Lloyd? Don't worry; Lloyd provides excellent customer service. The best part is that you will receive the fastest Lloyd customer service help on the items. Discover all the necessary information, such as the Lloyd customer service toll free number, Whatsapp number, email IDs, and much more, to help you with your inquiries. The Lloyd toll-free number and customer care line are among the numbers that are available for partner assistance and customer service. The support team will make a strong effort to resolve your problems.
Lloyd Customer Care Number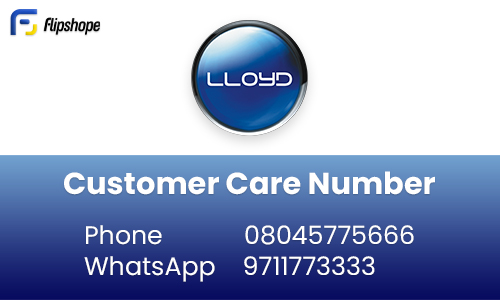 While contacting any customer care, prompt responses are what customers want, and they are only possible if you call the customer care team directly. Lloyd customer care number provides you access to prompt replies from the team, and you can be assured of thoughtful resolutions for your problems. The list of Lloyd customer care numbers mentioned below will ease your concerns:
Lloyd customer care number: 08045775666
Lloyd AC customer care number: 08045775666
Lloyd TV customer care number for Whatsapp: 9711773333
Lloyd customer care WhatsApp Number: 9711773333
Lloyd washing machine customer care number: 08045775666
SMS service request: PINCODE, nature of the complaint to 9212110303
Lloyd Customer Care Email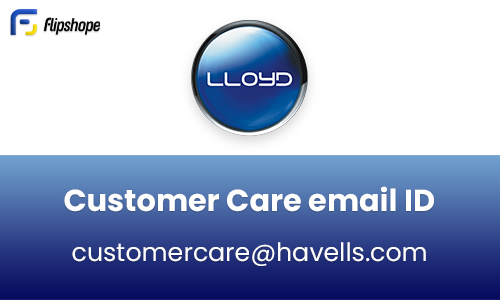 If you need to send any documents to the Lloyd team or want written solutions for your queries, here is what you have been looking for: the Lloyd Customer Care Email. This email will be your rescuer if any of your Lloyd appliances are not working and you want a written solution that you can check out later, too.
Lloyd customer care email ID: customercare@havells.com
Lloyd Head Office and Address
Main registered office: 904, Surya Kiran Building, K.G. Marg, New Delhi – 110001. (INDIA)
Corporate Office: QRG Towers, 2D, Sector-126, Expressway, Uttar Pradesh, Noida – 201304.
Lloyd Customer Care
The customer service staff can provide professional assistance for troubleshooting and problem-solving if you are having technical problems with your Lloyd gadgets or appliances. Additionally, if you are interested in learning more about the services, warranties, or other aspects of the product, its personnel can offer reliable information. With the help of the Lloyd TV customer service number, you can now quickly and easily resolve any of your issues. Now, after making a purchase with Lloyd, have a look at some of the service request features that Lloyd customer service has given.
Register Service Request
In order to make sure your unique needs are satisfied, raising a service request with Lloyd normally involves an organized process. Following are the steps to register a service request with Lloyd:
Sign in to the account you have registered with
Find the services you need
Contact Lloyds customer service and register a service request with the Lloyd team
Track Service Request
Tracking a service request with Lloyd's service usually entails keeping track of the progress and status of the services or projects that you've requested. Tracking service requests can differ based on the specifics of the project and the individual systems or technologies that Lloyd's service employees use for client management. Follow these steps to track your Lloyd service request:
To track a service request
Enter Your Reference ID
Check the Status
If you want assistance, get in touch with customer support
Product Registration
The Lloyd Product Registration process is easy and crucial for customers who just purchased Lloyd electronics and appliances. By registering your Lloyd product, you can take advantage of the manufacturer's support and warranty options, giving you confidence in the standard and dependability of your purchase. It's easy to register your Lloyd product, and there are several benefits, like improved customer support, warranty coverage, and exclusive offers.
Service Charge
The service rates for Lloyd's customer service can differ greatly based on the individual services and projects you want. A number of factors, including service type, project complexity, industry, and scope of work, have an influence on how much Lloyd's services cost. Here are some of the main services Lloyd generally offers:
Lloyd Service Charges for Tv
Lloyd Service Charges for washing machines
Lloyd Service Charges for refrigerators
Lloyd Service Charges for B.M./G.S./C.D
Lloyd Service Charges for Chest Freezer
E-Waste Awareness
As technology advances at a quick rate, electronic garbage, or e-waste, has grown to be an increasing worry in the modern world. Lloyd is aware of the significance of managing e-waste and actively encourages its customers to do the same. Specifics of Lloyd's campaigns to raise awareness about e-waste include:
Campaigns for Education
Centres for Collection
Eco-friendly Design
Customer engagement
Extended Producer Responsibility (EPR)
Warranty
By providing warranty coverage on its goods, Lloyd shows how seriously it takes customer satisfaction. A standard warranty period is often offered by Lloyd for its goods. The length of this warranty can change based on the type of equipment you buy. In general, you can count on receiving warranties that range from one year.
Lloyd's Social Media Account And Support
Contacting Lloyd Social Media Support will also provide you with access to the most latest information and product updates. You can stay up to date with Lloyd's latest technology in this way. Lloyd's presence on social media platforms allows direct connection, allowing for real-time dialogues and prompt replies. Customers can check the newest services by following Lloyd's social media pages. Visit and support the following Lloyd social media account.
If you have already purchased something from the Lloyd Company and are having trouble resolving a problem with it, you no longer need to be concerned. You can contact Lloyd customer service using the information provided in the article. This page provides all the information you need, whether you are worried about the warranty duration of the items you purchase or want to know the contact information for the Lloyd main office. So don't hold back and begin your stress-free shopping experience with Lloyd right away.
Related Articles:
Swiggy Customer Care Number
Zomato Customer Care Number
Paytm Customer Care Number
Thomson Customer Care Number
Boat Customer Care Number
Jio Customer Care Number
LG Customer Care Number
Samsung Customer Care Number
FAQs
Q1. What are Lloyd's customer care numbers?
Ans: Dial the toll-free number according to the state you require service in to submit a service request:
Q2. What are the working hours/days of Lloyd customer care?
Ans: To provide fast response to your requests and feedback sent through the helpline numbers, Lloyd's internal contact centre is open Monday to Saturday from 8 a.m. to 8 p.m.
Q3. How do I raise a complaint with Lloyd AC?
Ans: If you want to file a complaint with Lloyd AC, you've come to the right place. Make a complaint right away, and the specialists at Lloyd's will assist you in regarding the same:
Visit the "File a Complaint" page.
Select Lloyd AC and be specific in your complaint writing
Fill up your personal details to set up an account
Request from Lloyd AC a refund, replacement, or damages
Q4. How do I claim Lloyd AC free service?
Ans: Following a certain process described by Lloyd is normally required to request a free service for your Lloyd AC. Follow these general instructions to get a free service:
Check the warranty status and view the Warranty Terms
Get in touch with customer service
Make an appointment
Wait for the service visit
Hope you find this article (Lloyd Customer Care Number, Email-ID, and Other Details You Need to Know!) helpful. If you have any suggestions, please share them with us in the below comments.
Connect with us on Facebook and Twitter or join our Telegram Channel. Download the Flipshope extension for the latest tricks and offers. For any queries, please WhatsApp us at 9999488008.