What is Paytm Wallet?
Innovative solutions like online payments and digital wallets have ushered in a new era of accessibility and convenience. They enable individuals to manage their payments seamlessly with a click. One such digital wallet service offered by the largest online payment platform in India is the Paytm wallet. It allows users to store money and use it for various purposes such as money transfers, bill payments, booking movie/train/bus tickets, and much more. The money you store in your Paytm wallet is ready-to-use cash only you can access anytime, anywhere. To avail of the full benefits provided by Paytm, you must know how to activate Paytm wallet, how to add money in Paytm wallet, and how to transfer money from Paytm wallet to bank account. You can contact Paytm customer care for more details!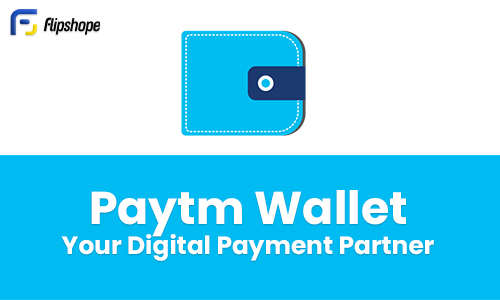 Benefits Of Using Paytm Wallet
Along with being a safe, secure, and approved digital wallet, there are more features and perks you should be aware of to make the most of the services provided. The Paytm wallet makes payments extremely easy without the need to visit external sites or go to offices. The wallet has been deemed to be a staple for the majority of people, all because of the convenience, security, and discounts & cashback it provides. It is a one-stop solution for all your utility bills, recharges, train/bus/movie tickets, online shopping, and gift vouchers.
More details about the benefits of using Paytm wallet:
1. Convenience:
Ensuring a quick, simple, hassle-free experience for new users, the Paytm wallet is very user-friendly. With various features that help you manage your expenses, it is proving to be a useful asset.
Transferring money to friends and family is made a lot easier with the Paytm wallet.
You can link it with your FASTag account and set up auto-pay, making it easier to travel across the country.
Paytm wallet is accepted at all QR code payment gateways.
You have access to 24/7 help concerning any issues with your Paytm wallet or any other payments; just call or message 0120-4456-456.
Set up the 'Automatic Add Money' feature, which allows you to add a fixed amount to your Paytm Wallet when the balance goes below a certain amount.
Use the 'Speed Analytics feature to keep track of your regular expenses.
2. Security:
The wallet comes under the surveillance of the RBI and has a set standard that involves following their guidelines. You can expect the utmost level of security when it comes to your money being safe in your Paytm wallet.
Paytm makes sure that you receive a refund from the partner apps in case there is a cancellation or return, and the payment has been made by Paytm wallet.
The security password in the Paytm app keeps your transactions safe so that the money in your Paytm wallet is safe, even in the case of a stolen or lost cell phone.
You do not pay directly from your bank account, which makes it even more secure.
3. Discounts & Cashback:
Paytm wallet is about more than just payments. Each one of your transactions through the wallet gets you a reward, big or small; it just depends on your luck
Various cashback, offers, rewards, discounts, and scratch cards can be availed by making payments through your Paytm wallet.
You can create sub-wallets like food, fuel, or gift wallets so that you receive exclusive offers.
How to activate Paytm wallet online?
Paytm has not made this feature available on the website yet. However, you can easily activate the Paytm wallet through the app. The Paytm app is going to be the most used app once you complete the sign-up and activation process. It provides all the facilities required to complete daily tasks, and we can complete them with just a click. The easiest way to complete and operate the platform is by downloading the application and setting up your profile. The user-friendly interface ensures that you are able to navigate across the application with utmost ease. Before you learn how to send money to Paytm wallet, look at the steps for how to activate Paytm wallet. Here is how to activate the Paytm wallet via the app: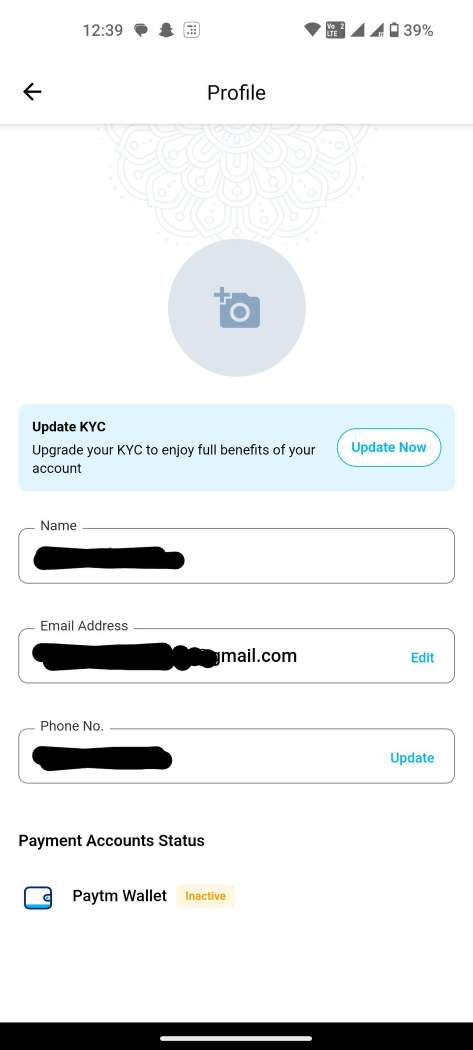 Install the latest version of the Paytm app.
Log into your account and link your bank accounts if you have not done that yet.
Navigate to 'Profile & Settings' and click on it.
Your wallet status will be 'Inactive'; to change that, click on the 'Activate now' button.
You can complete your KYC by clicking on 'Complete your minimum KYC to activate wallet'
You can upgrade to a full KYC after completing the previous step.
You can choose from the following options to complete your KYC:
Video KYC.
Visit the nearest KYC center.
Schedule a home visit by Paytm personnel.
You will be asked to provide any one of the following documents: PAN card, Aadhar card, Passport, Voter ID, Driving License, or NREGA Job card for ID verification.
Upload images of documents as address proof.
For unlimited access to all features, it is suggested to opt for a full KYC. You are free to opt for the minimum KYC. However, you will only get limited access if you choose to do so.
Learn How to Add Money to your Paytm wallet
Now that you have created your account on Paytm, linked your bank accounts, and activated your Paytm wallet, complete with a full KYC, it is time to know how to send money to Paytm wallet. Being a wallet user with a full KYC means you get unlimited access along with a monthly limit of Rs. 99,999 to store in your wallet. Additionally, you can make payments beyond just merchants and online stores or websites.
How to Add Money in Paytm wallet: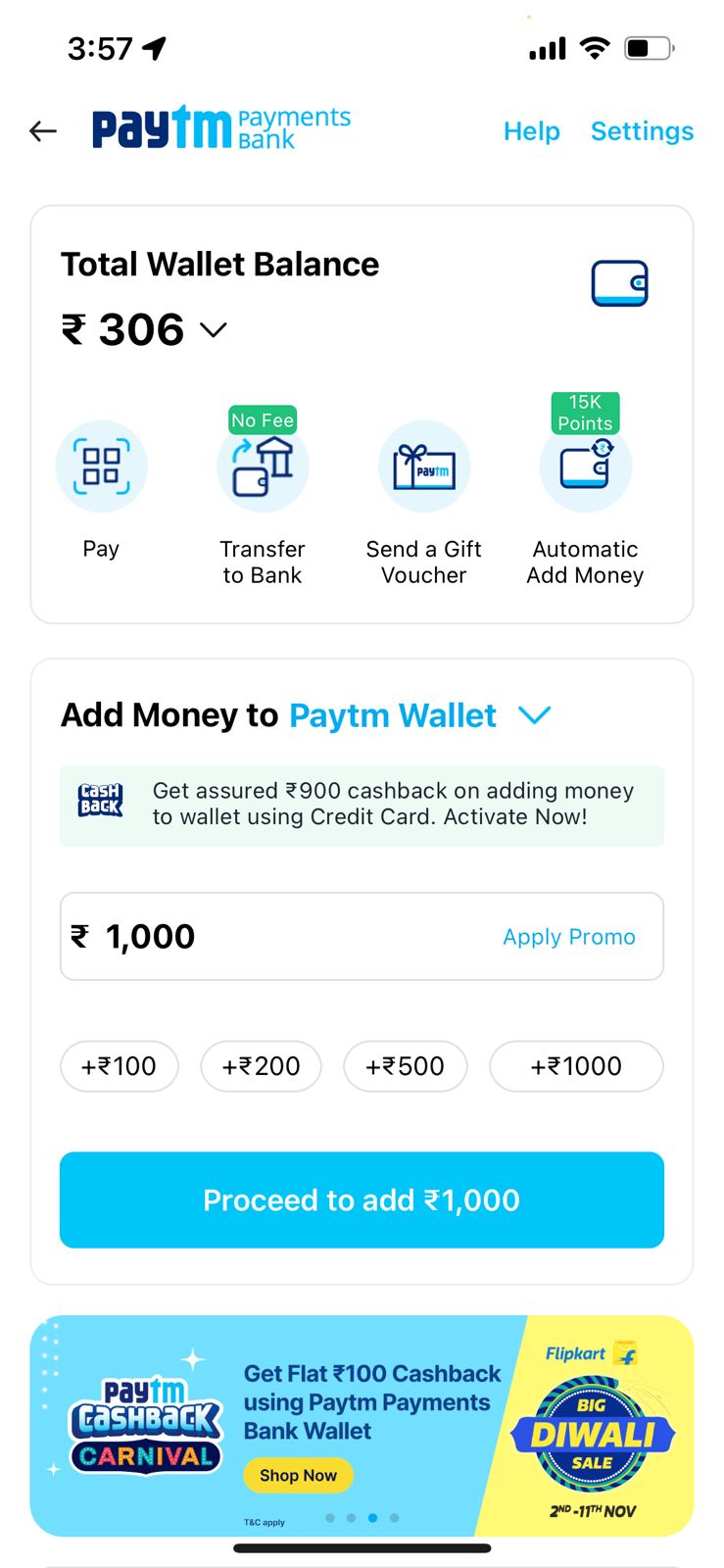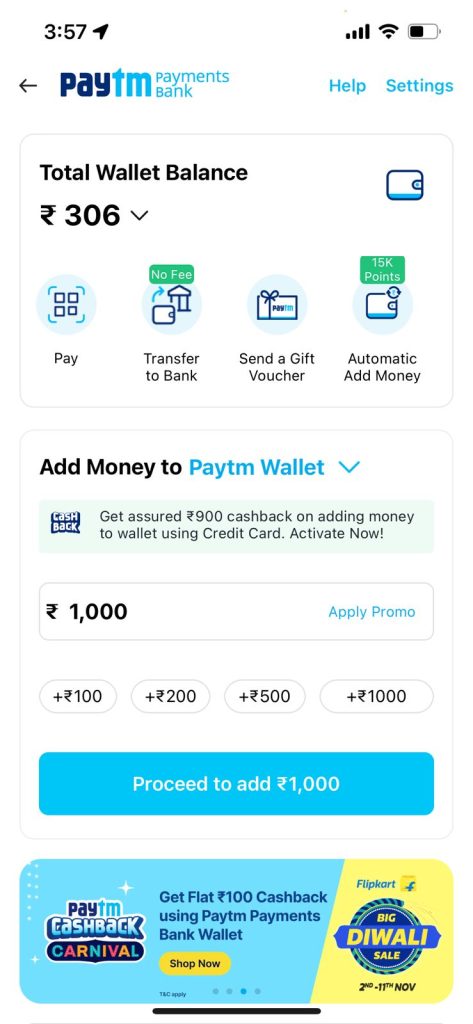 Open the Paytm app and log into your account.
Click on 'Wallet', and enter the amount you wish to add in the 'Add money to Paytm Wallet' section.
Once you have entered the correct amount, click on 'Proceed to add' and choose the payment source. It could be your UPI-linked bank accounts, debit/credit cards, UPI, or Net banking.
Click on 'Pay' once you have reviewed all details and enter the necessary details.
Learn how to transfer money from a Paytm wallet to a bank account
There can be instances where you have the funds in your Paytm wallet but need it in your bank account. The process of transferring money from the wallet to your account is as simple as it was the other way around. You must learn how to transfer money from your Paytm wallet to your bank account if you are in a situation where it might be needed.
How to transfer money from Paytm wallet to bank account:
Open the Paytm app and log into your account.
Click on 'Wallet'
Under 'Total Wallet Balance', click on 'Transfer to bank'
Enter the amount you wish to send. Keep in mind that you can send Rs. 20 – Rs. 50,000 at a time.

How to transfer money to bank account

Click on 'Proceed' and enter the bank details of whom you wish to send the amount.

How to transfer money to bank account

Again, click on 'Proceed'.
How to activate Paytm wallet without KYC
In order to use the Paytm wallet, it is essential you complete the minimum KYC at the least. The minimum KYC lets you use the wallet in a limited manner and needs you to provide some documents to activate it. The full KYC will enable you to use all the features of the Paytm wallet with no restrictions. Unfortunately, there is no way you can learn how to activate Paytm wallet without KYC.
Benefits of minimum KYC:
You can make payments to over 12 million merchants.
Pay on any online store or website.
Maintain a balance of up to Rs. 10,000 per month.
Benefits of full KYC:
You can make payments online or offline from the Paytm wallet.
Store up to Rs. 1,00,000 in your wallet.
You have no spending limit on the wallet.
Send money to other Paytm users.
You can open a Paytm Payments Bank Savings account.
Reasons Why Paytm Wallet is Not Working
Why my Paytm Wallet is not working?
Confirm that both the sender and receiver have completed their KYC's. If the receiver has not completed their KYC, you can share a link that will let them complete it in no time.
If you are transferring an amount greater than Rs. 10,000, recheck if the receiver is added as a beneficiary.
The receiver might not be able to get the funds if they have reached their monthly or daily limit.
Network issues can greatly impact your transactions if you have completed only the minimum KYC.
Make sure you are using the latest version of the app to ensure a smooth payment experience.
Tips For Safe & Secure Usage Of Paytm Wallet
The saying 'Prevention is better than the cure' should be followed. As secure as Paytm has made its application, the chances of anything going wrong are minuscule. However, to ensure that the chances become zero, we must follow some precautions ourselves for the safety of our bank accounts and privacy. Knowing how to activate the Paytm wallet, add money to the Paytm wallet, and transfer money from the Paytm wallet to your bank account will ensure that you are completely aware of how the Paytm wallet works and hence can check for any abnormalities if they happen.
Some important tips for the safe and secure use of Paytm wallet:
Make sure you have app lock on apps that contain sensitive and private information. Set a strong PIN and change it every few months.
Do not authorize access to your Paytm wallet on public WiFi networks.
Keep your mobile locked for additional security.
Verify the identity of the recipient before transferring any money.
Keep a close eye on your transaction history so you can report any suspicious activity if it happens.
Beware of any fraudulent messages or calls claiming to be from Paytm, and never share any OTP.
Conclusion
As you can see, it is very easy to learn how to activate a Paytm wallet and add money to a Paytm wallet. Activating your Paytm is a simple process that opens the door to a whole bunch of convenient and cashless payments. You can pay bills, shop online, and transfer money to friends; Paytm wallet makes all these tasks fun and rewarding by providing you with amazing deals, offers, scratch cards, and rewards for your transactions. To avail of the full benefits the platform provides, you must remember to complete your full KYC and be aware of all the security measures you need to take
FAQs of Paytm Wallet
Q1. Where can I download the Paytm wallet?
Ans. Paytm wallet is a part of the Paytm app. Simply download the updated version of the Paytm app from the Google Play Store or the App Store.
Q2. Who is eligible to use the Paytm wallet?
Ans. You can use the Paytm wallet if you:
Are over 18 years of age
Are a resident of India
Have a valid mobile number and bank account in your name
Q3. How often can I use my Paytm wallet?
Ans. You can make 5 transactions per hour and 20 transactions per day. The amount transaction limits are mentioned below.
1. For minimum KYC users:
Rs. 10,000 balance in the wallet at any time, including money received.
Rs. 1,00,000 balance in the wallet every year at any time, including money received.
2. For full KYC users:
Rs. 1,00,000 balance in the wallet at any time, including money received.
Unlimited balance in the wallet every year at any time, including money received.
Q4. Is it safe to use a Paytm wallet?
Ans. Paytm ensures complete safety for its users to store their funds and make payments through the Paytm wallet. It is advised to take precautionary measures just to ensure added security.
Hope you find the article (How to Activate Paytm Wallet) helpful. If you have any suggestions, please write to us in the comment section below.
Connect with us on Facebook and Twitter or join our Telegram Channel. Download the Flipshope extension for the latest tricks and offers. For any queries, please Whatsapp us on 9999488008.