Croma is one of the leading retail brands in India when it comes to electronics. Croma carries a huge range of quality products, such as smartphones, laptops, home appliances, grooming appliances, kitchen appliances, smart watches, computers and much more. Working under the Tata name, Croma is the first large format specialist retail store that caters to all multi-brand gadgets and home electronics needs in India. With its commitment to top-notch products and services, Croma has established a substantial customer base. In the event that you face any issues with your product or have a complaint about Croma's services, please call on the Croma customer care number. Have a look to know more!
Croma Customer Care Number & Email IDs
The backbone of any industry is the customers; Croma has ensured a customer-centric approach in order to elevate its services. They have dedicated members who work tirelessly to ensure a seamless customer experience. Tata Croma customer care is made available across the country. You may reach out to Croma customer care through the following :
All India Croma Customer Care Numbers: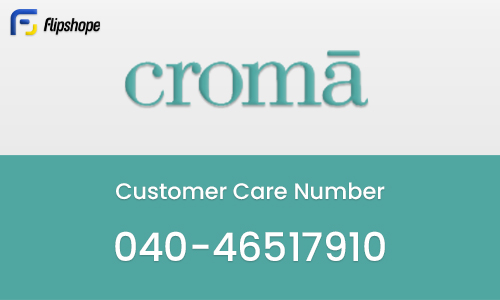 Croma 24X7 Customer service: 1860-2662-7662
Croma Customer Care Number: 040-46517910
Raise a service request: 7207666000
Croma TV Customer Care number – 1800-57-27662
Croma AC Customer Care number – 040-46517910
Speak to a Grievance Officer or Nodal Office: 186026627662/040-46517910
Croma Customer Care Email ID: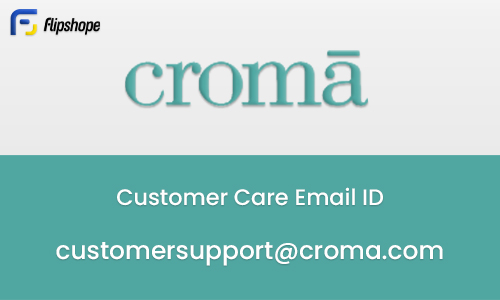 customersupport@croma.com
grievance.officer@croma.com
nodal.officer@croma.com
Croma Customer Care numbers for different cities:
Croma Customer Care number Delhi – 1800-57-27662
Croma Customer Care number Mumbai – 040-4651 7910
Croma Customer Care number Ahmedabad – 1800-57-27662
Croma Customer Care number Bangalore – 040-4651 7910
Croma Customer Care number Chennai – 1800-57-27662
Croma Customer Care number Hyderabad – 1800-57-27662
Croma Customer Care number Pune – 040-4651 7910
Croma Customer Care number Noida – 1800-57-27662
You can also reach out to Tata Croma Customer Care through the 'Contact Us' page available on their website. You may even fax Croma Customer Support at 02267613669.
Croma Head Office Number & Address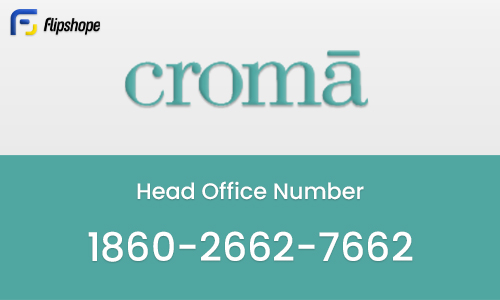 In the event that you need to contact Croma's Head Office or visit them at the main office, refer to this address and number :
Main office number: 1860-26627662
Croma Head Office Address:
Unit No. 701 & 702, Wing A, 7th Floor, Kaledonia, Sahar Road, Andheri (East), Mumbai 400069, India.
Croma Social Media Accounts & Support
Croma gives great importance to customer engagement in order to stay in touch with the latest trends and understand customer needs to be of better service to them. In this digital era, having an online presence is necessary, and Croma has it too. Croma provides updates on their social media accounts concerning new products, discounts and much more; follow their socials to stay up to date with their products and other announcements :
How to contact Croma Customer Care
Croma ensures that their customers have multiple convenient ways to gain customer support. The steps to contact Croma customer care through the website are mentioned below :
Visit the Croma website. Log in or create your account using either your mobile number or your email ID.
Click on Help and Support at the bottom of the page.
You will be able to see 5 different concerns, 'Order Related', 'Demo/Installation', 'Raise a Request', 'Cashback Related', and 'Gift Card Related'.
Pick your concern and follow the instructions accordingly.
If you wish to contact Croma customer care through email, choose your concerns and send an email to customersupport@croma.com.
You can also call the Croma customer care numbers, 1800-57-27662 or 040-46517910.
Croma help & support
The Croma customer care team has representatives very well-equipped to handle various scenarios, ensuring your concerns are addressed. Croma Customer Care can be of assistance in situations like tracking an order, product activation, returns and exchanges or any guidance on which electronics would be a good fit for you. With Croma's customer care, you can expect expert and efficient responses to your concerns and queries.
Steps to gain customer support on the website :
Visit the Croma Help and Support webpage.
Log into your account to ensure your orders are viewable.
You will be able to see many categories such as Order Related, Demo/Installation, Raise a Request, Cashback Related or Gift Card related, which may be of assistance to you.
If you are unable to get answers to your questions through these categories, you may call or email Croma's Customer Care.
Croma's commitment to customer satisfaction makes it a preferred platform for your electronics needs. Croma has kept multiple avenues open for their customers to reach out to them. Customer satisfaction is one of Croma's main priorities, and has kept open communication so as to stay as transparent as possible. You can reach out to Croma Customer Care through social media, phones, email, visiting the head office or the Help and Support page on their website.
Swiggy Customer Care Number
Zomato Customer Care Number
Paytm Customer Care Number
Thomson Customer Care Number
Boat Customer Care Number
Jio Customer Care Number
Vu Tv Customer Care Number
FAQ
Q1. What is the Croma customer support email ID?
Ans. Croma's Customer Support mail ID is customersupport@croma.com.
Q2. What is Croma help & support?
Ans. Croma Help and Support is a web page meant for customers. Croma's Help and Support page is responsible for helping customers gain assistance regarding their products or the services provided by Croma.
Q3. What is the Croma Helpline Number?
Ans. Croma's Customer Care Numbers or Helpline numbers are 1800-57-27662/040-46517910. Customers are welcome to call Croma's Customer Care Number anytime, any day.
Q4. How do I complain about a company for not giving me a refund?
Ans. It is recommended that you email the company with your order details along with the issue at hand. You may call a few days after you have raised your complaint to follow up in case you have not heard back. Generally, refunds take 4-7 business days to be credited back into your account.
Hope you like this article (Croma Customer Care | Know all the Numbers and Email IDs!). For any suggestions or queries, feel free to mention them in the comment section.
Connect with us on Facebook and Twitter. Join our Telegram Channel. Download the Flipshope extension for the latest tricks and offers. For any queries, please Whatsapp us at 9999488008.