Ajio is a well-known online shop in India for clothing and other goods for the lifestyle. A huge and varied collection of apparel, footwear, accessories, and when it was first introduced in 2016. Ajio, a popular online fashion and lifestyle store located in India, prioritizes client pleasure by offering a variety of customer service channels. One of the most common ways to contact Ajio's specialized customer service staff is via their customer care number, which can be located on their official website or app. Ajio provides several options for customer support and help. For questions, issues, or help placing orders, use this phone number to speak with customer service representatives directly. Check out Ajio customer care number, Email IDs, and addresses!
Check Out Ajio Upcoming Sale 2023 | Amazing Offers & Discounts this Festive Season
Ajio Customer Care Number And Emails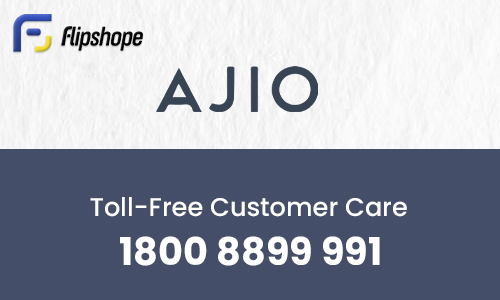 One of the main ways to get in touch with AJIO customer service is by calling a dedicated hotline number. The vast range of questions that are handled by this customer service helpline includes order tracking, product information, returns, and general assistance. You can contact Ajio customer support by calling 1800 8899 991 or by Ajio customer care email ID customercare@ajio.com. A live chat option is available on AJIO's official website or app. Customers may communicate with customer support personnel in real-time using the live chat feature.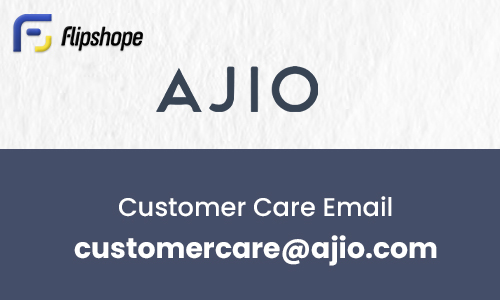 Ajio Head Office and Address
The expertise of AJIO offices may be of great assistance when it comes to customer service. Here you can find information on AJIO India's corporate headquarters, including its address, phone number, and office locations:
AJIO (Corporate Office), Reliance Centre, 4th Floor, Off Western Express Highway, Santa Cruz East, Mumbai, India, 400055.
For the most recent and accurate details about Ajio's headquarters and address, see their official website or get in touch with their customer service department.
Ajio Social Media Account & Services
Being a well-known online retailer of fashion and lifestyle products in India, on several social media platforms, Ajio was regularly active. They interacted with their customers through these platforms, showcased the newest fashion collections, and provided updates on discounts and promotions.
Ajio uses its social media platforms for customer service in addition to marketing and advertising. Customers frequently use these platforms to post queries, request order support, and keep up with specials, offers, and new product releases.
How to contact Ajio Customer Care
If you need support, you can contact the Ajio customer care no. To make any necessary complaints about your order, call this number. To contact Ajio customer care, just adhere to the instructions listed below.
Open the official AJIO website (www.ajio.com).
Login to your Ajio account.
Choose "Contact Us"
Select the contact method of your choice, such as email, chat, or phone.
AJIO's customer service department will get the email you choose to send.
Verify the most recent contact information when on the Ajio website or app. Please be aware that the steps and the contact information can change in the future. Never be hesitant to get in touch with Ajio's customer care if you need help with your orders or have any other inquiries.
FAQs of Ajio
Q1. How do I raise a complaint on the AJIO app?
Ans: You can follow these steps to file a complaint on the AJIO app:
Open the Ajio app and go to the "My Orders" section
Open the order about which you want to complain
Look for your preferred query
List all the specifics of your issue in the chat box or complaint form
Send your complaint, then wait for a response
The AJIO customer service staff will examine your complaint
Q2. How do I email AJIO for a complaint?
Ans: The general procedure to email Ajio with a complaint is as follows:
Visit the official website of AJIO
Click the menu for customer support
Visit the Complaints page
Include your contact information, including your name, phone number, and order details
Click the "Send" button and send it to AJIO's customer support email address
Q3. How can I track my order on Ajio?
Ans: As soon as it is dispatched, you may track your order using the tracking link sent to your registered email. As an alternative, you can also log in to AJIO.com, check the "My Account" area, and tap on the order to see its progress.
Q4. How do I return my product to Ajio?
Ans: On Ajio, returning goods is usually a simple procedure. The general procedures to follow when returning a product are as follows:
Check the return policy
Log in to your account by visiting the Ajio website or mobile application
Go to "My Orders" in the menu
Click on the specific product the order
To return the item, follow the on-screen directions
Q5. What is AJIO's return policy?
Ans: Customers could usually return items to AJIO within 30 days of the delivery date according to the company's return policy. This gave customers a sufficient amount of time to consider their purchases and determine whether they wanted to keep them. This deadline must be respected because refunds that are started after it might not be approved.
Q6. How to get a refund for cash on delivery in the bank account from Ajio?
Ans: For a Cash on Delivery (COD) payment refund to be made to your bank account, the following steps have to be taken:
Get in touch with Ajio through the Ajio customer care number for refund: 1800 8899 991
Give order information
Select a refund strategy
Give bank information
Confirm your bank account, and you are done
Q7. How do I cancel my order on Ajio?
Ans: The following are the steps to cancel an order placed on AJIO:
Open your Ajio account and log in.
Select "My Orders" and find the order you wish to cancel in the list of recent orders you've placed.
Request Cancellation by clicking on "Cancel Order" from the menu.
Choose an explanation for the order cancellation
Q8. How long will the refund take post-cancellation on Ajio?
Ans: The period of time it takes to get a refund after canceling an order on AJIO depends on a number of variables, including the payment method used, the transaction's processing status, and AJIO's internal processing timeframes. In general, wallet payments are refunded within 24 hours, and e-wallet payments take 5 to 7 working days to get refunded.
Note: Your refund process begins once Ajio receives confirmation about your order.
Related Articles:-
Swiggy Customer Care Number
Zomato Customer Care Number
Paytm Customer Care Number
Thomson Customer Care Number
Boat Customer Care Number
Jio Customer Care Number
Amazon Customer Care Number
Hope you find this article (Ajio Customer Care Number, Email Address, and Additional Information!) helpful. If you have any suggestions, please share them with us in the below comments.
Connect with us on Facebook and Twitter or join our Telegram Channel. Download the Flipshope extension for the latest tricks and offers. For any queries, please WhatsApp us at 9999488008.