Reliance Jio's cutting-edge products and services have completely changed the Indian telecom sector. Through time Jio has evolved its internet services and became the country's first 5G network provider competing with other network providers in terms of price and quality. After the launch of Jio Fiber which was the fastest internet service at the time of its inception at an affordable price, people shifted to Jio from other network providers. Now, to surprise customers with another masterpiece, Jio is about to launch a wireless Wi-Fi known as Jio AirFiber. It is confirmed that Jio AirFiber will be the fastest 5G network. To learn more about it, let's read out the details, including the Jio AirFiber launch date, availability, etc.
Jio Airfiber: Everything there is to Know
Are you currently facing a high network crisis at your workplace and home? Well, worry not; meet Jio, one of the top telecom providers in India; Reliance Jio is about to come up with an extremely fast network system named Jio AirFiber. A fibre-to-the-home network, enabling high-speed internet connectivity with little downtime. Faster downloads, better streaming, and more dependable connectivity will all be made possible by Jio AirFiber. It will, in fact, change the way people use the internet and make it much better and faster. Isn't that great? So now you don't have to worry, as Jio Airfiber will resolve all your poor connectivity problems in one go.
Jio AirFiber: How to Buy, Launch Date, Offers!
You must be intrigued to know the basic details of the amazing Jio AirFiber 5G and how to book it, so you can use it at your workplace and home for all the important internet-related tasks. The Jio AirFiber launch date is yet to be revealed, but here is some other important information about Jio AirFiber that will let you buy it the moment it gets released. In addition, customers of Jio AirFiber can choose from various plans. Jio also provides a range of exciting deals and promotions, including a free trial period, free installation, and cashback deals.
Also Read: Best Camera Phones Under 15000
How to buy Jio AirFiber
Here are some important steps to learn how to book Jio 5G AirFiber
To buy Jio AirFiber, visit the Jio website (www.jio.com) or the nearest Jio Store.

Check whether Jio Air Fiber is available in your area by entering your pin code or location on the Jio website.

Select the Jio Air Fiber plan that best suits your needs.

Submit all the required documents to complete the registration process.

Once your registration is complete, a Jio expert will visit your premises to set up the service.

Make Payment for the selected plan and any additional charges, such as installation fees or security deposit, as per the chosen plan.

Once the Jio AirFiber service is set up, you can start enjoying high-speed internet connectivity.
Benefits of Jio AirFiber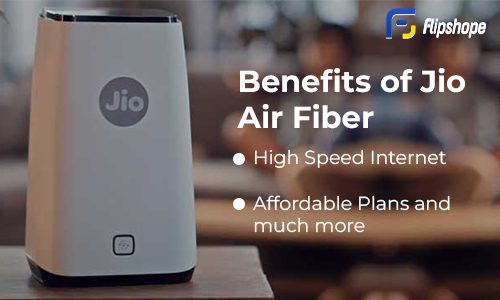 The internet has made everything so easy for everyone that you can now access your desired things easily with the help of networks like Jio AirFiber. This will also help you to stream better, have high-speed network connectivity, and whatnot. If you are missing out on the latest features of Jio 5G AirFiber, then look at the following perks.
High-speed internet

Affordable plans

Seamless connectivity

Additional features

And the best one! Not a single Fiber wire hanging from your wall
Jio AirFiber: Pricing & Plans
It's time for you to know the major details of this unique network provider. Jio AirFiber 5G is a high-speed broadband service provided by Reliance Jio that guarantees to facilitate families and businesses in India with quick and dependable internet connectivity. Jio AirFiber plans may range in price just like the Jio Fiber plans or slightly higher than them, with data caps of 150 GB to limitless and speeds of 100 Mbps to 1 Gbps. So sit back and relax as Jio 5G AirFiber will be by your side to provide the best internet services.
| Price/Month | Speed and Data Details |
| --- | --- |
| ₹999 | Unlimited @150 Mbps |
| ₹1499 | Unlimited @300 Mbps |
| ₹2499 | Unlimited @500 Mbps |
| ₹3999 | 6600 @1 Gbps |
| ₹8499 | Unlimited @1 Gbps |
Read About: Airtel Xstream Fiber
Jio AirFiber Price Comparison With Airtel, BSNL, etc.!
In the following section, we have provided a list of comparisons between the top network service providers like Airtel, Jio, and BSNL. So have a look and make a mindful decision.
| Features | BSNL | Airtel | Jio |
| --- | --- | --- | --- |
| Plan Price | Rs. 449 | Rs. 499 | Rs. 399 |
| Data | 3300GB | 3333GB | 3300 GB |
| Speed | 30 MBPS | 40MBPS | 30MBPS |
| Validity | 1 Month | 1 Month | 1 Month |
| OTT Benefits | NA | Airtel Xstream, Wynk Music, and Shaw Academy. The Airtel Thanks app provides subscriptions to OTTs like Voot Basic and Eros Now. | ALTBalaji, Eros Now, JioSaavan |
| Voice Calls. | Free Unlimited to any network PAN India. | Unlimited to any network | Free Voice calling |
Check Out: Jio Mart Upcoming Sale
FAQs of Jio AirFiber
Q1. How does Jio AirFiber work?
Ans. Jio AirFiber delivers fiber-like speed through the air without any wire. Jio AirFiber uses point-to-point radio links to connect users' homes and workplaces.
Q2. How to buy Jio AirFiber?
Ans. You can buy Jio AirFiber with the help of the steps mentioned above.
Q3. How to talk to a Jio customer care executive?
Ans. You can call JioCare at 199 from your Jio SIM or 1800 88 99999 from any number.
Q4. How to enable 5G in Jio?
Ans. You can enable 5G in Jio with the following steps
Open 'Settings' app on your smartphone

Next, find and select 'Mobile network' or a similar setting

Select the Jio SIM you want to enable 5G on

From here, select the 'Preferred network type' option

Now select the option that says 5G

After following these steps, you should be getting a 5G symbol on the status bar, which indicates that 5G services have been activated on your smartphone.
Q5. What is the difference between Jio AirFiber & Jio Fiber?
Ans. While Jio Fiber is a wired broadband service that uses fiber optic cables to provide internet connectivity, Jio AirFiber is a wireless broadband service that uses point-to-point radio links to connect the user's homes and workplace to the Jio network.
Hope you find the article (What is Jio AirFiber? | How to Buy, Price, Plans, Availability!) helpful. If you have any suggestions, please write to us in the comment section below.
Connect with us on Facebook and Twitter or join our Telegram Channel. Download the Flipshope extension for the latest tricks and offers. For any queries, please Whatsapp us on 9999488008.