Morphy Richards, a renowned British company dating back to 1936, has been consistently delivering home appliances with a promise of quality and innovation. It has been a trusted companion for homemakers and professionals with a wide range of kitchen and household products that have made life easier for them. Their product lineup is inclusive of toasters, kettles, vacuum cleaners, irons, ovens and much more. The company's commitment to functionality also translates into customer satisfaction. The company is known for its trustworthy products; however, customers require assistance with a huge variety of issues, such as installation and functionality. Morphy Richards Customer Care India is there for the sole reason of customer happiness.
Morphy Richards Customer Care Number, WhatsApp number, Email Address, and Office Address
The company has various dedicated channels put in place to cater to every need a customer might have. With the phone numbers, WhatsApp numbers, email, and office addresses, the team leaves no stone unturned when it comes to any queries you might have. You can refer to any of the given resources for any you issues might have. Whether it is a malfunction in the product or you need to get more information about anything you plan to purchase, the Morphy Richards Customer Care team is available.
Morphy Richards Customer Care Number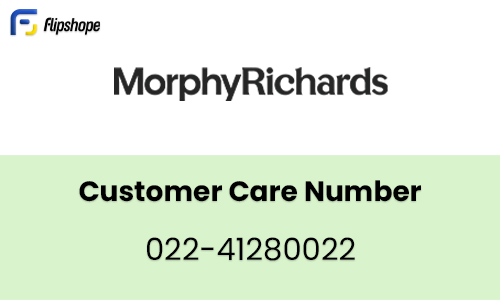 There are times when you may require immediate assistance regarding your product. Whether you need help with installing and starting the appliance or you see something unusual, calling the Morphy Richards Customer Care number is the way to go.
Morphy Richards customer care number: 022-41280022 (9:00 am to 6:00 pm)
Morphy Richards Company helpline: 02241280000
Morphy Richards WhatsApp Number Support: 7045250000
Morphy Richards Customer Care Email: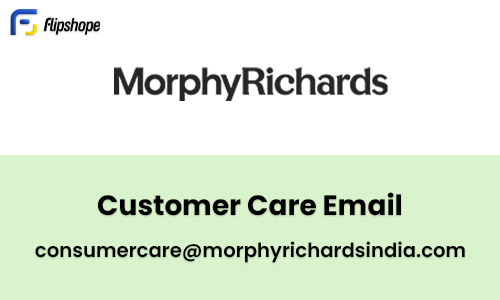 consumercare@morphyrichardsindia.com
Morphy Richards Office address:
701 (7th Floor), Rustomjee Aspiree, Bhanu Shankar Yagnik Marg, Off Eastern Express Highway, Sion (East), Mumbai – 400022
Morphy Richards's Social Media Accounts
In addition to the previously mentioned contact methods, Morphy Richards also maintains a very active presence on multiple social media platforms, allowing users to engage with the company. Customers are advised to follow the brand on any social media platform to receive updates on their new releases or upcoming offers and sales. By following it, you can stay informed about all the promotions and maybe even find answers to some general questions posted by other customers. Another way you can get assistance is by messaging Morphy Richards directly through any of the platforms mentioned below. The Morphy Richards YouTube channel is dedicated to showcasing how their products work. Customers are free to browse through their videos for recipes using their products curated by talented and well-known chefs.
How do I contact Morphy Richards customer care?
When it comes to ensuring that the Morphy Richards appliance meets your expectations and functions smoothly, you might need to reach out to the customer care team occasionally. Whether you have questions about any appliances, need assistance with troubleshooting, or require assistance with warranty claims or spare parts, contacting Morphy Richards is the way to go to get a swift and effective resolution. Morphy Richards has multiple ways through which you can contact the company, such as the customer care number, WhatsApp support, email support, visiting the Morphy Richards office, or even using the 'Contact Us' page on the website. Get in touch with Morphy Richards through the following channels:
1. Calling the Morphy Richards Customer Care Number:
Dial 022-41280022 or 02241280000
Follow the instructions as per your concerns.
2. Contact via WhatsApp:
Add 7045250000 to your contacts.
Open WhatsApp.
Search for 7045250000.
Explain your issue in detail in the text and send it.
3. Write to Morphy Richards:
Type in the email address consumercare@morphyrichardsindia.com in the recipient section of the email.
Give it an appropriate subject.
Explain your issue in detail and attach any pictures if needed.
Recheck the email and click on 'Send'.
4. Contact Morphy Richards through the Website:
Visit the Morphy Richards website.
Scroll down to the bottom of the page.
Click on 'Contact Us'
You will be able to see a page with multiple fields.
Fill out the form with accurate details and click 'Submit'
Morphy Richards customer care will reach out to you regarding your request.
Conclusion
Morphy Richards is more than just a brand that sells reliable and innovative home appliances; it is committed to providing excellent customer care and ensuring customer satisfaction. With various contact options, including dedicated customer care numbers, WhatsApp support, email, social media, and their very own 'Contact Us' page to assist you with any issues, be it technical or general inquiries, Morphy Richards has provided the best for its customers. The next time you encounter an issue or have any questions about your appliances, do not hesitate to reach out to the Morphy Richards Customer Care team.
Related Articles:
Swiggy Customer Care Number
Zomato Customer Care Number
Paytm Customer Care Number
Thomson Customer Care Number
Boat Customer Care Number
Jio Customer Care Number
LG Customer Care Number
Lloyd Customer Care Number
FAQ's of Morphy Richards
Q1. How do I complain to Morphy Richards?
Ans. You can complain to Morphy Richards through various channels, as mentioned below:
Call the company at 022-41280022/02241280000.
Send them a text on WhatsApp at 7045250000
Write to the company at consumercare@morphyrichardsindia.com
Engage with the brand through any of the social media platforms.
You can send a request by filling out the form on their 'Contact Us' page.
Q2. How do I claim my Morphy Richards warranty?
Ans. Follow these steps to claim your warranty:
Visit the Morphy Richards India website.
Navigate to the 'Support' button on the top right corner.
Click on 'Product Registration' from the drop-down menu.
Fill out all the details and click on 'Register.'
Q3. What do I do if I lose the product manual?
Ans. The Morphy Richards India website has a page dedicated to product manuals of every appliance they carry. Follow these steps to access that page:
Open the Morphy Richards India website.
Scroll to the bottom.
Click on 'Product Manual'
Pick the appliance you want the manual for from the drop-down menu on the page that appears.
Click on 'Submit'
In the comments section, give your feedback about this article (Morphy Richards Customer Care).
Connect with us on Facebook and Twitter. or Join our Telegram Channel. Download the Flipshope extension(smart shopping assistant) to save your money and time. For any queries, please WhatsApp us on 9999488008.