Zomato is a respected food delivery service with extensive customer support. You can order from a wide range of surrounding restaurants and be confident that you'll get high-quality food. Zomato has won the hearts of millions of users due to its amazing cancellation and refund services. Zomato understands user's needs, and it knows very well that sometimes users can make mistakes while placing an order or change their mind due to some other reasons. However, most users find it hectic because they are unaware of the cancellation process. So, don't worry anymore. In this article, we will guide you on how to cancel Zomato order and get a refund for the order.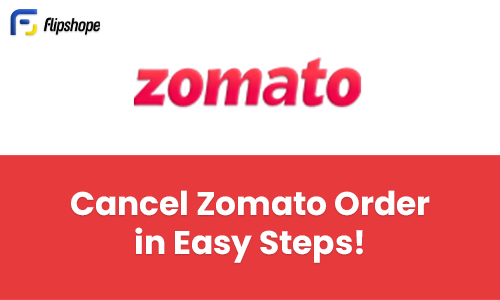 How to Cancel Order in Zomato After 60 Seconds?
On Zomato, you can easily initiate an order cancellation within 60 seconds of placing an order and receive a complete refund. However, if the 60 seconds window period is crossed, you can always cancel your order in Zomato by following steps:
Open the Zomato app or website.
Click the account section in the right corner
To see the delivery status, choose Order Detail from the menu
The list of meal orders can be seen there. Select the order you wish to cancel by clicking.
Select Get Support & Help
Select "Click to chat with Us."
Then click "I want to cancel my order."
Select a reason from the available choices
Select "Yes, I want to cancel my order."
If you run into any problems with the cancellation procedure or need any more assistance, it is advised that you get in touch with Zomato using the Zomato customer care number right away. They can assist you in learning the proper procedure for how to cancel order in Zomato and also tell you about the Zomato order cancellation charges.
The Zomato customer care number is +912262327777
How to get a Refund from Zomato?

Cases Upon Which You Can Get Full or Partial Refund in Zomato:
If you have received the wrong order
If your food is spilled
If your delivery is delayed
If your food item is missing
If your food is undelivered
If the Delivery person is not responding
If your portion size is not adequate
Delivery partner fraud incident
If your order is placed but is not accepted by the restaurant
If your restaurant has just closed
If your food is spoiled qualitywise
If you find foreign items in your food
If your food has got wrong ingredients
If you got Non-Veg food instead of Veg Food
The total amount of your refund can vary depending on the restaurant's and Zomato's order cancellation rules. If you face any of the above issues, you will surely get a refund in the form of cashback or Zomato credits. Your amount will be credited within 5-7 days. Here's what you can do for How to get a Refund from Zomato:
Open the Zomato app, then go to the order section
Now, choose the order you just placed
You can obtain help by clicking the symbol in the app's top-right corner
They will now ask you for proof once you notify them about the issue you are facing.
Take a picture of the food and post it to the chat support
The Zomato support staff can ask you to stay connected for up to 10 minutes.
They will then resolve the issue and refund the amount that your request is eligible for
Zomato connects clients with a wide variety of food options, playing a key part in modern eating. Zomato's cancellation policy and refund procedures are crucial components for ensuring that clients enjoy an easy and dependable experience. Due to Zomato's dedication to customer satisfaction, its consumers can have a better overall eating experience thanks to clearly stated cancellation regulations and an easy refund procedure.
Zomato Order Cancellation Charges and Policy
1. If you cancel an order or if your order is canceled for reasons not related to Zomato (like providing the wrong details, not answering calls, or not being available), it's considered a breach of your agreement with Zomato. If this happens, you'll need to pay a set amount as a penalty, which is equal to the order's cost. Zomato is allowed to collect this penalty in various ways, such as deducting it from your next order payment. This is to make sure that orders are taken seriously and any issues are resolved smoothly.
2. In some situations, Zomato may not be able to take your order or may need to cancel it. This could happen because of technical issues, items not being available, or other problems that are Zomato's, the restaurant's, or the delivery person's fault. When this occurs, you won't have to pay any cancellation fees. If you've already paid for the order, you're supposed to get a refund. You'll receive the refunded amount.
3. No refund/replacement will be provided without the permission of the restaurant.
4. If you have a problem with your order, such as spilled food, something strange in your meal, getting the wrong order, or low-quality food and products, you need to show proof of the issue before they can help you with it.
5. If the restaurant doesn't follow your special instructions exactly the way you wanted, you will not be able to get a refund. They try their best to follow the instructions, but it's not always guaranteed.
6. Refunds will be given back in the same way you paid, except if you received credits as a refund. If you got a refund, it will appear in your account as per your bank's policies.
FAQs of Zomato
Q1. How to register on Zomato?
Ans: The procedure below will let you register your restaurant on Zomato so that you can join their partner program:
Use your email address or phone number to register
Fill out a registration form on Zomato to add your restaurant's information
The platform will send a verification code to the registered email address or phone number you provided.
Add your menu items and photos to Zomato
A Zomato team member will be assigned as your point of contact
Keep your profile updated and interesting for users by managing it frequently
Q2. How to order food in Zomato?
Ans: Placing an order is a simple procedure on Zomato. To place a meal order using the Zomato app, follow these steps:
Download and open the Zomato app
Create an account or sign in
Select a Location
Choosing a restaurant
Add products to your cart
Place your order and pay
Q3. How to order food on the train from Zomato?
Ans: Zomato created the "Zomato Rail" service so that people can order food while traveling on Indian trains. The following methods can be used to order food from Zomato while traveling by train:
Install the Zomato App
Register for an account or sign in to set the location
View the 'Zomato Rail' Section
Enter your seat or berth information and train number
Choose your dishes and add to cart
Select "Place Order" from the Zomato menu
Select a payment method (such as a credit or debit card, a digital wallet, etc.)
Q4. How to use Zomato credits?
Ans: On the Zomato app, you can build up and use Zomato Credits, also known as Zomato Piggybank Credits. You can lower the cost of your orders with the use of these credits. Here's how to use Zomato credits:
Open the Zomato app
Use your email address or Facebook account to log into Zomato.
Look through and pick a restaurant
Add food items to your shopping cart
Apply for Zomato Credits
Select the Credit Amount to Apply
Place the order
Q5. How to delete Zomato order history?
Ans: Here is a step-by-step tutorial on how to remove order history from the Zomato app. The steps listed below must be followed:
Open the Zomato app on your smartphone
Click on Your order history
Choose the orders that you want to cancel
Verify the deletion
Q6. How to get free delivery on Zomato?
Ans: A number of variables, such as promotions, loyalty programmes, and particular restaurant discounts, can impact whether you can get free delivery on Zomato. On Zomato, you can perhaps qualify for free delivery by doing the following:
Getting Zomato gold membership
Using promotional offers
First-time user offers
If you like this article (How to Cancel Order in Zomato?), share your reviews with us in the comments below.
Connect with us on Facebook and Twitter or join our Telegram Channel. Download the Flipshope extension for the latest tricks and offers. For any queries, please Whatsapp us at 9999488008.