Ever wondered how connecting to a good Wi-Fi system at your place is extremely important? Well, this article will definitely enlighten you with one of the top wifi systems, which is Airtel Xstream Air fiber. Owning Airtel Xstream AirFiber can be a game-changer for your home connectivity needs. With the rapid growth of remote work, online learning, and entertainment streaming, having a reliable and high-speed internet connection is essential. Airtel Xstream AirFiber will offer great solutions by providing lightning-fast internet with speeds that can cater to multiple devices and bandwidth-intensive tasks seamlessly. Moreover, it's not just about speed; Airtel's vast network infrastructure ensures consistent connectivity even in remote areas, bridging the digital divide. Let's dive into the article to learn more about Airtel Xstream Fiber.
What is Airtel Xstream Air Fiber?
Fixed Wireless Access (FWA) provided by Airtel's 5G + network powers the Airtel Xstream AirFiber. It was announced on Aug 7, 2023, in Delhi. Like wireless 4G dongles, it is a wireless 5G service. However, compared to the dongle, it will provide information much more quickly, with less latency, and with excellent coverage. Given that there is no need for wiring, excavating, etc., the AirFiber can be easily installed in both rural and urban areas of cities. The Xstream AirFiber will need fewer fiber cables because it is wireless, unlike the Xstream Fibre. "India has seen the quick development of home broadband, but there are still regions without access to fast-speed internet at home because of the actual challenges of laying fiber in a country the size of India," said Shashwat Sharma, Director of Customer Business for Bharti Airtel.
AirFiber helps close the experience gap for everyone else, even though fiber to the home will always define the best experience of Wi-Fi at home. The company's wired internet connection, known as Airtel Xstream Fibre, requires a lot of equipment, wiring, and accessibility in the places where its services are offered. Contrarily, Airtel AirFiber provides clients with a complete wireless solution. Only Airtel Stores in Delhi and Mumbai presently offer the Airtel AirFiber for purchase. If you are not from these cities, then check out Airtel Xstream Fiber instead. In the next weeks, the organization plans to expand it to new locations. For any other information, contact Airtel Customer Care.
Airtel Xstream AirFiber: Speed
Today's world is all about the internet and connectivity. Whether you want internet for your home or for your workplace, Airtel Xstream Air Fiber will do wonders for you. The ultimate speed and performance of this device is unmatchable. No matter what you want to stream, Airtel Xstream Air Fiber will definitely help you out. The Airtel AirFiber plan offers a 100Mbps internet speed. Airtel has not made the data plans for the various packs available to the public. However, it is anticipated to be infinite (3300GB in accordance with the FUP regulation). So hurry up and book your order for the Airtel Xstream Air Fiber to enjoy the fastest speed and performance of the internet now.
Airtel Xtsream Airfiber: Plans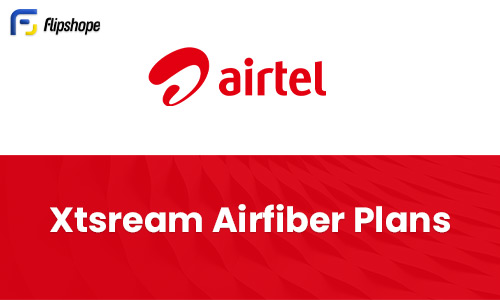 In India, Airtel is expected to have only one Xstream AirFiber service plan available as of September 2023. A 3.3TB (3333 GB) restriction is set for the 100 Mbps package. The cost per month for this plan is Rs 799. It is only offered as a 6-month contract, which comes with a security deposit of Rs 2,500 and costs Rs 7,733.
The monthly cost of Jio AirFiber is Rs. 899, compared to Rs. 799 for Airtel Xstream Fibre. Jio promises to provide limitless data with all of its tariffs, while Airtel has a restriction of 3.3TB. Jio is offering memberships to the 14 OTT services for an additional Rs 100. These services include Disney+Hotstar, SonyLiv, Zee5, and many others.
| | | |
| --- | --- | --- |
| Device Name | Plan amount | Validity |
| Airtel Xstream Air Fiber | Rs. 7,733 | 6 months |
How to buy Airtel Xstream AirFiber?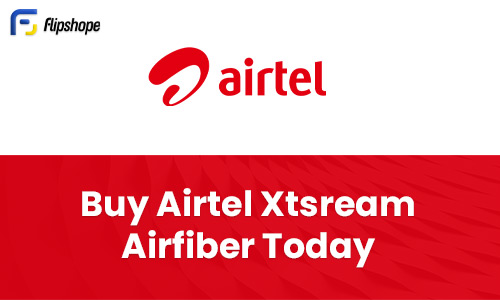 Buying Airtel Xstream Air Fiber is a decision that can drastically enhance your internet experience and redefine the way you connect with the digital world. This advanced broadband service from Airtel offers several exciting reasons to make it your choice. With lightning-fast internet speeds, Airtel Xstream Air Fiber ensures that your online activities, whether for work or entertainment, are smooth and hassle-free. The network's reliability and low latency make it perfect for everything from high-definition video streaming to lag-free online gaming.
Additionally, Airtel's extensive network infrastructure ensures connectivity even in remote areas, bridging the digital divide and ensuring everyone can benefit from high-speed internet. Here are some ways through which you can buy the Airtel Xstream Air Fiber plans and connect yourself with the digital world.
Contact Airtel customer service to check if Airtel Xstream AirFiber is available in your area

Once you confirm availability, browse the available Airtel Xstream AirFiber plans and choose the one that suits your internet usage needs. Plans may vary in terms of speed, data limits, and pricing

Contact Airtel through their customer service number

Provide Necessary Documents

such as an Aadhaar card, passport, or driver's license. Make sure you have these documents ready

Airtel's customer service will guide you through the order placement process. They will help you select your desired plan, verify your documents, and complete the order

After placing the order, Airtel will schedule a date and time for the installation of the Airtel Xstream AirFiber connection at your location. Ensure that you or someone authorized is available during the installation

Depending on the plan you choose, there may be installation charges. Be prepared to make the payment at the time of installation if applicable

On the scheduled date, Airtel technicians will install the necessary equipment and set up the Airtel Xstream AirFiber connection at your home or office

Once the installation is complete, the Airtel Xstream AirFiber connection will be activated. You may need to test the connection to ensure it's working properly
Conclusion
Having a reliable internet service by your side has become a crucial thing these days. There is no denying that Airtel Xstream Air Fiber has become one of the fastest wireless 5G Wifi networks through which every internet user can enjoy their surfing time. The above-mentioned article has all the details regarding the Airtel Xstream Air fiber including its plans, speed, services, and whatnot. So hurry up and read the article and install the Airtel Xstream Air fiber now to get unlimited internet services.
Related Articles:
How to set Hello tune in Airtel?
Best Airtel 5g Plans you can get in 2023
Get Free Data in Airtel to 10GB
How to port from Jio to Airtel?
Airtel Data packs 2023
How to block Airtel Sim?
FAQs of Airtel Xstream Airfiber
Q1. What is the advantage of Airtel Xstream Air Fiber over traditional broadband?
Ans. Airtel Xstream Air Fiber offers the advantage of faster installation, as it doesn't require physical cable connections. It is especially useful in areas where laying cables is challenging or expensive.
Q2. What are the speed and data plans available with Airtel Xstream Air Fiber?
Ans. The speed of Airtel Xstream Air fiber is up to 100mbps, and the plan is Rs.799 with a validity of 1 month.
Q3. Is Airtel Xstream Air Fiber available in my area?
Ans. Availability can vary by location. You can check the Airtel website or contact Airtel customer support to inquire about the availability of Airtel Xstream Air Fiber in your area.
Q4. What is the installation process for Airtel Xstream Air Fiber?
Ans. The installation process typically involves mounting the ODU at an appropriate location (usually on the roof or a high point), connecting it to the IDU, and setting up the router (if provided). A technician from Airtel will usually assist with the installation.
Hope you like this article ( Everything about Airtel Xstream Air Fiber). For any suggestions or queries, feel free to mention them in the comment section.
Connect with us on Facebook and Twitter. Join our Telegram Channel. Download the Flipshope extension for the latest tricks and offers. For any queries, please Whatsapp us at 9999488008.