Hello Airtel users! We have good news for you. Now you can easily set your favourite caller tune on Airtel to give your loved ones an amazing experience while they call you. To make incoming calls more unique and personalized for you, Airtel offers a variety of caller tunes through these Airtel caller tune numbers or Airtel hello tune numbers. Whether you want to shower your dear ones with soothing songs, show off your style with well-known Bollywood songs, or to the newest chart-toppers, Airtel has got your back. Well, in this post, we'll guide you through the easy steps of How to set caller tune in Airtel for free. So let's dive deep!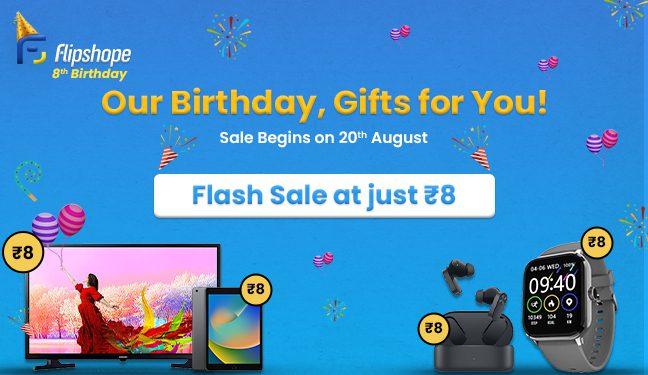 What is Hellotune in Airtel?
Hello tune is the audible tune that you can hear when you make a call till the time your call is received. Airtel Hello Tune enables all Airtel users to customize their caller tune to represent their personality, mood, or interests rather than the usual default ringing sound. Users can choose from a large library of music in various genres like Bollywood, regional, mainstream, religious, and more. Furthermore, Airtel provides a diverse selection of popular music, making it simple for users to find the best caller tune.
1. How to Set Airtel Caller Tune Using Wynk App Step By Step
You can use the Wynk app to set an Airtel caller tune for free by doing the following:
Firstly install or download the Wynk music through the app store or play store on your phone.

To log in, open the app and enter your Airtel mobile number. Now create an account with your Airtel number if you don't already have one.

After signing up or logging in, you'll see a huge selection of songs and playlists.

To find a specific song or artist for your caller tune, check the music database or browse the music from the available list.

Once you've found the music you're looking for, click it to access the song page.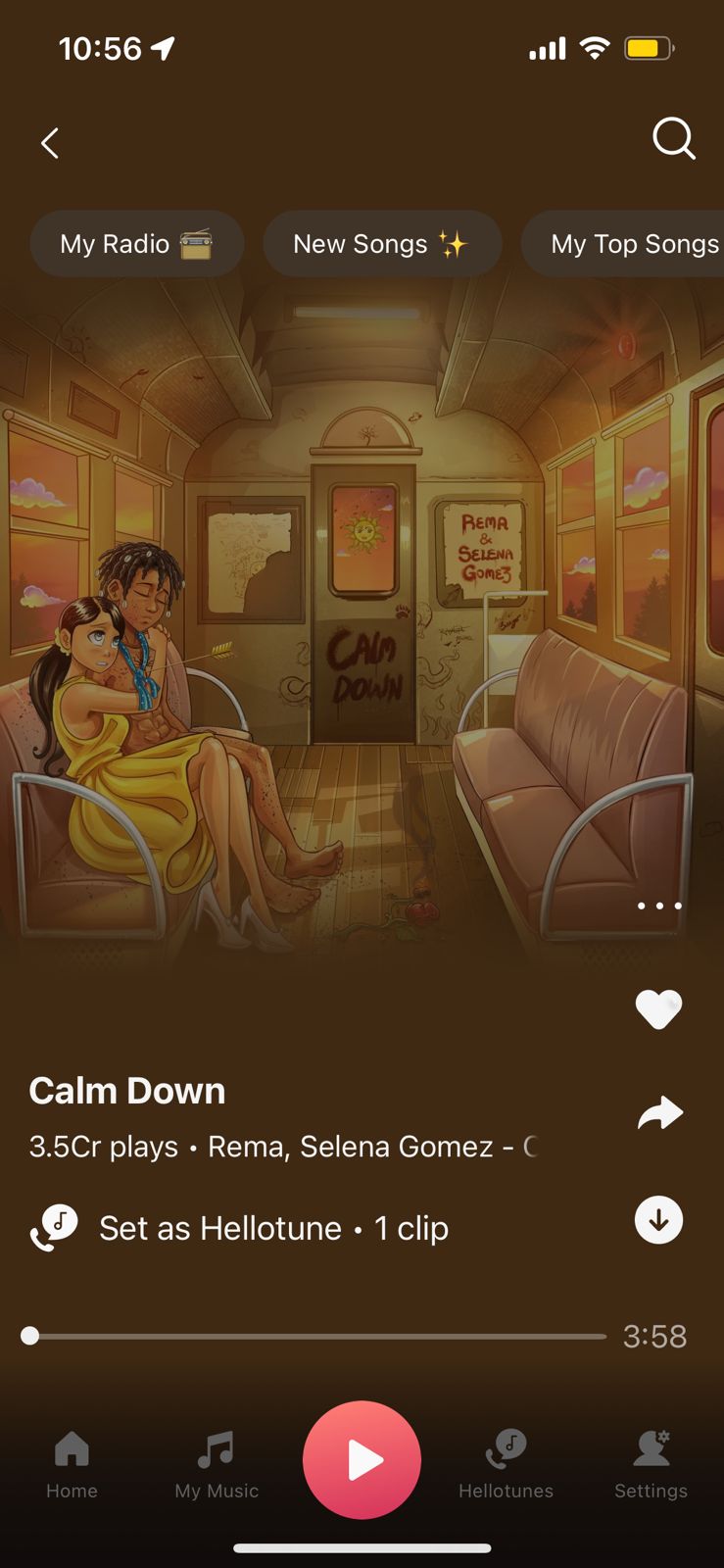 Image source: Wynk Music App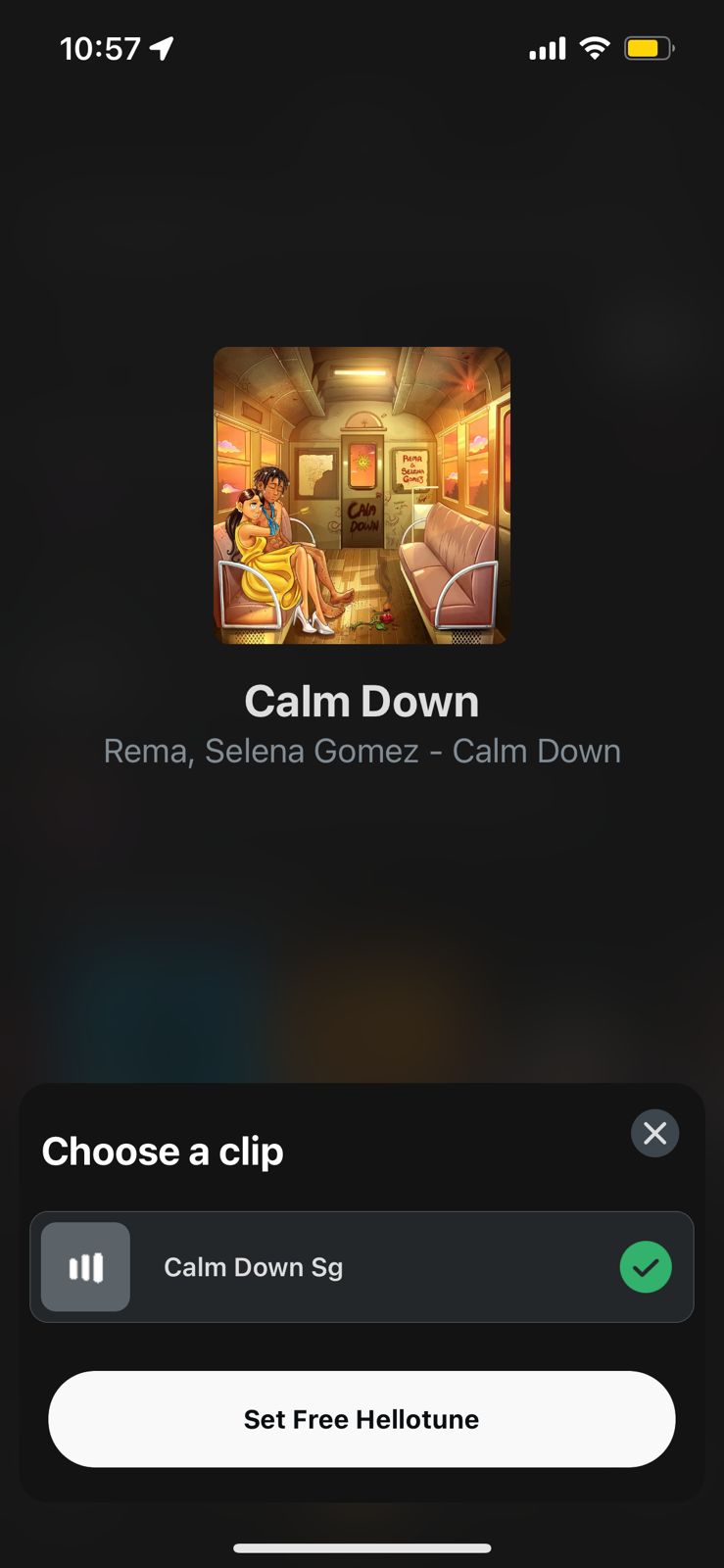 Image source: Wynk Music App
Now you can choose the preferred song as your caller tunes on the music page.

At last, you will get a confirmation message to set the caller tune, and after the verification, the caller tune will be successfully activated on your phone.

You can also access the Airtel Hello tune and set it directly from the "Hello Tunes" section on the main screen of the Wynk music app.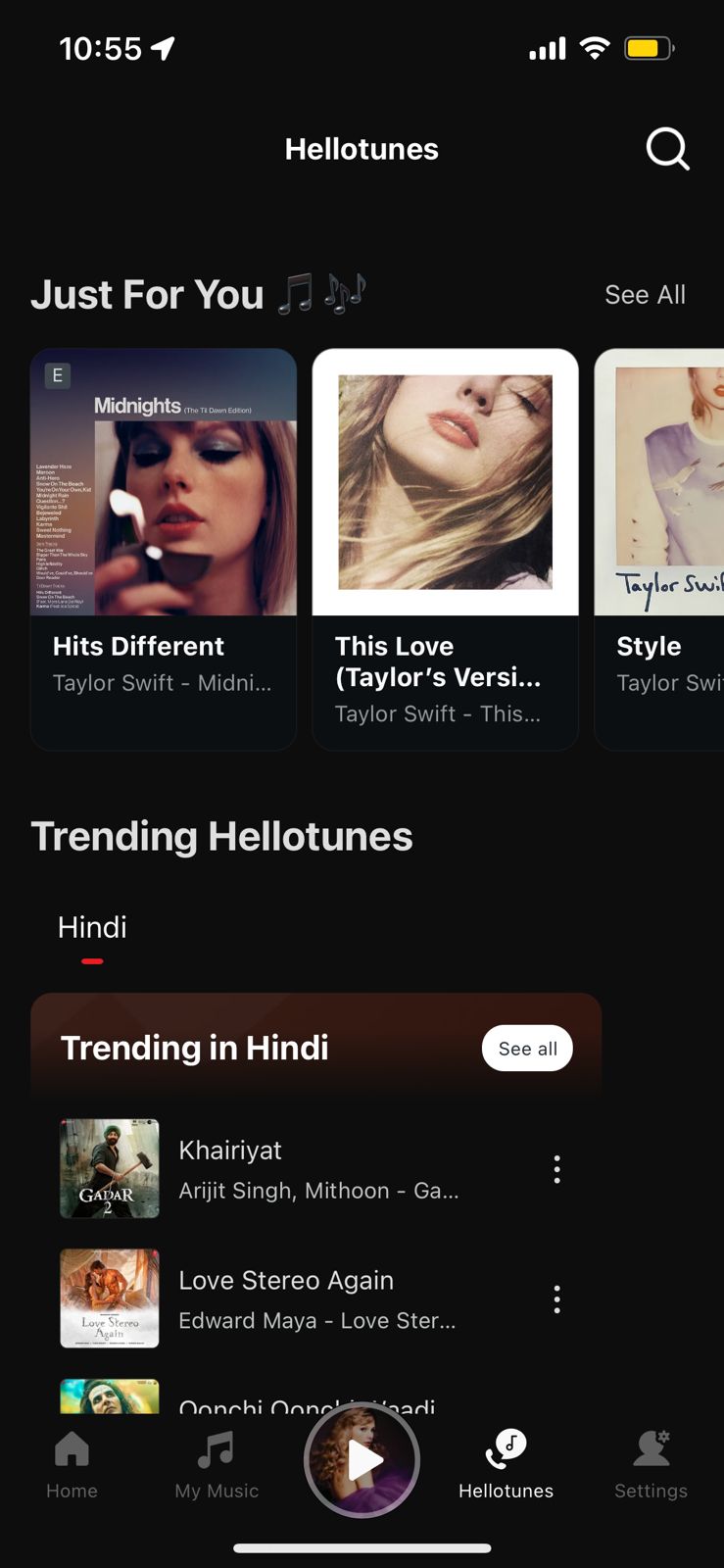 Image source: Wynk Music App
Now, you have the option to delete the Wynk Music app after turning on the caller tune if you'd like. Also, Please be aware in order to renew the caller tune after 30 days, it is necessary to install the program.
Note: Keep in mind that charges may be applied on the activation of the Airtel caller tune. Get free data in Airtel so you can listen to music as long as you want!
2. Set Caller Tune in Airtel Using the Wynk Website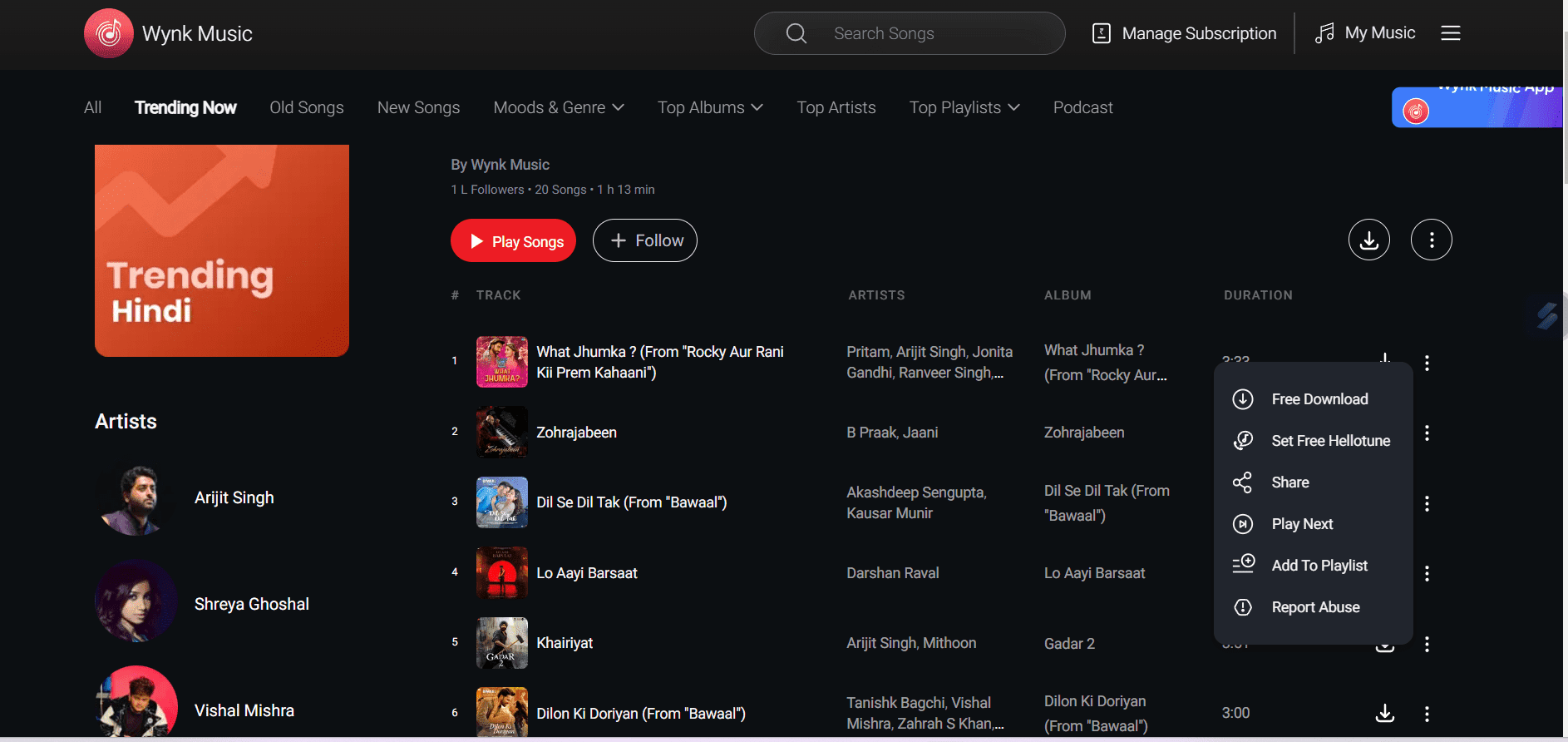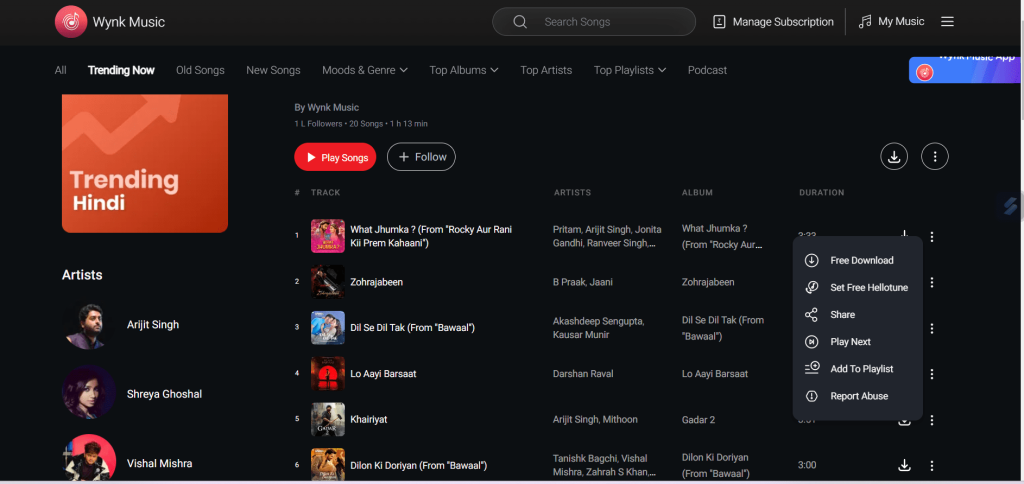 Firstly visit the Wynk website to visit Click here on this link:

https://wynk.in/music/hellotunes

Now you are required to enter your contact number to log in to your existing account.

After it, you will have a long list of songs available on the webpage.

Now select the song according to your preference from the list.

Here you will find a "Set Free Hello Tune" option next to the download button; click on it.




You will receive an SMS with all the instructions; follow the instructions and confirm the activation of the caller tune.

Once you confirm, the caller tune will be activated on your number.
3. Set Airtel Hello Tune for Free Without Wynk Music App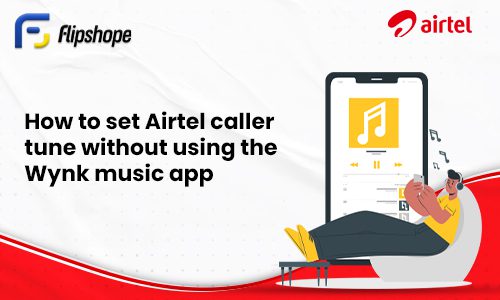 Looking for How to set Hello tune in Airtel without installing the Wynk music app? You can easily set the Airtel free caller tune even without using the Wynk music app by dialling the Airtel hello tune number. Look at the following steps.
Open the dial pad and enter the Airtel hello tune number 543211 or *678# to connect to the Airtel customer care team.

After it, you need to follow the steps, so listen carefully to all the instructions and follow them accordingly.

Press a specific number given by them to listen to different caller tune options.

Now press the specified number according to your preference to select your favourite song.

After all the steps, you will receive a confirmation message which specifies the Airtel caller tune activation.
4. Set Caller Tune in Airtel Through IVR
It's simple to customize your caller tune on Airtel by using the IVR (Interactive Voice Response). You can explore and choose your preferred caller tune by dialling 22788, or if you like somebody else's caller tune, you can directly set it on your number with a simple press of a button. It's a simple and easy way to make calls more enjoyable.
Dial 22788 for IVR and follow the instructions.

And if you want to copy the caller tune of your dear ones, you just need to press * then 1.
How to Change Caller Tune in Airtel!
If you are wondering how to change the caller tune in Airtel, you are required to follow the above-mentioned steps as the way of changing caller tune in Airtel is similar to the steps used to set the Airtel caller tune without using the Wynk music app. So don't waste your time searching for a new way; just follow the steps.
How to Disable or Deactivate Airtel Caller Tune
If you have already decided to deactivate the Airtel caller tune, then look at the following options.
Send a message: To deactivate the caller tune, the first and foremost thing you have to do is send a message "STOP" to 791
USSD: Dial *791# and select the option "manage profile" on the menu list
Contact customer care team: To connect to the customer care service, dial 121 or 198 from your number and request them to deactivate the caller tune on your number.
If you have the Wynk music app installed on your phone, then you can also follow these instructions to disable the caller tune.
Firstly open the app and click on the Hello Tune option.

Now go to the currently activated caller tune.

There you will see an option "Stop Hellotune." Click on it.

In the end, you will be notified through the pop-up message, which confirms the deactivation of the caller tune.
Also, read about how to set caller tunes in Jio, BSNL & VI!
Check Out: How to check Vi Balance?
If You want to Purchase a Caller Tune then Select your Preferred Mode
1. Via USSD
Dial *791# to select your preferred option on the menu.
Dial *791*aliascode# for direct dial download. e.g. *791*30# to download a particular song.
2. Via IVR
Dial 791 to listen to samples tunes, follow the voice prompt to browse through the tune, and select your preferred tune(s)
3. Via SMS
Send a Tune Code to 791 via SMS
You will be charged for your Airtel Hello Tunes in the following ways:
Subscription – N100 Monthly with a validity of 30 days
Tune download- N50/month
Calls to 791 cost N15/minute.
See Popular tunes Below
| | | |
| --- | --- | --- |
| Song Title | Artist | Tune Code |
| Amaka | Tuface Ft Peruzzi | 625 |
| Remember | Small Doctor | 626 |
| NWA | Phyno | 627 |
| Aje | DMW ft Davido, Peruzzi, Yonda & FreshVDM | 616 |
| Issa Goal | Naira Marley | 617 |
| Overload | Mr Eazi | 618 |
| Mind | DMW ft Davido, Mayorkun, Dremo & Peruzzi | 551 |
| Are you down | Ladipoe ft. tiwa savage | 539 |
| Awa love | Johnny Drille | 540 |
| Isi Ego | Phyno | 550 |
| PASS | SKALES | 611 |
| CHOP | SUGAR BOY FT YCEE | 612 |
| IS ALLOWED_002 | RUDEBOY | 620 |
| Ebeano | Mr.P | 621 |
| Weekend Vibe | Seyi shay | 591 |
| Onyeoma | Phyno ft Olamide | 601 |
| Problem | Reminisce | 603 |
| Low Waist | Masterkraft ft Flavour & Duncan Mighty | 622 |
| Boda Luku | Bisola | 562 |
| Selense | Harrysong ft Kiss Daniel Reekado Banks | 623 |
| 4 Days | Kiss Daniel | 552 |
| Somebody Baby | Rudeboy | 553 |
| Ada | DJ Ecool ft Davido | 554 |
| Whine For Daddy | Orezi Ft Davido | 555 |
| My Way | Mr P | 556 |
| Easy (Jeje) | Reekado Banks | 557 |
| London Town | Mr Eazi | 624 |
| BOBO | Mayorkun Ft Davido | 573 |
| Ma Sun | Jaywon ft Idowest, Mr real | 583 |
| One Chance | Phyno ft Kranium | 584 |
| Senrere | Skales ft. Dbanj | 586 |
| Yanga | Chidinma | 602 |
| Accolades | Charles Okocha | 604 |
| Haters Shove It Up | Charles Okocha | 607 |
Customer Benefits
Airtel Hello Tunes provides you with a personal touch to incoming calls, which enables users to change the standard ringing sound with an amazing Hello Tunes.

Customers will have various alternatives to choose from, a vast library of songs, melodies, and audio clips across different genres, ensuring a diverse and engaging caller tune collection.

Users can easily express their feelings, interests, and personality by using their preferred Hello Tunes.
Terms and Conditions
Customers must have sufficient balance on their line in order to enjoy this service. Please note that the Subscription is N100, and Tune download is N50, valid for 30 days.
FAQs of Airtel Hello Tunes
Q1. How many times can I change the Airtel caller tune?
Ans. All Airtel customers have the option to set or switch their preferred music five times per month as their caller tunes. Install the Wynk Music App from the Apple Store or Play Store. Choose the Hello Songs icon from the navigation bar at the bottom of the App.
Q2. How to set hello tune in Airtel for free?
Ans. If you like any song while listening to it on the Wynk music app and at the same time you want to set it as your caller tune, then you need to just click on the Hellotunes icon and then tap on."Set free hello tune." Once you are done with it, you will be notified through a confirmation message on your number.
Q3. How to set the Airtel caller tune by using SMS?
Ans. To set the caller tune, follow these steps.
Open the message inbox

Now type "SET" in the message box.

Send this message to 543215.

After some time, you will receive a message with a list of different songs.

Select the option by sending the number that reflects your favourite song.

Once you are done sending a message, the caller tune will be activated on your number.
Hope you find the article (How to Set Caller Tune in Airtel Via Numbers, Apps, IVR & SMS!) helpful. If you have any suggestions, please write to us in the comment section below.
Connect with us on Facebook and Twitter. Join our Telegram Channel. Download the Flipshope extension for the latest tricks and offers. For any queries, Whatsapp us at 9999488008.