What is Jio True 5G?
Jio has made a remarkable place in everyone's hearts. Through time, it has launched many successful projects, and Jio True 5G is one of them. Jio True 5G, launched by Reliance Jio, represents an innovative approach to the future of technology in India. This unique initiative is designed to bring the power of true 5G technology to the people, promising not just faster internet but a huge difference in how we connect and communicate. It's about being at the forefront of India's technological revolution, where innovation knows no bounds.
Jio True 5G is all about using the technology, working with partners worldwide, and making sure everyone in India gets access to the best internet. Choosing Jio True 5G isn't just picking a network; it's like getting a sneak peek into the incredible possibilities of connecting to the rest of the world.
Launch Date of Jio True 5G
On January 31, 2023, Reliance Jio introduced 5G services in 34 cities. Jio True 5G services are now accessible in 225 cities overall, thanks to this launch. According to the telecom services, it is the first and only 5G provider in the majority of these cities.
Jio 5G launched in 34 new cities
On October 1, 2022, Mukesh Ambani made an official announcement regarding Jio 5G services in India at the Indian Mobile Congress (IMC) 2022. The Jio True 5G Welcome offer was then introduced, giving subscribers in a few cities the opportunity to receive their first hands-on experience with 5G. Jio asserts that this deal will be extended to more areas in the coming weeks. According to the corporation, 1,000 cities' 5G deployment planning is complete.
The 5G services have been launched in these cities:
Delhi-NCR
Mumbai
Pune
Kolkata
Chennai
Bengaluru
Hyderabad
Gujarat
Varanasi
Kochi
Additionally, Jio 5G services are accessible in 200 additional Indian cities, including Bhopal, Bhubaneshwar, Chandigarh, Uttarakhand, Patna, Lucknow, Trivandrum, and Shillong.
Note: Jio users in these cities will be invited to the Jio Welcome Offer to experience unlimited data at up to 1Gbps+ speeds at no additional cost.
How to Check the Jio Device Compatibility Results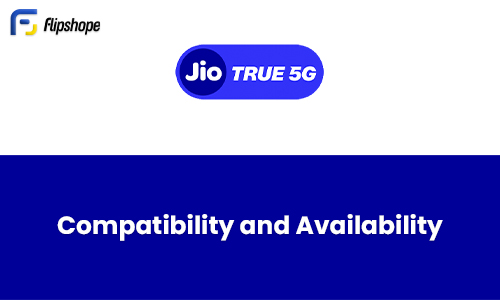 Jio is one of the most trusted networking devices when it comes to providing speed and smooth performance. In the following section, you will find some relevant steps on how to check the compatibility of Jio devices.
Visit the Jio Website: Open your web browser and go to the official Jio website (www.jio.com).
Navigate to the Device Compatibility Page: On the Jio website's homepage, click on "Check True 5G Coverage" and then scroll down and click on "Check Device Compatibility."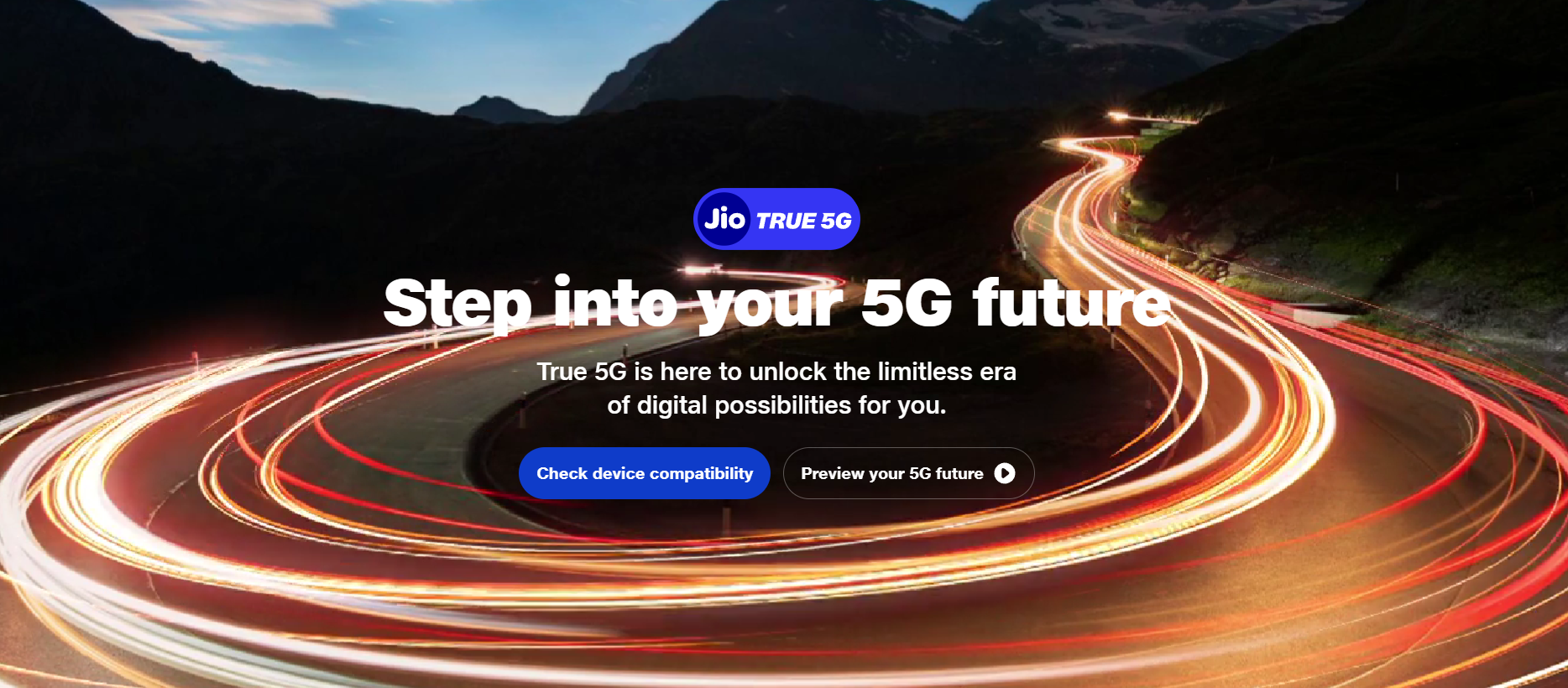 Enter Your Device Details: You will find a form where you can enter your device's details. You may need to provide information such as your device's brand and model.
Submit the Information: Once you've entered your device's details, click on "Check Device Compatibility" to submit the information.
View Compatibility Result: After you submit the information, the website will provide you with the compatibility result. It will indicate whether your device is compatible with Jio's network or not.
Check Jio 5G Availability in Your Area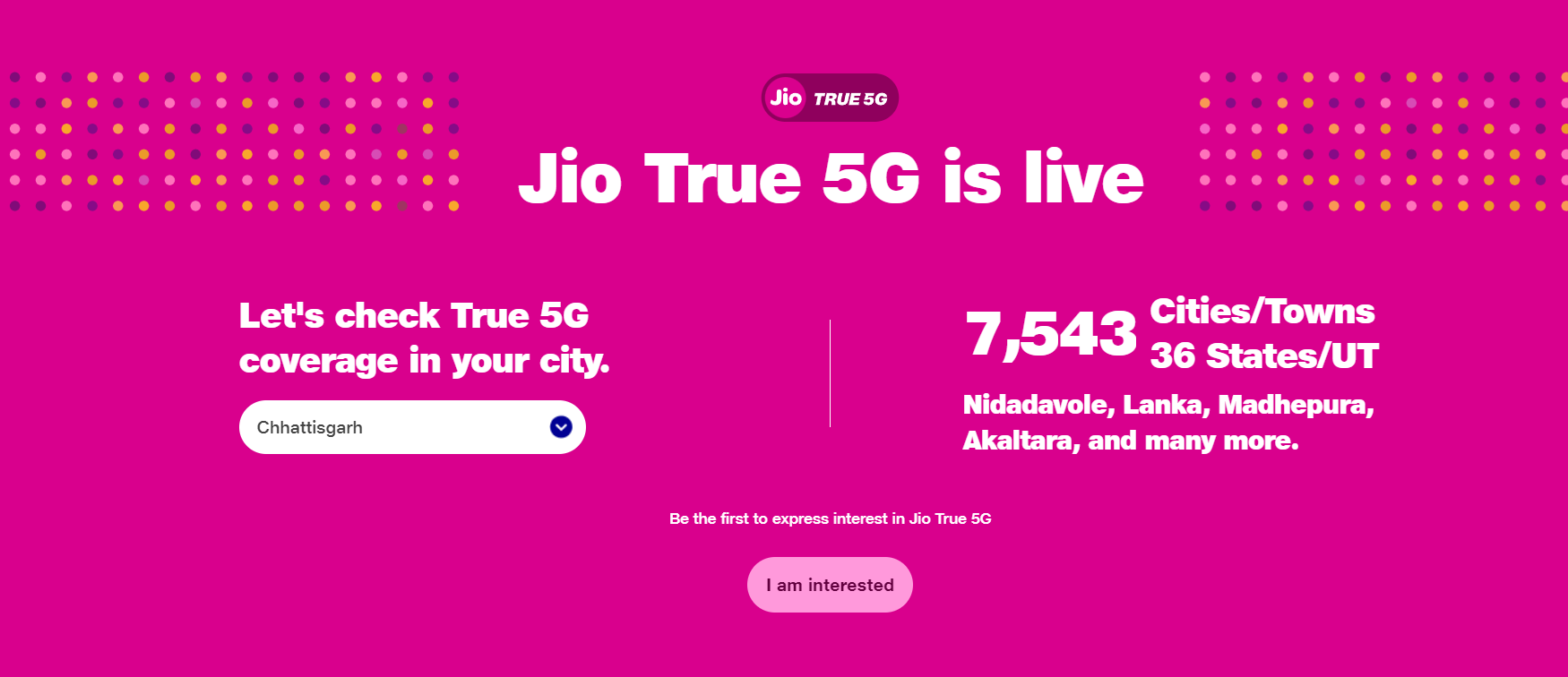 For countries like India, 5G is extremely important. Compared to 4G, the internet speed will be 10 to 20 times faster. The bottom line is that you can use high-speed internet with less latency. For Indian citizens, 5G will lead to many new prospects. The telecom company will continuously work on the betterment of Jio True 5G services; keep reading to know more about the availability of true 5G Jio services!
Visit the Official Jio Website or App: Open your web browser and go to the official Jio website (www.jio.com) or launch the MyJio app on your smartphone.
Check for 5G Availability Information: On the Jio website or app's homepage, look for the "Check True 5G" section and click on it. This section contains information about the availability of 5G services and its coverage areas.
Enter Details: Choose your state, and a list of locations in which 5G coverage is available in your state will appear.
View 5G Availability Status: Check out if your place has 5G availability. It may show whether 5G is currently available, under rollout, or not yet available.
Reimagine the Way you Work, Live, and Chill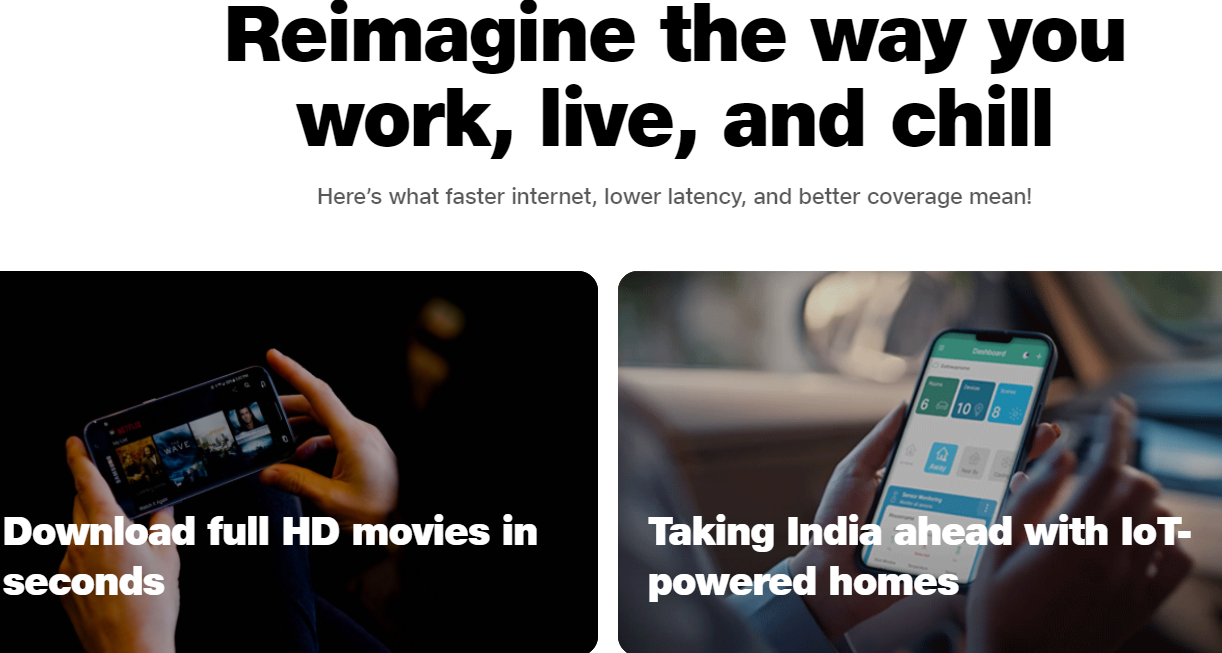 In a world where connectivity defines our daily existence, Jio stands at the forefront, offering more than just communication; it's about innovation, transformation, and limitless possibilities. Whether you're considering a work-from-home routine, exploring other experiences, or simply unwinding with your favorite shows and music, Jio's seamless network paves the way for a life less ordinary. In the following section, you will get to know about how Jio has changed your lives in a better way.
A new level of thrill in online shopping
Download HD movies in seconds
Taking India ahead with IoT power homes
See a whole new reality unfold
Watch videos from multiple angles
Features of Jio True 5G
If you are still confused about Jio True 5G, then have a look at the following features to get a complete view.
Ultra-Fast Speeds: 5G technology is expected to deliver significantly faster download and upload speeds compared to 4G. This speed boost allows for quicker downloads, smoother streaming, and reduced latency.
Low Latency: Jio networks are designed to have ultra-low latency, which means there is minimal delay in data transmission. This is crucial for applications like real-time gaming, augmented reality (AR), and virtual reality (VR).
Improved Connectivity: It offers enhanced connectivity in crowded areas and provides better network performance even when many devices are connected simultaneously. This is essential for IoT devices and smart city applications.
Expanded Network Capacity: Whether in the office, home, or any indoor location, Jio True 5G's 700 MHz spectrum band ensures you enjoy the best 5G experiences.
Enhanced Mobile Broadband: Jio True 5G is expected to provide an improved mobile broadband experience, allowing users to enjoy high-quality video streaming, online gaming, and other data-intensive activities on their smartphones.
IoT and Industry 4.0: Jio is a key enabler for IoT applications and Industry 4.0, supporting smart homes, smart cities, connected vehicles, and industrial automation.
Security and Reliability: 5G networks are designed with advanced security features to protect data and communications. They are also expected to be highly reliable.
Network Slicing: This feature allows operators to partition a single physical network into multiple virtual networks, each optimized for specific types of services. This enables customization for various applications.
Jio True 5G Experience for Enterprises/Jio 5G For Business
You can now experience Jio services not only in the telecom industry but also in various markets and streams with a motive to provide a digital economy.
1. Agriculture:
Without question, agriculture is the most significant industry in any nation. A country couldn't feed its people without farming and agriculture. Given the current status of resources in India, the thought of using technology in agriculture—whether it is energy, more advanced irrigation systems, or even the transportation of produced crops—seems like a distant dream. But all of this may change with 5G. Even in the most remote areas of the nation, farms and fields can access a range of technologies thanks to 5G's extensive, reliable, and robust network coverage.
2. Banking and Financial Services
Banking is now more convenient than ever, thanks to the internet, and the development of mobile payment apps and digital wallets has elevated cashless transactions to a whole new level. However, the gaps in payments or outages that result in dissatisfied customers cannot yet be fully addressed by the tech infrastructure and connectivity solutions available today. A financial institution had few options up until now if too many users attempted to log in simultaneously and crashed a server. Such issues might become obsolete once the 5G era arrives.
3. Education
The tech revolution is changing how people learn. While virtual learning initially served as a temporary fix, it is now an integral component of the educational process. It is facilitating equal access to education for students living in rural places. Higher internet speeds are made possible by 5G technology, but it also makes it possible for teachers to use cutting-edge tools like AR and VR to make their teachings more interesting and accessible to students around the world.
4. Healthcare
Everyone in the nation has one basic human right, and that is the ability to access quality healthcare. However, this becomes difficult due to the enormous number of individuals who require medical attention compared to the constrained resources of medical personnel and facilities. No longer! With the introduction of 5G in healthcare, we will see this gap narrowing or even disappearing altogether.
5. Hospitality
The ease with which users will be able to use 5G technology is one of its distinguishing characteristics. The hotel sector works hard to make its clients' lives more convenient. Hotels can use technology to provide a better visitor experience, and this is not just true of luxury hotels. The use of robotics, data, and AI for more individualized suggestions are just two ways that 5G can significantly improve the visitor experience in hotels.
6. 5G Manufacturing
5G technology has completely taken over the 4.0 industry. Everyone now views innovations like the Industrial Internet of Things (IIoT), artificial intelligence (AI), machine learning (ML), mixed reality, and edge computing in the context of manufacturing thanks to 5G's higher speeds, high dependability, and low latency capabilities. Saying that 5G may increase manufacturing units' safety, efficiency, and productivity while minimizing downtime is not a lofty assertion.
7. Media and entertainment
The media and entertainment industries have undergone a major transformation because of the internet and OTT streaming services. However, service providers need to step up their game when it comes to platform enablement as options become more diversified and consumers have more flexibility over what they consume. A strong and secure network is essential in this situation.
8. Mining
Any mining company's main priority is the health and safety of its employees because mining is a dangerous occupation. Over time, safety at mining sites has proven to be difficult due to the nature of the job involved. However, with the arrival of the 5G era, the mining sector can expect to see considerable improvements in both worker welfare and convenience as well as production. The way mining is done in many locations across the world is already changing thanks to 5G-enabled IoT networks with smart sensors.
9. Retail
The distance between the experiences of purchasing online and offline can be closed with the help of 5G. It can offer in-store customers the same individualized care they receive online. To build smart stores where you can provide your customers with exceptional ease, 5G capabilities are essential.
10. 5G for smart cities
Cities are the center of businesses and play a crucial role in the development of the nation. India is developing quickly, especially in Tier 2 and Tier 3 cities. There is a larger need for cities to become smarter in order to accommodate the needs of this expanding urban population. Municipalities can better manage projects throughout the city, enhance safety, and contribute to the overall efficiency of the city by incorporating 5G connections into urban planning.
Jio True 5G & Its Impact on Different Sectors
5G has made a huge impact on each sector of society, including healthcare, education, agriculture, and many other important sectors. Whether you are a teenager or an adult, knowing the impact of 5G is extremely important. Have a look at the following section and learn about the impacts of 5G networks.
1. The 5G effect on agriculture
The network speed of 5G will be around 20 times quicker than that of 4G. It will provide up to 10 Gbps download speeds and 1 Gbps upload speeds, respectively. This will provide seamless data connectivity and permit real-time data sharing across billions of connected devices. The agriculture supply chain can benefit significantly from 5G connectivity. With real-time tracking and monitoring, farmers can better manage the transportation and storage of their produce, reducing spoilage and waste. Additionally, 5G-powered logistics systems can improve the efficiency of distribution networks, ensuring that fresh produce reaches consumers faster and in better condition.
2. The 5G Education
Education in India is extremely important, and to improve the education system, leading telecom companies have already begun testing 5G networks. This could reduce latency to less than one-thousandth of a second and be at least 20 times faster than existing 4G networks.
3. 5G transformation in the healthcare sector
High-quality video conversations will be made possible by 5G speed, which also makes it possible for records like prescriptions, test results, medical imaging, and other reports to be transferred almost instantly. The implications of 5G in the healthcare industry are anticipated to open up countless opportunities.
4. Reimagine your home with 5G connectivity
Living in the new world of technology is not fully possible if you don't have 5G connectivity at your place. The high-speed 5G connectivity is not only set to redefine the way your home works but also ensures that you enjoy nothing short of ground-breaking coverage for the whole house.
Jio 5G India Launch News Timeline
India's largest service provider, Reliance Jio, has announced it will launch 5G standalone (SA) services by Diwali, which will be in the second half of November this year. The company will initially focus on the metropolitan cities of Delhi, Mumbai, Kolkata, and Chennai before expanding coverage to the entire country by December 2023. Jio is the only Indian service provider that has a 700MHz spectrum in the latest concluded auction to launch 5G SA.
FAQs of Jio
Q1. How to convert 4G SIM to 5G SIM?
Ans. Here is how you can convert 4G to 5G SIM
Firstly, ensure that your smartphone is 5G compatible

Visit the nearest store or service center of your mobile operator

Bring your existing 4G SIM card, along with your ID proof (e.g., Aadhaar card, passport, or driver's license) for verification.

Ask the customer service representative to provide you with a 5G SIM card. They will verify your details and process the request.

Once you receive the new 5G SIM card, follow the activation instructions provided by the service representative.

Activation usually involves inserting the new SIM card into your 5G-compatible phone and restarting it.

Change the SIM settings to 5G services.

It can take a few hours to a day for your new 5G SIM card to be fully activated and registered on the 5G network.
Q2. What is the difference between 5G and True 5G?
Ans. The difference between 5G and true 5G lies primarily in the evolution and technical capabilities of wireless communication technology. While 5G and true 5G both represent advancements in mobile networks, true 5G, often referred to as 5G NR (New Radio), represents a more advanced and refined stage of 5G development.
While 5G networks can provide significantly faster speeds than 4G LTE, true 5G aims to provide even higher data rates, often reaching multi-gigabit-per-second speeds. This is crucial for applications that demand extremely high bandwidth, such as 4K and 8K video streaming, virtual reality, and augmented reality.
Q3. What benefits will I get under the Jio welcome offer?
Ans. You will receive unlimited 5G data as part of the Jio Welcome Offer, in addition to the benefits that come with your current active recharges and plans.
As long as your base plan is still valid, you can use more unrestricted 5G data.

On the 5G network, unlimited 5G data benefits will be available. Your active base plan's data allotment will be used on the 4G network.
Q4. What should I do to experience True 5G?
Ans. Contrary to other networks, Jio is a network that is truly 5G-ready. Customers using Jio don't need to switch SIM cards. In order to be invited to the Jio Welcome Offer, you must have a 5G handset that is compatible with the Jio-5G network and access to a 5G network in your location.
Q5. What will happen to my current plan in case I get the Jio Welcome Offer?
Ans. Your current base plan and the Jio Welcome Offer benefits will work together. When you are in a 5G coverage area, you can experience high speeds and other benefits of Jio True 5G services under the Jio Welcome Offer.
Q6. What will be the cost of a 5G tariff plan?
Ans. All Jio True 5G users up for the Jio Welcome Offer can use unlimited 5G Data with speeds up to 1 Gbps. The offer only applies to users with 5G devices situated in cities where Jio True 5G services are available and have a valid active prepaid or postpaid plan of ₹239 or above.
Q7. I am a non-Jio user. How can I be eligible for the Jio Welcome Offer?
Ans. If you are a customer of other networks, you can easily switch to Jio by porting your existing number or getting your new Jio SIM delivered to your doorstep.
Hope you like this article (Jio True 5G). For any suggestions or queries, feel free to mention them in the comment section.
Connect with us on Facebook and Twitter. Join our Telegram Channel. Download the Flipshope extension for the latest tricks and offers. For any queries, please Whatsapp us at 9999488008.