With the Flipkart Christmas Sale, you can avoid moving from one store to another. Get the best value for everything at the Flipkart e-commerce store, along with the most updated information on the Flipkart Jingle Days. Santa has arrived in town, and he will be welcomed. Flipkart Christmas sale starts with discounts ranging from 50 to 80%. Flipkart, thus, becomes the best place to shop for a TV set. The sale runs from 25th December to 29th December.
Hurry up! Don't miss the chance.
Incredible Christmas offers in Flipkart Jingle Days
Flipkart is currently offering an 80% discount on all products in the Flipkart Deals. Keep in mind that they are only available for a limited period. So hurry up! Get Flipkart Jingle Days offer on many products and buy them at the least cost.
Highlights of Flipkart Jingle Days sale
70% discount on Coocaa 80 cm (32 inches) HD Ready LED Smart TV (32S3U-Pro)
65% off on iFFALCON 138.6 cm (55 inches) Ultra HD (4K) LED Smart Android TV with HandsFree Voice Search (55K71)
Offers on LG TVs
Discount on Samsung TV sets
Other brands also have discounts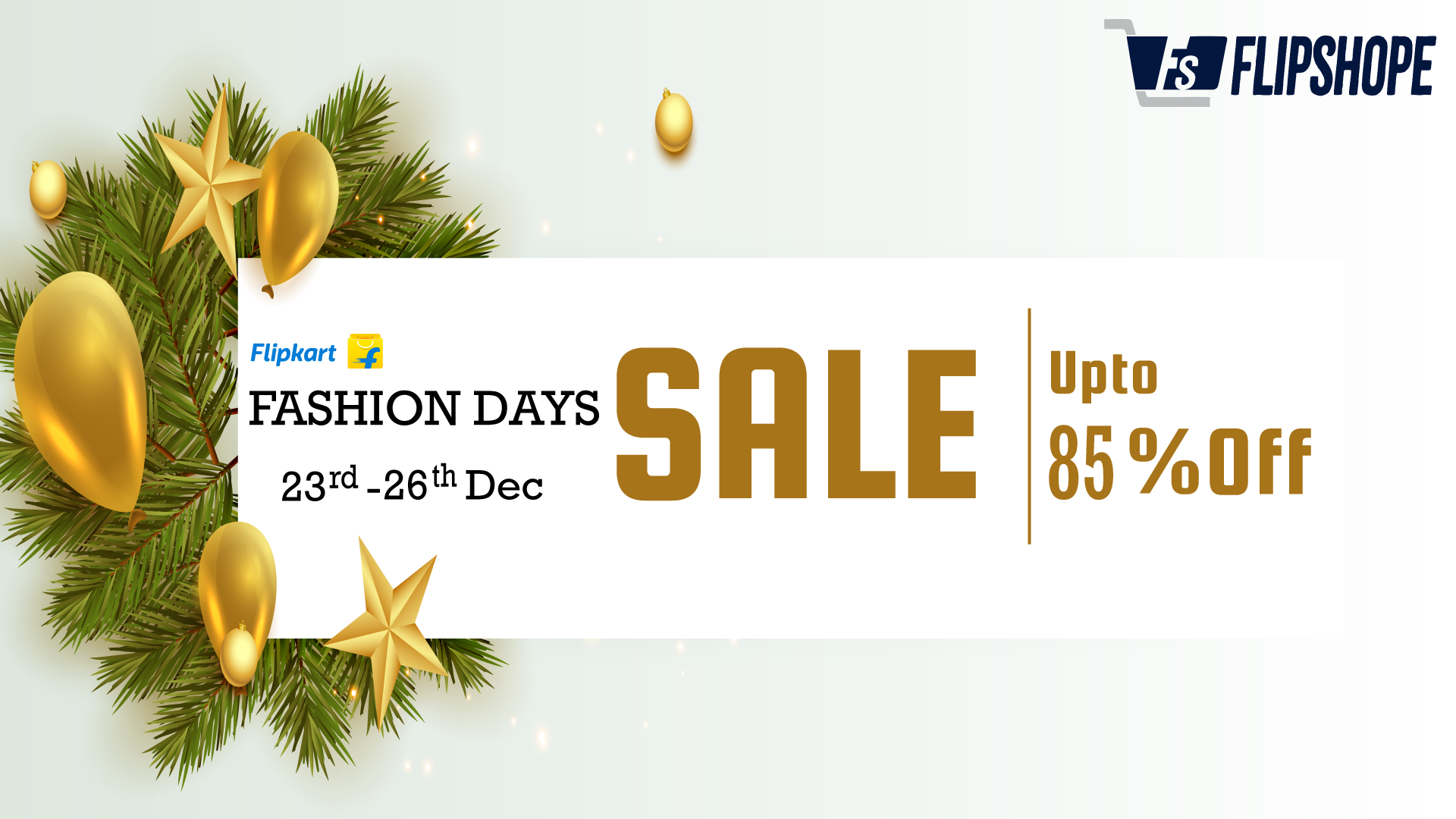 Flipkart Christmas Sale Dates
Flipkart Christmas sale will be live soon. You can get the best deals and offers in this 5-day sale. Claim the best offers in this sale starting from the 25th of December, 2021.
SALE
COMMENCES ON

SALE ENDS ON
Flipkart Jingle Days Sale

25th December 2021

29th December

2021

Flipkart Fashion Days Sale

23rd December 2021

26th December

2021
Flipkart Upcoming Sale 2021-22 | Everything at Lowest Price
Flipkart Jingle Days
With the Flipkart Jingle Days, you can get the best deals on TV sets of different brands. If you are thinking to upgrade your TV to the latest one, now is the time. Flipkart will have all your expenses covered. Save up to 70% off on branded TV sets and do not let your pocket cry. This sale is made just for you to avail of the best deals. Check out the site and the latest offers now.
Flipkart Fashion Days Deals, Discounts, and more…
Take advantage of the Flipkart Fashion Days Sale this year. Save money on footwear, clothing, accessories, books, holiday decor, and more. Take advantage of the offer before it expires.
Flipkart offers up to 90% off on fashion.
Flipkart Fashion offers a wide range of clothing for every need. Get up to 90% savings on clothes for Christmas at India's Fashion Capital today.
Discounted Brands are Roadster | Biba | Catwalk, and more.
The price starts from Rs 199.
Traditionals at 50-80% off
T-shirts, Jeans, Shirts, and other men clothing at up to 80% off
Safe and secure payment methods are available.
Jewelry and accessories starting from ₹ 199
Use the Flipkart website or mobile app to redeem this deal.
On Kids Fashion get up to 70 % off.
Flipkart has fashion deals for everyone ranging from kids to seniors. Get up to 70% savings on all the latest styles when shopping at Flipkart kids fashion.
0-3 years' deals start from ₹ 399
50-80% off on 4-8 years' deals
Clothing for 9+ years start from ₹ 249
Footwear starting from ₹ 99

All the users can enjoy this deal.

Offer can combine with current Flipkart coupons.
Flipkart New Year Sale 2021 | Exciting Offers for You
Save up to 80% off on Bags & Luggage
The sale will provide you with amazing deals on bags, luggage, and related categories too. Flipkart has everything you want at unlimited discounts. Choose your category and type of luggage and start shopping.
Up to 60-80% discount on Handbags
Printed suitcases from ₹ 1,499
Combos starting from ₹ 599
Suitcase sets starting from ₹ 2,999
Offers on Top Brands
Watches starting from ₹ 199
Watches of different brands are offered in the sale at great discounts. Grab the requirements at the cheapest prices available. Deals and offers will light up your Christmas.
Bracelet watches starting from ₹ 199
Minimum 60% off on Sonata
Timex watches starting from ₹ 499
Up to 65% off on Fossil, Allen Solly, Casio, Wrogn, and other brands.
Offers on Footwear
Different categories of Footwear are available in the sale at discounts. Check out the sale so that you do not miss out on the best offers. Get your favorite footwear home!
Sports shoes at 40-70% off
Heels and ladies shoes at 40-80% off
Casual Shoes at 40-75% off
Flipkart Christmas Sale Other Offers
Other offers will also be at your disposal during the sale. Flipkart will help you save on every category. Here's the list of other offers.
Refreshed Deals every 12 hours
Happy hours at 6-10 p.m. every day
Christmas Gift Guide
Wallet-Friendly Finds
Occasion wise deals for every occasion
Hurry up! Enjoy the best Flipkart Fashion Days deals.
The sale is your chance to save a lot of money. Get your extensive shopping list ready for this deal. You can have everything you want at the least price. In the coming days, the e-commerce company will host a number of further sales also.
FAQs
Q1. Does Flipkart have a Christmas sale in 2021?
Ans. Yes, Flipkart has a Christmas sale in 2021 with the best deals.
Q2. When will the Flipkart Christmas sale begin?
Ans. It will be live on 25th December 2021 with the name Flipkart Jingle Days.
Q3. Will Flipkart hold any other sale after the Flipkart Jingle Days sale?
Ans. Yes, there is the Smartphone Year-End Sale after the Christmas Sale which is expected to be live from the 26th of December to the 3oth of December 2021.
Q4. How much discount will I get on electronic appliances?
Ans. You can get offers up to 70% off on electronic appliances which include brands like Samsung, Godrej, etc. You can also check out other offers on the site using the Flipshope Extension.
If you like this article (Flipkart Christmas Sale 2021| Getting the best deals and offers!) then, please share your reviews with us and if you have any suggestions then also please share them with us in the below comments.
Connect with us on Facebook and Twitter. Thanks a lot for reading this article. Join our Telegram Channel or you can download Flipshope extension for the latest tricks and offers. For any queries please Whatsapp us on 9999488008.