Ever since Chinese apps like TikTok were banned, Instagram has taken the lead in entertaining people in a different way. Meta, owned by Mark Zuckerberg, has launched a feature named Reels. Through this feature, people can make videos with lipsyncing. This includes music, movie dialogues, dance, etc. Whether you are an adult or a teenager, reels are for everyone. Moreover, people spend half of their time on Instagram discovering various reels. Some reels are so special for people that they want to keep them forever. For this, you might have searched for various ways to download Instagram reels in the gallery so that you could cherish them forever. Here in this article, we have mentioned some of the ways to download Instagram reels. Let's have a look!
How to Download Reels From Instagram
Let's say you have footage from a video you made on Instagram Reels that you would like to use for your WhatsApp or to share with your LinkedIn followers but are confused about how. Well, you can learn how to download a reel from Instagram by following these instructions.
Open Instagram, select the Reels tab in your account

Click on the Instagram account's Reels.

Go for the Reel that you wish to save, then press the icon to start the full-screen video.

To view the menu, click the three dots in the lower right corner.

Click Save on the camera roll, and your device will immediately store the video in the gallery.
Check out unique Instagram bios for Girls!
How to Download Instagram Reels with Music
You can only use the "Save to Camera Roll" option to download the Instagram reel without audio if you have added music from Instagram's library to it. When adding the reel to your story, you have the option to save it with audio. You can now save a sound-assisted 15-second Instagram reel.
Go to Instagram, open your reel
Hit the paper aircraft button and choose "Add video to your story."

Adjust the reel's size and turn on the sound.

The story will then download if you click the download button.
How to Download Instagram Reels on iPhone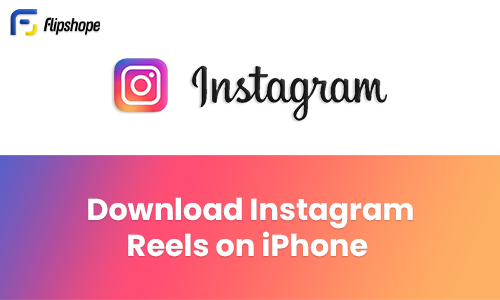 1. Download Reels on iPhone through an App
If you own an iPhone and don't know how to download Instagram reels on an iPhone, then you must read the following points. All you have to do is visit the App Store and download one of the many apps available for that purpose in order to download Instagram Reels to your iPhone. For instance, you can download the Instagram reels to your iPhone with the InSaver application. Have a look at the steps.

Give the app access to your photos and media by opening it and setting it up. Return to Instagram after that, and select the Reels video you wish to save.

Next, press the icon with three dots > Link.

Return to InSaver, and the Instagram URL you copied will be instantly put there.

Select Watch It! > Preferences > Sharing > To save the video to the Photos app on your device, select Save Video.
2. Download Reels on iPhone via Screen Recording
This way will show you how to download Instagram reels on iPhone via screen recording if you choose not to download a third-party app.
Ensure that the Control Centre has screen recording enabled. Go to Settings > Control Centre > Customize Controls, then select Screen Recording to accomplish this.

After that, navigate to Instagram and select the reel you wish to save.

Swipe up to view the Control Centre on your iPhone.

After that, start recording the video on Instagram that you want to save in your gallery.

After you've finished filming, tap the red bar at the top of the screen to end the recording.

Your Photos app will save the video. It's likely that you'll want to edit the video to remove any unnecessary scenes or parts that involve tinkering with the Control Centre and beginning and ending the recording.
How to Download Instagram Reels on Android
1. Download Reels on Android via App from the Play Store
Here's how to download Reels from Instagram on an Android phone. It entails getting an additional app from the Google Play store.
Download Video Downloader for Instagram – "Repost Instagram" from Google Play Store.

Install, launch, and configure the application.

This entails granting the program access to your device's files, media, and images.

Return to Instagram and select the reel you wish to download once you've configured the Video Downloader.

Click the three dots > Copy Link option.

Return to Video Downloader, and the reel you just copied's URL will be immediately put there.

Navigate to the images on your phone to locate the reel.

It will be editable and compatible for sharing with other apps.
2. Download Reels on Android via Screen Recording
If your Android phone has a built-in screen recorder, you can use it. If not, you'll have to use a third-party screen recording program. After you've prepared your screen capture technique, launch Instagram and select the video you wish to save.
Enable Screen Recording

Open the Instagram app and find the Reel you want to save. Make sure the Reel is ready to play.

Look for the screen recording icon and tap it to start recording.

Once you've started screen recording, go back to the Instagram app and play the Reel you want to save.

After the Reel has played completely or you've captured the segment you want to save, stop the screen recording by tapping the screen recording icon again or using the designated method for stopping screen recording on your device.

After you stop recording, the screen recording will be saved as a video file on your device. You should be able to find it in your gallery or the designated folder for screen recordings.
How to Download Instagram Reels Without any App
If you are a big fan of making reels and sharing them with your friends and family on various social media platforms, then you would be happy to know the safest way of doing so. It's a useful way to download Instagram Reels with Stories, and it doesn't require any other third-party apps or software. Check it out!
Launch the Instagram app on your iOS or Android mobile device.

Slide open the reel you wish to keep. Select the "Share" icon.

Tap to include the Reels in your story.

Zoom in the sample. Select "Save" after selecting the three-dot menu at the top.

Discard the story.
Instagram has made our lives extremely easy and entertaining. Whether you are spending your time scrolling onto reels or want to share your shot reels on any social media app, you need to download it first. To make the downloading procedure simple for you, we have mentioned various ways so that you can know how to download reels in gallery to keep it with you forever. So what are you waiting for? Go through the above-mentioned ways now and learn how to download reels from Instagram.
FAQs of Instagram
Q1. How to save Instagram stories with music?
Ans. You can now save Instagram stories with music by following the steps mentioned below.
Open Instagram and sign in.

To see the posts you've added to your story, tap your profile photo, which is situated in the upper-left corner.

You can also save the old stories from the archive
To select the archive story, you have to tap on the upper right side of your profile page
You will find an option of archive stories there
After selecting the story you want to save, tap the three dots in the lower right corner and se

lect Save.

Press Save and the story will be saved to your camera roll.
Note: On an iPhone, to preserve that particular story, choose preserve Photo/Video. Tap Save Story to save every story you now have as a single vertical video. Users of Android must save each story separately.
Q2. How do I see drafts on Instagram?
Ans. You can see the draft on Instagram in the following ways:
Launch the Instagram app on your mobile device and log in to your account

Visit your profile page
Click on the reel option placed on the center of your profile
After that, you will discover"drafts" in the very first section
Now, open it and see all the drafts that you want
Q3. How to add a collaborator on Instagram after posting?
Ans. You cannot currently add collaborators to an already-posted Instagram photo, video, or clip. Only collaborators who have been invited can proceed to the Share button. However, you can delete the post and share it again, this time adding collaborators before posting it.
Q4. How to remove a phone number on Instagram?
Ans. Here is the solution to remove the phone number on Instagram:
Log in to your Instagram account if you're not already logged in.

On your profile, tap the three horizontal lines in the top right corner to open the menu.

Then, tap on "Settings" at the bottom of the screen.

In the Settings menu, scroll down and select "Privacy."

Under the "Account Data" section, tap on "Personal Data."

Here, you'll see the option "Phone Number." Tap on it.

You'll see your phone number listed on this page. To remove it, tap on your phone number.

You'll be prompted with a confirmation message. Confirm the removal by tapping "Remove Phone Number."

Instagram may ask you to verify your account using a code sent to your email. Enter the code as requested.
Once you've successfully verified your account, your phone number will be removed from your Instagram account.
If you like this article (How to download Instagram Reels), share your reviews with us in the comments below.
Connect with us on Facebook and Twitter or join our Telegram Channel. Download the Flipshope extension for the latest tricks and offers. For any queries, please Whatsapp us at 9999488008.