People have started changing the way of their shopping. More and more people are shopping online nowadays. But, are you satisfied with the price of the product you buy? If you also face such an issue, do not worry; we have the solution. Flipshope is here to provide you with the buyer confidence you had while shopping offline. You can buy consumer electronics or fashion products using this Assistant.
What is Flipshope?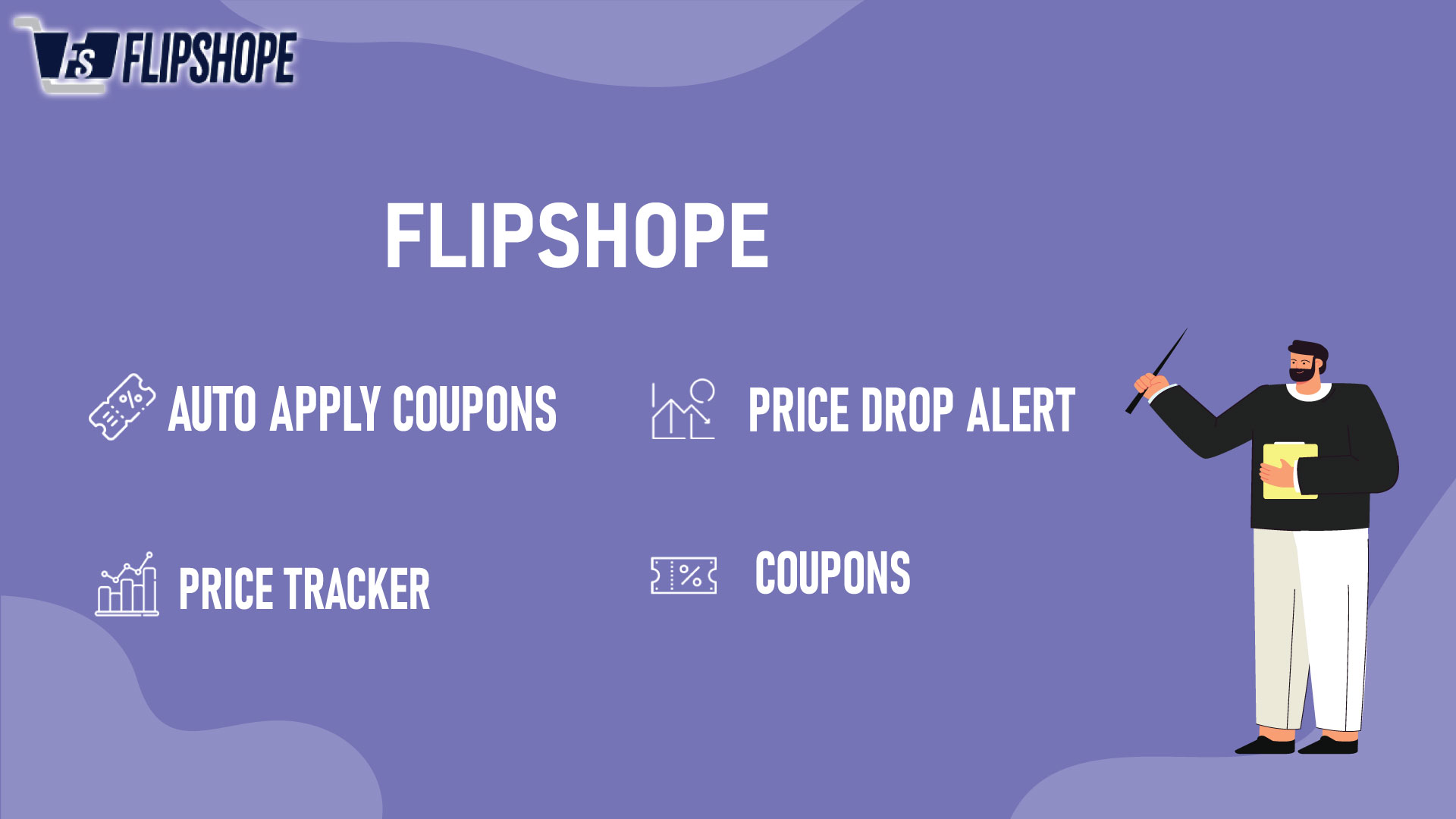 Flipshope is an AI-Powered smart shopping extension(Assistant) that helps you save your money and time. Basically, it helps you shop online smartly. Flipshope is equipped with some really smart features like Auto-apply coupon, Price tracker, Price drop alert, and Coupons. All these features are designed to help you buy your desired product at the best price, whether it is home electronics, Fashion, or other products. You can even save while you order food or book your tour online.
How to install the Extension?
Add the Extension to Chrome, and then enjoy the savings brought your way. The wide range of features of this Assistant will awe you. Check out the steps to install it.
Open your Laptop/Desktop and go to Chrome browser.
Search for Flipshope Extension and Add it to Chrome.
Now just Sign-Up or log in to the Extension.
Install now: Flipshope Smart Extension
You can check out details of all the features and steps to use them.
Auto Apply Coupon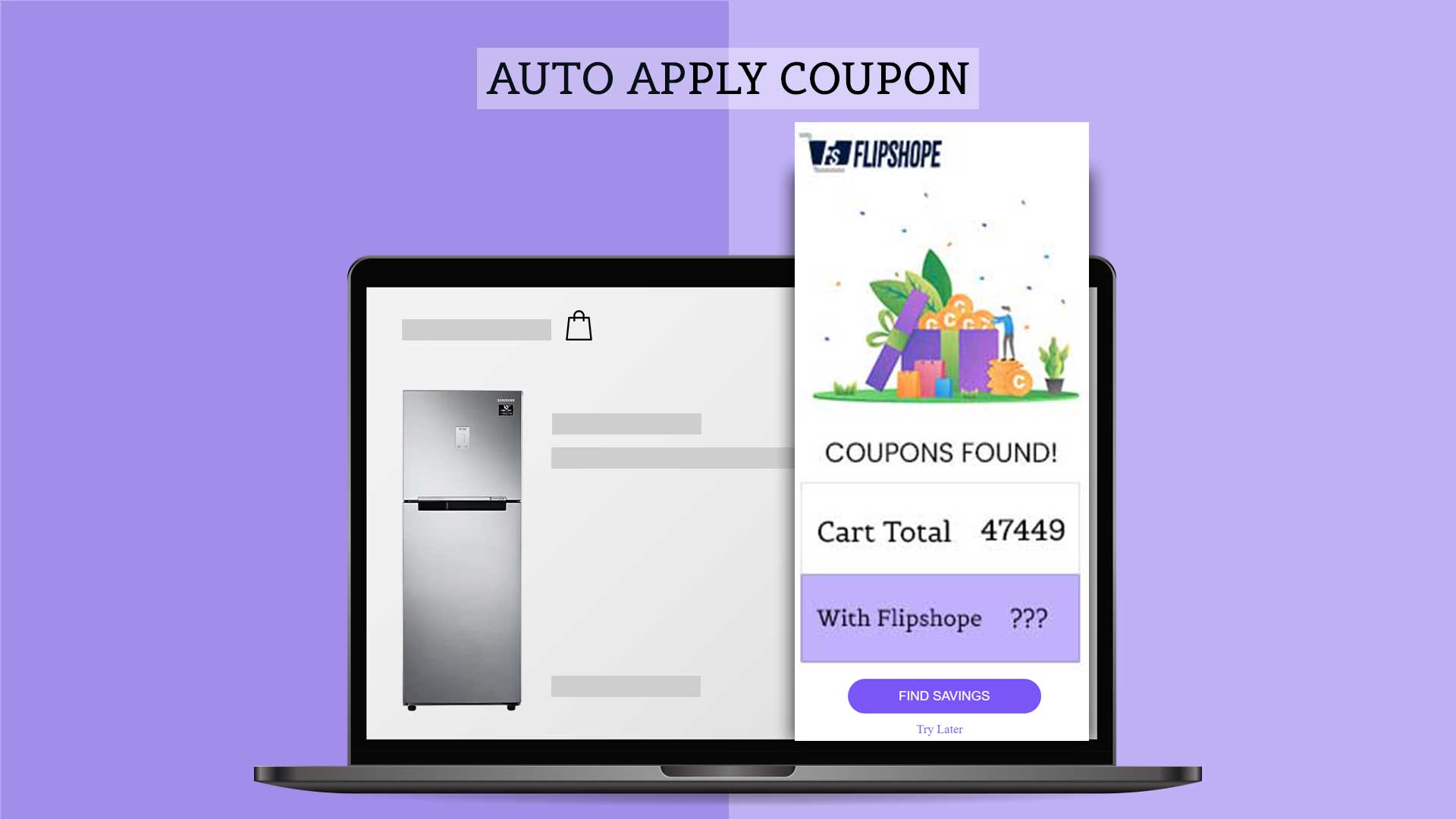 Some websites give the chance to use coupon codes to save money but getting all the coupons on that website is impossible. Thus, begins a constant search on the web for the best coupons, and that's hectic. Don't worry; it's not that hectic with Flipshope. There you'll get your best coupon in one click. It will also get applied to your shopping automatically. Check out how the Auto Apply Coupon Feature works:
Steps to use Auto Apply Coupon:
Go to the e-commerce store from which you want to shop and Sign-up or log in to your account.
Add all the desired Electronics to your cart.
Now go to your cart, and there you'll see a Pop-Up in which you'll get a "Find Savings" button.
Click on the button, and it'll start finding the best coupon for you.
After checking all the coupons, it'll apply the best coupon automatically, and you'll get your best price.
Hurray! we have saved you money by applying the coupon automatically.
Price Tracker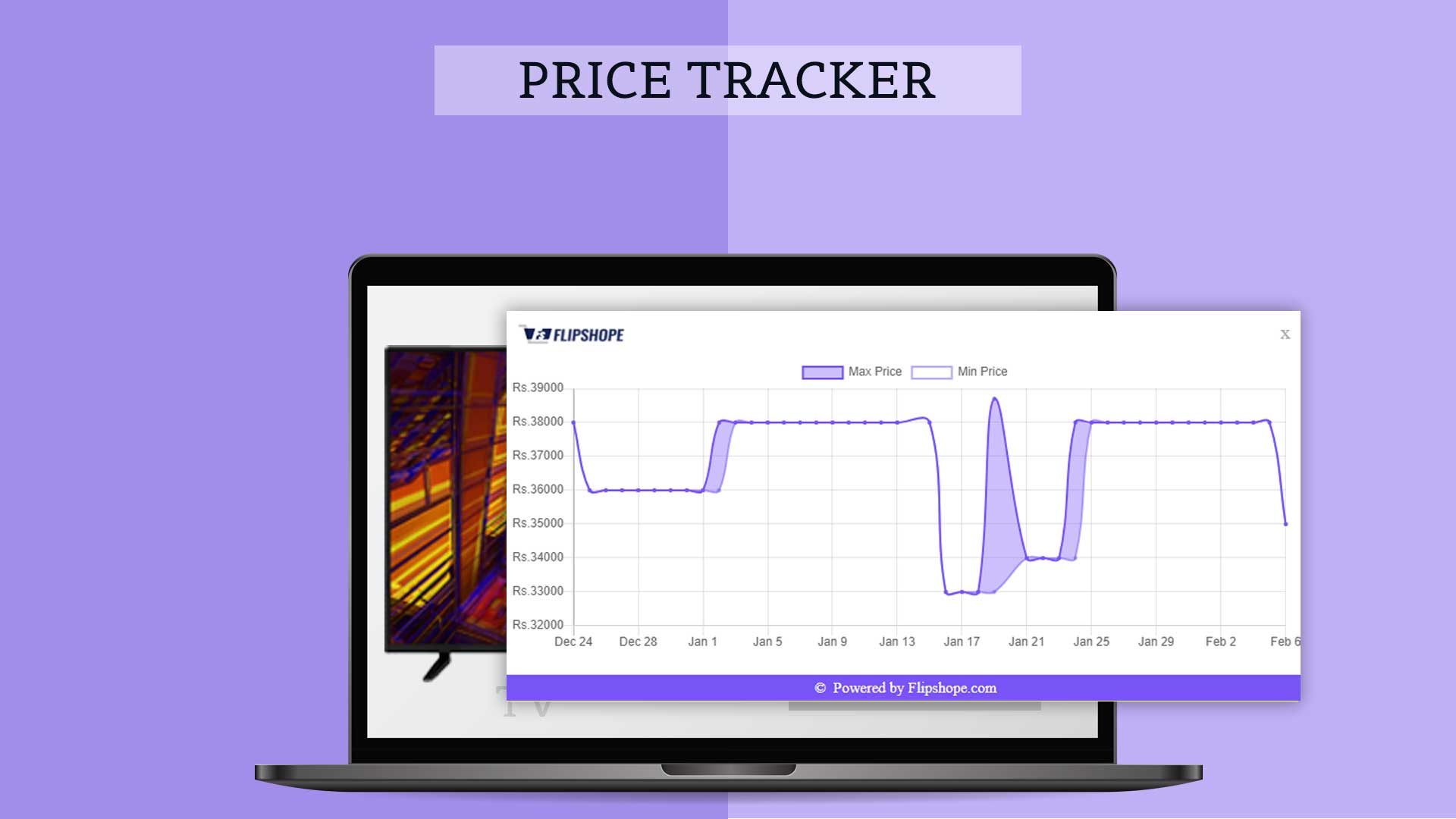 Do you always get confused about when to buy a product because the prices fluctuate rapidly? To solve this problem, Flipshope gives you the opportunity in the form of a "Price Tracker." It tracks the prices of a specific product for the last 45 days. You can easily see the price fluctuations in the price graph, which helps to buy consumer electronics at the best prices.
Using the price tracker:
Go to the e-commerce store from which you want to shop and Sign-up or log in to your account.
Go to your desired consumer electronics product page. There you will see the price graph icon.
Click on it to check 45 days price history of that product.
You can decide if the product's current price is really best for you or not.
Price Drop Alert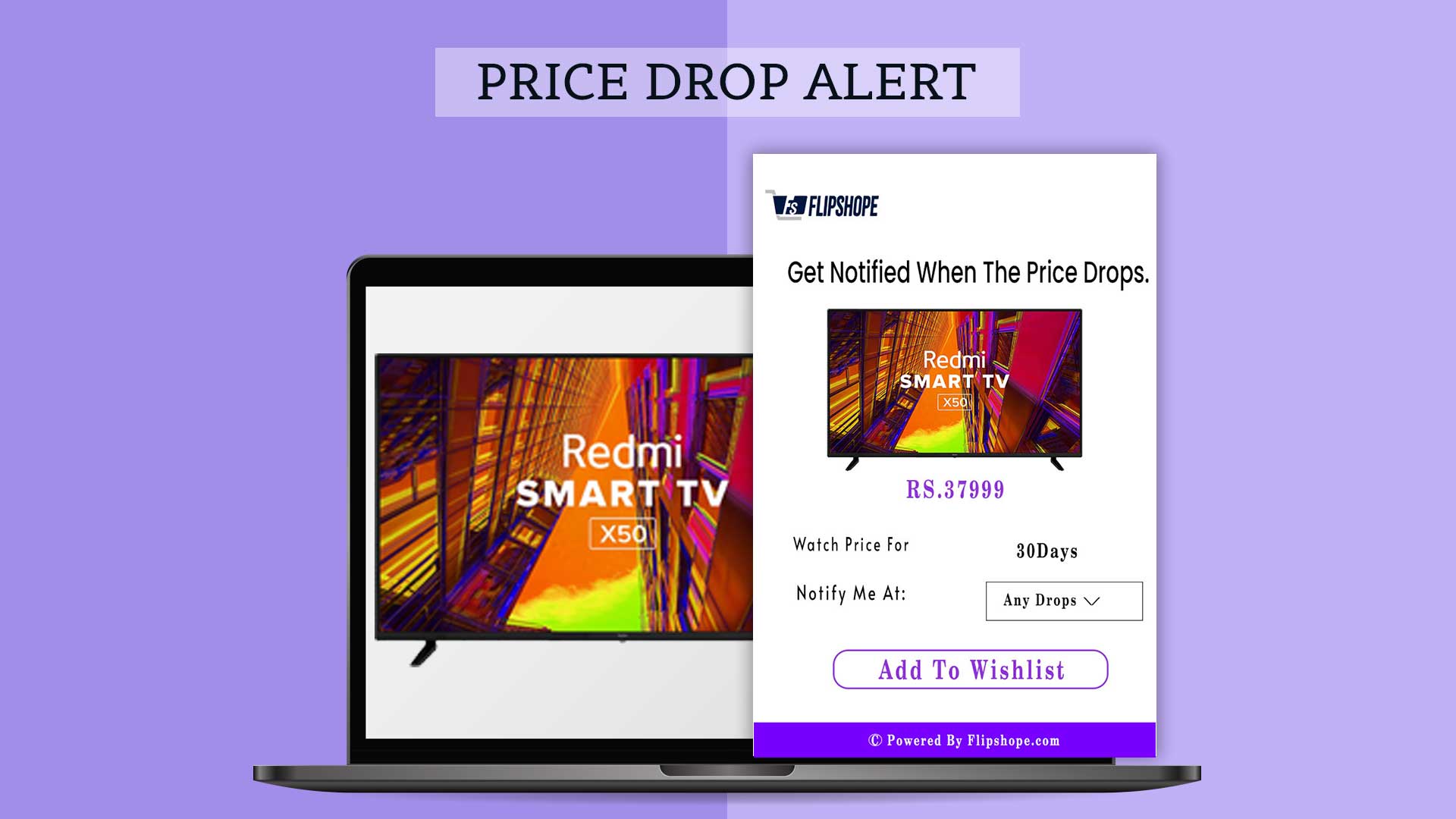 Only the real shoppers know that buying products at the least cost is an art. If you do not monitor the product on a regular basis, you cannot have it at the least price. With Flipshope, you do not have to worry anymore. It gives you a "Price Drop Alert" Feature that monitors the price for 30 days for you. It sends you a Pop-up notification or E-mail when the product's price drops below a selected percent.
Guide to using the price drop alert:
Go to the e-commerce store from which you want to shop for consumer electronics and Sign-up or log in to your account.
There is an "Add" button on the image of the product.
If you tap on it, a dropdown option will appear. Create a new account or sign in to one you already have.
You can then select your preferred drop percentage or any drop choice.
Flipshope will keep an eye on your desired product for 30 days. If the product price goes below your set percentage, you will get notified by E-mail or Pop-up notification.
Coupons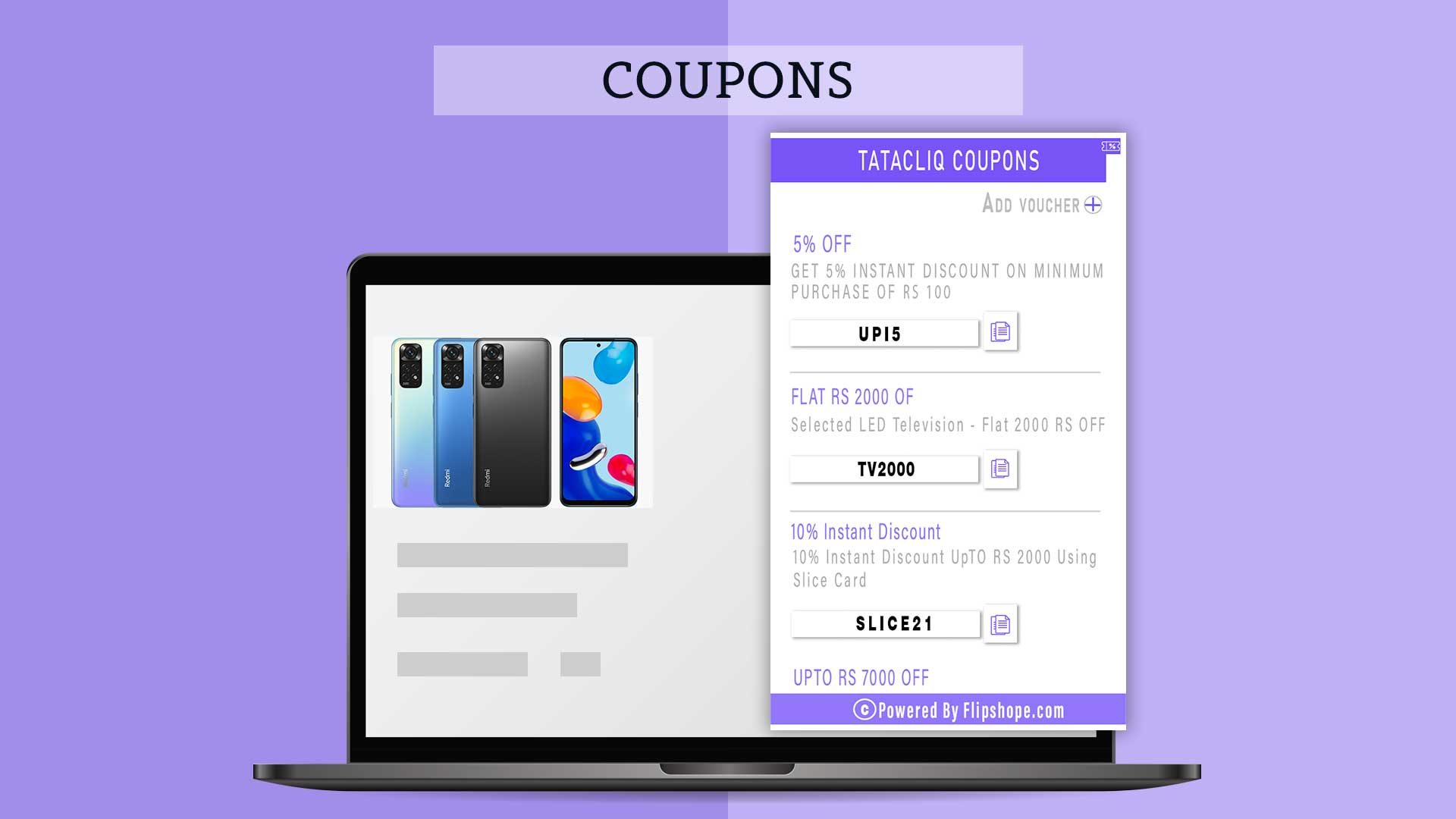 While shopping online, you always search for the best coupons on the websites, which takes a lot of time. Now you don't have to waste time on this anymore. Flipshope is here for you to provide all the "Coupons" in one place. You can choose the best one from a long list of coupons. After selecting the coupon of your choice, grab smart electronics at the best prices without wasting time on the coupon quest.
How to use coupons:
Go to the e-commerce store from which you want to shop and Sign-up or log in to your account.
Add your desired product to the cart.
Go to the cart; you will see the coupon icon on the left side of the screen. There you can see the list of coupons.
Select the best coupon according to your choice.
Copy the coupon code and enter it in the designated coupon field.
Congratulations on getting all the applicable coupons in a single place.
Flipshope will be your go-to place when you shop online. Do not waste time and install the Extension so that you can have an assistant working for you permanently. Make shopping fun and easy with Flipshope.
If you like this article (How to buy consumer electronics at the best price online | Step by step guide), please share your reviews with us in the comment section.
Connect with us on Facebook and Twitter or join our Telegram Channel. Download the Flipshope Extension for the latest tricks and offers. For any queries, please Whatsapp us on 9999488008.