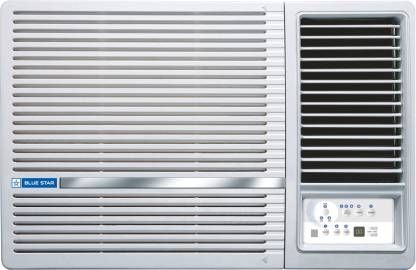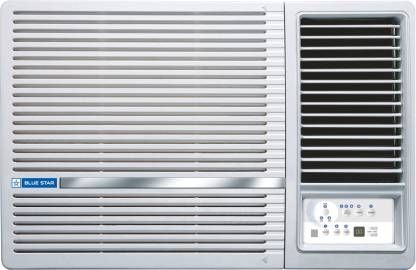 Blue Star 2023 Model 1 Ton 3 Star Window AC - White (WFB312LN, Copper Condenser)

Is this a good time to buy this product?
Waiting more for a price drop will be beneficial. Drop chances are more than 50%!
Blue Star 2023 Model 1 Ton 3 Star Window AC - White (WFB312LN, Copper Condenser)

- Price Change History
Above you can check 15 days, 45 days and 6month price history graph of Blue Star 2023 Model 1 Ton 3 Star Window AC - White (WFB312LN, Copper Condenser)
Blue Star 2023 Model 1 Ton 3 Star Window AC - White (WFB312LN, Copper Condenser) - Specifications
Introduction
Blue Star's WFB312LN Window AC, a 2023 model, represents an efficient cooling solution with a 1-ton capacity. Its package includes essential components such as the window AC unit, remote, drain tray, user manual, and batteries, ensuring a comprehensive setup for swift installation and operation.
Dimensions
The AC's dimensions are optimized for window placement, measuring 66 cm x 43 cm x 66 cm, with a weight of 46 kg for the indoor unit, facilitating easy installation and space utilization.
Performance Features
Driven by a rotary compressor, this AC offers a cooling capacity of 3400 W, suitable for areas up to 100 sq ft. It operates with an ISEER of 3.2 W/W, ensuring a balance between efficient cooling and energy consumption.
Air Flow & Filter Features
The unit is equipped with hydrophilic blue fin evaporator coils, ensuring two-way air direction for effective cooling, accompanied by a dust filter to enhance air quality by capturing particles.
Convenience Features
The AC is equipped with various convenience features such as auto restart, timer settings, sleep mode, memory feature, and self-diagnosis functionality, ensuring ease of use and tailored operation.
Power Features
Operating at AC 230 V, 50 Hz, the unit's annual electricity consumption is measured at 823.65 kWh, reflecting its energy-efficient performance for a 1-ton capacity.
Services & Other Features
Installation involves standard procedures encompassing installation using items within the box, connection to a power source, a test run, and a product demonstration. The warranty coverage includes 1 year for the product and 5 years for the compressor, focusing on functional parts of the AC while excluding air filters and certain plastic parts, as detailed in the user manual.
Highlighted features
1 Ton
3 Star BEE Rating 2023 For energy savings upto 15% (compared to Non-Inverter 1 Star)
Auto Restart No need to manually reset the settings post power-cut
Copper Energy efficient, best in class cooling with easy maintenance.
Sleep Mode, Auto-adjusts the temperature to ensure comfort during your sleep
Contact Information and Address
For direct contact with Blue Star, reach out via phone at 89 7678 1177 or drop an email at customerservice@bluestarindia.com. If traditional mail is preferred, the postal address is Kasturi Buildings, Mohan T Advani Chowk, Jamshedji Tata Road, Mumbai - 400 020. Whether by phone, email, or post, their team is available to address inquiries, provide assistance, or offer support regarding Blue Star products and services.