YouTube is one of the largest video streaming platforms, offering endless content to viewers worldwide. Formerly known as Music Key or YouTube Red, YouTube Premium was introduced with the aim of providing dedicated users with the experience they truly deserve. YouTube is committed to evolving and providing its users with the best and hence came up with YouTube Premium, which provides ad-free, background-playing videos and music. YouTube gave their users that and more. The platform has made the service affordable for every group to be able to access these benefits. However, only some people are eager to pay for these benefits. So, learn how to get YouTube Premium free. Check out the Upcoming sale on Amazon, Flipkart & Myntra!
What is YouTube Premium?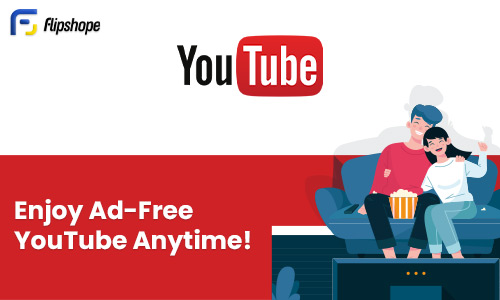 Originally launched with the name 'Music Key' in 2014, YouTube Premium has evolved much since then. It has come a long way from being a service that was used to stream only music videos ad-free to being a service meant for videos and music with a wide array of other benefits. It is all about the added benefits. Premium members experience a more enhanced version of YouTube, where you can access a range of exclusive features. Users who are eager to know how to get free YouTube Premium are very, very well aware of the benefits that come with it.
Basic Plans & Pricing of YouTube Premium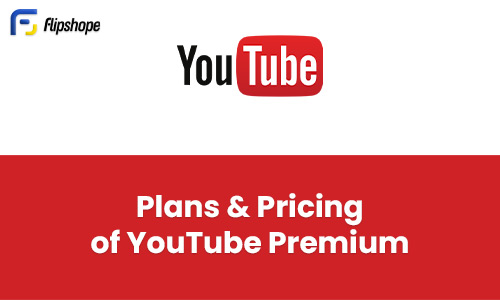 The company has come up with multiple plans meant for every group. They want each of their members to enjoy these added benefits. With the aim to make these plans accessible and affordable, YouTube has given significant discounts for students and family plans. Have a look at the basic plans:
| | | |
| --- | --- | --- |
| Student | Monthly | Rs. 79 (After free trial) |
| Subscription with auto-renew | Monthly | Rs. 139 (After free trial) |
| Subscription without auto-renew | Monthly | Rs. 129 (After free trial) |
| Family (Up to 5 members) | Monthly | Rs. 189 (After free trial) |
| Individual | Annual | Rs. 1290 |
1. Individual Youtube Membership Plans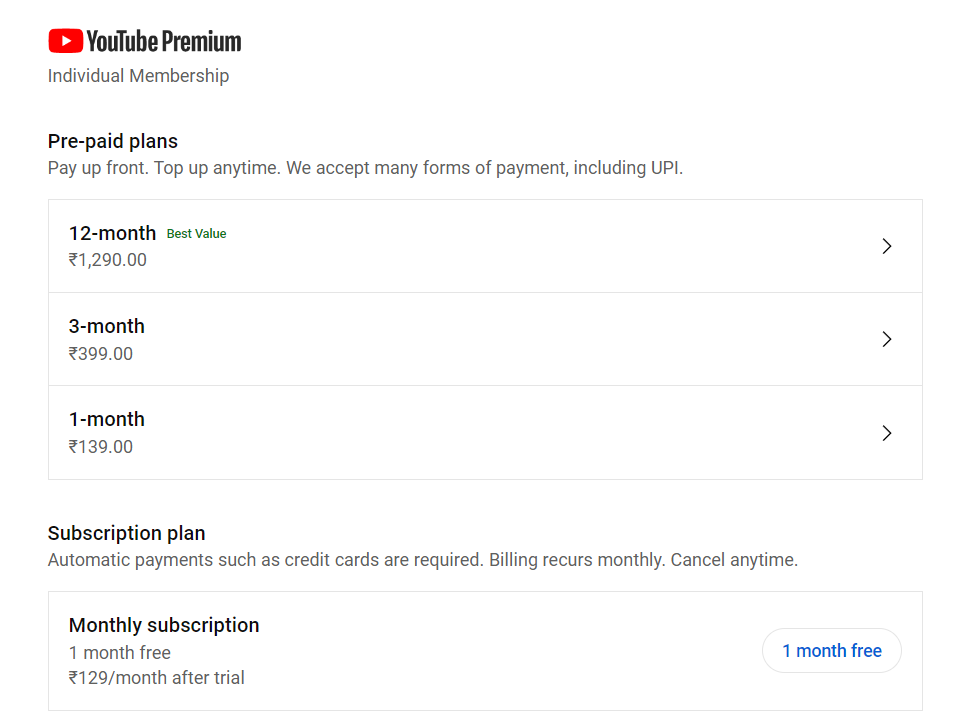 2. Individual, Family & Student Plans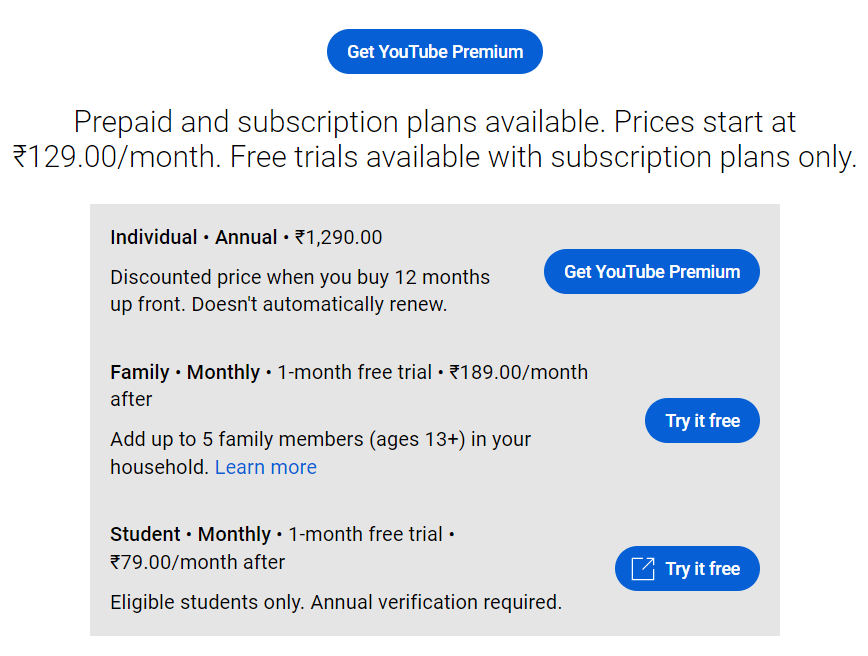 Benefits of YouTube Premium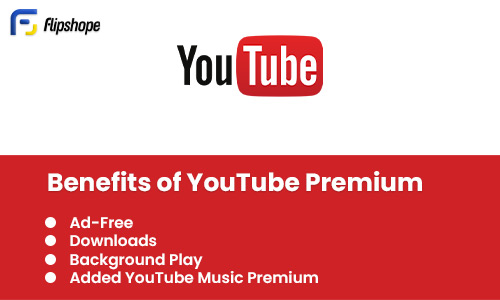 Before going into how to obtain YouTube Premium for free, it's essential to understand the advantages that come with a subscription. YouTube's commitment to customer satisfaction and growth has motivated it to keep making developments for its users. It has offered multiple new benefits in the Premium plan, which are as follows:
Ad-free: With Youtube Premium, watch videos and listen to music ad-free and uninterrupted.
Background Play: Keep the videos and music playing in the background while using another app or when the screen is locked.
Downloads: Members also have the benefit of downloading videos and music to watch or listen to anytime, anywhere.
YouTube Music Premium: Whichever plan users may opt for, YouTube Music is a part of the YouTube Premium membership plan. Members can download the app and listen without any interruptions, offline, and with the screen off on their mobiles or desktops.
Picture-in-picture (PiP): Users can watch videos while using other apps on their mobile devices. With YouTube Premium, you can watch all videos using picture-in-picture.
Co-watch with Google Meet: Members can host a live sharing session on Google Meet, where they may stream YouTube Premium for non-premium members. Check out the Youtube Premium website for more information.
How to get YouTube Premium for free?
With these attractive benefits, users can't wait to play their favourite music and watch their beloved creators on YouTube without interruptions and with background play. Getting Premium features is a desire shared by many, and there are several ways by which you can learn how to get it by following the steps mentioned below:
1. YouTube Premium 1-month free trial:
Users can sign up for a free trial through the official YouTube website and get one month of free YouTube Premium. Furthermore, it's important to remember to cancel your subscription before the billing date to prevent incurring any charges.
2. Flipkart Plus members with 150 Plus Super Coins get a free YouTube Premium membership of 6 months:
Getting free Premium is made easier for Flipkart Plus members with 150 Plus Super Coins. Flipkart Plus members can expect to get 6 months of free YouTube Premium. Follow the steps below:
Open the Flipkart app
Visit the Rewards zone in the Supercoins zone
Get the Youtube Premium free code by exchanging your Supercoins.
Redeem the code using the Google account you wish to use for your free YouTube Premium
Click here and enter the code you have received.
Redeem this code and enjoy your free YouTube Premium.
3. Google Play Redeem Codes:
Google Play is a digital distribution platform developed by Google that serves as a source for users to download and install applications, games, music, etc. Users can also get codes to redeem gift cards, promotions and offers for various other stores. Users can gain access to Premium through Google Play by following these steps:
Go to the Google Play Store on your mobile.

Click on the profile icon in the top right corner of the screen.

Click on Payments and Subscriptions.

Use the Redeem code option.

Enter this code here to enjoy free YouTube Premium.
4. Amazon Pay Balance:
Amazon Pay balance is a digital wallet service that lets users load funds into their accounts, which can then be used for multiple transactions across the web. It often provides cashback, offers, gift cards, and discounts. Users can access free YouTube Premium using Amazon Pay by following these steps:
Open the Amazon app
Click on AmazonPay under the 3 horizontal lines on the lower right.
Scroll down on the AmazonPay Homepage.
Pick out the YouTube premium gift card from the "Gift Category" and select "Add a Gift Card."
Paste the Amazon Gift Card code and click on "Add to Your Balance".
It will be added to your wallet.
5. Referral Program:
Everyone who would like to get free YouTube Premium can do so through a friend or family member with the Premium subscription. The user needs to get the 'Invite link' from the person who is already a member of YouTube Premium and sign up using the link. The user can now enjoy three months of free YouTube Premium.
6. Google One Plan:
Members of the Google One Unlimited Plus Plan get one year of free YouTube Premium. To begin your year:
Go to fi.google.com/account#plan
Go to the Member profile.
Select Youtube Premium under 'Devices and Subscriptions'
Click on 'Get Started'.
Follow the instructions.
7. Free YouTube Premium for Xiaomi Users:
New users of Xiaomi can rejoice knowing that they can receive three months of free YouTube Premium on the Xiaomi 13T series. Just open your YouTube App and click on 'Try for Free'.
8. Free YouTube Premium through BestBuy:
BestBuy is known as an electronics retail giant that provides an extensive selection of electronic products, appliances, and tech-related services. The company also sells digital products and subscriptions, such as YouTube Premium, but it is made available free of cost to selected members. Users can follow the steps mentioned below:
Search Free YouTube Premium on the BestBuy website.
Add it to the cart.
Users will receive an email with a redemption code.
Enter the code on this link here
9. YouTube Revanced App:
If users do not mind downloading risky apps on their mobiles, here is how to get YouTube Premium for free using a modded APK:
Download the MicroG APK file from the ReVanced website.
Install the MicroG APK file.
Download YouTube ReVanced APK from MicroG APK.
Install YouTube ReVanced APK and open it.
10. Free Youtube Premium with Samsung:
Users who possess the following Samsung mobiles can avail of 4 months of free services:
Galaxy Z Flip4
Galaxy Z Fold4
Galaxy S23+
Galaxy S23 Ultra
To activate the offer:
Open the Youtube app
Click on 'Get YouTube Premium' after logging in.
Select 'Try for free'
Conclusion
YouTube Premium offers a range of incredible features that will enhance the online video streaming and music experience for millions. However, users don't have to necessarily pay full price to avail themselves of these premium benefits. By utilizing free trials, discounts, promotions, and other innovative strategies, anyone can acquire YouTube Premium. Given that YouTube has become an integral part of everyone's daily lives, ensuring a positive experience for users is of utmost importance. Using this article as a guide on how to get YouTube Premium for free will definitely yield positive outcomes.
FAQs of Youtube
Q1. What is included with YouTube Premium?
Ans. YouTube provides multiple benefits to its YouTube Premium members, such as:
Ad-free YouTube
Offline video download
Background play
Q2. How does downloading videos and music work?
Ans. With YouTube Premium, users can watch videos and listen to music offline by downloading them on YouTube or YouTube Music App. Furthermore, users have the option to watch auto-downloaded videos in the YouTube Kids App. By using smart downloads, recommended content is added to your library to watch or listen to offline.
Q3. What is background play?
Ans. Background play refers to keeping the user's mobile device on while they use other apps or when the screen is off. YouTube offers background play to its Premium members. Background play is available on the YouTube app by default for Premium members, but members can disable it if they choose to.
Q4. How can I cancel my YouTube membership?
Ans: Keep in mind that once cancelled, only the free version of YouTube will be available with ads and no other premium features. Hence, it is important to be sure of the decision beforehand. Follow the steps mentioned below to cancel the membership:
1. Log into your YouTube account
2. Click on the profile picture and select 'Paid Memberships
3. Select the membership you wish to cancel.
4. Click on 'Continue' to cancel
5. Select your reason and tap on 'Next'.
6. Deleted: Click 'Yes, Cancel'.
7. You have successfully unsubscribed.
Q5. How to get YouTube membership for free?
Ans. There are several ways to be able to use Free YouTube Premium. The most direct and easy method is to sign up for a free trial:
Open the YouTube app.
Click on 'Get YouTube Premium' under the profile ic

on.

Click on 'Try it free' and claim your one-month free trial.
Hope you find the article (How to get YouTube Premium for Free?) helpful. Please write to us in the comments section below if you have any suggestions.
Connect with us on Facebook and Twitter or join our Telegram Channel. Download the Flipshope extension for the latest tricks and offers. For any queries, WhatsApp us at 9999488008.