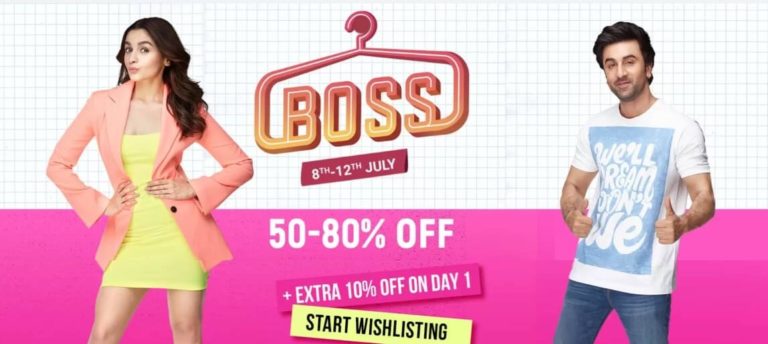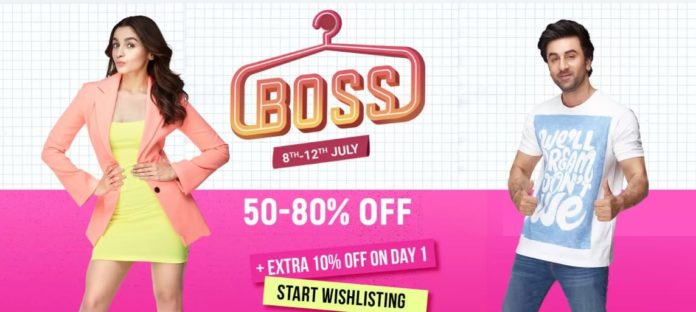 The fashion capital of India, Flipkart Fashion gives a number of brands to its loyal customers. The products range from premium products to valuable purchases. The offers from leading brands will help the new customers in the Flipkart Fashion sale business. Later Flipkart became popular as the True fashion capital of India.
Flipkart is popular for its quality and price in India. It focused on giving an unmatchable selection on its platform to address all the fashion-enthusiastic customers. In the first edition of its flagship sale BOSS in 2016, it offered the best products in fashion to millions of shoppers. It gained over 10x growth in unit sales on the platform. Also, 50% of the customers did transactions from cities.
This is the first flagship sale that Flipkart focused on fashion. Earlier, its competitors Myntra and Jabong had their flagship sales such as Myntra's End of Season Sale. After the exit of Binny Bansal from Flipkart, there were reports that the Walmart-owned e-commerce major was looking to integrate Myntra and Jabong into Flipkart. This is because several key leaders moved from Myntra to Flipkart. However, it is said that Myntra will remain an independent platform for customers for the next 10-20 years. It launched a flagship sale for Fashion due to the focus on the fashion category.
ALSO SEE | Amazon Upcoming Sale Dates 2020
Flipkart owns Jabong 
Flipkart acquired Jabong for 70 million dollars in July 2016. This acquisition helped Flipkart to gain up to 65-70% share. The largest online marketplace in India, Flipkart is focused on increasing its market share in the fashion category. It looks to sell one out of every two units in the category. And this goal is achieved by Flipkart Fashion with additional sales through its Fashion portals Myntra and Jabong.
Flipkart Fashion was launched in 2012 and today it is in the No.1 position. However, it has 30-35% share which is the largest share of the online fashion market. Flipkart Fashion consists of 60000 brands, 5 million styles, 8 million products, and 100 million searches in a month. Also, the fashion on Flipkart reaches the gross sales of Rs.350 crore to Rs.400 crore in a month.
Flipkart is competing with Amazon India for the leadership of the online retail market in India. But the fashion portals Myntra and Jabong, who together generate sales of Rs 400-500 crore a month. The acquisition gives Flipkart an upvote from the customers against the aggressive spending of Amazon India. The company focuses to expand the narrow gap through Flipkart Fashion in the upcoming sales season. Also, Flipkart Fashion is the largest category in terms of units sold.
ALSO SEE | Flipkart Fake or Not Game Answers
First Flipkart Fashion Sale

Flipkart Fashion announced its flagship sale called Best of Season Sale (BOSS) from December 20 to December 24 in 2018. However, it is the first Flipkart Fashion sale. Also, Flipkart had over 50 lakh styles from 1000+ brands are offering discounts of 50% to 80% in the sale.
Flipkart allowed an additional 10% off sale on Day 1 and an additional 10% off on payment with SBI debit cards on purchase of Rs 1500 and above. Flipkart Fashion also allowed Flipkart Plus members an additional 10%-15% off in the sale prices through Flipkart Plus loyalty coins. The customers redeemed 10% discounts with 10 Flipkart Plus coins and 15% discounts with 15 Flipkart Plus coins. The customers also redeemed 25% discounts with 25 Plus coins.
In 2020, the market is stable between 50-80 billion dollars with fashion at a 30-35% share. The share increased as Flipkart is the leader in the Fashion segment. The category also brought many customers for Flipkart. It attracted new customers in the fashion category.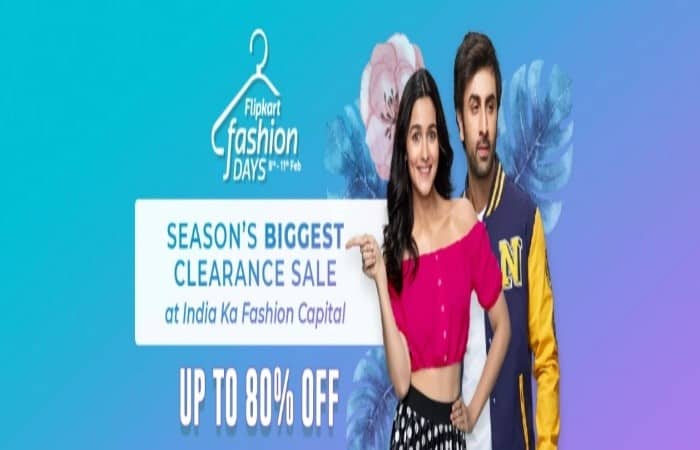 Flipkart Best Of Season Sale Offers July 2020
Flipkart starts a new Fashion Sale called Best Of Season Sale (BOSS) where the users can get 50% to 80% Discount on Fashion products. Also, they can get an extra 10% Discount on payment through SBI Debit and Credit Cards. The Best Of Season Sale starts from 8th July 2020 to 12th July 2020.
Since Flipkart is well aware of the needs, it brought the sale Offers on clothing and styling materials of top brands from 40% to 70% Off on Men, Women Fashion, Kids Clothing, and Accessories. Some of the offers for Men, Women, and Kids are given below.
ALSO SEE | Flipkart Kya Bolti Public Answers
Steps to shop in Best Of Season Sale
Get a 10% Discount on the purchase of products in Fashion, Beauty, Grooming, Home Furnishing, and Home Decor. The payment can be done through SBI Debit and Credit Cards.
The customers can avail of the offers from 8th July 2020 (00:00 Hours) to 12th July 2020 (23:59 Hours).
For Flipkart Plus members, the sale began from 20:00 Hrs on 7th July 2020 to 23:59 Hours on 12th July.
Min. cart value: INR 1,499.
Max. discount per card: INR 750.
The customers can search for the offer on the product page for all the eligible products.
Steps to avail Flipkart BOSS Offers
1. Visit Flipkart Best Of Season Sale.
2. During Offer Period Shop Your Product [Live From 8th To 12th July 2020].
3. Add To Cart.
4. Select the Shipping Address.
5. Pay through SBI Debit or Credit Card And Get Extra 10% Discount.
ALSO SEE | Amazon Offers and Deals Today
Top Deals in Flipkart Fashion Sale
Best Deals for Men :
Casio, Fossil & more brands offer Min. 10-30% Off on Watches.
T-Shirts, Shirts, Trousers, and more from Arrow, Van Heusen Sport up to 50% Off.
Puma, Reebok brands offer a minimum of 40% Off on Sports Shoes.
Rayban, Fastrack brands offer Min. 40-80% Off on Men Sunglasses.
Avail up to 80% off on footwear from top companies like Adidas, Puma, etc.
Sleepwear from Zivame, DreamBe, and more brands at 50% off.
AT, Sky bag, and many brands offer Luggage and Travel Bags with a minimum of 50% off.
Best Deals for Women :
Avail your Party Looks, choose Maxi Dress, etc. up to 70% Off.
Lavie, Caprese brands offer Women Bags up to 30% to 70% off.
On the Women's footwear section Puma, Catwalk and other brands offer up to 40% – 80% off.
Fashion Jewellery from Sparkz and Zeneme with minimum 50% Off.
Get a minimum 50% Off on Jeans, Tops from top brands like Lee, Flying Machine.
Best Deals on Kids Essentials :
Get Boys Jeans from UCB Kids, People brands for minimum 50% Off.
Get Girls Jeans from 612 League, Mini Klub brands for minimum 50% Off.
Fashion design for your little girl from the top brands with a minimum of 60% Off on Flipkart.
Soft Toys for your little ones such as Pandas, Puppies, and Teddies for a minimum of 50% Off.
In the Toys section, Hot Wheels offer up to 50% discount and Lego offers up to 30% Off.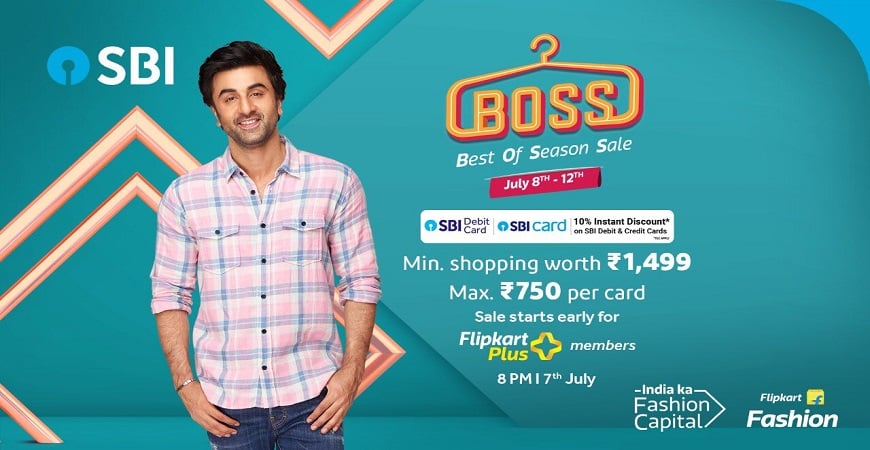 Flipkart Season Sale started from 8 July 2020. All the other e-stores do not offer any season sale in this sale period. The customers can get as high as 70% off on a lot of products that they buy for fashion and lifestyle needs. Before this sale begins, Flipkart advises the customers to create a list of things that they want to buy. They can fill the virtual cart before the stock finishes.
If you like this post, then leave a comment below this post. We are always ready to help you in case of problems you are facing. Also, don't forget to share it with your friends. For the latest updates, bookmark our website and keep visiting us.
Connect with us on Facebook and Twitter. Thanks a lot for reading this article. Join our Telegram Channel or you can download Flipshope extension for the latest tricks and offers. For any queries please Whatsapp us on 9999488008.