Redmi Note 4 Flash Sale Auto Buy Script: Redmi the most successful if not the best foreign brand or the mobile brand of India is all set to launch their latest redmi note 4. This mobile will be available from January 19th but the major thing whether it will be redmi note 4 flash sale or normal sale. Because Flipkart launched Redmi 3s Prime in September, they announced that mobile in open sale which means there is no registration required to buy that product. But 7 months gone still that mobile isn't available to buy for many people. We can call that as Redmi 3s Prime flash sale, same with the Redmi note 4. It will be available from January 19th but the competition for this mobile is very huge so in this article, we are providing trick to buy redmi note 4 flash sale with Flipshope extension auto-buy script.
Redmi Note 4 Flash Sale Auto Buy Script Trick To Buy :
Install Our Chrome Extension, this is must without Flipshope chrome extension you won't get the Redmi Note 4 Flash sale mobile.


This redmi note 4 flash sale don't require any registration it is now open to everyone.
After installing the extension just click on Flipshope Chrome icon and check auto buy Redmi Note 4 Flash sale option.
Now visit the sale page you will notice one pop-up, this will confirm your entry from Flipshope side
All you need to do is visit sale page few minutes before sale time then the pop-up color will change to green.
Which means our extension is started working to give you the mobile.
Exactly on sale time, it will automatically add the product to cart.
100% Working Redmi Note 4 Mi Flash Sale Auto-Buy Script Video Proof:
Download The Extension Today:
Flipshope Flash Sale Extension
So many people are facing many issues like out of stock product even after they got the product in the cart, for this we are providing one solution. Where you can order redmi note 4 in just one click, you can read the complete article from this link. We totally recommend you to go with our exclusive auto-checkout feature to get the mobile for sure. Because our auto-buy can only add the product to cart, but if the craze is huge you will lose the product while you are filling out the address and payment details. So check the below article and be sure to try it out from now on.
How to Buy Redmi Note 4 from Mi.com Site:
First, you must install the Flipshope Chrome Extension.
Follow the steps mentioned above for Flipkart but now you have to check on the option for Mi.com
Here you can register for only one mobile, unlike Flipkart.
Follow the below steps to buy redmi note 4 from Mi.com
REVIEW: Redmi Note 4 Detailed Review after 2 weeks use
Redmi Note 4 Mi Site Trick To Buy:
After successful registration on a flipshope extension, you will see a popup at the bottom of Note 4 sale page.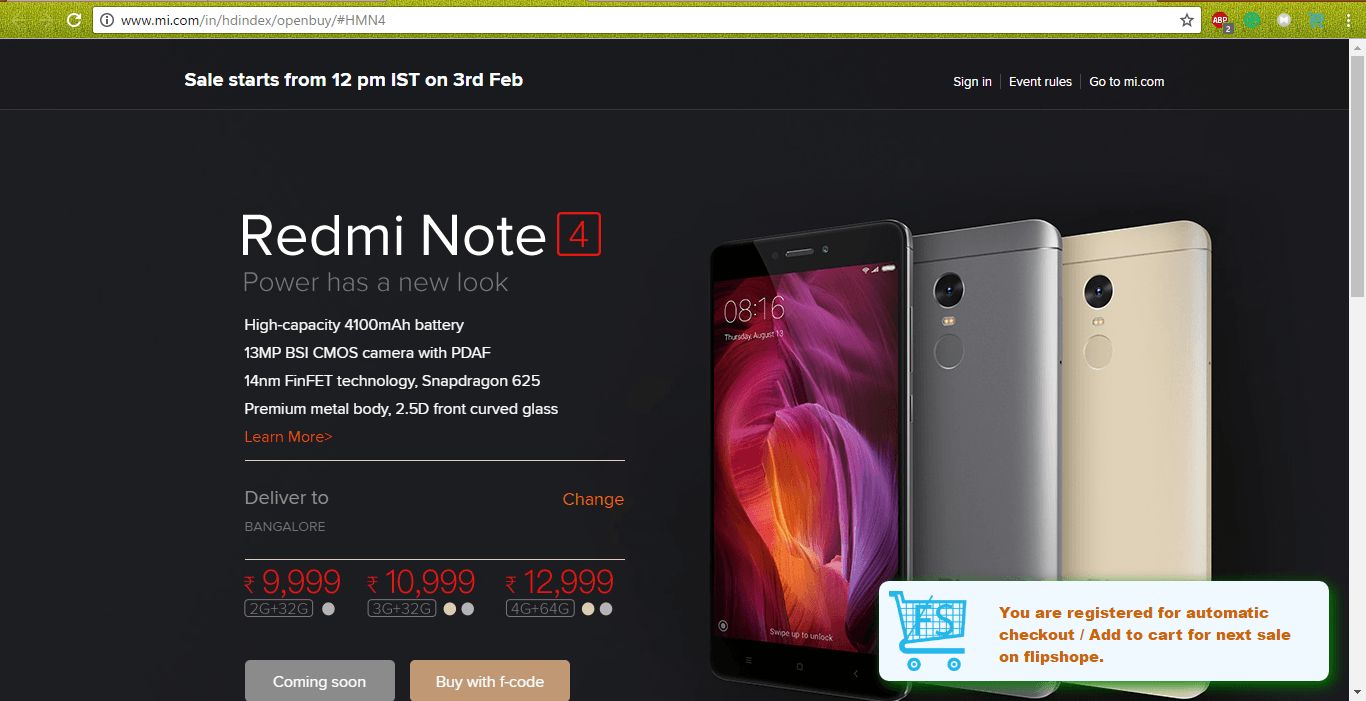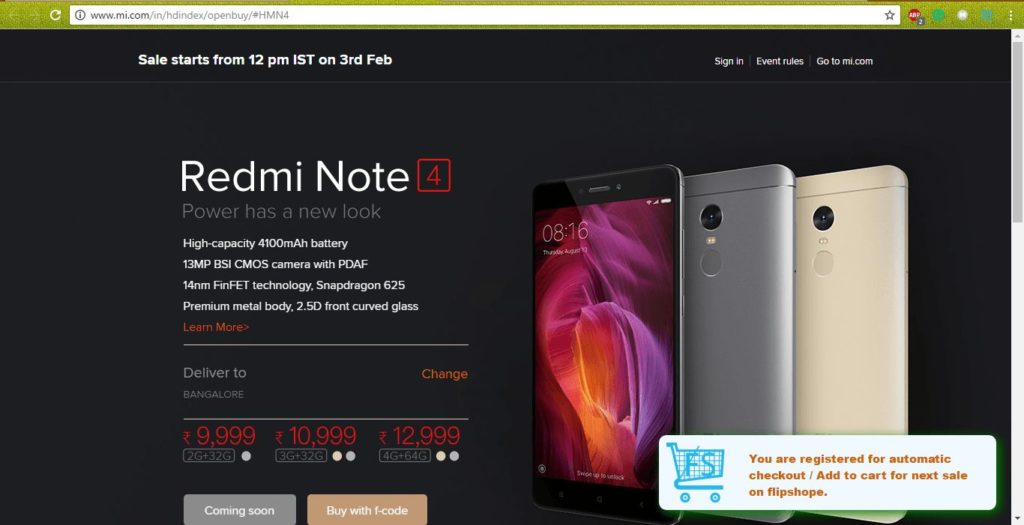 At the time of sale, it will click on the buy now button and you will be redirected to the page where you have to choose the variant you want to buy.
Flipshope extension will automatically click on the variant you have registered for. Please remember that you can register for only one product as there is only one page for all products and you can select only one at a time.
After that, you will see the congratulation message if it got added to your cart successfully. We do not guaranty that you will get it as no one can. it depends on your internet connection and your luck, but we will do it much faster than it can be done manually and increase the chance by 500% of getting one.
Now it will click on congratulation button and take you to the payment page where you will get enough time to pay, unlike Flipkart.
Now make the payment and enjoy. Don't forget to spread the word among your friends and rate us 🙂
Join Buy and Sell Redmi Mobiles FB Group:
Now simply join in our Buy and Sell Redmi mobiles FB group, in here you can ask other people to buy Redmi Flash Sale mobiles or you can even sell your Redmi mobiles which you brought from Flash Sales. There is no limit you can demand 2-400 extra for every Redmi mobile, so just join in this group if you miss out the chance to buy mobile from Flash Sale.
Click Here or the Below Image to Join in FB Group

Redmi Note 4 Flash Sale Buying Links from Flipkart and Mi.com:
Redmi Note 4 Flash Sale Date:
As mentioned earlier redmi note 4 flash sale will start from January 23rd and the sale will continue only 1-5 mins based on the number of products. There are 3 different colors of mobiles were available and also two different sets which were divided by RAM size. So you must install Flipshope extension to catch a hold of this year Redmi note 4 sales.
Buy Redmi Note 4 Flash Sale Price:
There is the total of six units of Redmi note 4 available on the first sale. The 2GB RAM variant will be available in 3 different colors same follows for 3GB RAM variant. The official prices will be announced on redmi note 4 launch date but these are our expected redmi note 4 prices in India
2GB RAM Redmi Note 4 Price in India is 9999 Rs
3GB RAM Redmi Note 4 Price in India is 10999 Rs
4GB RAM Redmi Note 4 Price in India is 12999 Rs
Redmi Note 4 Exchange Price in India is 7999 Rs
Where to Buy Redmi Note 4:
All the redmi note 4 mobiles were available on Flipkart, all of them will come in flash sales. Here are the links to buy Redmi note 4 from Flipkart
Redmi 3s Prime vs Redmi Note 4 Which one will you Buy..?
Redmi note 4 is about to launch in just a few hours but the price of Redmi note 4 is more than 2000 Rs higher than redmi 3s prime. Why is that..? do you think it's worth buying Redmi note 4 with the same specifications as Redmi 3s prime or is it better to stick with Redmi 3s prime as the best budget smartphone. Here is our detailed comparison of Redmi 3s prime vs Redmi note 4 with all the Price differences
Xiaomi Redmi Note 4 Flash Sale Specifications:
| Price | 9999 Rs |
| --- | --- |
| Display Size | 5.5 inch |
| Processor | MT6797 Helio X20 |
| RAM | 2GB, 3GB, 4GB |
| Primary Camera | 13 MP |
| Front Camera | 5 MP |
| Memory | 16GB, 32GB and 64GB |
| Battery | 4100 mAh |
| 4G VoLTE | Yes |
| Android Version | 6.0 |
| Comments | Much Waited for mobile of 2017 |
How To Buy Redmi Note 4:
As we all know this is a flash sale product, although Flipkart announced as an open sale. But these mobile craze is too damn high, there will be around 20-30k units will be available in the first sale for over million users. So you must follow below steps to buy Redmi Note 4 from flash sale.
Steps To Buy Redmi Note 4
First, you need to Install Flipshope Chrome Extension
Then Check your entry in extension Icon
After that visit Sale page, you will see one pop-up
That means your registration is completed
Now, wait for the sale to Begin.
At the time of sale, Flipshope automatically adds the redmi note 4 to cart.
Redmi Note 4 Flash Sale