After Xiaomi 1 RS flash sale now they got real competition from their own country brand. Yes it is Oneplus the major smartphone selling foreign company in India is all set for Oneplus 1 rs Flash Sale. This is happening on this year december sale, this oneplus 1 rs flash sale will take place in their official e-commerce site. Although no oneplus mobiles were sold in that site, the oneplus 1 rs flash sale site launched few days back. Now they are all set for this mega oneplus 1 rs flash sale, here is the trick to get every oneplus 1 rs flash sale with the flash sale dates.
Must remember:Register here on oneplus site for successful participation
UPDATE: Flipshope Extension will provide the auto-buy 1 rs oneplus 3T script from next sale, because we need to understand their system sorry for the inconvenience. Till then register on the sale to gain more point. Here is the link for registration
TIP: Those who are getting this error " Please edit this address in your account center." then it won't be any problem. Because just logout and login to the site to claim your prize. Comment below if you have any doubts.
Trick To Buy Oneplus 1 rs Flash Sale:
First install Flipshope Chrome extension to catch a hold in Oneplus 1 rs flash sale


Get Oneplus 1Rs Mysterybox with our extension auto-click feature, This extension will also help you save your shopping money with other features.

Then register on Oneplus December Flash sale site, by sharing the offer page
After that Click on Flipshope icon, visit Flash sale option and choose auto-click for oneplus 1rs mystery box
Now it's all set, when you visit the oneplus 1rs sale page you will notice one pop-up
That will confirm the entry from our side, all you need to do is just visit the oneplus 1rs sale page on the sale time
Then our extension will automatically click on oneplus 1rs mystery box till you got the product.
Everything you need to know about Oneplus December Dash Sale
Oneplus 1 rs Flash Sale Flipshope Proof:
You don't need to level-up to win the mystery box, one of our Flipshope extension member got the 1 rs mystery box. But he is still in Level 1, because of Flipshope extension and high speed internet connection he managed to got the oneplus 1 rs flash sale mystery box. Here are the proof's of screenshot we will soon upload the screen video in second flash sale.
Oneplus 1 rs Mystery Box Flipshope Proof: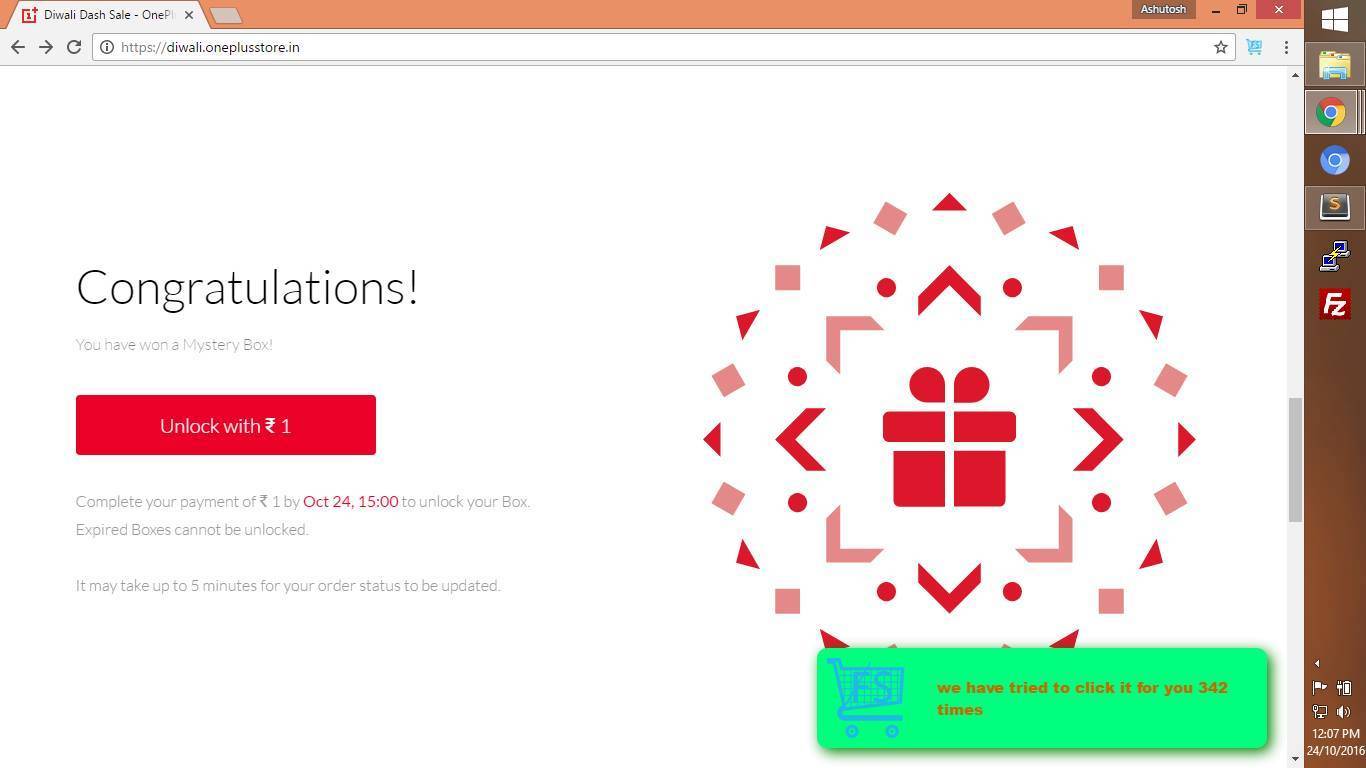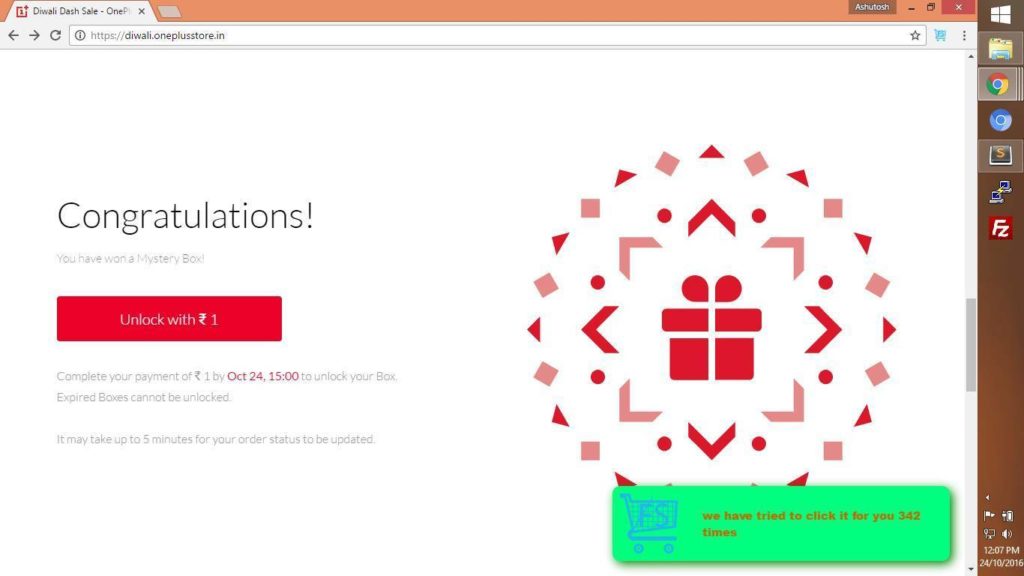 Oneplus Mystery Box Order Proof from Flipshope Extension: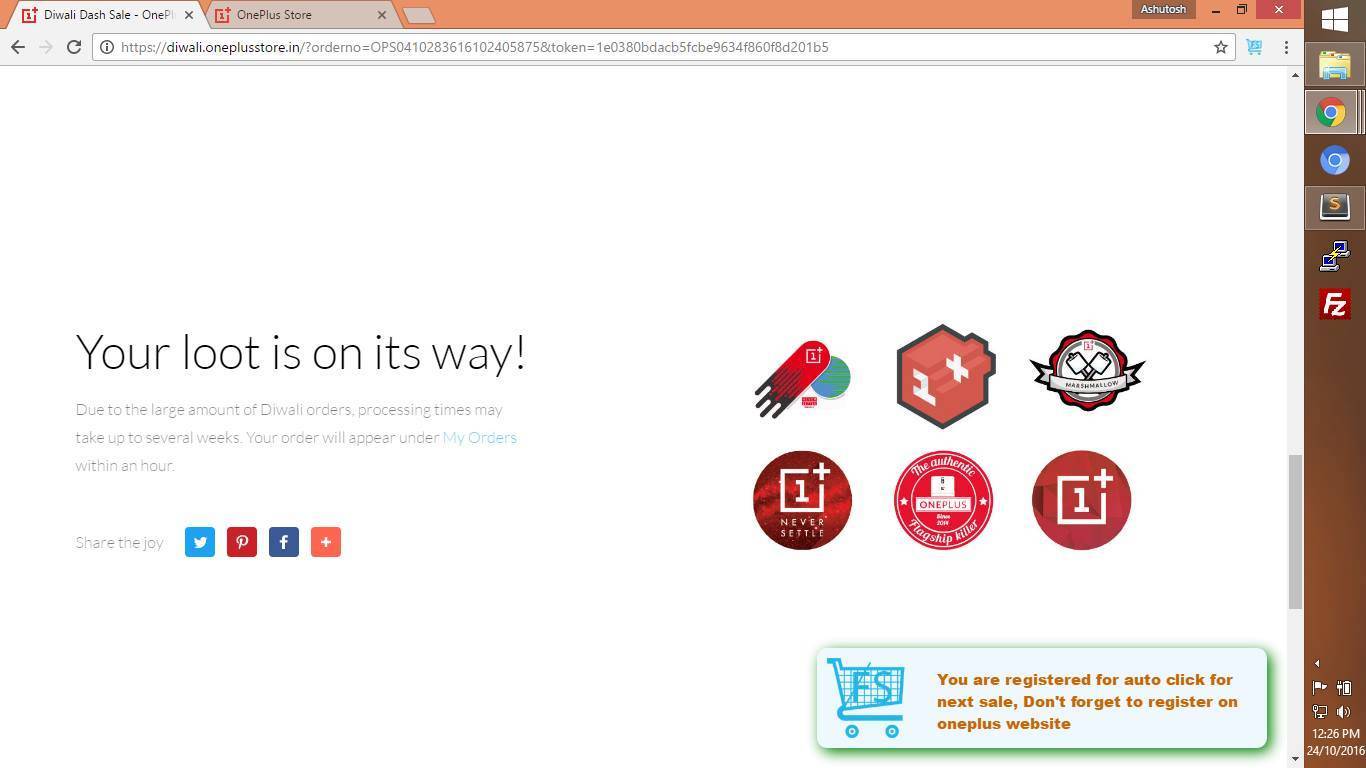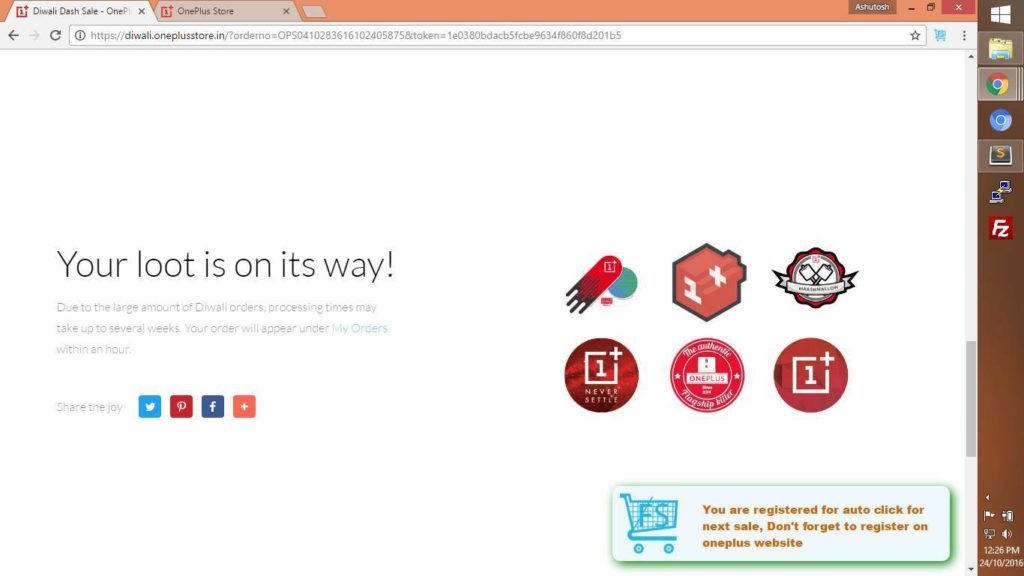 Oneplus 1 rs Flash Sale Official Site Links and Registration:
First visit the latest oneplus site from this link, after that you will see oneplus december 1 rs flash sale click on that it will redirect to the registration page. The oneplus registration page can be accessed from this link. Once you were in the sale page fill the details to get complete your december dash sale registration. After completing the registration it will give an option to share, just share it then you will get a point. Invite your friend to gain more points.
Flipshope The Flash Sale Extension for Desktop Chrome
Oneplus 1 rs Flash Sale Dates:
This oneplus 1 rs flash sale will take place just few weeks before Christmas fastival, and this sale will run every Friday till 30th December. But the major advantage from this sale is it will take place for whole 6 hours. Which means you can try for the product in those straight 6 hours. There are total of 10000 oneplus 1rs flash sale products to give away.
Oneplus 1 rs Flash Sale Start Date: 9th December
Oneplus 1 rs Flash Sale End Date: 30th December
Oneplus 1 rs Flash Sale Timings: 12PM-6PM
Oneplus 1 rs Flash Sale Dates: Open 12 – 6pm (IST) every Friday in December (9, 16, 23, 30)
Here is How you can get Oneplus 3T for 1 INR
Oneplus 1 rs Flash Sale Prizes:
Unlike previous oneplus 1rs flash sale, this time they are giving away many products. Moreover you will get to know which product are you competing. It's all about earning more rewards once you got the enough points then you are eligible for that product flash sale. In case you got 10 product you can get a chance to win cases, earphones and other products at 1 INR. But the chances of winning oneplus 3t with 10 points is very less you have to be very quick.
Oneplus 1 rs Flash Sale Mega Prize: Oneplus 3T for 1 INR
Oneplus 1 rs Flash Sale total Prizes:
For upto 10 points you will get Cases, USB cable and much more
For 12 points you will get Earphones, Dash Power Adapter and Screen Gaurd
For 15 points you will get premium oneplus 3 case
For 33 points you will get Backpack and Messenger Bag
For 300 points you will get oneplus december dash flash sale product which is 1rs Oneplus 3T
Oneplus 1 rs Flash Sale Registration:
This sale registration take place in oneplus official site, user must signup in oneplus official site. Share your details such as name, email ID, Phone number and Address. So for oneplus flash sale user must share their offer page in their social media accounts. This will give you the registration which is valid up to 3 days of the sale on over 9 sales. Here is the trick to buy Oneplus 1 rs flash sale products, we are providing oneplus flash sale autobuy script from our extension.
Trick To Buy world's cheapest Champone C1 smartphone @501RS.
How to Enter in Oneplus 1rs December Sale:
All new users who complete the Entry Challenge stand a chance to win one of three OnePlus 3T devices every week.
Complete the Entry Challenge and share this page before December 28.
You gain 1 point for every person who signs up and completes the Entry Challenge through your share link.
Use your points to claim your prize in the Prize Shop! The Prize Shop is open 12 – 6pm (IST) on every Friday in December (9, 16, 23, 30) while stocks last. Prizes may change at any time.
Once you've claimed your prize, pay ₹ 1 within 3 hours to place your order. Prizes that are not paid for expire after 3 hours.
You may claim any number of prizes, as long as you have enough points.
How To Buy Oneplus 1 rs Flash Sale Products
As you all know flipshope provides auto-buy script for all flash sale products, we are presently providing auto-buy script for Redmi 3s Prime on Flipkart site and for 1rs products on Mi diwali sale. We got a huge success and now we are all set to provide auto-buy script for oneplus 1 rs flash sale to, here are the steps to buy oneplus flash sale mobiles
Steps to buy oneplus 1 rs flash sale products:
First share the oneplus 1 rs sale offer page and confirm registration
Then install Flipshope chrome extension
Check the auto-buy script for oneplus flash sale on Flipshope icon
This will confirm the entry, visit the sale page right on sale time
As sale begins Flipshope will add the product to cart.
Oneplus Flash Sale Tips and Tricks:
Every one can increase their chances of winning by following the below steps
share the oneplus 1rs december sale page as much as you can in all social media accounts
Verify the oneplus device you own
Purchase any oneplus accessories from their e-commerce store.
Unlike other 1rs flash sales, the user will not be aware of the product they purchase. At the beginning of the sale they will have to draw Mystery Boxes. These mystery boxes can have any OnePlus product in them, including the OnePlus 3 Rose Gold version. One user will only be able to draw one Mystery Box from their respective accounts. Once the Mystery Box will be in the cart, the user will have to make a payment of Re 1, and only then will the product be revealed. Un-paid boxes will be retracted automatically if the user doesn't complete the payment within 3 hours of the sale.
Related Posts: