INSTALL NOW:
Download the Latest
Flipshope Extension
from here. This is temporary we will be back with the main one very shortly.
Trick To Buy Mi 1Rs Products: The most successful foreign mobile brand Xiaomi is about to bring back their Mi 1 Rs flash sale as a part of this year No 1 Mi Fan Sale which is happening on Christmas Eve. They revealed the official dates mi 1rs flash sale and it is happening on 20th to 21st December. These Mi 1 Rs Flash sale will happen 2 straight days and two times in a day. First Mi Rs 1 Flash sale will go live on 20th December at 2 PM. Same goes for December 21st as well, so there are only 2 sales and do follow our steps to buy Mi 1Rs flash sale mobiles & other products. Here are the complete details on Trick to Buy Mi 1 Rs Flash Sale products
Mi 1 Rs Flash Sale
UPDATE: Here I am adding the gif of Flipshope Extension working proof, this extension can increase your chances of winning. But it can't guarantee the product to everyone. Please check out this gif, this is the proof that Flipshope Extension did click on all 3 products in less than a second. This the proof of Last Mi 1Rs Sale which happened on 27th September.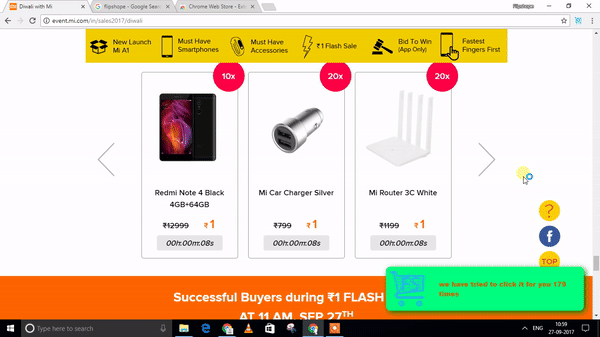 Mi Bid to Win Redmi Mobiles Products
MAJOR UPDATE: Due to heavy footfall on Flipshope Extension yesterday now it's gone under maintenance. It will take a couple of days for our tech team to make it live, in the meantime, we are providing Mi 1rs Sale auto-buy script on Amazon Flash Sale extension. It will also click on all 3 products just like above gif. Thanks for your patience we apologize for the inconvenience caused to you.
Trick to Buy Mi 1 Rs Flash Sale:
As mentioned earlier Mi 1 Rs flash sale will go live once in a day on 2 different days. If you are looking to grab these 1 Rs flash sale products then you are in right place. Because we at flipshope provide auto-buy on all flash sale products. We are presently providing auto-buy on Redmi Y1, Redmi 5A and Redmi 4. Flipshope extension holds 4.5-star rating out of 5 from 1 lakh active users. So this year we are also providing auto-buy on Mi 1 Rs Flash Sale products.
Please consider every aspect more than 1 lac people will try from Flipshope extension because we are the only ones providing auto-buy on Mi 1 Rs Flash sale products. We will only provide 100% working trick, so if you don't get any product which means there is someone who holds the fast internet connection. But our extension will surely work it will click 100 times faster than you, so we recommend you to use Flipshope for better results.
Visit Mi 1 Rs Flash Sale site by clicking here.
You need to register for this sale so just log in to the site and share the offer page.
This will confirm your registration, without registration you can't enter in Flash Sale
Download Amazon Flash Sale extension for Mi 1Rs Sale, after that you will notice our icon.


Buy Mi 1 rs flash sale products, 100% working auto-buy script. It will automatically add the 1 rs products to cart

Click on our extension icon and it will take you to the following page.
Simply choose YES and Add to my cart option and hit Save, that's it you are all done for the Mi 1rs flash sale.
Once you check your entry you will be able to see one pop-up on mi sale page, this will confirm that our new extension is all set for Mi 1rs Flash Sale
Visit the mi 1rs flash sale page on the sale time, then our extension will add the product to cart.
Just follow above steps you will get a chance to receive flash sale products.
Mi 1Rs Flash Sale Flipshope Extension Auto-Buy Script Video:
100% Working Mi 1Rs Flash Sale with Flipshope Extension Proof:
Those who are complaining that extension script isn't working read this, on 17th October more than 15 mi 1rs flash sale products were sold from the flipshope extension. The extension is clicking GRAB NOW option, but the people who hold the upper edge will get the product. We are informing you that it may not add the everyone products to cart but it will surely increase everyone chances. Here is the proof of our user who got the Bluetooth speaker on 17th October last year.


Mi 1 Rs Flash Sale Products:
In the Last sale, Mi gave away more than 50 Mobiles for 1 Rs but this time they are only giving away 20 mobiles. So the competition for the sale will be more compared to the previous one, Instead of trying for mobile I suggest you to try for other products. Because the competition for accessories is way less compare to Xiaomi 1rs mobile products. You can choose any of these products from Flipshope extension, we are providing auto-buy on all Mi 1 Rs flash sale products.
Mi 3rd Anniversary Offers on Mobiles & Accessories
Mi 1 Rs Flash Sale Products Day 1  December 20th at 2 PM
This is the opening day of Mi mega sale and you can expect huge competition on this day. The top trending Redmi 5A is available for 1 INR on Mi Diwali sale and here are the products which are available on day 1 of Mi 1 Rs flash sale
10 Units of Redmi 5A Black @ ₹4,999/- is only for 1Rs
40 Units of Mi VR Play 2 Dark Grey @ 1,299/-
40 Units of Mi Router 3C @ ₹1,199/- will start at 2:00 PM till stocks last.
Mi 1 rs Flash Sale Products Day 2 December 21st at 2 PM
The second which is filled with the best budget smartphone of the year which is Redmi Y1 Lite. You can get this for 1 INR and there are 10 units available so install our extension to get this mobile from Mi Christmas 1Rs flash sale
10 Units of Redmi Y1 Lite Gold 2GB+16GB @ ₹6,999/-
Mi Band HRX Edition- Grey @ ₹1,299/-
Mi Wi-Fi Repeater- White @ ₹999/- will start at 2:00 PM
Each and Every Mi Diwali Sale 2017 Offers Including New Items
How To Buy Mi 1 Rs Flash Sale Products:
You can actually try grabbing these Mi 1 Rs sale products in a normal way. For this, you need to keep on clicking the grab now option and if you click goes a millisecond behind then you won't get the product. At max one can click 2 times in a second, but we at Flipshope extension made a script that will click around 100 times in a second and the process will run background. So follow these steps to buy mi 1 Rs sale products.
Steps to buy Mi 1 rs flash sale products
First, you need to install Flipshope Chrome Extension
Then click on extension icon and go to Flash sale option.
Choose the Mi 1 Rs flash sale products which you want to buy
Now visit the Mi sale page on sale time, you will notice flipshope pop-up
At the time of sale, Flipshope will automatically add the product to cart
Here is the link to install flipshope extension, in case if you have any doubts jump in the comments I will help you out.
Mi Christmas 1 Rs Flash Sale Top Offers
Mi obviously doesn't want to miss your chance, here they are offering up to Rs.4000 off on their mobiles and Bluetooth speakers. Here is the list of Major product with their buying links.
Exclusive Xiaomi Mi a1 mobile will go live on December 20th at 10 AM with

Extra 2000 Rs off

Extra 5% cashback from SBI Debit Card with Maximum 500 Cashback
Xiaomi Mi Max 2 Sale will go live on 27th September at 10 AM (Mi Site Exclusive Product)
You may also like: Xiaomi Diwali Rs 1 'Fake' sale, Here is the proof
Mobile Offers on Mi 1rs Christmas Flash Sale 2017
Mi 1 Rs Flash Sale