Online Shopping has become our daily routine in this pandemic. So, one should be aware of the coupons applicable on several products on leading E-commerce websites. Today's article is about Trick to Apply Best Coupon using Flipshope Extension and how to apply coupon in Myntra, Paytm, and other online shopping sites. Nowadays, several users are not aware of the best coupons and they just buy at whatever price they are getting but the smart buyers are those who know the Trick to Apply Best Coupon, so stick to this article and become smart buyers by taking advantage of Flipshope Extension.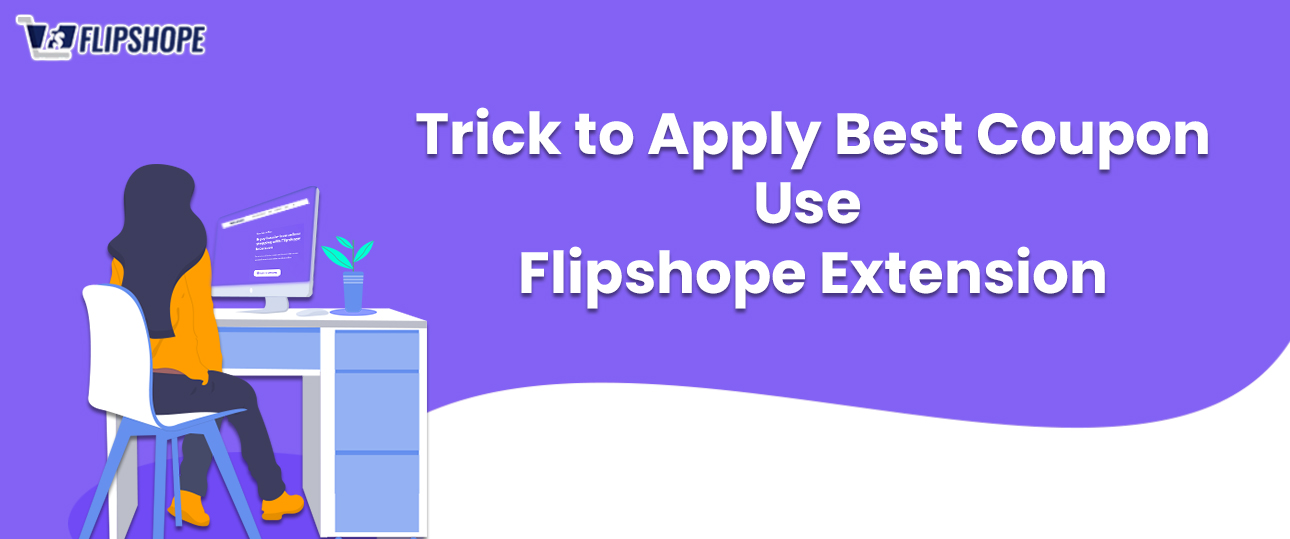 Related: Flipshope Extension | be a smart shopper with this extension
Trick to Apply Best Coupons | How to apply coupon in Myntra, Paytm, and 150+ Sites
1. Firstly, you need to install Flipshope Chrome Extension and pinned it to the Chrome Taskbar.
2. Visit any E-commerce website that provides coupon services like Myntra, Bookmyshow, Zomato, etc.
3. Choose any number of products that you want to buy and add to your cart.
4. After that when you visit your cart page a Pop up will flash on your screen which asks you to "Find Your Savings".
5. Now, when you click the "Find Your Savings" button, the Flipshope feature automatically Applies the Best Coupon suited to your product within some moments.
So, just by using this simple trick to apply the best coupon, you can save extra money, and also become a smart buyer.
Related: Auto Apply Coupon Feature | Money & Time-saving Feature of Flipshope Extension
What is the Trick behind Auto Apply Coupon?
Online shopping gives you the chance to saving extra money using coupons, you can use these coupons at the end of your shopping in the cart, and using a coupon can save you good money but it's hectic, it takes a lot of time to search for the best coupon. auto-apply coupon can work like a gem, it's totally free and saves you extra money by automatically searching for the best coupon available for your products.
How Does Auto Apply Coupon Work?
All you need to do is add your favorite products to your cart and when you are done go to your cart there you'll see a Pop up By Flipshope with your total product price and a button asking you to "Find Savings" you just have to click on that button and Flipshope's Ai Powerd Auto Apply Coupon Feature will scan all the products and available coupons for those products and in the end give you your best Coupon which saves you extra money, your time also saved.
Where to use this Trick?
Many popular and top shopping websites offer coupons and you can use this Trick to auto-apply the best coupon to those websites, list of some famous and most used websites where this trick works is as follows:
Udemy
Makemytrip
Paytm
Myntra.com
Zomato
Bookmyshow
Swiggy
Snapdeal
Oyorooms
and many other websites also support this feature.
Related: Price Drop Alerts Feature | get notifications alert on Price drop
Why Flipshope's Extension is India's most popular extension?

Flipshope Extension offers a bunch of Features that Save you time and money and also make you a smart buyer, as we have checked 'Trick to apply best coupon' using Flipshope Extension's Auto-Apply Coupon Feature other features like Price Graph, Price Drop Alert, and Flash sale auto buy can also help you in Online shopping, Flipshope offers all the Best and must use Features and that makes it India's Most Popular Extension.
If you like this article of (Trick to Apply Best Coupon) then, please share your reviews with us and if you have any suggestions then also please share them with us in the below comments.

Connect with us on Facebook, Instagram, and Twitter. Thanks a lot for reading this article. Join our Telegram Channel or you can download the Flipshope extension for the latest tricks and offers. For any queries please Whatsapp us on 9999488008.

Thank You! Stay safe and keep visiting Flipshope.