How to Track Jio Phone Order Status Online: Have you done the Jio phone pre booking..? If not visit this link to pre-book jio phone now. The people who completed the pre-booking will only hold the chance to buy jio phone online. Once you are done with the payment then you will receive Transaction Id with Voucher Details. These vouchers represent the status of your jio phone. Which means you can use the voucher details to know Jio Phone order status online. Here we are giving away complete details on How to Track Jio Phone Order Status Online
Reliance Jio Phone Booking Time Status Problems are solved
Jio Phone Order Status Online:
You can only pre-book jio phone online but you can't buy the mobile from official jio site. For that, you need to visit nearby jio store. As soon as you complete jio 500 rs payment to pre-book the mobile then you will receive a message with Jio voucher details. Once the jio mobiles are available at your location you can simply visit near by jio store to get your mobile. But at that time you should complete 1000 Rs payment or you can redeem that with any existing jio voucher.
Jio Phone Delivery Date in All Cities
How to Track Jio Phone Order :
As mentioned earlier you will receive a message as soon as jio mobiles are available at your location. So mention the proper pin code and mobile number because you can't change them later on. Here are the steps to track jio phone order
Steps to Track Jio Phone Order :
Once you are done with pre-booking of jio phone you will receive a voucher
You can use this voucher to Buy jio phone from offline jio store.
But to track jio phone order you can call 18008908900
You must call from the pre-registered mobile number
They will track jio phone order from mobile number
What is Jio Voucher?
You will get one voucher which is a not visible at this moment but you can use that to check jio phone status. Once you have done pre-booking then you can find can call jio customer care to know the status of the voucher. Don't share this voucher with anyone, this voucher is worth 500 Rs and it is your ticket to get Jio phone. Without the voucher, you can check jio phone status from the registered mobile number.
18008908900 Number isn't Working
This will happen if you call that number from a non-registered mobile number. That is a toll-free number from Jio which can track the user jio phone based on the mobile number.
Jio Phone Status Online Message:
As soon as you complete jio phone pre-booking you will get a message like this. The message will contain all the information about the present booking and you will get an update in another message in next 1 or 2 weeks.
Congratulations.
Prebooking of India ka smartphone JioPhone is successful. Payment of Rs. 500.00 has been received.
Transaction id : FV000001****
Voucher details :
Mobile Number :97730*****, Count of Voucher(s) : 1, Area Pincode 560030,
On availability of JioPhone, you will receive an SMS with store details. To know the status of your voucher, please call 18008908900 from the mobile number submitted during JioPhone booking.
You can simply follow those to check jio phone status online
Jio Phone Order Transaction Failed:
This will happen when jio site servers go down, you can still complete your order at any time. As Jio site is facing so many hits from yesterday so sometimes you can't pre-book the mobile. You may get this type of error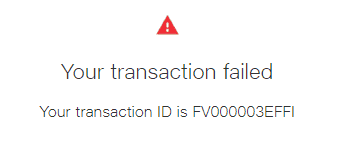 But there is no need to worry because your money won't debited from your account, in case if your money is debited just call 18008908900 from the registered mobile number. They will let you know your jio phone order status.