Top 5 Best Mobile Power Bank Under 1k: Flipshope is a user friendly extension that helps you buy products at the best possible rates, comparing prices of products from all the major e-commerce sites. It also has added features like helping you pick the best time to buy a product, provides you with lots of coupons, and allows you to buy the cell phone of your choice during a flash sale by a completely hassle free way! Moreover, it allows you to buy vouchers, or sell them and amazing rates! In short, flipshope is soon rising to be the solution to all your problems!
It's better to have a power bank with a monstrous backup that can prove handy in need. Top 5 Best Mobile Power Bank Under 1k.With price being a major determining factor, we have compiled a list of pocket-friendly power banks with an exceptional battery capacity!
5)Power Ace Power Bank Prp 10400a(Rs.875) :
Top 5 Best Mobile Power Bank Under 1k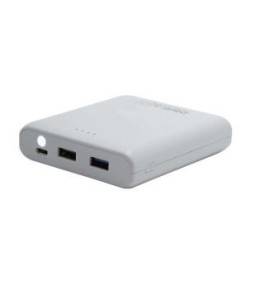 The Power Ace Power Bank 10400A has a Compact size and a high capacity of 10400 mAh. It Displays the remaining power by a hidden LED display. Moreover, it can charge iPads, iPhones, Tablets, Mobile phones etc. It has a multiple safety protection system to ensure device safety and can charge 2 devices at a time. With a Warranty of 1 Year (Manufacture), it is a best buy at this price.
In The BoxConnectors, Charging Connector, Instruction manual, Power Bank General Specification Brand : Digitek Model Number : DIP 10400A, Designed For iPad, MP3, MP4, PSP, NDS, Mobile Phones,Tablet, iPhone. Power Source : USB Adapter. Power Supply : 1000 mAh (Max), 5 V Battery Type : Li-Ion Battery. Battery Capacity : 2200 mAh Output Power : 1000mAh, 5V Connectors : Micro USB, Mini USB Color : Yellow, Red, White n Blue
mAh : 10000above
Color : White
4)Intex 10000 mAh IT-PB10K Power Bank Charger (Rs.948) :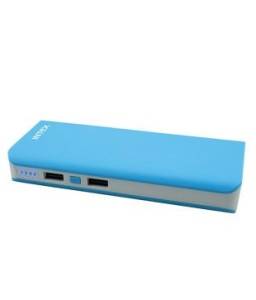 DescriptionCapacity10000 mAhInput5V/ 1AOutput5V/ 1ADC Output Current0.5A-1ALife Cycle>500 timesCharge Time5 HoursOver Charge Protection4.25 VNet WeightFEATURES :Battery ProtectionYesSupport MobileYesPlug & PlayYesHigh SecurityYesHigh CapacityYesFull CompatibleYesTorch availabilityYes
Mah : 10000above
Color : Blue
3)Safecare White 10000above mAh Mobile Power Bank :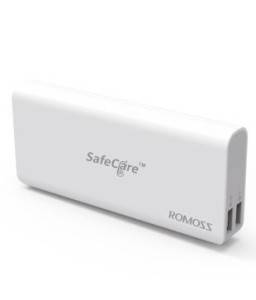 The Safecare Power Bank has a 10000mAH capacity, and supports mobile phones, smart phones, MP3, and other digital products with DC5V input. An elegant design and a strong body make it all the more attractive at this price. Now keep talking to your loved ones, or listening to music without stopping!
mAh : 10000above
Color : white
2) SMG Stylish Portable Long Lasting Power Bank (Pretty Pink) (Rs.887) :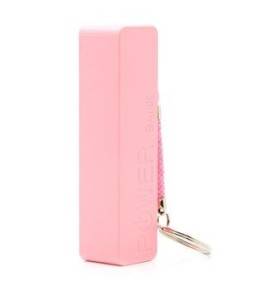 Adaptable to almost all mobile Phones, MP3, or other digital products in market, it can recharge most batteries of digital products. It is a portable, rechargeable and a universal power bank. Now keep talking and keep playing for longer. It also comes with a free micro USB cable! It has a strong structure for total safety. An elegant and fashionable design makes it look more attractive and distinctive. With a 2600mAh capability, it is extremely powerful with a long operation time. Never run out of battery now !!!!
Warranty Summary: 1 Months Seller Warranty; Covered in Warranty: Only Manufacturing Defects;
Warranty Service Type: Replacements Only
Product Type: USB Power Bank
• Battery Capacity: 2600 mAh
• Connectors: USB
• Designed For: Smart Phones
• Power Source: USB Output Interface
• Output Power 5.0 V/1A , Power Input 5 V
Compatibility: Phones that Can be Charged from a power bank.
In the Box: 1 Super fast long lasting power bank; 1 FREE MICRO USB CABLE
1)Sony CP-V5/WC 5000 mAh Power Bank (Rs.989) :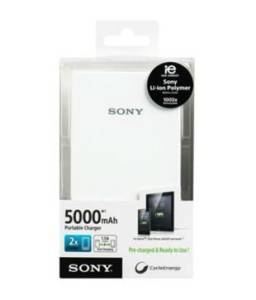 The Sony CP-V5/WC 5000mAh Power Bank lets you charge your smartphone anywhere, anytime. With a battery capacity of 5,000 mAh, this power bank can be used with a wide range of devices and is a perfect travel companion. It contains a Sony-manufactured lithium-polymer rechargeable battery and ultra slim aluminium body.
| | |
| --- | --- |
| · Battery Capacity | 5000 mAh |
| · Battery Type | LI-Ion Polymer Battery, Rechargeable Battery |
| · Connectors | Micro-B USB, Mini USB, Charging via computers USB port or AC-USB adapter, Micro USB cable |
| · Compatibility | Most Micro USB Equipped Phones, Sony Xperia Phones, Sony Cyber-shot Cameras, Smartphones, Handycam, Walkman Players |
| · Shape | Slim |
| · Power Source | Battery |
| · Other Features | Fast Charging; LED Battery Capacity; Pre Charged; Portable; Provides emergency back-up power; Ultra slim aluminum body charger |