5 classy in-ear headphones built from the brilliant engineering:
"For Every Mood"
5)SoundMagic E10 Earphones (Rs.1816)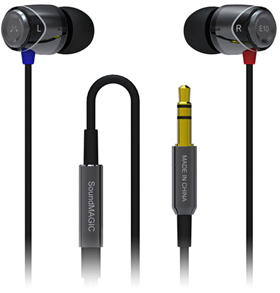 Musical Detail, Powerful Bass Unique, all metal earphone construction Powerful bass balanced with superb musical detail Comfortable fit and distinctive design Robust metal earphone built to last. SoundMAGIC's acoustic engineers carefully configured the drivers of the E10 to produce exciting sound with powerful bass and balanced musical detail. They punch well above their weight in terms of sound quality. The in-ear design combined with the right eartip makes sure the sound is not lost or diluted. Sitting comfortably in the earcanal, the E10 ensures hours of fatigue-free listening fun.
· Driver: Dynamic 10mm Neodymium
· Frequency range: 15Hz – 22kHz
· Impedance: 16Ω
· Sensitivity: 100dB at 1kHz/mW
· Cable length: 1.2m
· Connection: Gold-plated straight stereo 3.5mm
· Earphone body material: Aluminium
· Unique, all metal earphone construction
· Powerful bass balanced with superb musical detail
· Comfortable fit and distinctive design
· Robust metal earphone built to last
· Tangle-free twisted
4)Sony MDR-XB30/BC In Ear Earphones (Rs.1999)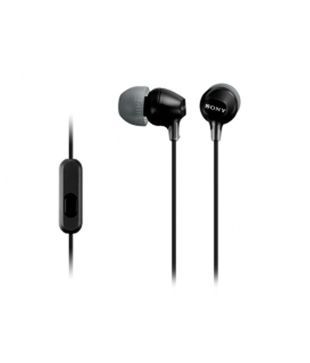 Get the perfect sonic experience with the Sony Headphones MDR-XB30/BC (Black). These in-ear headphones are packed to the hilt with unique and exciting features which ensures best-in-class sound with maximum comfort and convenience.
The Sony Headphones MDR-XB30/BC (Black) features 13.5mm Drivers for a powerful sound. The drivers are dynamic type. The headphones consist of PET diaphragm with Neodymium magnets for superior sonic output. The in-ear earphones have a frequency response range of 4Hz to 24000Hz. It ensures low and thumping bass, clear mid-range and sharp treble sounds. The Sony Headphones MDR-XB30/BC (Black) has a sensitivity of 105dB/mW. It has a power handling capacity of 100mW. The headphones have an impedance of 16 ohms at 1kHz.
• Ergonomic Fit
• Vertical In-Ear Design
• PET Diaphragm
• Advanced Direct Vibe Structure
• 13.5mm Driver Unit
• Hybrid Silicone Earbuds
• Neodymium Magnet
• Tangle-Free Serrated Cord
• 3.5 mm jack plug
• 1 Year Warranty
3)Sennheiser Cx 1.00 In The Ear Headphone – Black (Rs.1893)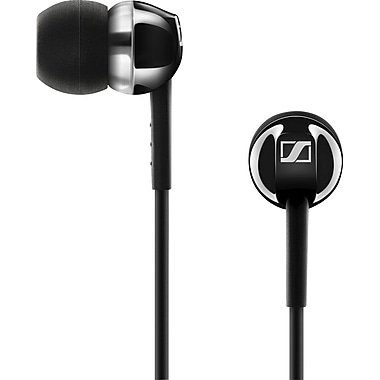 The Sennheiser CX 1.00 In the Ear Headphone is extremely comfortable to wear and offers amazing sound quality. The headphone features deep and punchy bass that ensures a powerful music-listening experience. Its 3.5 mm hack makes it compatible for most mobile phones, laptops and other devices. This trendy headphones comes in an elegant black shade.
Type : In Ear
Cord Length : 1.2 m
Jack Diameter : 3.5 mm
Wired/Wireless : Wired
Key Features : Deep and Punchy Bass; Dynamic Type
2)Audio Technica ATH-CK505M In Ear Earphones (Rs.1759)
Designed for a natural fit in the ears, introduces the new ATH-CK505M, featuring the "Loop Support" allowing users to move comfortably while listening to the music. The driver unit is tilted at an angle to block the unwanted noise. The driver is more balanced with better alto range and mid to low bass range. The dramatically improved the feeling of wearing a new LOOP SUPPORT by (loop support). The new LOOP shape with more area in contact with the ear, I pursue a further sense of stability at the time of the wearing. I realized a solid fit to the ear. New shape SLOPE EAR FIT to reduce sound leakage in a natural fit (slope ear fit) adoption. By designing a gentle slope to the body portion along the ear comfortably fit naturally. I reduce sound leakage; you can enjoy high-quality sound. Play high-frequency and clear low-mid range to a massive new design in φ10.7mm driver. Bass with the thickness, equipped with a newly designed driver to play the treble during a crisp. I have to balance the appropriate high-quality sound and fit in 4th generation series.
Cable Length : 0.6 m
Jack : 3.5 mm
Warranty : 1 year
Sound Pressure Level : 102 db/mW
Color : Blue
1)Skullcandy Smokin Bud 2 S2PGFY-003 In Ear Earphones with Mic (Rs.1763)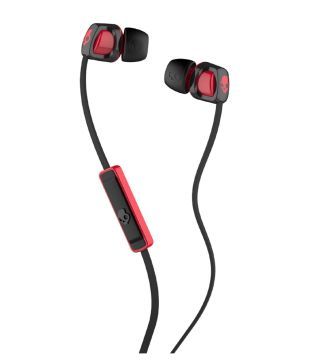 Get high on the sweet sounds of your favorite song with the Skullcandy Smokin' Buds 2 with Mic1. An upgraded version of your favorite ear buds, the Smokin' Buds 2 deliver crisp sound in a fresh new design that withstands sweat and snow so you can keep the tunes going whether you're on top of a mountain or shredding the Sound provides attacking bass, natural vocals, and precision highs to let you experience music the way it was meant to be heard, and an acoustic housing allows you to witness your Supreme Sound at work. A Mic1 in-line microphone lets you answer phone calls on your smart phone with the press of a button. The flat cable gets less tangled than traditional round ones, and different size interchangeable silicone tips ensure that there's a perfect fit for you. Carry case also provided.
• In-the-ear Headphone
• TPE Cable Cord
• Wired
• Built-in-Microphone In-Line Mic1
• Off-Axis Angled Design
• Acoustic Performance
• Superior Fit & Comfort
• 3.5mm Plug
5 classy in-ear headphones