Today we are going to talk about Sandes app. This is a new messaging app and the good thing about this app is that It's an made in India messaging app, this app can be the best alternative for WhatsApp. This instant messaging app for the public is made by the National Informatics Center (NIC). It's a free app which was earlier available only for government employees but now it can be used by the public too. This instant messaging app by govt. Is to promote Vocal for Local move. Below we are sharing detailed information on this Indian Messaging App.
Related: Top 10 Video Editing Apps for Android | Edit Videos Like a Pro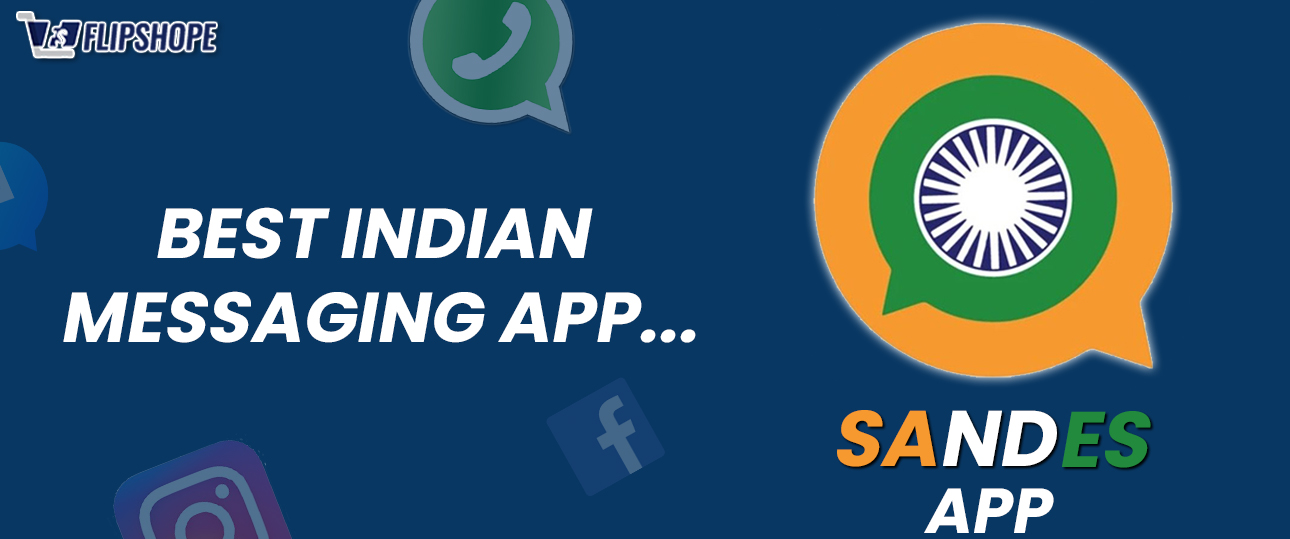 Sandes
Sandes meaning in Hindi is a message. Hence the main objective of this app is to allow users to do instant messaging with text messages, media files, voice calls, and video calls easily and in a safe way. The need for a safer messaging app was felt when Apps WhatsApp, zoom, etc., failed to give required privacy to people.
Using made-in-India apps gives immense power and support to the digital India mission. So, let's read about this app in detail and know how to download and Use this app also the features of this Indian Messaging app have for us.
Reason behind this app
Last year when the Country was in Complete Lockdown companies and people faced many issues and one of them was connecting with each other. However, we had some apps like WhatsApp, Zoom, and more but there was also news of data leaks by these apps and that actually was the main concern and later become a reason for an Indian Messaging app.
Govt. And People also see this as a move to promote and support the 'Vocal for Local' Move which was also started after the lockdown to power made in India ad to encourage people to use Made in India products. We can actually link both reasons which became the reason Behind the Sandes Instant Messaging app.
Related: Upcoming Realme Phones in India | Top 5 Included
Features of this Indian Messaging App
Instant messaging app developed by National Informatics Center (NIC)
Backup features help the chats on this app to be backed on the user's email.
Features such as end-to-end encryption are given to avoid any privacy breach.
You can do videos and audio calls on this app.
You can make groups, forward messages, and forward emojis, and broadcast messages.
You can't change your registered email address or mobile number in case you wish to.
You can style messages, tag, and even can share contacts.
You can send and receive media files and voice messages.
So overall this app is a good messaging app with all the desirable features which people want in an instant messaging app. Currently, it doesn't have a fingerprint lock feature as compared to WhatsApp. But we hope we'll see more features soon. This app has the potential of taking place of WhatsApp.
Requirements
for
Sandes App
Some common things you need are obviously an internet connection, and a working phone number or email address. You also need Android 5.0 or above if you are an Android phone user. if you are an iOS user then you need iOS 11 or above.
Hence there are no difficult requirements for using this app. These things are commonly needed for using any social media apps. Now you know the requirement for this app, let us know how to get this app. These apps can be used by Android as well as iPhone users let's talk in detail below.
Related: How to remove KineMaster Watermark | KineMaster Mod Apk for Free
Availability of Sandes app
Talking about the availability of this Indian Messaging App, currently, it is not available on Android's Google Play Store, but if you want to use this app then you can use the web version of this app. Another alternative is to download the APK file from the official website.
If you have an iPhone then you do not have to go to any website because Sandes app is available at the Apple store and you can download it from there.
So, this instant messaging app is available for both Leading OS and you can also use the web version. Read ahead and know how you can get this app and use it.
How
to get Sandes app
Android users can visit the official website of Sandes app and download the APK file from there, after downloading it just go to APK file on your phone and install it. If you do not want to download the app you can use the Web version of this app.
For iPhone users, getting the Sandes app is very simple. All you have to do is to go to the Apple Store and then search for the Sandes app then click on the get button and you are done.
Related: 5 Best Live Cricket Streaming Apps and Websites | Must Check list
How to use Sandes app
There are very easy steps for using this app. Just follow the steps given below to use this app.
Step 1- Open the Sandes app, then enter the phone number that you are currently using.
Step 2- you'll be moved to a page that asks you for the OTP, you will receive this OTP on the number you have given before.
Step3- Type the OTP which you received by the SMS.
Step 3- Now try to type the details needed like gender details and profile picture (you can skip it if you want), and now you are done with the steps.
Your app is ready to use now just select the contact and say hi.
Conclusion
We have tried to list everything about the app. This app is made by NIC and it is a safer way for communicating. You can register yourself with an email address or Mobile number. Hence, there are no difficult steps or requirements for registration. Features of this Indian Messaging App are similar to WhatsApp.
Hence this app is the best and trustful alternative for WhatsApp. Android and Apple phone users can use this app. I hope this article helps in understanding this app in an easy and simple way. Please tell or suggest anything, if you think we have missed it.
If you like this article (Sandes the Indian Messaging App) then, please share your reviews with us and if you have any suggestions then also, please share them with us in the below comments.
Connect with us on Facebook and Twitter. Thanks a lot for reading this article. Join our Telegram Channel or you can download Flipshope extension for the latest tricks and offers. For any queries please Whatsapp us on 9999488008.