This is the official news from ringing bells website, as you all know about ringing bells the company which launched freedom 251 smartphones. They become so much famous after that, but the rumors aren't stopping regarding ringing bells freedom 251 smartphone delivery. All this apart they just recently launched one more budget product which is freedom led tv, although it went out of stock pretty quickly. Now they are releasing Ringing bells Royalty program freedom 251 smartphone as a gift. You can see more about the registration of Freedom Ledtv and next sale process from this article.
You may Like: Ringing Bells Freedom Led Tv Registration Process with next sale Date
Ringing Bells Royalty Program, Ringing Bells Freedom 251, Free Freedom 251 as a Gift:
They are issuing Ringing Bells Royalty Program cards at a cost of 500, 1000 and 2000 INR. There will be three different sets for these Royalty cards they are named as Silver, Gold and Platinum. With the helps of these ringing bells royalty cards user will get discounts from all their products. They also give free Ringing Bells Freedom 251 smartphone as a gift. In the other news the company recently completed one year anniversary, by selling over half million products in this period of one year. Ringing bells named this as loyalty program by selling royalty cards.
You can buy Silver Royalty card at 500 INR
You can buy Gold royalty Card at 1000 INR
You can buy Platinum card at 1500 INR
The above mentioned are the prices and ringing bells royalty program cards names. Here you can read more about them from ringing bells official site. This is the link
How to buy Royalty Cards, Buy Ringing Bells Royalty Program Cards, Royalty Cards Discounts:
These card will fetch you 5%, 10% and 15% discounts and these are coming with the free freedom 251 smartphone. You can buy Ringing Bells Royalty Program Freedom 251 cards from this link. Where you will get one free freedom 251 for silver and gold royalty card, but you can get two free freedom 251 on platinum royalty cards. Here are the complete details
Trick to Buy Champone C1 Smartphone at 501 INR only
You can get Free Freedom 251 Mobile with 5% discount on Silver Royalty Cards
You can get Free Freedom 251 Mobile with 10% Discount on Gold Royalty Cards
You can get TWO freedom 251 Mobiles with 15% Discount on Platinum Royalty Cards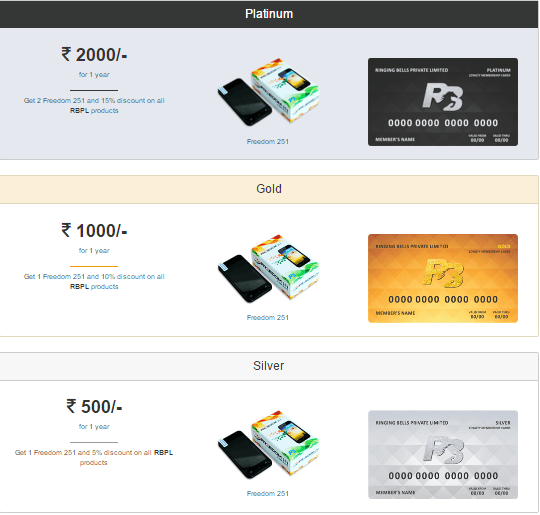 Ringing Bells Loyalty Cards, Ringing Bells Membership, Ringing bells Free Freedom 251:
This ringing bells Loyalty Card Membership number can be generated online from this link and the user can start using this royalty cards from Day 1 while physical cards can follow by courier delivery. The company also stated that Freedom 251 smartphone delivery to Customer if anyone received the mobile please comment below. Till now we haven't heard anyone who got the mobiles.
The ringing bells Loyalty Card will come with the Name of the Customer and one unique 16 digit membership ID number just like an atm card. Stay tuned to this blog, I recommend not to buy any cards yet, because you already knew about the company in what they did Ringing bells freedom 251 smartphone.
So by inspired by this company we have one more budget mobile which is priced at 501rs make sure to check that out. Let us know in the comments with your thoughts.. 😉