Reliance Industries Ltd (RIL) chairman Mukesh Ambani last week unveiled Jio's wireless 4G tariff plans during shareholder meeting. He also announced that it will be available all over market from monday. During the reliance jio announcement ambani also mention that reliance industry is bringing fibre to home wired network service which is called as reliance jio GigaFiber to seleted cities in india. He further added that GigaFibre will work at 1 GBs speed to all its subscribers, so this might become the reliance jio maximum speed with more than 740 mbps. While from social media post of CTO of hipcask, Arjun hemrajani gives us hint that reliance industry already start of testing of FTTH in some part of pune and mumbai.
Reliance Jio Maximum Speed:
They have recieved the 100Mbps connection in few days with 3 month free trail. He also tweeted that speed test results,Upload and download speed is around 90Mbps. According to him shared speed in pune, indicates that FTTP test were being conducted in pune also with speed upto 1Gbps, Also to prove his point he has uploaded a screenshot which is indicating the download speed at 743.8Mbps. This is maximum speed till now provided by any broadban service in india. In AGM speech ambani has announced that reliance fibre has been connected in top 100 cities of india. Yet name of top cities has not been released officially. The broadban network will extend to residential and enterprise. Reliance jio 4g broadband speed is best speed in india
Reliance jio GigaFibre is still in testing stage and user can't subscribe to it even he live in mumbia or pune. Now we are waiting for reliance jio fibre tariff plans. Hope it will again like jio. It is expected that jio is going to release this fibre in next year around march april But you have to wait long for such speed.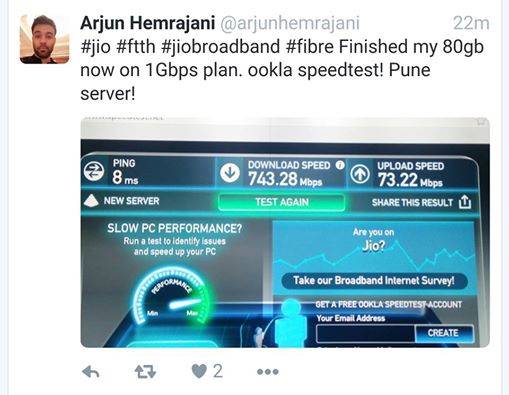 The Reliance Jio 4G SIM cards are now available at retail outlets across India. After a prolonged trial where only select users had access to the Jio network, starting Monday, the services are free to use for all until December 31.
Related Posts: