Here we are with the latest Oneplus Diwali Dash Sale Offers and Contest. Unlike last year you won't find any Oneplus 1rs Flash sale this time. If you don't have any oneplus device then you can't even participate in Oneplus Diwali Dash sale content. This contest runs from October 12th to October 19th. All you need to do is verify the device and share the Oneplus Diwali Dash sale page to spin the wheel. If you are lucky enough at max you can win 1500 Rs voucher which can only be used one Oneplus official site. Here are more Oneplus Diwali dash sale offers contest and vouchers list.
Oneplus Diwali Dash Sale Offer:
As we all know oneplus won't provide any discount on their mobiles, same goes for this sale as well. Oneplus 5 is available for the regular cost of 32999 Rs but in addition to this, they are giving few accessories for free. Unfortunately, there is no bank offers you have to pay 32999 rs to buy the mobile. With the purchase of every oneplus 5, you will get Bullets V2 Earphones and Sandstone case for free. Apart from this you can also get the following offers
Free Bullets V2 Earphones and Sandstone case with the purchase of every Oneplus 5
12 Months insurance available during Oneplus Diwali Dash sale
Free Vodafone 4G Data
Amazon Kindle Credits and Amazon Pay Balance for Free
How to Participate in Oneplus Diwali Dash Game:
Well, I am reminding once again if you don't have any oneplus device then you can't enter in this contest. You can still ask your friends or family who holds oneplus devices, all you need is any oneplus mobile IMEI number. Then simply go ahead and verify oneplus device. Click on this link to Visit Oneplus Diwali Dash Game Page
Steps to Participate in Oneplus Diwali Dash Game:
Register the oneplus device by sharing the IMEI number
Then simply share the offer page to Earn a Wild Logo
Now you can notice 1 Free Spin chances in Diwali Dash page
Simply click on let's roll if your luck is good enough then you can win vouchers
At max, you can Roll one time with a Single verification
You can use Multiple Oneplus mobile IMEI numbers to get more chances


Oneplus Diwali Dash Game Vouchers: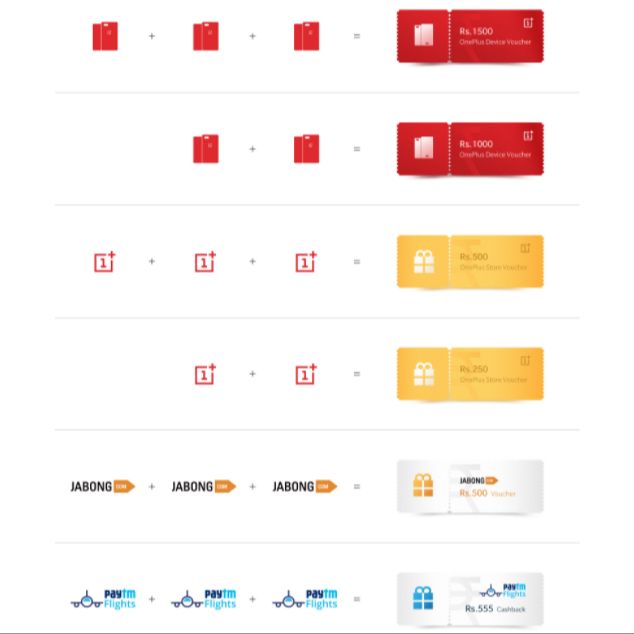 This contest isn't that much great, to participate in Oneplus Diwali Dash game you need to verify your oneplus device. For that, you may get a chance to win 1500 Rs, 1000 Rs, 500 Rs or 250 Rs Gift vouchers which can only be used on Oneplus Official site. To win those vouchers your roll must match the things which are given in the above image. I personally tried this and won Jabong voucher, but I am not impressed with that. Because to use that voucher I should shop for a minimum of 2000 Rs. So just let us know in the comments if there are any restrictions for Oneplus vouchers as well.
Oneplus Diwali Dash Game Rules:
Create your account on oneplusstore.in . In case you have an existing account, you can use the same.
Verify your OnePlus devices to become eligible to play the game. More details on device verification are available here
If you have already verified all your devices, you can directly play the game.
You will get one chance for every device that has been verified in your OnePlus account
Earn a "Diwali Light" as wild logo in your Logo pool by sharing this with your friends on Social Media. Every "Diwali Light" will act as a logo in the slot machine thus allowing you an extra chance.
Win exciting vouchers from 12th Oct to 19th Oct
Oneplus Diwali Dash Terms and Conditions:
All social media shares will be considered only if they have been done using the share buttons on Game Page
The game is open only for OnePlus smartphone users.
All OnePlus smartphone users with at least one of OnePlus One, X, Two, 3, 3T, 5 are eligible to play the game
All prizes are digital vouchers redeemable on respective websites and would be emailed to every winner
OnePlus & Mobitech Creations reserve the right to final decision on the interpretation of the mentioned rules. Collected data may be used at oneplusstore.in or oneplus.net.
The vouchers earned can be used only one per order on the respective websites
OnePlus reserves the right to suspend accounts if we notice any activity that we believe is abusive, fraudulent, or in violation of the OnePlus Terms of Service. We reserve the right to review and investigate all game-related activities and to suspend accounts or modify winnings in our sole discretion as deemed fair and appropriate.
OnePlus reserves the right to update these terms at any time without prior notice. If we modify these terms, we will post the modification on the OnePlus website or services, and such modified terms shall be effective upon posting. Continued participation in the event after any modification shall constitute consent to such modification.