New Nokia 3310 Snake Game, Nokia 3310 Games, Nokia 3310 Features, Nokia 3310 Snake, Nokia 3310 in India: As we have been waiting for Nokia phones for a long time. We have seen windows phone of Nokia, but they were not up to the Nokia's previous reputation. We have seen Nokia phones from our childhood days when in India android phones were with some peoples only. We have seen many phones of Nokia before. Nokia 1110, Nokia 1100 and Nokia 3310 were some great phones ever in the history. Nokia made a reputation that in the same price range as others, you will be getting some great features with a long durability. Now in 2017 again Nokia will be back with some android phones and also Nokia 3310 with some new features. Read our article New Nokia 3310 Snake Game and Features, and get to know all about new Nokia 3310. You can buy Nokia 3310 online or from stores. So if you don't wanna order online, no worries go to Nokia store or any mobile store and buy a new Nokia 3310.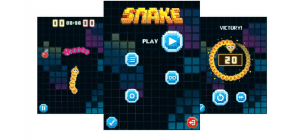 Nokia 3310 Snake Game
UPDATE: How To Buy Nokia 3310 Flipkart Amazon Snapdeal in India
New Nokia 3310 Snake Game and Features:
Now our wait is over, as we have been waiting for Nokia mobiles from past 5-6 years. Also, Nokia 6 has been launched in China already 2-3 months before. But in India, we are still waiting. But now our wait is over. Nokia 3310 has been launched in India on 26th February 2017. So now we can buy Nokia 3310 from different mobile stores or online also. We have loved Nokia phones in past for its long durability, low price, more features. And most importantly Nokia's games. Oh! they were awesome. Many games we have played on Nokia's phone in our childhood. And the most popular was Snake game. Just read our article Nokia 3310 Games and Features and see all the games with some new features and games in Nokia 3310.
LATEST: Buy Nokia 3310 Online Booking Registration in India
Nokia 3310 Latest Features:
Nokia 3310 was launched on 1st September 2000. And it's going to be launched again in India soon. With 2 inch TFT display and 1000 mAh Li-Ion battery, it will be available soon in the market. No front camera is provided. It will be having GSM network and micro sim slot. This mobile supports 2G with about 85 Kbps speed. It also has Bluetooth. Radio will be there to listen to songs and it will support 3GP and MP4 video format. With these features, it was an indestructible handset in the market. The durability was great and we can hope that with same durability it will be launched again. Also, the battery life was awesome. So let us just wait for few days until an official announcement have been made.
Nokia 3310 Price in India: Rs 3500
New Nokia 3310 Games:
Nokia 3310 has been launched in India on 26th February 2017. It has 4 games with it. All the games have been our favorite ones. We have played these games since childhood. The games are Snake 2, Pairs 2, Space Impact and Bantumi. With playing games for almost all day, the battery durability was awesome and great. We can play whole day long these games. The most popular Snake 2 is just an awesome one. So as now Nokia has released Nokia 3310 again in India. We can start enjoying our favorite childhood games again.
Nokia 3310 Release Date and Launch Date in India
Nokia 3310 Snake Game:
We have played this game many times. As we know that in almost all Nokia phones this game was there. With vibration and the sound, this was just amazing to play this games. We just need to use four buttons left, right, up and down. Or else we can use 2, 4, 6 and 8. Using just these 4 buttons we can easily play these games. Also, in this games, there was some different level. The level was classic games and simple games. in one of these games we need to cross some maze and save our snakes from dying.
Nokia 3310 Space Impact Game:
This was another favorite in our childhood. We thought of ourselves as a space pilot. And we completed some missions like we are only going to die if this fails. We always thought that we are sitting on this space ship. We need to fight with other spaceships using some extra buttons like 6 for firing and 5 for a missile launch. We have to use left, right, up and down also.
Nokia 3310 Pairs 2 and Bantumi Game:
These were the other two games of Nokia phones. Especially in Nokia 3310, we have seen these games. These were not so popular like Snake game and Space Impact games. Always you can see people playing these games only. We can think that again Nokia 3310 will have same features and durability like before. So now we buy Nokia 3310 from a store or we can order online also.