Mi Anniversary 1Rs Flash Sale Trick To Buy Mi 1Rs Sale Products: The most successful foreign smartphone company Mi is about to announce their Mi 1Rs flash sale as a part of this year Mi Diwali Sale. They announced the official dates mi 1rs flash sale and it is happening on 23rd October. This is a 3-day Carnival and Mi is giving away 100 of mobiles, TVs & accessories for 1Rs. Special Offers and Non-Stop Deals are the bonus in their anniversary program.
We at Flipshope providing auto-buy trick on
You must install Flipshope extension to participate any one of the above events. We got your back to give you the free stuff for next 3 days.
UPDATE: Here I am adding the gif of Flipshope Extension working proof, this extension can increase your chances of winning. But it can't guarantee the product to everyone. Please check out this gif, this is the proof that Flipshope Extension did click on all 3 products in less than a second. It's from the Mi 1rs flash sale footage which happened on 27th September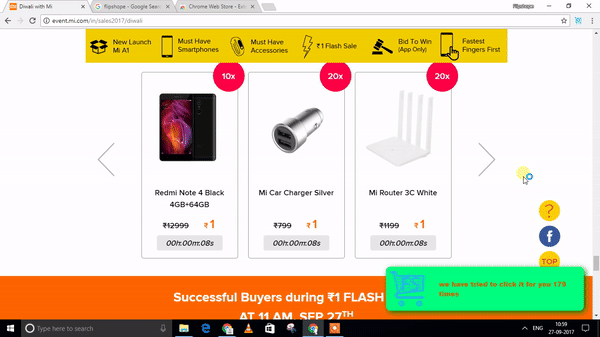 Mi 1Rs Flash Sale:
Mi 1Rs Flash Sale on Mi Phones and popular accessories at 4 PM every day! So many people are looking for Mi 1Rs flash sale, I have to say you are in the right place. Our extension will help people to buy their products from flash sales. Now we are also providing our auto-buy feature in Mi 1Rs Flash Sale on every mobile and TV. This Mi 1Rs Flash sale will take place on 3-days with 3 different mobiles, Mi 55inch TV, and other accessories.
Mi 1 Rs flash sales are scheduled for 3 consecutive days all will start every day at 4 PM Follow these simple steps to get those mobiles on flash sale.
Visit Mi site by clicking here.
Download Flipshope extension for Mi 4Rs Sale, after that you will notice our icon.


Buy Mi 1 rs flash sale products, 100% working auto-buy script. It will automatically add the 1 rs products to cart

Click on our extension icon and it will open a pop-up.
Visit Flash sale section and choose the product which you are planning to buy
Choose any product from 4 PM sale. This will work on all 3 days.
Once you click on your desired product you will notice a pop-up on Mi site
Visit the mi 1rs flash sale page on the sale time, then our extension will add the product to cart.
Just follow the above steps you will get a chance to receive flash sale products.
Mi 1Rs Flash Sale Flipshope Extension Auto-Buy Script Video:
How to Grab Free Mi coupons
We have been getting this request from past 2 flash sales. In case if you don't know Mi usually gives away free coupons on every sale day at 10 AM. These coupons worth can be varied from 100-1000 Rs and they can be used with no minimum amount condition. Here is how you can grab one for free.
Again without Flipshope Extension, you can't get anything. So Install that if you haven't done so.
Then click on Flipshope icon to visit flash sale section
Choose every day 10 AM coupons offer and register for the same
When you register on Flipshope extension then you will get a pop-up to confirm the same on Mi sale page like this.
Now just open your laptop at 10 AM and we will auto-click the coupon to give you for free.
How you can't miss Mi Blink and miss deal
This is the new stuff which Mi introduced this year. They basically made many combos by combining two products together and giving the huge discounts on the combo. If you are the one who is really looking forward to making a purchase on Mi 4th anniversary sale then give a try on Mi Blick and miss deal. We from Flipshope will make sure that you won't miss it.
You must've installed Flipshope extension by now. If not you will miss this deal for sure.
So after installing click on extension icon and visit the flash sale section
Then subscribe for Blick and miss deal at 6 PM. You can subscribe on any day or any product
Now head over to Mi sale page where you will notice a pop-up.

This means we are all set to open Mi site at 6 PM and you will get the deal before anyone else.
Mi 1Rs Flash Sale Products:
Mi 1Rs Sale (Day 1)
35 Units of Mi Home Security Camera 360°
10 Units of POCO F1 Steel Blue 6GB+128GB
Mi 1 Rs Flash Sale Products Day 2
35 Units of Mi Compact Bluetooth Speaker 2
10 Units of Redmi Note 5 Pro Gold 4GB+64GB
Mi 1 rs Flash Sale Products Day 3
5 Units of Mi LED TV 4A PRO 123.2 cm (49)
10 Units of Mi A2
How To Buy Mi 4Rs Flash Sale Products:
We are at Flipshope will provide auto-buy script on all Flash sale so in this sale we are providing Mi 4rs Flash Sale auto buy script. All you need to do is install flipshope extension and check your entry. Here are more details about the step by step mi 4rs flash sale auto buy script process.
Steps to buy Mi 4rs Flash Sale products
First, you must install Flipshope Chrome Extension
Then check the auto-buy option in our extension icon.
Now visit the Mi sale page on sale time, you will notice flipshope pop-up
So at the time of sale, it will automatically add the product to cart.
That's it now you can buy Mi 4rs flash sale products in one click.
Here is the link to install flipshope extension, in case if you have any doubts jump in the comments I will help you out.
Mi Anniversary 4Rs Flash Sale Top Offers
Mi obviously doesn't want to miss your chance, here they are offering up to Rs.4000 off on their mobiles and Bluetooth speakers. This is the list of Major products with their buying links.
Xiaomi Redmi Note 5 Pro will be available to buy from Open sale starts on July 10th at 12 PM
Flat 2000 Rs off on Mi Mix 2
Flat 1000 Rs off on Mi Max 2
Flat 100 Rs off on Mi Travel Backpack
You may also like: Xiaomi Diwali Rs 1 'Fake' sale, Here is the proof
Mobile Offers on Mi 4Rs Anniversary Flash Sale 2018
TAGS: Mi 4rs sale, Mi 4rs Diwali Sale, Mi flash sale, Mi 4rs Flash Sale Tricks, Mi 4rs Flash Sale Script, Mi 4rs Flash Sale Auto-Buy Script
Related Posts: