Mi Fan festival 1Rs Flash Sale, Trick To Buy Mi 1Rs Sale Products: The most successful foreign smartphone company Mi is about to announce their Mi 1Rs flash sale as a part of this year Mi fan festival Sale. They announced the official dates mi 1rs flash sale and it is happening on 4th April. This is a 3-day Carnival and Mi is giving away 100 of mobiles, TVs & accessories for 1Rs. Special Offers and Non-Stop Deals are the bonus in their anniversary program.
You must install Flipshope extension to participate in any one of the above events. We got your back to give you the free stuff for the next 3 days.
UPDATE: Here I am adding the gif of Flipshope Extension working proof, this extension can increase your chances of winning. But it can't guarantee the product to everyone. Please check out this gif, this is the proof that Flipshope Extension did click on all 3 products in less than a second. It's from the Mi 1rs flash sale footage which happened on 27th September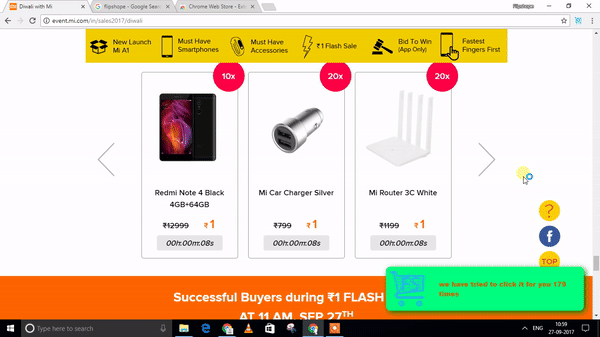 Mi 1Rs Flash Sale:
Mi 1Rs Flash Sale on Mi Phones and popular accessories at 2 PM every day! So many people are looking for Mi 1Rs flash sale, I have to say you are in the right place. Our extension will help people to buy their products from flash sales. Now we are also providing our auto-buy feature in Mi 1Rs Flash Sale on every mobile and TV. This Mi 1Rs Flash sale will take place on 3-days with 3 different mobiles, Mi TV, and other accessories.
Mi 1 Rs flash sales are scheduled for 3 consecutive days all will start every day at 2 PM Follow these simple steps to get those mobiles on flash sale.
Visit Mi site by clicking here.
Download Flipshope extension for Mi 4Rs Sale, after that you will notice our icon.


Buy Mi 1 rs flash sale products, 100% working auto-buy script. It will automatically add the 1 rs products to cart

Click on our extension icon and it will open a pop-up.
Visit Flash sale section and choose the product which you are planning to buy
Choose any product from 2 PM sale. This will work on all 3 days.
Once you click on your desired product you will notice a pop-up on Mi site
Visit the mi 1rs flash sale page on the sale time, then our extension will add the product to cart.
Just follow the above steps you will get a chance to receive flash sale products.
Mi 1Rs Flash Sale Products:
Mi 1 Rs Sale Products Day 1
20 Units of Redmi Note 7 Pro
20 Units of Mi Soundbar
Mi 1 Rs Flash Sale Products Day 2
20 Units of Poco F1
20 Units of Mi Home Security Camera 360°
Mi 1 rs Flash Sale Products Day 3
30 Units of Mi Bluetooth Earphones
10 Units of Mi TV 4A Pro
How To Buy Mi 1Rs Flash Sale Products:
We are at Flipshope will provide auto-buy script on all Flash sale so in this sale we are providing Mi 1rs Flash Sale auto buy script. All you need to do is install flipshope extension and check your entry. Here are more details about the step by step mi 1rs flash sale auto buy script process.
Steps to buy Mi 1rs Flash Sale products
First, you must install Flipshope Chrome Extension
Then check the auto-buy option in our extension icon.
Now visit the Mi sale page on sale time, you will notice flipshope pop-up
So at the time of sale, it will automatically add the product to cart.
That's it now you can buy Mi 1rs flash sale products in one click.
Here is the link to install flipshope extension, in case if you have any doubts jump in the comments I will help you out.
TAGS: Mi 4rs sale, Mi 4rs Diwali Sale, Mi flash sale, Mi 4rs Flash Sale Tricks, Mi 4rs Flash Sale Script, Mi 4rs Flash Sale Auto-Buy Script
Related Posts: