Jio is the most recognized brand and telecom company in India. It is introduced as the cheapest network in India. It overtook top telecom companies such as Vodafone, Idea, Airtel, etc. Reliance Jio is the largest Telecom operator in India. It is introduced with the aim to reach internet services to every place in India. It is owned by Reliance Industries chairman Mukesh Ambani. We know that he is the richest man in India. Reliance Jio is popular as most of the people opt to buy Reliance Jio SIMs. There are currently 390 million users in India. Jio released phones called JIO LYF phones. Now they have released another product called "Jio Glass" in Annual General Meeting. Reliance is expanding its market in India through Jio products.
Highlights of the Reliance AGM :
Jio Tv+ for Jio Users
Jio Tv+ is useful for streaming all the shows, tv channels, new movies, news, etc. Also, it gives live sports, music, and all the related plans of Jio. It is an all-in-one App. It gives all the new releases on OTT Platforms. All the Jio users can view the new releases online and download them free. Therefore it gives tough competition to all the OTT Platforms such as Hotstar, Amazon Prime, Netflix, Sun NXT, etc.
ALSO SEE | Jio TV+ complete details
Google Investment in Jio
Google is ready to invest Rs.33737 crore at a 7.7% stake in Jio Platforms. The final investments in the Reliance company reach 1.52 lakh crore with the recent Google investment. With this investment, Reliance is the only company in the world to partner with Facebook, Microsoft, and Google. RIL also partnered with Google to develop Jio products. So both companies will develop Reliance Jio products. Also, Jio and Google together may combined work on the operating system for Android smartphones. Hence a total of 14 companies invested in Jio.
ALSO SEE | Jio and Facebook Deal
Jio Glass Working
RIL confirmed that the new 'Jio Glass' is useful for teachers and students. It can conduct 3D virtual classes. It creates a holographic experience through Jio Mixed Reality. In addition, it can also be used to perform virtual meetings. The meeting had a demo on the working of Jio Glass. During the demo, the President of RIL asked the Glass to call Aakash and Isha. Aakash appeared in a 3D design and Isha joined through a 2D video call.
As we know that in 2019, Jio introduced a HoloBoard Mixed Reality Headset which had similar functions. The Jio Glass is said to be the successor of that product.
Features of Jio Glass
Design:
Jio Glass is at the cutting edge of technology with the best Mixed Reality services to give true experience to users. Jio Glass weighs 75 grams. Also, it has a rectangular spectacle design similar to normal specs. Jio Glass has a good display with high resolution. It also has a Virtual Assistant.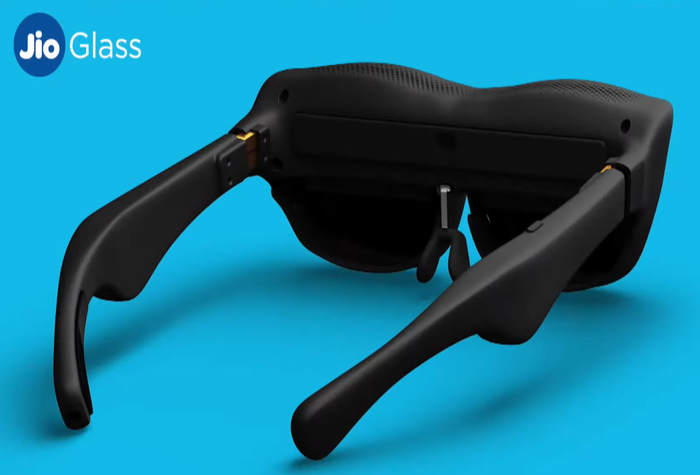 Jio Glass Connectivity:
It supports all audio formats and has an amazing sound quality without any external gadget link. It can connect the smartphone (internet) through a cable. The company introduced 25 built-in apps in Jio Glass to allow augmented reality video meetings. Also, Reliance Jio is planning to introduce its products with 5G technology. Jio tests its 5G services after the completion of the spectrum sales.
3D Video call:
It will also change the interface of the video calls. The 3D virtual calling makes a special experience that takes to a new world. The perfect texture and resemblance of a person help the users to talk face to face through a 3D call. Jio worked on the graphics of its SmartGlass. It also ensured that the user has a perfect visual experience. This Jio smart glass supports 3D holographic video calls to see yourself on the Glass.
Jio Glass Price and Availablity

At the event, the company did not reveal the pricing and the availability of the product. Also, they did not confirm the online release date for the sale of Jio Glass. But this product will release on all Jio Platforms.
If you like this article then, please share your reviews with us and if you have any suggestions then also please share it with us in the below comments.
Connect with us on Facebook and Twitter. Thanks a lot for reading this article. Join our Telegram Channel or you can download Flipshope extension for the latest tricks and offers. For any queries please Whatsapp us on 9999488008.