Jio is one of the most popular network operators which provide so many benefits to their users. Users of Jio can activate and deactivate caller tune for free. Jio is offering a caller tune without any charge with their recharge plans. In this post, we are going to discuss methods through which you can activate and deactivate Jio tune. Some of the users don't like caller tunes and that's why looking for methods of "how to remove jio caller tune". If you are such a user who wants to deactivate or activate jio tune then you are at right place. Check out the below-mentioned method to remove and set jio tune.
How to Activate Jio Caller Tune
There are three ways through which you can set or activate caller tune in Jio.
Via SMS
JioMusic App
Copy other user Caller Tune
1. How to activate/set Jio caller tune with SMS
It is very simple to activate caller tune on Jio number with just an SMS. You need to send SMS "JT" to "56789" and then instructions will come you just need to follow them. Also, you can use below-mentioned method to directly activate your favorite Jio tune. Also, check how to remove caller tune in Jio in below sections.
ALBUM <Album Name> and send it to "56789"
MOVIE <Movie Name> and send it to "56789"
SINGER <Singer Name> and send it to "56789"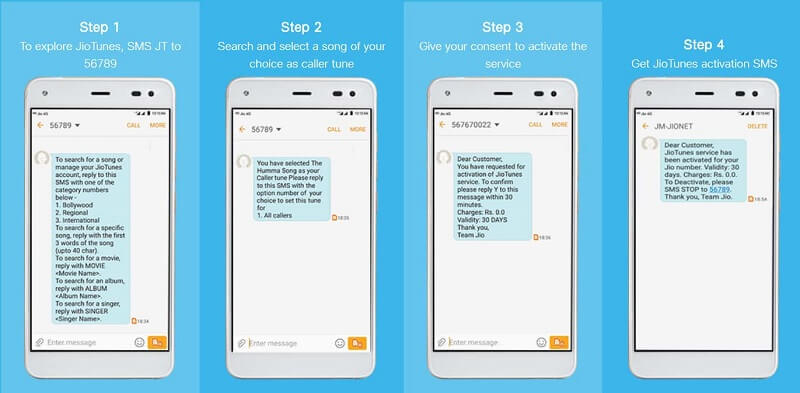 2. How to activate caller tune in Jio with JioMusic App
Firstly, download JioMusic App from the playstore.
Sign in to the app.
Choose your favorite song.
Now, tap on Jiotune icon to set your caller tune.
Finally, you will receive a confirmation SMS.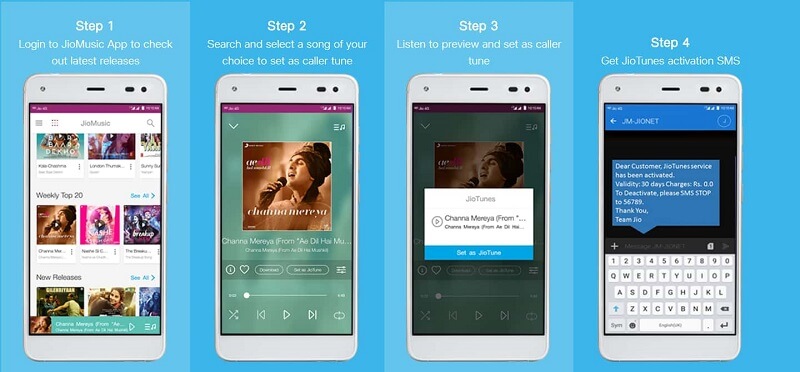 3. How to Copy Other Jio Tune
To copy other user's Jio tune, press '*' before ringing stops.
You will receive a confirmation message.
Reply with "Y" on the received SMS to set your Jio caller tune.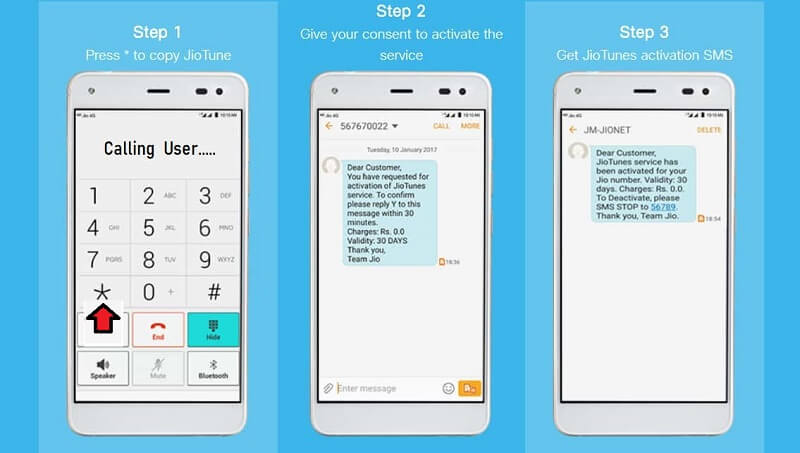 Jio में कॉलर ट्यून (Caller Tune) कैसे Set करे
अगर आप Jio की सिम उपयोग में ले रहे हैं तो बड़ी ही आसानी से आप अपने नंबर पर जिओ ट्यून Set कर सक्ते हैं| निचे दिए गए तरीके से आप free में अपने नंबर पर जिओ ट्यून लगा सकते हैं|
अपने जिओ नंबर से आपको एक मैसेज लिख कर भेजना होगा टाइप करे "JT" और भेज दे इसको "56789" पर इसके बाद आपको कुछ निर्देश प्राप्त होंगे उनको उपयोग करके आप फ्री में JioTune सेट कर सक्ते हैं|
How to Remove Jio Caller Tune
If you are searching for a method of how to deactivate or remove Jio Caller Tune then you are in right place. Follow the below-mentioned instructions to remove jio tune.
Send a message by typing "STOP" to 56789.
You can also call on 155223 to deactivate the caller tune in jio.
How to Deactivate Jio Tune using MyJio App
Install and open the MyJio app.
From the menu select 'JioTunes'.
You will see the 'Deactivate JioTune' option at the bottom in "My Subscriptions Page".
Finally, tap on 'Yes' to deactivate caller tune in Jio.
How to stop Jio Caller Tune Service?
If you liked this article (How to Remove Jio Caller Tune), then please share it with your friends and family. Subscribe to our push notification service for more updates regarding this post. Share your reviews and for any suggestion or query feel free to mention in the comment.
Connect with us on Facebook and Twitter. Thanks a lot for reading this article. Join our Telegram Channel for the latest tricks and offers.
Please check our Disclaimer.