Hello, Guys, if you are searching for the trick to increase idea 4G net speed then you are at the right place. As we all know the internet is a major part of our life and all want to access the net at fast speed. In today's world, nobody wants to wait and everyone wants a net with fast speed. In this post, we are going to share a method of how to increase idea 4G internet speed. You can easily improve the net speed with the APN setting of Idea 2020 which we are going to provide you in this post.
How to check idea net speed
Now before increasing the speed check your idea internet speed and after that see the improvement. Follow the steps to check Idea 4G net speed in your area:
Firstly, download the OOKLA app to test net speed
Then install and open it
Before running speed test make sure to close all other apps
Now begin the speed test and note the upload & download speed
After that to increase net speed in idea just follow the steps mentioned in the next section.
Working Proof: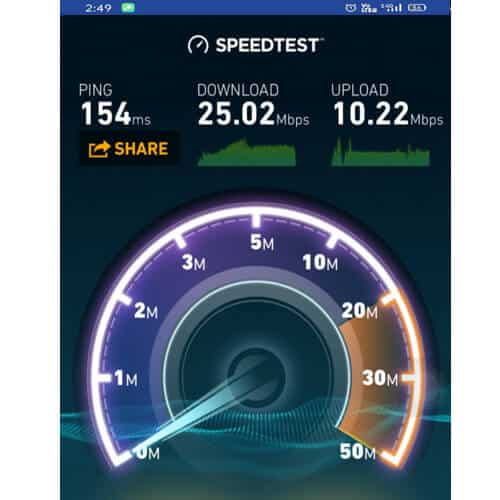 How to increase internet speed in Idea 4G
Everyone wants to enjoy the internet at high speed and we know that the user is looking to increase the idea internet speed. With our method, you can easily achieve a high speed in Idea 4G. In how to increase idea 4g internet speed you need to make a new APN setting. Follow the steps to make an APN:
Open mobile setting
Select sim slot of Idea
Now, tap on the access point
Click on "create new access point"
Fill the details shared in the below section to increase Idea 4g speed
Then save the access point and use it.
How to increase idea 4G internet speed
You can find so many articles to increase the internet net speed but none of them are working. However, we provide you working method to improve the speed even up to 40 Mbps. Now to increase the net speed in Idea you just need to make a new APN by using the following steps.
Also See: Trick to increase JIO 4G speed
Steps to increase Idea net speed with APN setting
Create a new APN by following the above-mentioned procedure
Use the below setting
NAME: Flipshope.com
APN: Idea Internet
PROXY: Not Set
PORT: Not Set
USERNAME: Not Set
PASSWORD: Not Set
SERVER: *99#
MMSC: Not Set
MMS PROXY: Not Set
MMS PORT: Not Set
MCC: Check below
MNC: Check below
AUTHENTICATION TYPE: PAP
APN TYPE: default,supl
PROTOCOL APN : IPv4/IPv6
APN ROAMING PROTOCOL: IPv4/IPv6
BEARER: LTE
MNO TYPE: None
MNO VALUE: Not Set
Save this APN and apply to use it for high-speed internet in Idea
Now check your internet speed and see the difference.
Idea Circle-Wise MCC & MNC Codes for high speed Idea internet

West Bengal (including Andaman Nicobar Islands, and Sikkim) – MCC: 405, MNC: 853
Uttar Pradesh West (including Uttarakhand) – MCC: 404, MNC: 56
Uttar Pradesh East – MCC: 404, MNC: 89
Tamil Nadu (including Puducherry) – MCC: 405, MNC: 852
Rajasthan – MCC: 404, MNC: 87
Punjab (including Chandigarh & Panchkula) – MCC: 405, MNC: 851
Odisha (formerly Orissa) – MCC: 405, MNC: 850
North East (Arunachal Pradesh, Meghalaya, Mizoram, Manipur, Nagaland and Tripura) – MCC: 405, MNC: 849
Mumbai Metro – MCC: 405, MNC: 799
Maharashtra (including Goa) – MCC: 404, MNC: 22
Madhya Pradesh (including Chhattisgarh) – MCC: 404, MNC: 78
Kolkata Metro – MCC: 405, MNC: 848
Kerala (including Lakshadweep and Minicoy) – MCC: 404, MNC: 19
Karnataka – MCC: 405, MNC: 847
Jammu & Kashmir – MCC: 405, MNC: 846
Himachal Pradesh – MCC: 404, MNC: 82
Haryana – MCC: 404, MNC: 12
Gujarat (including Daman and Diu & Silvassa) – MCC: 404, MNC: 24
Delhi Metro & NCR – MCC: 404, MNC: 04
Chennai – MCC: Use default, MNC: Use default
Bihar (including Jharkhand) – MCC: 405, MNC: 70
Assam – MCC: 405, MNC: 845
Andhra Pradesh (including Telangana) – MCC: 404, MNC: 07
How to change Idea APN Settings on iPhone?
Firstly, you need to connect your iPhone with WiFi.
Now open the browser app and then go to – www.unlockit.co.nz
After the site opens, click on 'Create APN' option by scrolling down.
From the drop-down list, choose 'Idea'.
Next, click on the 'Create APN' button. (Install the profile which you will be asked at a new page)
Finally, click on the Install option to download Idea APN settings for your iPhone.
I hope you will like this article (How to increase Idea 4G net speed) and if you love to read such type of article keep visiting our site. Also, share this post and bookmark our website. If you have any doubts or suggestion please post it in the comment section below.
Connect with us on Facebook and Twitter. Thanks a lot for reading this article. Join our Telegram Channel or you can download Flipshope extension for the latest tricks and offers. For any queries please Whatsapp us on 9999488008.