JioMart is in a trend right now. Like Jio created a boom with its telecom service now it's time for Jio Mart to create the history again because it's heatings up online grocery market. Jio is going to change the future of the retail market with its JioMart launch. Currently, Jio Mart service is available only in three markets, i.e., Navi-Mumbai, Kalyan and Thane but it will expend its services soon. If you forget to signup on this new grocery market, then Register on JioMart. If you want to become a JioMart distributor then read the complete post.
ALSO READ | How to register on Jiomart in Hindi
Reliance Jio is one of the most popular brands in the world and you can do business with JioMart to earn a good income with other benefits. Currently, Kirana store registration on Jio Mart is not available, but if you still want to try, then follow the steps mentioned in the below section. Although, Jio is offering savings of up to ₹3,000 when you pre-register for JioMart. Right now, Jio online grocery store is having 50,000 products as it's in the pilot stage. JioMart will be going to break all records and this is a good chance to grow your business with JioMart. Before becoming Jio Mart distributor, you need to know a few things about it.
Also See: How to register on JioMart online grocery store and details for Kirana Store Registration
Points to remember to do Business with JioMart:
For becoming Jio distributor the party should be currently doing distribution business with a renowned brand
You should have adequate infrastructure for doing business with JIO.
The interested firm should have the desired level of infrastructure and finances to become JioMart distributor
The distributor should have the desired equity in the market and should have a good relationship with the retailers
The local sales team will come to approve the distributor if the onboarding norms of the distributor fulfill.
Get ₹3,000 Saving on JioMart
Why to become JioMart Distributor?
Many users who want to become a partner of JioMart ask this question and the answer is very simple. Reliance Jio is very popular and one of the fastest-growing brands and if you do business with JioMart you will get so many benefits like a good commission. We all know that Mr. Mukesh Ambani is very famous for offering things in free like we got Jio SIM with unlimited data and calls for one year, Jio fiber is also for free in starting for individual users and now its time for JioMart which is giving benefits of ₹3,000 when you pre-register on it. If you haven't signed-up for JioMart account, then you must do it by clicking on below mention button and claim benefits now.
Documents required for JioMart Distributorship
Two passport size photographs
Photocopy of Voter ID or Aadhar card
Address proof
Firm certificate
PAN Card
GST certificate
Download JioMart App
How to become JioMart Distributor?
If you want to do business with Jio Mart, then read the above-mentioned points as these are very important. Currently, JioMart Distributorship is not available but if you still want to try, then follow these steps carefully:
Firstly, fill the form from Jio site by Clicking Here.
Now, just click on the "I am interested" button.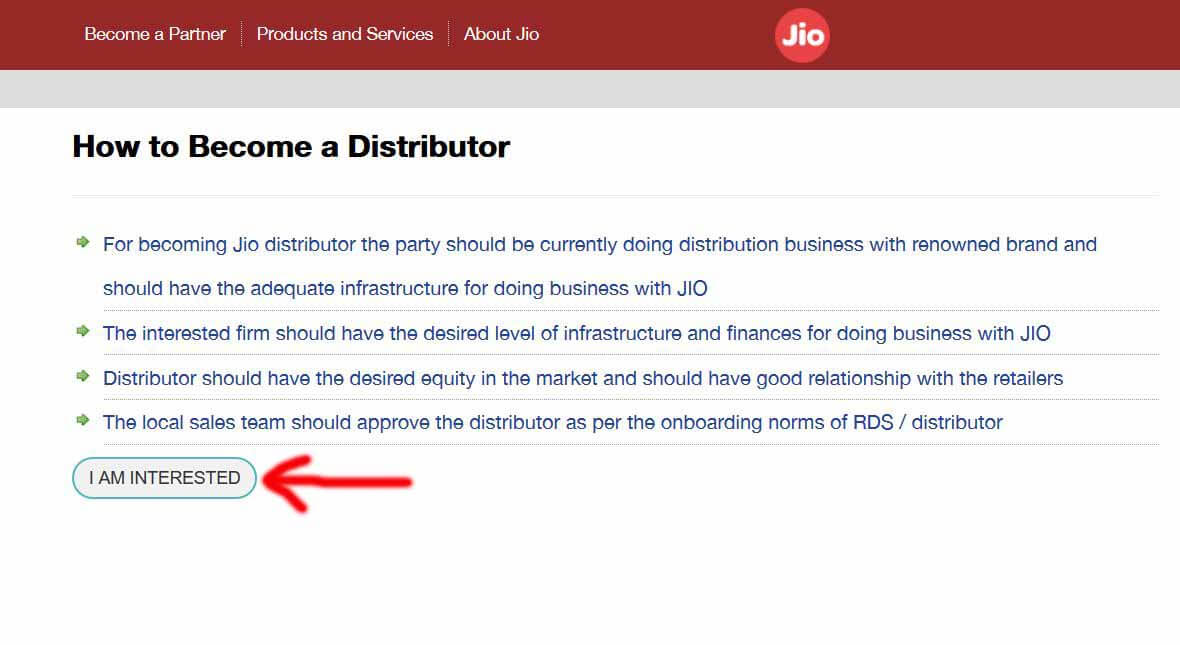 4. Enter your Name, Firm Name, Email, Address, City, Pincode, and Mobile Number.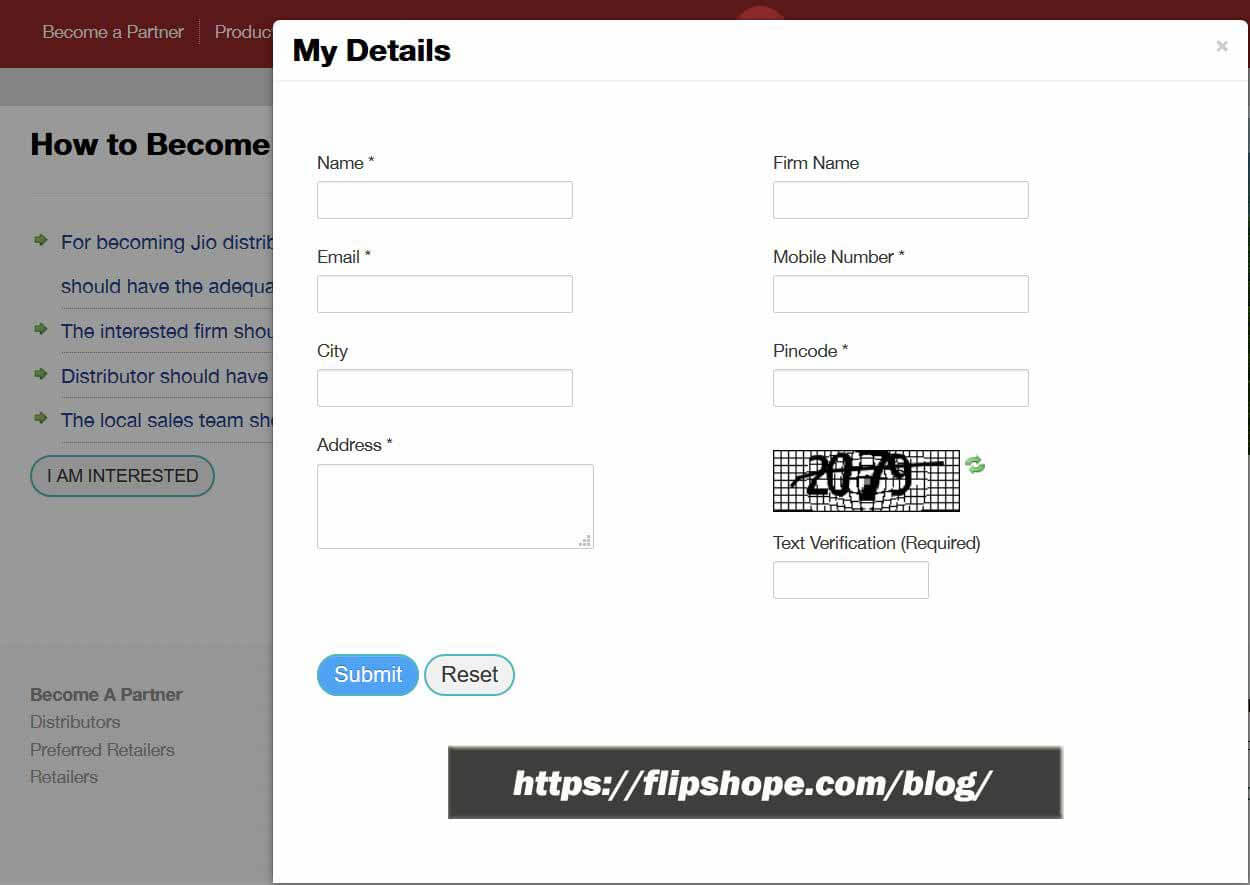 5. Then click on "Submit" button after verifying the captcha.
6. You will get this confirmation message, "Your lead created successfully".
How to get JioMart Dealership | Jio Mart Franchise Registration
JioMart is becoming one of the hottest topics in India and everyone wants to get JioMart dealership. Currently, it is available in three markets, i.e., Navi-Mumbai, Thane and Kalyan. Once Jio Mart launch you can sell your products on it like we can sell products on Amazon and Flipkart. If you are interested in JioMart franchise registration or dealership than follow the above-mentioned steps and don't forget to register on JioMart. This new grocery platform is connecting offline stores to online platform through which sellers can earn profit and also their profit will increase.
If you like this article (How to become a Jio Mart Distributor) then, please share your reviews with us and if you have any suggestions then also please share it with us in the below comments.
Connect with us on Facebook and Twitter. Thanks a lot for reading this article. Join our Telegram Channel or you can download Flipshope extension for the latest tricks and offers.