Every week the leading online store of India, Flipkart, launches the Lenovo K3 Note Mega Sale, and tens of thousands of buyers find it difficult to get their hands to the device.
Flipshope provides a unique and unparalleled auto-buy feature that allows you to buy the device without having to go through the hassles.
There are already thousands of satisfied customers who have provided positive reviews about their experience buying Lenovo K3 Note using Flipshope's auto buy system.
What is Flipshope?

Flipshope is an extension that helps eliminate all the hassles associated with the Mega Sale of items. While it has special discount coupons and offers for many online stores, it has a special auto buy feature for Flipkart.
Every time the ecommerce store runs a Mega Sale of smart devices like Lenovo K3 Note, Flipshope allows it users to have the edge.
It is an addon, and you have to install it. Once installed, you can visit Flipkart and view the product page. It will provide you a graph that provides you valuable information about the right time to make the purchase.
Besides, it has an auto buy feature and also provides info to compare prices between different sites.


Steps for Getting your Lenovo K3 Note
Using the Flipshope auto buy feature for buying your Lenovo K3 Note on Flipkart is extremely easy. Use the following steps to get your K3 Note without going through all the hassles that other users have to go through.
Step 1: Download the Addon from Flipshope's website. Add it to Chrome using the "Add to Chrome" button.
Step 2: Register for buying K3 Note. Just click on the Flipshope's icon on the top right side of the browser and click "Register to AutoBuy K3 Note".
Step 3: Once registered, you will have to confirm your registration for the device. Just visit the Lenovo K3 Note's page and check the blue popup at the bottom right side. Make sure that the box against "Register to AutoBuy K3 Note" is checked.
Step 4: Head to the Lenovo K3 Note's page before the Mega Sale starts and leave your system on for automatic adding of the item to your cart.
Step 5: Login into your Flipkart account and the K3 Note will be automatically added to your cart.
Online Reviews
As already mentioned, Flipshope has received thousands of positive reviews from users how have owned their Lenovo K3 Note using its unique auto buy feature.
Many users have gone on to detail out the time they received their K3 Note at their doorstep, because of the extension. ]
Users have exclaimed to be feeling lucky to be able to get the device through Flipshope. Many users have claimed how the process became "butter smooth" after the extension put the K3 Note on their cart.

Abhishek Arora, one of the customers, expressed his gratitude for being successful in buying his black Lenovo K3 Note as you can see in below picture. He is now planning to purchase YuFit Fitness Band using Flipshope.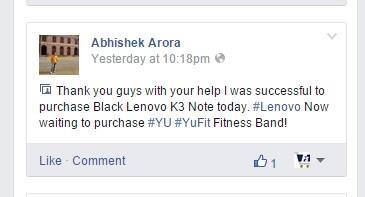 A.I. Rasigan is another user who purchased a black K3 Note.
Surya Pradeep is another buyer who is thankful because he was "finally" able to get a device because of this extension. He claims to have tried for a long time without any result.
Dileep Kumar is another satisfied user of Flipshope who got this white K3 Note using the extension. He expressed his gratitude on Lenovo's K3 Note page on Facebook and received a reply from the company itself.
There are thousands others who have been successful in getting their hands onto one of the most feature-loaded phablet – the K3 Note. To name a few, the buyers include K Pranay Deepak, Rudraaksh Verma, and Ari Dey among thousands others as you can see in below pictures.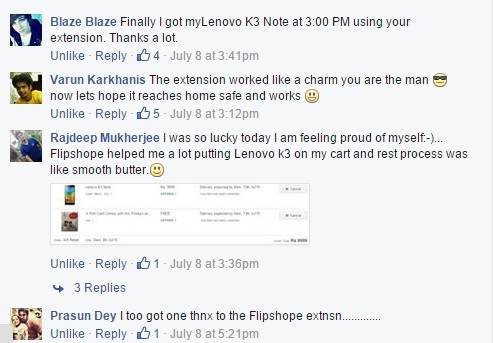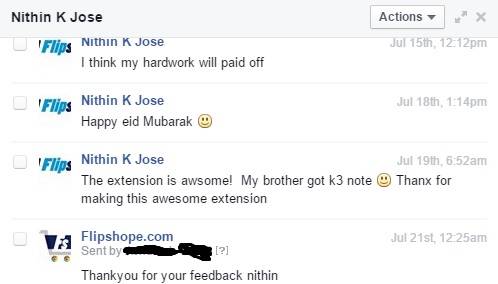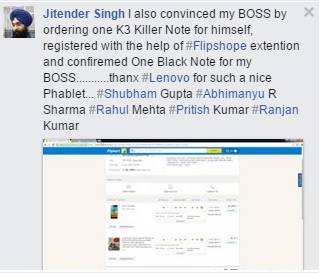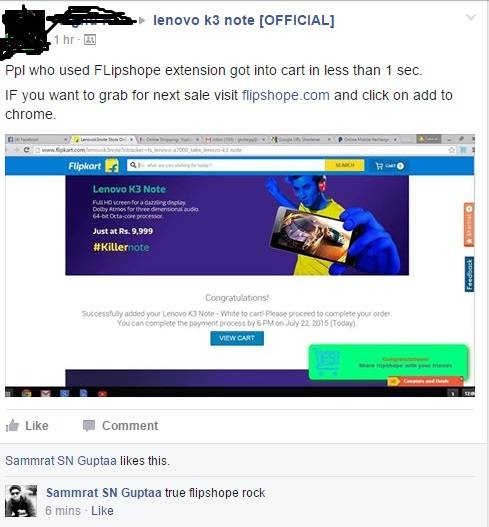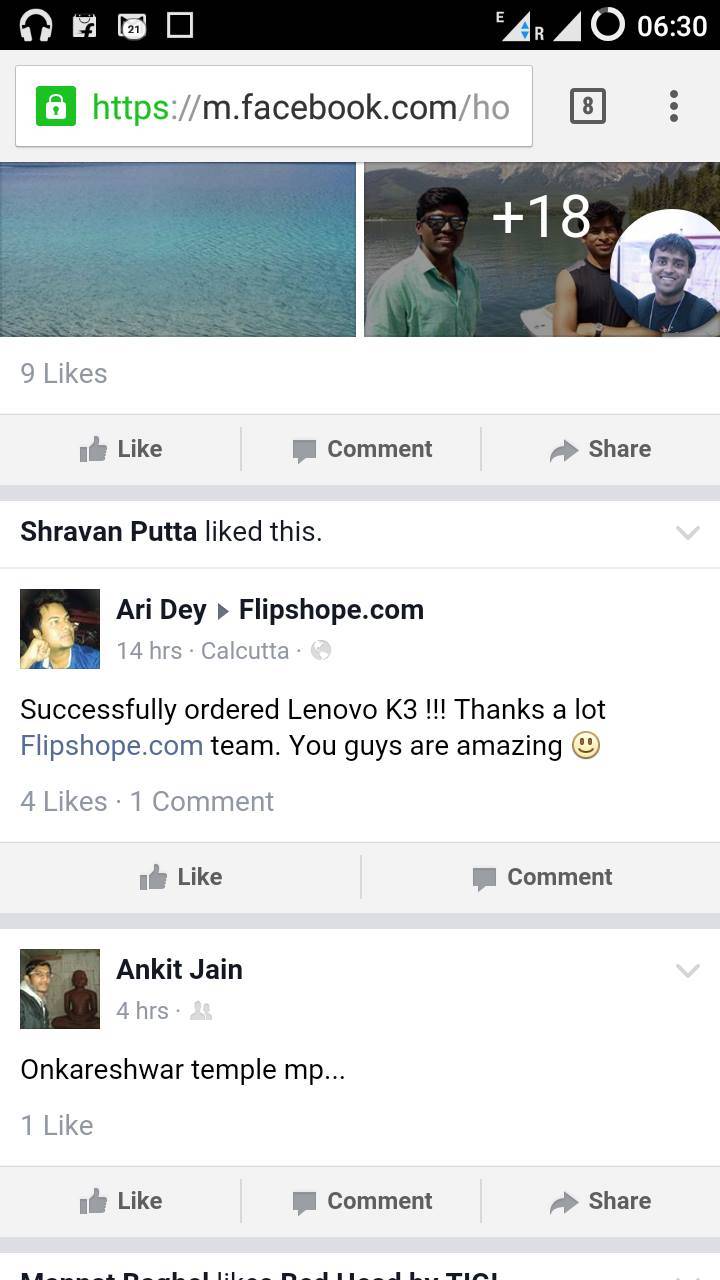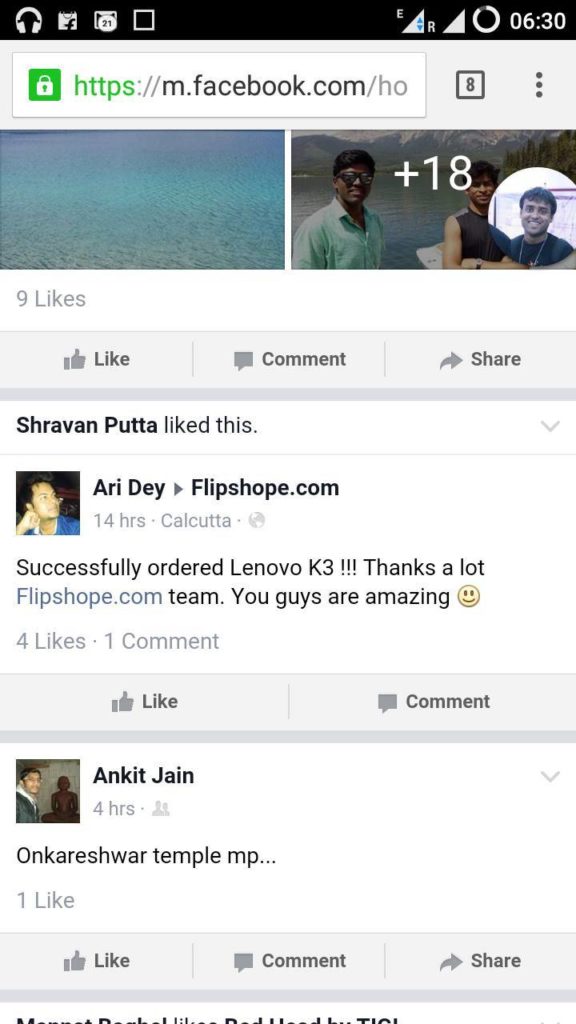 Those who used Flipshope were able to have their Lenovo K3 Note added to their cart in less than 1 second. With such an effective and easy system in place, there is no need for buyers to wait for hours and waste their time and energy on standard Mega Sale on Flipkart.
It is easy to install and doesn't cost you anything extra. Why waste your time when there is a proven system out there to help you own your Lenovo K3 Note.