Flipkart the first and leading online shopping site of India which introduces the flash sale concept. Though it look little different from normal sale but it marks as one of the most successful and most marketable sale concept in India. First mobile that came in flash sale was Xiaomi. It was a huge success to them. After this Flipkart released so many mobiles on flash sale to gain user attraction. In every flash sale day within a span of 2-3 secs more than 50,000 mobiles got sold. The registered number of people for the recent sale of Letv Le 1s was close to 1 million, have you ever wondered about

How this sale concept work?
Registration: User have to register for sale. Deadline of registration is 1 hour before sale.
On sale: check your internet connection and be ready. First come first serve is policy. As soon as sale time begin a buy now button will appear in place of countdown. Click as fast as possible.
What happens at the time of sale?
Flipkart starts showing count down 3-4 hrs. before the sale if you have registered for it. At the time of sale i.e. 12 pm (The question here is which 12 PM?) a buy now button appears and when you click on it, a request is sent to the server and it adds the mobile to your cart if all mobiles are not sold out and responds back to the browser if you got the mobile or not.
Now what is supposed to happen is that just at the time of sale Flipkart must reload sale page and add buy now button to the page. And this is exactly what Flipkart used to do in sale before Letv Le 1s sale. But now the situation is different.
What is the difference between previous flash sales and Letv Le 1s sale?
Recently, Flipkart has changed the way to appear the button. Now the code of button remain hidden in sale page itself (check image) on sale day (with class "fk-hidden" which has display=none). And coding for showing the remaining time for flash sale is done in JavaScript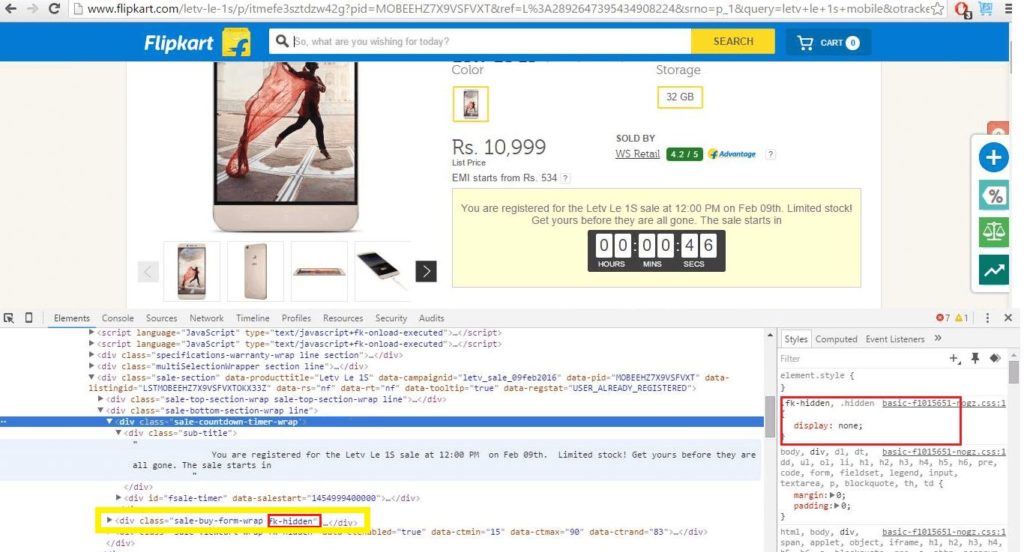 Now if you don't have knowledge about web design then let me tell you that JavaScript works on your device. And when time of your device reached to 12 pm, it change the visibility from hidden to visible. And "Buy Now" button will be visible to you irrespective of actual time. You can also check it buy changing your laptops time.
Why I am not able to buy Letv Le 1s?
Sale of Flipkart is running on their server and JavaScript is running in your device. So if time of these two servers is not synchronized then you won't be able to buy mobile in any condition. Suppose your laptop clock is 10 Sec ahead than actual time then buy now button will appear before 12 PM and when you will click you will see a pop-up will appear "Sale has not been started yet". This video about the stupidity of Flipkart uploaded by Nabeel Nawab is a perfect proof of this
And on other hand if your device time lags behind actual time even by 2-3 seconds, "BUY NOW" button will appear 2-3 seconds later than actual start time. And as you know that Letv Le 1s sale lasts for only 2-3 seconds, you will see the disabled buy now button check this video by Hinglish Reviews.
How did we got to know about it ?
Actually we had to book one letv le 1s on 9 feb 2016. We (Me and my friend) were checking whether our extension is working correctly or not during sale . In our extension, it has been clearly mention that just before 3 min of sale color of extension will change to green. I just ping him 3 min ago that did color of extension change? He said no it will change just 3 min ago right 1 min is still left.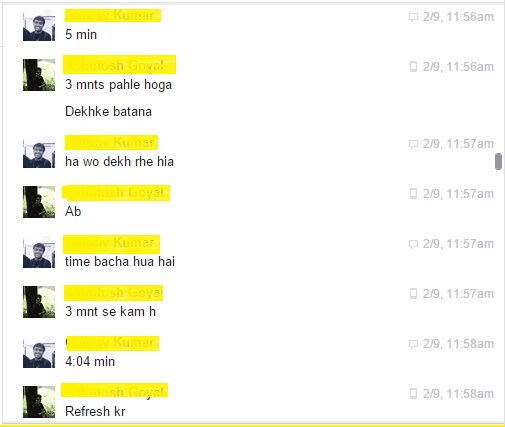 We didn't understand what going on. Here is snapshot of chat between me and my friend on sale day. Then we tried to find out the reason and got to know about Flipkart's stupidity.
How to solve this problem?
Now comes the solution part, what can we do to solve this problem and grab a Letv Le 1s in flash sale. Well, you have to just download Flipshope extension from chrome store. You can also download it from here.
How does Flipshope solve this problem?
If you have installed Flipshope chrome extension in your device, it will auto buy Letv Le 1s for you. What it does is it takes the time from server which is synchronized with Flipkart's time and click on buy now button exactly at 12:00 PM irrespective of that, that button is visible to you or not. Apart of it at also keep on checking the visibility of button and clicks on it as soon as it become visible.
If I use any alternative of auto buy will it work for me?
We can assure you that nothing is going to work except Flipshope extension unless you are extremely lucky. What will happen is the script (or any other alternative) keeps on clicking on buy now button irrespective of sale start time and when the button will be visible to you it will show the message the sale not yet started. Because you can click on it only once which script has already done before sale has been started.
What is Flipshope Extension?
Flipshope is a chrome add-on which is developed by a group of students of IIT Kharagpur and IIT Guwahati to solve the problems related to online shopping and make it easy and enjoyable. You can download it in your chrome browser on Laptop or desktop.
What does Flipshope extension do except auto buy and how does it help in making shopping easy?
Except of auto buy for flash sale we provide features like Coupons, Deals, Compare and Price Graph on the website page itself. For example you want to buy a Moto G from Amazon or Flipkart then when you will go to Moto G page of corresponding site, you will see a bar on right hand side which has coupons and deals of that site only. And hence you won't have to search for best coupons and deals on google. Apart from that you will see a compare button also which will show you the price of same product (Moto G in this case) across all other shopping sites. And at last you will see a price graph button which will show you the historic daily price of product as everyone knows that prices are very dynamic on these e-Commerce websites so from price graph you can get to know the best time to buy the product. So overall you will get all shopping related help using this one extension.
How to grab the Letv 1s without using flipshope Extension?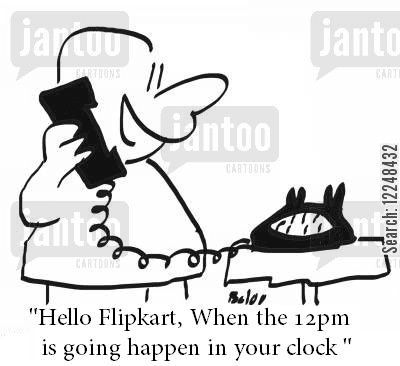 One possible solution is call to Flipkart and ask when their 12:00 clock will happen. 🙂
Related Blogs:

Full specifications of smartphone LeTV Le 1s

LeEco Le 1s : What makes it different from other smartphones

How to purchase Letv Le 1S mobile on Flipkart using Flipshope's auto buy feature?
How to use Flipshope Extension for Auto buy?
check this video on flipshope Letv le 1s auto buy by Harsh Chauhan.