Flipkart Flash Sale Auto Check Out Feature now Buy Flash sale Product with a single click: As you all know Flipshope the Online Shopping Chrome extension holds so many features like Price Drop Alerts, Price Graph, Auto-Buy, Comparison, Coupons, and Deals. We recently released one more new feature called Auto-Apply coupons. Where you can apply all the available shopping coupons with one click and now we are back with one more awesome feature which is called Auto Check Out. This is the best deal for people who are struggling to buy Flash Sale products and people who are spending so much time filling the address details and payment details. So we are here to solve your problems, this Auto checks Out presently work on Flipkart and soon we will expand to more sites.
Auto Check Out Feature (
UPDATED

)

This feature isn't available anywhere except Flipshope Extension. You can follow these simple steps to use our Auto Check Out feature. Right now on today's Redmi Note 5 sale, we are testing out a new tool. You can't buy Redmi Note 5 pro with COD option so many people are facing issues. If you are unable to complete the payment on time then the products will become out of stock. So we are directly taking you to the payment option here are the more details

The main purpose of the Autocheck out feature is it will directly take you to the payment page. In many cases, Flipshope will add the product to cart but this feature can save a lot of time for a user to complete the payment quickly.
Visit Flipkart site and Login or Sign up with your details
Once you install the Flipshope extension then go to Flash Sale section
At the top, you will find an option called Auto Check out on Flipkart

Choose any one of those payment methods and we will redirect you there
If you hold multiple address details we will consider the first address only. But you can still change the address even after placing the order
At the time of payment if you already chose COD option we will order the product directly. Do note that Redmi Note 5 Pro doesn't have any COD option
Without Payment Method
This means you will be redirected to the payment options sections on Flipkart. There you will find so many options to complete the payment. This Flipshope Auto-check out feature will take you from the Product page to Payment options in less than 2 secs.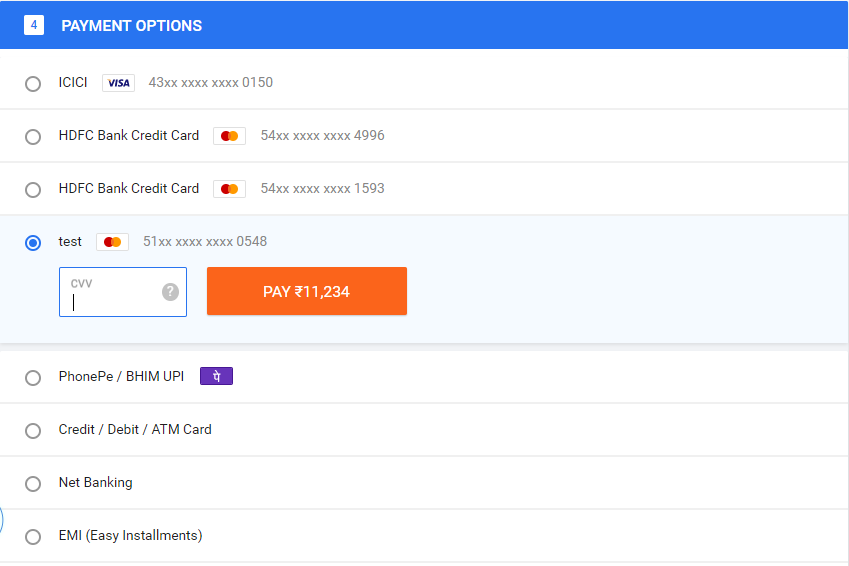 Choose any of the following payment methods manually to complete the order of your Flash sale product. In the next steps, we are sharing details about PhonePe
PhonePe/UPI Method
Since Flipkart removed COD for Note 5 Pro there is only one other way to buy this as quickly as COD method and that is PhonePe. You just need to link your Flipkart account with PhonePe and choose the same from Flipshope Auto Check out.

Please only choose this option if you are planning to pay from PhonePe. Once the sale started we will directly take you from the product page to PhonePe payment page. This can give surely help you buy Redmi Note 5 Pro on time.
Flipkart Flash sale Auto Check Out:
Buying a product from Flash sale is almost as equal to getting the tatkal ticket from IRCTC site. But we at Flipshope made a flash sale very easy now you can buy any flash sale product without you have to do anything. Previously our extension adds the product to cart sometimes Flipkart also removes the product which is available in cart. So to avoid the problem we are introducing auto check out for Flipkart flash sales. Just follow the above-mentioned steps and check your auto check out the entry on extension icon. That's it you will get the product in less than 10 seconds.
We will provide this feature on every Flipkart Flash sale product, and you can have a chance to go for auto check out or you can still go with the old add to cart method. It's completely up to user but we recommend auto check out method this will guarantee the product 100%
Why Auto Check Out?
Let me tell you why not auto check out, as you all know in these days buying a newly released product or flash sale product or discounted product is very tough. You have to add the product to cart, then fill the address details after that you have to complete the payment process. So to avoid all these steps we introduce you this feature this will help you in buying
Any type of Flash Sale Product
So many Discounted Products
Newly Released Products
It works on all products
Frequently Asked Questions:
Here are some questions with their answers which are related to Flipkart flash sale auto check-out feature. Read them if you have any doubts regarding this feature.
How to Enable/Disable this feature?
You can simply find an option to enable Auto to check out Flipkart Flash sale products. Check that option to enable this feature. So after the sale, you can simply uncheck to disable that feature.
How is it Helpful?
You can see after adding Flipkart Flash sale products to cart sometimes you will notice like product went out of stock. Although the product is originally available you still need to get them by trying several times. So to avoid this problem we introduce this feature where it will complete the process in less than 10 seconds.
What about the Payment Method?
In case if you chose the COD it will order the product automatically if you chose the debit or credit card payment it will take you to the payment page where you need to enter OTP and CVV to complete the payment.
Which address will it use?
If you have only one address in your account it will take that address if you have multiple addresses it will take the first one. So make sure to edit the address to first one. If not you can still change the address after placing the order.
Auto Checkout