The one of best muslim fest EID is already started in India. Where as so many people serving Haleem and now online shopping are serving their own style dish in terms of offers. Check out the top online shopping offers here. Amazon started their July sale it will last long from 7th-8th July, amazon is giving away 10% cashback and maximum cashback is 2000 INR. Flipkart also started their own sale " Flipkart Eid Offers " where Flipkart is giving away 10% cashback on citi bank cards. Flipkart Eid Offers mainly focused on mobiles but there are some really good offers.
Amazon July Sale: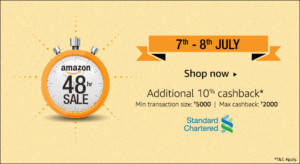 Amazon will be offering 10% CASHBACK for Standard Chartered customers on these 2 days.
[easy_media_download url="http://www.amazon.in" text="CLICK HERE" target="_blank" color="blue_two"] to visit Amazon Site
Flipkart Eid Offers:
Offer 1:- Extra 10% cashback from citibank
Offer 2:- Get exchange offer on mobile phone
Click here to see more offers from our coupon site.
[easy_media_download url="http://www.flipkart.com" text="CLICK HERE" target="_blank" color="blue_two"] to visit Flipkart Site
Paytm offers
Upto 300 cashback on Electricity bill payment via paytm
Book and Get upto 100 cashback on Sultan movie ticket
10% extra cashback on dslr camera
Extra 10% cashback on petrol pump, pay via paytm
[easy_media_download url="http://www.paytm.com" text="CLICK HERE" target="_blank" color="blue_two"] to visit Paytm Site