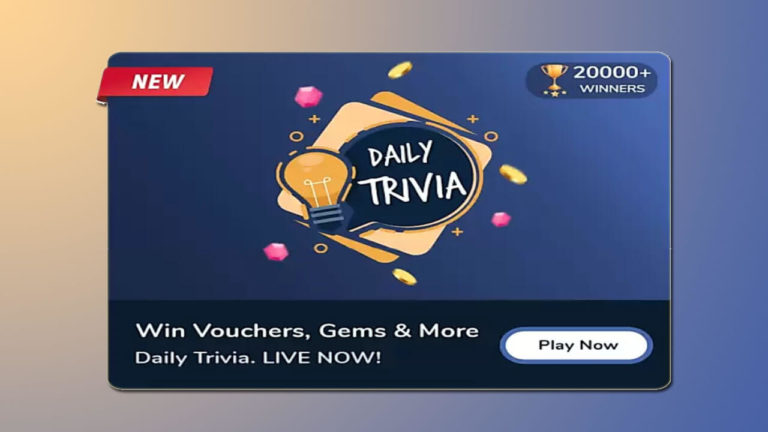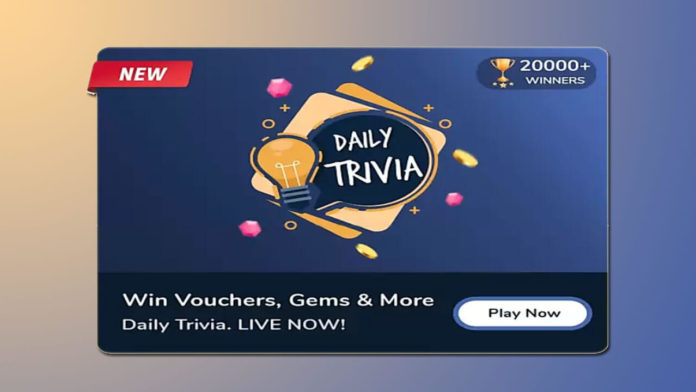 Flipkart is conducting a daily quiz for its users like the Amazon quiz. However, it provides an opportunity for the winners of this Flipkart Daily Trivia Quiz users to win amazing prizes. The interested people can get the answers, Time, Requirements, and how to play the Flipkart Daily Quiz today. Also, you will get the Flipkart Daily Trivia Quiz answers today in this article and win Vouchers, Gems, etc.
We provide you Flipkart Trivia Quiz Answers today for 14th Aug 2020. The winner is eligible to win Vouchers, Gems, etc. The Flipkart Daily Trivia Quiz is based on general knowledge. It provides its customers the opportunity to win exciting prizes. Also, Flipkart offers free of cost prizes for every quiz to the winners. The prices are Amazon Pay Balance, Mobile phones, Laptops, Cameras, and other gadgets. This quiz is found on the official site of the Flipkart app. The participants can play the quiz every day from 8:00 AM.
Flipkart Daily Trivia Quiz Details :
Flipkart Quiz prize -> Vouchers, Gems, and More
Daily Quiz Timing -> 08:00AM
Flipkart Trivia Quiz Date -> 15th Aug 2020
Announcement of Winners -> 15th Aug
Steps to Play Flipkart Daily Trivia Quiz
This Flipkart app is available on the Playstore. So the interested candidates can download the Flipkart app from the Google Play Store or Apple's App Store.
Next, open the Flipkart app and Sign up to your Flipkart account to create an account.
Further, open the Flipkart app and Login to your Flipkart account.
Go to the "Games" option at the bottom of the app.
Scroll down and find the "Flipkart Daily Trivia" option. And Tap on the 'Play Now' button to play the quiz.
After answering all the questions the candidates should submit the quiz.
The candidates should answer five questions every day in Flipkart Daily Trivia Quiz. However, the answers should be correct in order to win Flipkart Super coins.
The candidates should answer all the questions and complete the Quiz. However, the participants should answer all the Flipkart Daily Trivia questions today to win Flipkart Gems (10000 Gems = 50 Flipkart Super Coins).
ALSO SEE | Flipkart Kya Bolti Public Answers and Win GVs
Flipkart Daily Trivia Quiz Answers Today 15th August

Join our Telegram Group for all the latest updates. We update the Flipkart Trivia quiz answers at 8.05 am (If you are not able to see the answers, then refresh or reload this page).
Question 1. Who was recently appointed as the batting coach of Indian men's cricket team?
Answer:- Vikram Rathour
Question 2. In men's tennis, who has won the most Grand Slam titles in history?
Answer:- Roger Federer
Question 3. Who scored the highest individual score of 166 runs in the 2019 ICC World Cup?
Answer:- David Warner
Question 4. Deborah Herold, the Indian cyclist, hails from which Union Territory?
Answer:- Andaman and Nicobar
Question 5. Which footballer gave his own name to his son?
Answer:- Cristiano Ronaldo
Flipkart Daily Trivia Quiz 14th Aug Answers
Question 1. Haseena Parkar is a film based on the life of the sister of _.
Answer:- Dawood Ibrahim
Question 2. Which breed is the popular cartoon dog Scooby-Doo?
Answer:- Great Dane
Question 3. Which Shah Rukh Khan starrer was initially titled 'Katrina Meri Jaan'?
Answer:- Zero
Question 4. Which of these American sitcoms is not animated?
Answer:- Modern Family
Question 5. Who is the only person to have ever won a Booker Prize and an Oscar?
Answer:- Ruth Prawer Jhabvala
Flipkart Daily Trivia Quiz 13th Aug Answers
Question 1: The President of Russia, Vladimir Putin was previously an intelligence officer of
Answer: KGB
Question 2: Which of these painters is the brother of an ex-Prime Minister of India?
Answer: Satish Gujral
Question 3: Which lake in Spiti in Himachal Pradesh got its name from its crescent shape?
Answer: Chandra Taal
Question 4: Which fruit can be seen in the painting 'The Son of Man' by Belgian painter René Magritte?
Answer: Apple
Question 5: According to Brahma Purana, on which day did Lord Brahma recreate the world?
Answer: Gudi Padwa
Flipkart Daily Trivia Quiz 12th Aug Answers
Question 1. How many bases would you find in a baseball diamond?
Answer: Four
Question 2. In which league would you find teams named Delhi Dashers and Chennai Smashers?
Answer : PBL
Question 3. Who is the first Indian cricketer to bowl three maiden overs in a T201?
Answer: Deepti Sharma
Question 4. Who among these cricketers is married to an Arjuna awardee Squash player?
Answer: Dinesh Karthik
Question 5. An ice hockey game is divided into three periods of how many minutes each?
Answer: Twenty
ALSO SEE | Flipkart Fake or Not Fake Quiz Answers
Flipkart Daily Quiz
Flipkart is conducting a quiz called Daily Trivia quiz. This Flipkart Quiz is found on Flipkart Mobile App. The candidates should answer five GK questions. They should submit the correct answers without using any illegal activities. The winners from Lucky Draw can win exciting gifts. They can also win amazing offers from Flipkart. However, the responses from different accounts are invalid. And a candidate should attempt the quiz only once. Flipkart is not responsible for any errors during submission. So the candidates should have an active internet connection.
T&C for Flipkart Trivia Quiz
A candidate should have the following requirements to participate in the Flipkart Daily Quiz.
Age should be 18 and above.
The candidate should have a valid account on Flipkart. However, the same account should be used for Login on the Flipkart Mobile App.
Flipkart Trivia Quiz will be found every day.
Prize or reward will be credited within 15 days from the date of winning. The participants can check their results in the Gems/Rewards section.
ALSO SEE | Amazon Quiz Answers Today and Win GoPro Hero 8
Flipkart Daily Trivia Quiz- FAQ
What are the details of Flipkart Daily Trivia Quiz?
Flipkart is hosting a quiz called Daily Trivia. It is found to play on Flipkart Mobile App. There are 5 GK questions where players can submit the correct answers and win amazing prizes offered by Flipkart.
When is the Flipkart Daily Quiz conducted?
Flipkart Daily Quiz will be conducted at 12:00:01 AM to 11:59:59 PM IST.
Where do I play Daily Quiz?
The candidates can play DailyQuiz at Flipkart Mobile App.
How can I play Flipkart Trivia Quiz?
First Download the Flipkart App from Google Play Store or App Store and sign in. Find the Daily Trivia Quiz from the Games Section. There will be 5 Questions. Answer all the Daily Trivia Quiz Questions correctly to enter the lucky draw.
What is the age limit to participate in the contest?
A candidate must be 18 yrs old and above to participate in the Flipkart Daily Quiz.
If you like this article then, please share your reviews with us and if you have any suggestions then also please share it with us in the below comments.
Connect with us on Facebook and Twitter. Thanks a lot for reading this article. Join our Telegram Channel or you can download Flipshope extension for the latest tricks and offers. For any queries please Whatsapp us on 9999488008.