Flipkart Buy Now Pay Later Option: Flipkart just releasing their beta feature which is Flipkart Buy Now Pay later, although this isn;t available for anyone. They are just releasing the beta update to few users which are loyal customers to Flipkart. In case if you people don't know there is one app called simple where you can use that app to pay your bills later. You will get the maximum limit of 1000 Rs which you can spend anywhere like ordering food, booking movie tickets. Now Flipkart entered in this business, here are the each and every detail of Flipkart Buy Now Pay Later Option.
Check Every Flipkart Site Offers and News from Here
Flipkart Buy Now Pay Later
As mentioned earlier this isn't available to every user, because this is the beta feature. If it goes well then it can increase the Flipkart sales to 1.5-2X. In this Flipkart buy now pay later option user will get a maximum cap of 5000 rs per month. Where user can use that 5000 Rs only to shop from Flipkart. This feature provides faster checkout such as you can directly order from the product page, no card or no cart required. One can pay these bills in next month, the good thing is there is no interest. But you must complete the payment before assigned date.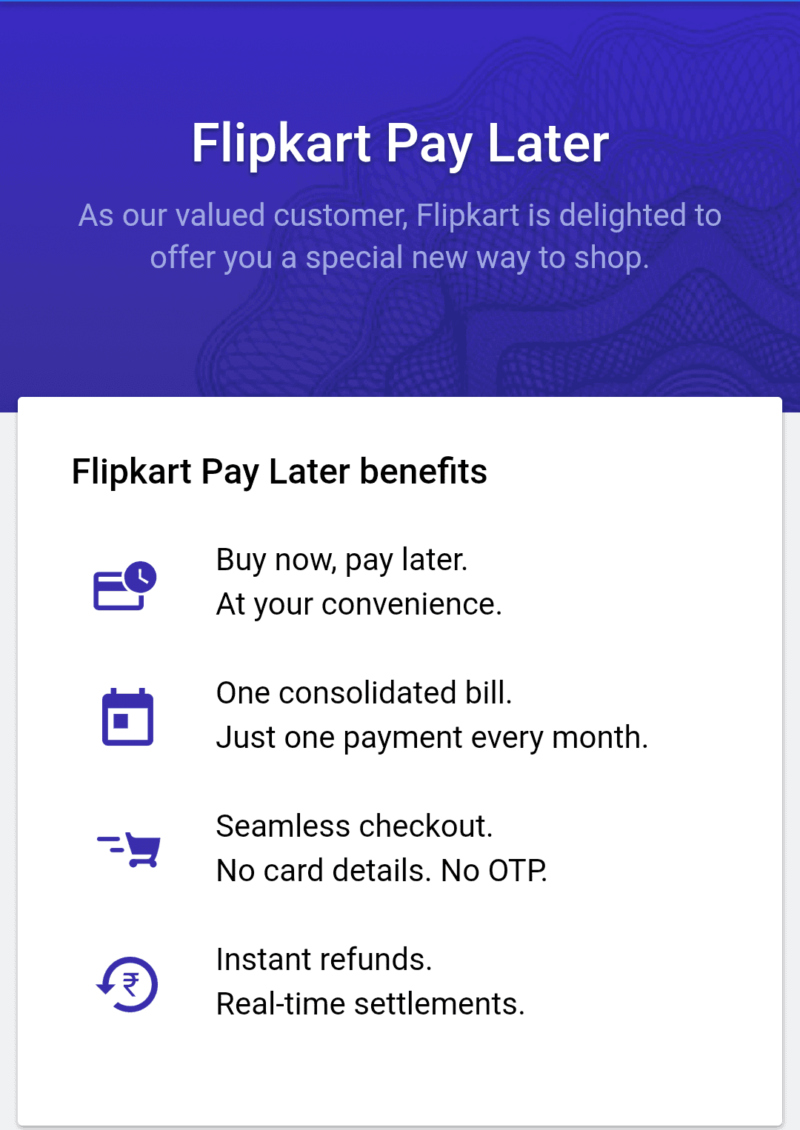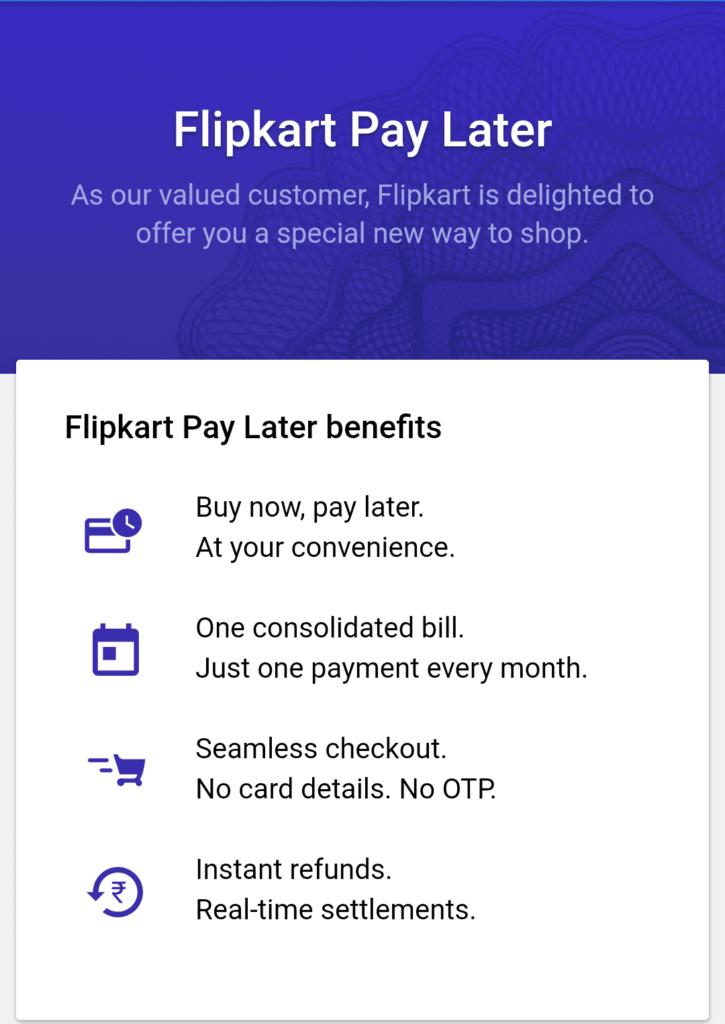 How To Get Flipkart Buy Now Pay Later Option
Well if you are planning to get Flipkart buy now pay later option then these are the things you should remember. Don't try to cheat Flipkart by not paying the payments, because before you agree for this Flipkart pay later feature there is one point, which mentioned as if you didn't complete the payment on 2nd or 3rd warning then Flipkart holds the rights to file an FIR complaint against you. So just follow these steps to get Flipkart buy now pay later option.
Steps to get Flipkart Buy Now Pay Later
Visit Flipkart site and log in to your existing account.
Now check your notifications icon, if you got any Flipkart pay later notification
then you are ready to shop without money
If not just visit the Flipkart support section and
tell them that you are interested in their buy now pay later feature.
Once they verify your account you will get Flipkart Buy Now Pay Later
How to Check Flipkart Pay Later
Just open Flipkart App from your mobile phone and visit my account
If you find an image like above then you got the Flipkart Pay later feature
If you are on desktop then check your account notification
In case if you don't find this feature then try to order a product
At the time of checkout, Flipkart Pay Later might pop-up
Flipkart Pay Later:
So what's the use of Flipkart pay later and why do you need it..? First of all, you don't need to pay any interest and in the month end, this feature is so helpful. Here are some awesome feature on why you need Flipkart Pay later as a payment option
Flipkart Loyal customers: Flipkart Only giving away this option for the loyal customer, so if you are one of them then you are so lucky. Because Flipkart is trusting you and this is the great way to increase your savings.
One Consolidated Bill: You can complete you pending Flipkart buy now pay later credit with one simple payment, so you can make multiple purchases with Flipkart pay later but you can complete one single for them
Seamless Checkout: From now on your purchases don't need your card details and your OTP details. So just sit back and order the product with Flipkart buy now pay later
Instant Refunds: In case if you change your mind about the product you can simply cancel it, but previously the money which you paid from the bank usually take 5-7 business days to be credited again. But this Flipkart pay later will give you instant refund
Flipkart Buy Now Pay Later