Flipshope: The Smart Way to Shop, We are here to change the way of online shopping with out product. We have been so successful with our product but we got the major results from our Flash Sale tricks feature. This unique feature helps people to get the Flash Sale products in just one click. All you need to do is just install our extension in your desktop chrome browser and follow these given steps to catch a hold on all Flash Sales.
Steps to Follow in all Flash Sale Tricks:
Install Our Chrome Extension, this is must without our extension you won't get the Flash Sale products.
Click on Flipshope Extension (Blue color icon located on the right side of the address bar)
Select the website and product you want to buy during flash sale. That's all. You can also chose to auto check out on flipkart which is a premium feature and available only for logged in users. To know more about this feature you can check this article.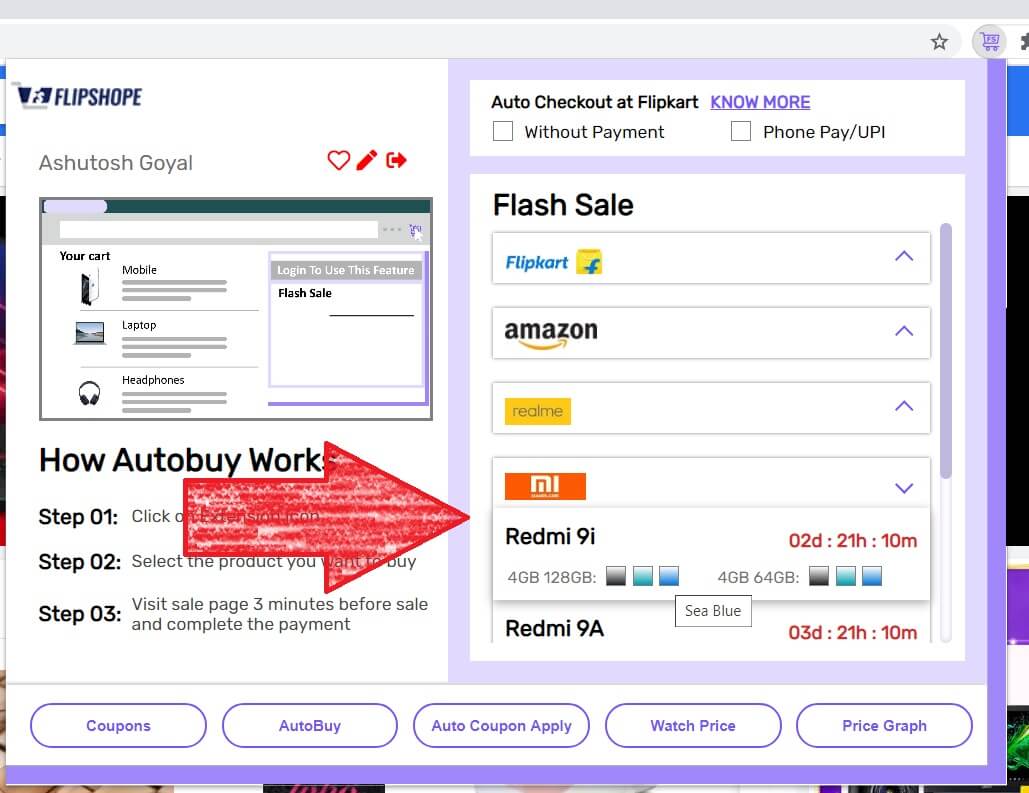 How to confirm if you have registered successfully:
Visit the Flash Sale product page, then our extension tool will popup in the bottom right corner. That popup will confirm your registration with flipshope. you can see the date of the sale on the popup.
Things to remember:
Make sure you are signed in and your cart is empty.
Your laptop time is correct and the time zone is IST
Current Products on Flash Sale
Some Frequently Asked Questions about Flash Sale Tricks:
What is Flash Sale..?
It is a sale with limited number of products, basically, this will be conducted on famous products especially Mobiles from major shopping sites like Flipkart, Amazon and Snapdeal.
How much you can guarantee to compare to normal human click..?
We recommend you to with our extension because the extension click is by far better than a normal human click. Our extension clicks more than 10 times in one second. So if this can't guarantee your product then no other feature can.
Is it safe to use extension..?
Yes, we are at flipshope providing quality service to our customers since 2014. We have served more than 10,00,000 people on extension and over 1,00,00,000 people on our site. This extension is here to save your money from online shopping. This is not only useful for flash sale, it will provide so many interesting features like Auto-Apply coupons, Price Graphs , Price Drop Alert and Coupons.
Here is the Proof of our Previous Flash Sales: