Have you completed pre booking of jio mobile if not then you won't get any chance to buy the jio phone. You can read our article on how to pre book jio phone, this will only cost 500 Rs and it is a one-time payment. Where you will receive the whole refund after 3 years. Once you are done pre booking then the registered mobile number will get one jio phone voucher. Without this voucher you can't buy jio phone, here are the more details on how to find or get Jio phone voucher.
Latest: Jio Phone Delivery Date in Jio Stores
What is Jio Phone Voucher?
While pre booking jio phone it will ask for a phone number. This phone number will be registered in jio database, where they will allow one jio phone voucher to every registered number. You can't find the voucher in pre booking confirmation message. But you can track jio phone voucher by calling jio phone verification number which is 18008908900
How to Find or Get Jio Phone Voucher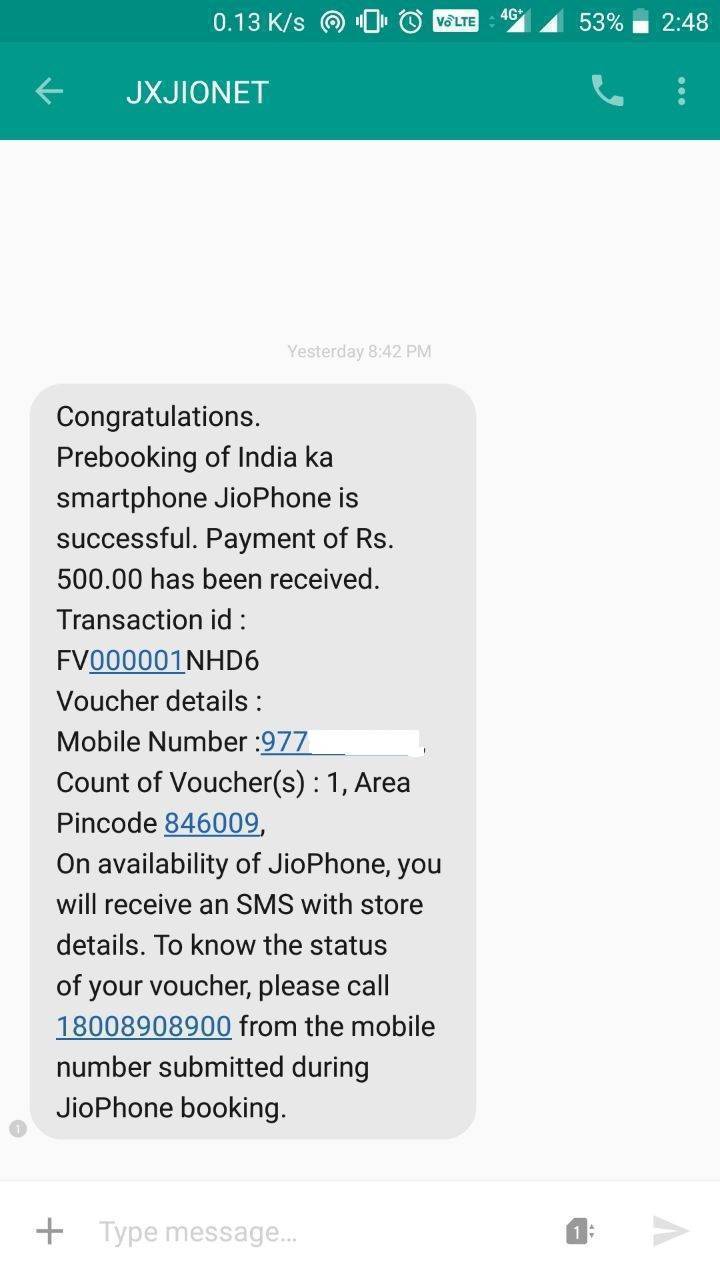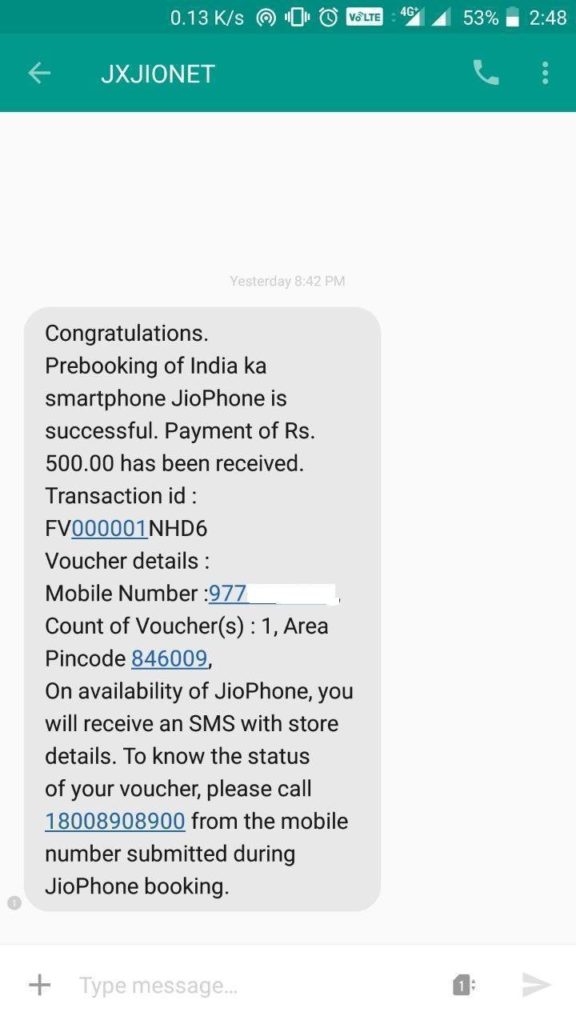 In the first message, you won't get any voucher. You will receive a confirmation message like in the image, but that won't contain your jio phone vouchers. To know the status of your voucher you must call 18008908900, simply follow the steps to find or get jio phone voucher.
Steps to Find or Get Jio Phone Voucher
First call 18008908900 from any number, this is Jio Phone Verification number.
It will ask you to choose language, just choose any comfortable language.
After that, you should enter the registered jio pre booking mobile number
It will repeat the number once again and then confirm the number
Then it will ask if you want to track jio phone vouchers, just confirm that.
Now you will get Jio Phone voucher in a new message with tracking details
Jio Phone voucher isn't received in message
They aren't sharing these vouchers in the message, anyone with voucher access can hold a chance to buy the mobile. All you need to do is visit jio store and if the jio phones are available then simply share the registered mobile number or the voucher. Then you will hold a chance to buy jio phone for 1000 Rs. In case if you are looking forward to finding jio phone vouchers then you can simply follow the above steps. For more details, you can visit jio live support.
jio phone voucher